I absolutely love the food in France! I've visited France several times each year for as long as I can remember, and one of my favorite things about this amazing country is how easy it is to find incredible food there.
From traditional dishes like boeuf bourguignon and onion soup to modern twists on French cuisine, there's something about French food that I can't get enough of. If you're wondering what to eat in France, this post is for you.
The French have particularly high standards when it comes to food, and so no matter where you go in France, you'll find the quality of food on offer is excellent. Even a trip to a French supermarket is an amazing experience in itself (and I hate shopping!).
Most Popular Food in France
Most of my family are strong Francophiles and I ate a lot of typical French food growing up. Perhaps that's why I always feel nostalgic when I'm tucking into traditional food in France.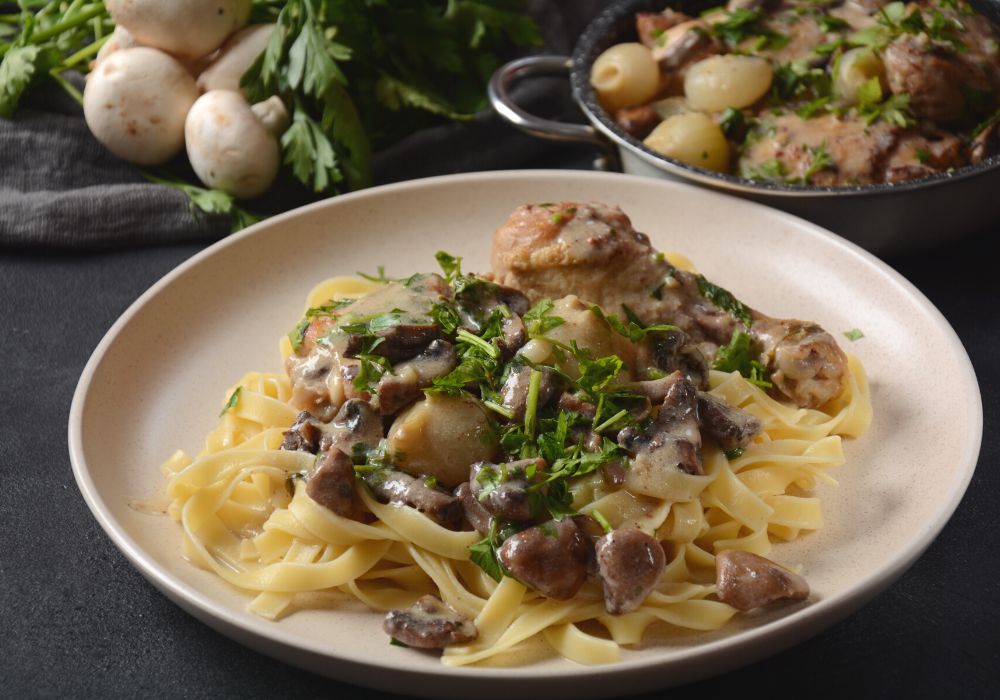 Within this guide, I've put together a list of my favorite must-try dishes in France. I love each and every one of these dishes and I recommend trying as many of them as you can!
1. Boeuf Bourguignon (Literally, Burgundy Beef) – Most Famous Food to Try in France Overall
Firstly, aside from croissants and baguettes (more on these below) boeuf bourguignon has a strong claim to be considered the national dish of France. It's made by slow-cooking beef in red wine with garlic, onions, bacon, mushrooms, and carrots.
For a typical meal in France, beef bourguignon is usually served with mashed potatoes and is one of the most warming and satisfying dishes imaginable, especially during the long winter.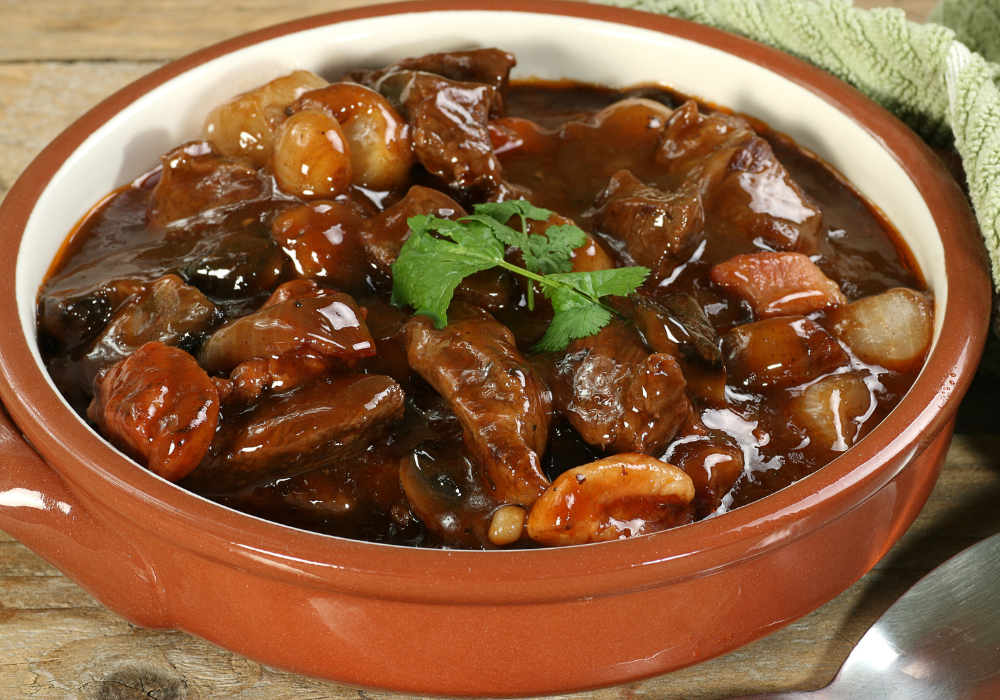 The large volume of red wine is what gives it such a unique taste, and I highly recommend picking a good quality Burgundy red to enjoy alongside this classic French dish (you can cook with a cheaper bottle!). The flavors work together so perfectly and it's one of my favorite meals to have when I'm in France.
As its name suggests, this dish is originally from Burgundy, a region in central-eastern France. One of the best places to try it is Le Boeuf Blanc, in the regional capital, Dijon.
Le Boeuf Blanc Information
Address: 7 Bd de la Trémouille, 21000 Dijon, France
Phone: +33 3 80 72 10 50
Operating Hours: 9 am–2 pm & 6 pm–10 pm, Weds-Sat; 12 pm–3 pm & 6 pm–11 pm, Sun (closed Mon-Tue)
Average Cost of Dish: €16
Website: facebook.com/myrframsha
2. Cassoulet (Bean & Sausage Stew)
If you're ever in southwestern France – especially the regions of Gascony and Languedoc – then be sure to try the classic dish of cassoulet. This is a hearty white bean and sausage stew made with pork, duck or goose, garlic, and herbs all cooked for hours over low heat.
The slow-cooking process brings out the delicious flavors of the meats, garlic, and herbs and creates a hearty meal that's perfect for warming you up on a cooler winter's day. It makes an excellent lunch or dinner and is usually served with crusty bread and a glass of local wine.
The restaurant Au Gascon in Toulouse is one of the best places to try this, as well as many other delicious regional Gascon specialties.
Au Gascon Information
Address: 9 Rue des Jacobins, 31000 Toulouse, France
Phone: +33 5 61 21 67 16
Operating Hours: 11:30 am–2 pm & 7 pm–10 pm, Mon-Sat (closed Sundays)
Average Cost of Dish: €17
Website: au-gascon-restaurant-toulouse.eatbu.com
3. Coq au Vin (Chicken Cooked in Red Wine)
Coq au Vin is another classic French dish from Burgundy that's become popular around the world. This traditional chicken and red wine stew is made by slow-cooking chicken in red wine with shallots, mushrooms, bacon, and herbs.
The tender pieces of chicken are simmered for hours until they're succulent and flavorful. The long cooking process really helps bring out the flavors of the ingredients, making this dish incredibly delicious and comforting.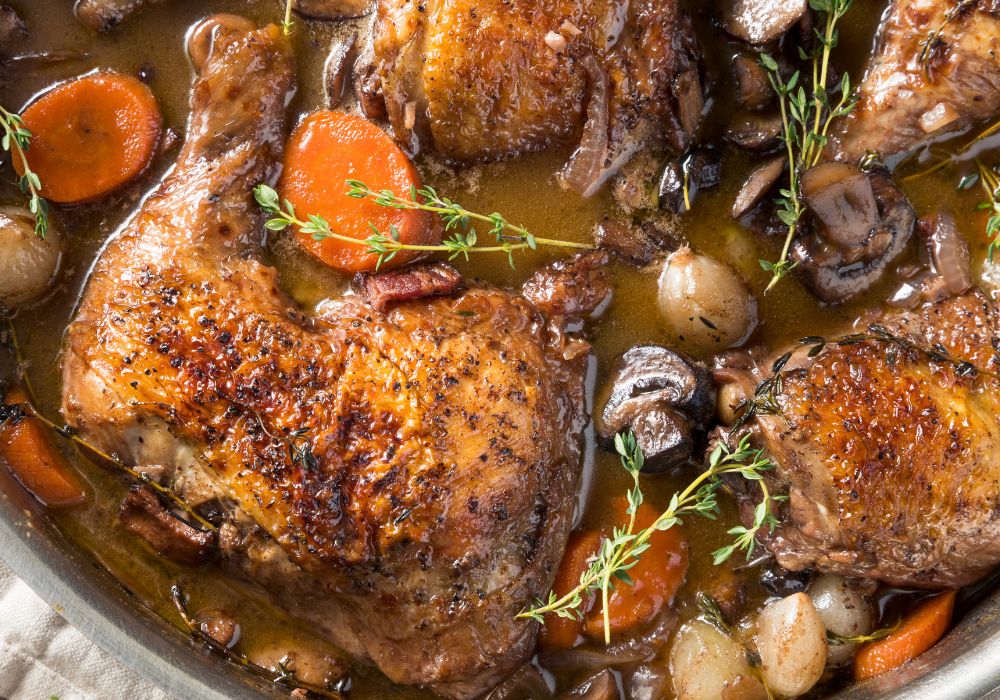 Coq au Vin is usually served with mashed potatoes or steamed vegetables and polenta; it's the perfect choice for a cozy family-style dinner.
You'll find this famous dish of France on menus across the country. It's particularly common in Burgundy where it originates and a great place to try it is at Restaurant Au Coq Bleu in the town of Beaune, just south of Dijon.
Restaurant Au Coq Bleu Information
Address: 10 Rue Carnot, 21200 Beaune, France
Phone: +33 3 45 63 58 98
Operating Hours: 12 pm–2 pm & 7 pm–9 pm, Sun-Tues; 12 pm–2 pm & 7 pm–10 pm, Fri-Sat (closed Weds-Thurs)
Average Cost of Dish: €18
Website: au-coq-bleu-restaurant-beaune.eatbu.com
4. Croissants and Baguettes
You probably don't need me to tell you that croissants and baguettes are two of the most iconic French food items of all time.
A typical breakfast in France almost always includes croissants. These buttery, flaky layered pastries can be eaten plain or stuffed with sweet or savory fillings such as jam, Nutella, ham, and/or cheese.
The best croissants are the ones freshly made in French bakeries, so make sure you try some when you're in France – just follow your nose to find the closest place! My favorite type is the pain au chocolat, which is a differently shaped croissant that has two strips of rich dark chocolate running through.
Baguettes are another classic food item synonymous with France, so much so that the baguette itself has recently been given UNESCO Heritage status! These delicious long loaves have a crusty exterior and a soft and chewy interior that pairs perfectly with cheese or other ingredients of choice for an amazing sandwich.
Baguettes can also be eaten plain or dipped into soups or sauces.
French people tend to visit their local boulangerie (bakery) every morning to pick up fresh bread and/or pastries, and they're best enjoyed as close to being baked as possible. Making a morning trip to a traditional French boulangerie is one of the best and most authentic local experiences you can have.
You can pick up delicious baguettes and croissants from virtually every bakery, wherever you are in France. I have strong childhood memories of cycling to Boulangerie Banette in the town of Villeréal, close to where my grandparents lived, to pick up the daily bread and pastries. If you find yourself in that part of France, I recommend a visit.
Boulangerie Banette Information
Address: Bd de Plaisance, 47210 Villeréal, France
Phone: +33 5 53 71 25 85
Operating Hours: 6 am–8 pm, Mon-Tues & Thurs-Sat; 6 am–1 pm, Sun (closed Wednesdays)
Average Cost of Dish: €1 for a baguette, €1 for a croissant
Website: N/A
5. Cuisses de Grenouilles (Frogs' Legs)
No, French people don't eat frogs' legs all of the time. But yes, they do sometimes. Cuisses de grenouilles (frogs' legs) are actually quite a delicacy in France and can be found on restaurant menus throughout the country.
It may sound strange to some people, but I promise you the taste is delicious, and they're worth trying at least once if you have the chance – don't knock it until you've tried it!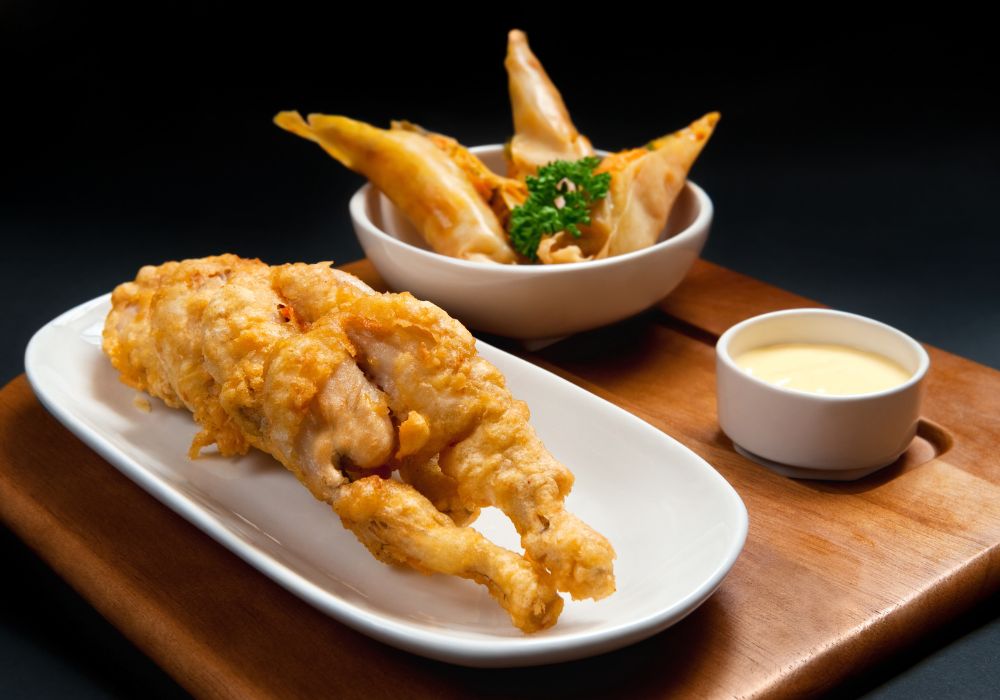 Frogs' legs are typically served in a garlic butter sauce, making them incredibly flavorful and juicy. They're also often served with French fries or steamed vegetables either for dinner or lunch.
An amazing place to sample this famous dish in France is La Taverne de Montmartre in Paris, a cozy little restaurant that's known for serving fantastic traditional French cuisine.
La Taverne de Montmartre Information
Address: 25 Rue Gabrielle, 75018 Paris, France
Phone: +33 7 64 44 47 39
Operating Hours: 12 pm–2 pm & 6 pm–9 pm, Mon & Fri; 12 pm–4 pm & 6 pm–9 pm, Sat; 12 pm–4 pm & 6 pm–8:30 pm, Sun (closed Tues-Thurs)
Average Cost of Dish: €17
Website: facebook.com/pages/La-Taverne-de-Montmartre
6. Quiche Lorraine
Another common food in France, quiche lorraine is made with eggs, cream, bacon, and cheese baked into a pastry shell. It's usually served warm for either lunch or dinner, but can also be enjoyed as an entree.
The dish originates from the Lorraine region of eastern France, which runs along the border between France and Germany. This part of France shares many similarities with southwestern Germany, and there's quite a lot of crossover between the cuisine of both places.
Quiche lorraine is wonderfully rich, creamy, and full of flavor. The combination of smoky bacon, creamy cheese, and flaky pastry makes this dish truly mouth-watering. Writing this has given me a strong urge to eat one right now!
This classic French dish is also fairly easy to make yourself – especially if you cheat and buy a pre-made pastry base (that's what I do!). If you have a gluten-free diet, try the quiche lorraine from the bakery L'Eden Libre de Gluten (Gluten-Free Eden) in Strasbourg – it's heavenly.
L'Eden Libre de Gluten Strasbourg Information
Address: 15 Pl. du Temple Neuf, 67000 Strasbourg, France
Phone: +33 3 90 41 74 95
Operating Hours: 10 am–6 pm, Tues-Fri; 10 am–5 pm, Sat (closed Sun-Mon)
Average Cost of Dish: €4
Website: boulangerie-eden.fr
7. Ratatouille (Vegetable Stew)
French food tends to be fairly meat- and/or dairy-heavy. However, if you're a vegetarian or vegan, one of the best traditional French dishes for you to try is ratatouille. It most commonly consists of vegetables like eggplant, onion, garlic, zucchini, and tomatoes slow-cooked together in olive oil until tender.
The combination of flavors and textures makes it a truly delicious vegetable-based meal that can be served as an entree, a side dish, or the main course. Ratatouille also freezes really well, so I tend to make a large batch and freeze whatever isn't eaten. Easy to defrost and reheat, it's an excellent, easy, and healthy meal when you're short on time.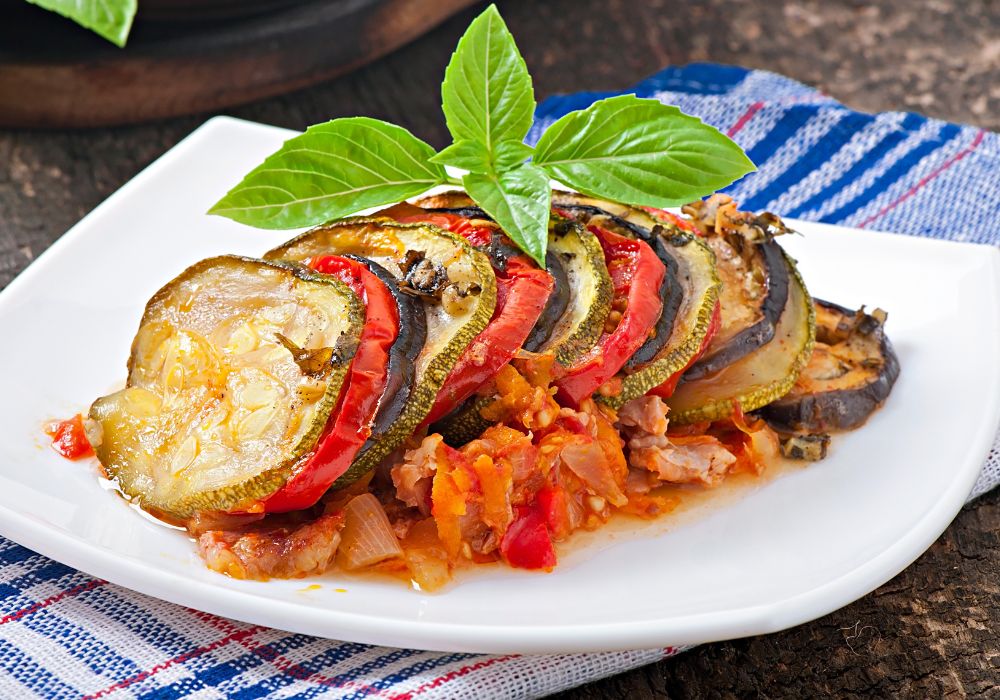 This dish originates from the southeastern region of Provence. If you are planning to visit the coastal city of Nice, check out Restaurant Alounak, a great Mediterranean/North African place that serves a range of delicious vegetarian and vegan dishes, including fantastic ratatouille.
Restaurant Alounak Information
Address: 3 Rue d'Alsace-Lorraine, 06000 Nice, France
Phone: +33 4 93 85 86 50
Operating Hours: 12 pm–2:30 pm & 7 pm–10:30 pm, Mon-Sat; 7 pm–10:30 pm, Sun
Average Cost of Dish: €9
Website: alounak.wordpress.com
8. Salade Niçoise
Salade Niçoise is a classic French dish from the south of the country that's often served as a light lunch or dinner. It superbly makes use of high-quality fresh local ingredients such as tuna, potatoes, green beans, olives, and hard-boiled eggs, and is usually dressed with olive oil, vinegar, and herbs.
It's a particularly great dish to enjoy on hot summer days in the south of France and will leave you satisfied without being uncomfortably full The combination of flavors makes this one of my favorite salads, and it's also a very healthy option.
The best Salade Niçoise I've ever had was at Restaurant La Farigoulette, which is also one of my favorite restaurants in France, in the beautifully picturesque medieval town of Tourtour.
Restaurant La Farigoulette Information
Address: Pl. des Ormeaux, 83690 Tourtour, France
Phone: +33 4 94 70 57 37
Operating Hours: 6:30 am–10 pm, Mon-Sun
Average Cost of Dish: €15
Website: N/A
9. Soupe à l'Oignon (Onion Soup)
Classic French onion soup is made with caramelized onions, beef broth, white wine, butter, bay leaves, and thyme simmered together until the flavors have blended perfectly. Once it's been decanted into bowls, the soup is then topped with croutons and grated Gruyère cheese, before being finished off under the grill.
The long cooking process gives the soup its amazingly rich flavor and silky texture, and it's one of my favorite dishes to sink into in the wintertime. I especially love adding some extra freshly grated Gruyère once it's been served for an additional dose of cheesy goodness.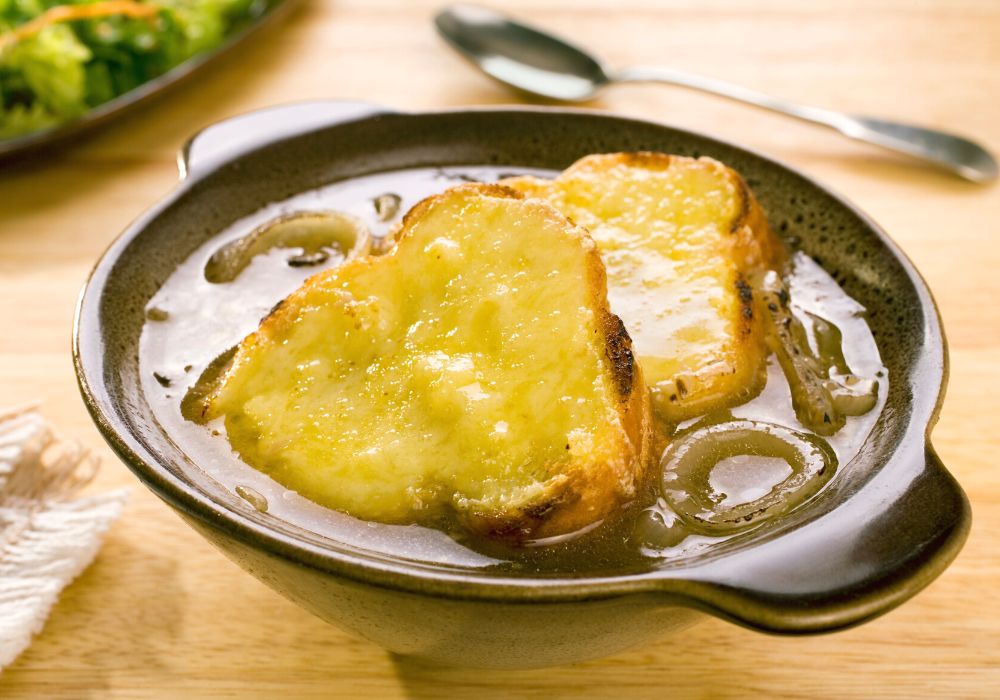 The origins of this dish can be traced back to 18th-century Paris, and there's no better place to enjoy it than the French capital. Head to La Jacobine, a brilliant and reasonably-priced little restaurant close to the Pont Neuf bridge that's loved by locals and tourists alike. Their onion soup is legendary.
La Jacobine Information
Address: 59-61 Rue Saint-André des Arts, 75006 Paris, France
Phone: +33 1 46 34 15 95
Operating Hours: 12 pm–11 pm, Tues-Sun (closed Mondays)
Average Cost of Dish: €11
Website: facebook.com/pages/La-Jacobine
10. Crêpes and Galettes (Sweet and Savory French Pancakes)
These are two different types of pancakes that are popular foods in France. Crêpes tend to be sweet, and filled with things like Nutella, sugar, and fruits; whereas galettes are savory and filled with cheese, ham, mushrooms, or spinach.
Both are delicious and can be eaten for breakfast, lunch, or dinner. They're also fun to make at home if you want to try something special and quintessentially, French for yourself.
You can find crêpes and galettes being sold by street food vendors all over France. They're particularly common (and delicious) in the western region of Brittany though, and one of the best crêperies is a place called Crêperie Dan Ewen in the pretty medieval town of Vannes. Come here for the crêpes and galettes; stay for the fantastic Breton cider.
Crêperie Dan Ewen Information
Address: 3 Pl. du Général de Gaulle, 56000 Vannes, France
Phone: +33 2 97 42 44 34
Operating Hours: 11:30 am–2 pm & 6:30 pm–9:30 pm, Mon & Sat; 11:30 am–2 pm & 6:30 pm–9 pm, Tues-Fri (closed Sundays)
Average Cost of Dish: €3-8 (depending on what toppings you choose)
Website: creperie-danewen.fr
11. Escargots (Snails)
Yep, another slightly rogue one here. If you like the flavor of butter and garlic (who doesn't?) and you don't mind a slightly chewy texture, you'll likely find snails pretty tasty! They're usually served in their shells with butter, garlic, and parsley, giving them a savory flavor that's surprisingly good.
Escargots are often enjoyed as an appetizer but they can also be included in other dishes like soups and stews for an extra boost of flavor. If you've never tried them before, I'd definitely recommend giving escargots a go while you're in France – it'll be an unforgettable food experience if nothing else.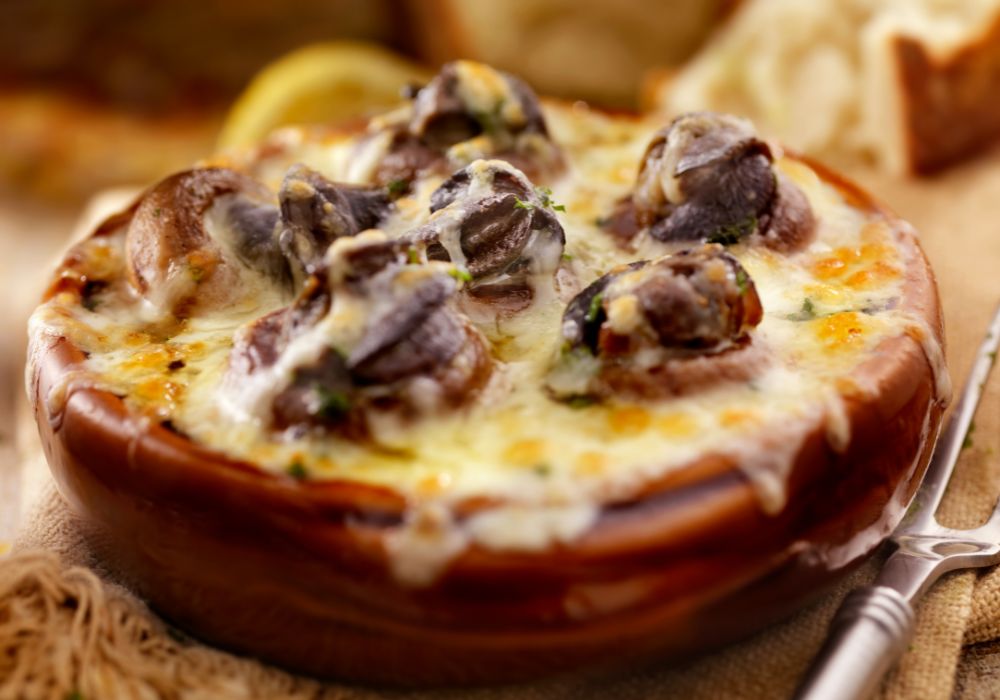 You can find escargots on menus all over France, but they're particularly common in the eastern regions. Check out Restaurant le Cheval Noir in Beaune which is known for its excellent and authentic version of this dish. There's always the aptly-named L'Escargot restaurant in Paris too.
Restaurant le Cheval Noir Information
Address: 17 Bd Saint-Jacques, 21200 Beaune, France
Phone: +33 3 80 22 07 37
Operating Hours: 12 pm–1:15 pm & 7 pm–8:45 pm, Thurs-Mon (closed Tues-Weds)
Average Cost of Dish: €14
Website: restaurant-lechevalnoir.fr
12. Coquilles Saint Jacques à la Créme (Scallops in a Creamy Sauce)
Coquilles Saint Jacques à la créme is a classic French dish that consists of seared king scallops (coquilles Saint Jacques) in a creamy sauce (à la créme).
The scallops are usually cooked until they're just done, giving them a firm texture on the outside while their centers remain tender and juicy. When the scallops are almost ready, the pan is de-glazed using white wine and/or cognac before the mixture is left to reduce with the addition of a little cream.
The dish is usually served as a starter, although it can also be a main too. Whenever I see this dish on a menu in France, I order it. Coquilles Saint Jacques is also relatively straightforward to make at home and makes an amazing addition to any dinner party or special occasion – your guests will be suitably impressed!
If you're ever in Marseille, head to Coquille – Bistrot Marin to sample this incredible dish.
Coquille – Bistrot Marin Information
Address: 8 Rue Euthymènes, 13001 Marseille, France
Phone: +33 4 91 54 14 13
Operating Hours: 7:30 pm–10 pm, Mon-Tues; 12 pm–2 pm & 7:30 pm–10 pm, Weds-Sun
Average Cost of Dish: €17
Website: N/A
13. Raclette
Raclette is the name of an Alpine mountain cheese. Technically, proper raclette comes from just across the border in Switzerland, but it's commonly eaten all over the French Alps.
The most traditional (and best) way to enjoy raclette is by melting it on a specially-designed tabletop grill and serving it with potatoes, cured meats, and pickles.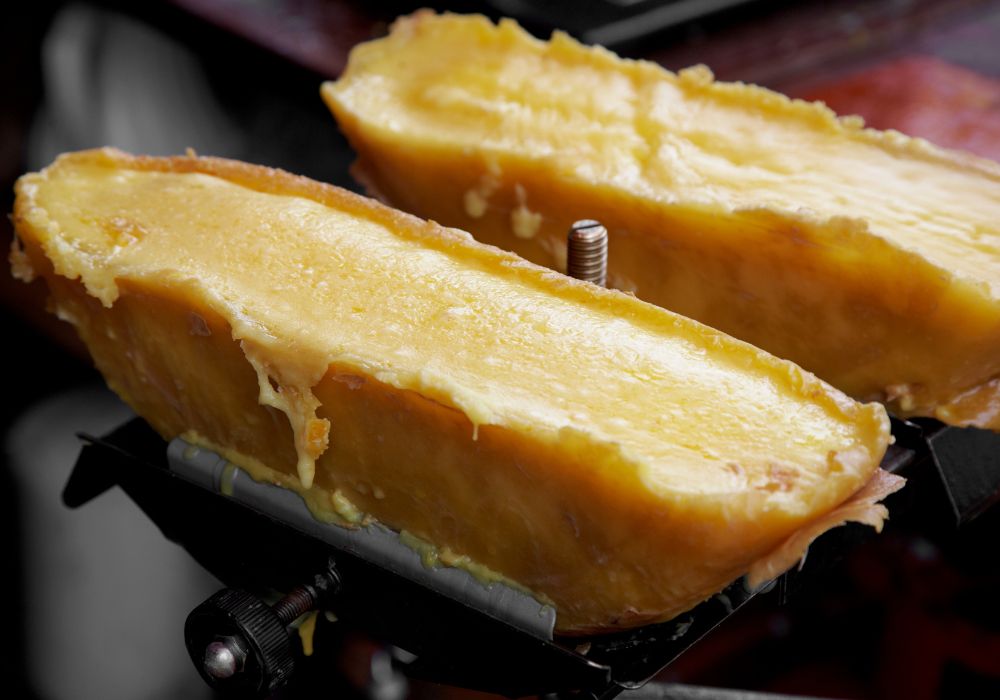 This is one of the most fun meals for sharing and is a thing of beauty, especially after a cold winter's day in the mountains. Raclette is definitely an indulgent meal, but it can be made (slightly) healthier by adding more vegetables.
You'll find raclette on the menu in most French Alpine towns and ski resorts. Le Monchu in Chamonix is particularly good, and not too overpriced (unlike many of the other restaurants there).
Le Monchu Information
Address: 1 Rue du Lyret, 74400 Chamonix-Mont-Blanc, France
Phone: +33 4 50 53 04 80
Operating Hours: 11:30 am–11 pm, Mon-Sun
Average Cost of Dish: €25 per person
Website: lemonchu-chamonix.fr
14. Steak Tartare (Finely Ground Raw Beef)
Steak tartare (also known as tartare de boeuf) is a traditional French dish that consists of finely ground raw beef served with chopped onions, capers, and seasonings. It's usually eaten as an appetizer and is often served with toast or crackers.
Steak tartare isn't to everybody's taste but, personally, I love it not just for its amazing flavor but also for its versatility – it can be spiced up with chili peppers or other spices, or kept really simple. The most traditional version is served with a raw egg cracked over the top, which adds to the silky texture.
Of course, you should only ever eat raw meat that's extremely fresh and of high quality. I would only ever order this dish in a restaurant that I trust (like L'Atelier Roulière in Paris). And only attempt to make this at home if you're confident that you know what you're doing!
L'Atelier Roulière Information
Address: 24 Rue des Canettes, 75006 Paris, France
Phone: +33 1 43 26 25 70
Operating Hours: 12 pm–2:30 pm & 7 pm–11 pm, Mon-Thurs; 12 pm–2:30 pm & 7 pm–11:30 pm, Fri-Sun
Average Cost of Dish: €22
Website: facebook.com/AtelierRouliere
15. Soufflé au Chocolat (Chocolate Soufflé)
Finally, no post about food in France would be complete without mentioning chocolate soufflé! This classic French dessert is made with egg whites and dark chocolate, resulting in an airy texture and rich flavor.
Chocolate soufflés are best enjoyed while they're still warm, straight out of the oven. I love serving them with a dollop of crème fraîche or ice cream to add contrast and really make the most of the flavors.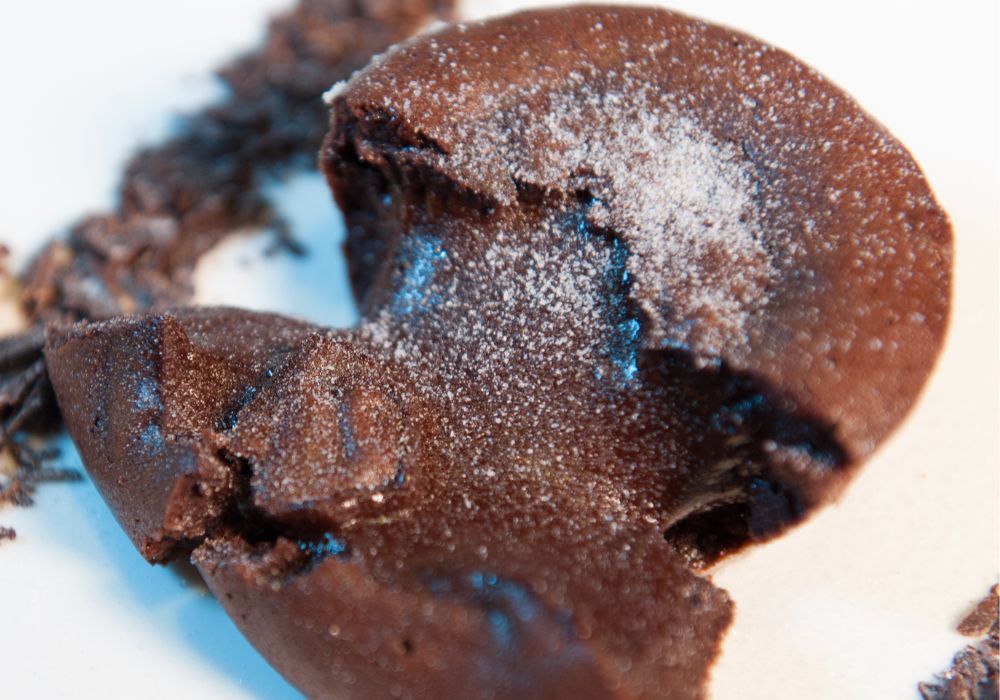 Le Soufflé restaurant in Paris makes some of the best soufflés known to humankind. Of course, you must try their chocolate one, but they also make soufflés in a large range of other flavors (sweet and savory), including vanilla and almond, goat cheese and rosemary, salmon, ricotta and dill, and even beef bourguignon!
Le Soufflé Information
Address: 36 Rue du Mont Thabor, 75001 Paris, France
Phone: +33 1 42 60 27 19
Operating Hours: 12 pm–4 pm & 7 pm–10 pm, Tues-Sat (closed Sun-Mon)
Average Cost of Dish: €12
Website: lesouffle.fr
Food Tours in France
A great way to get acquainted with some of the most typical food in France is to join a food tour. These can be found all over the country, but I've listed a few well-reviewed ones below: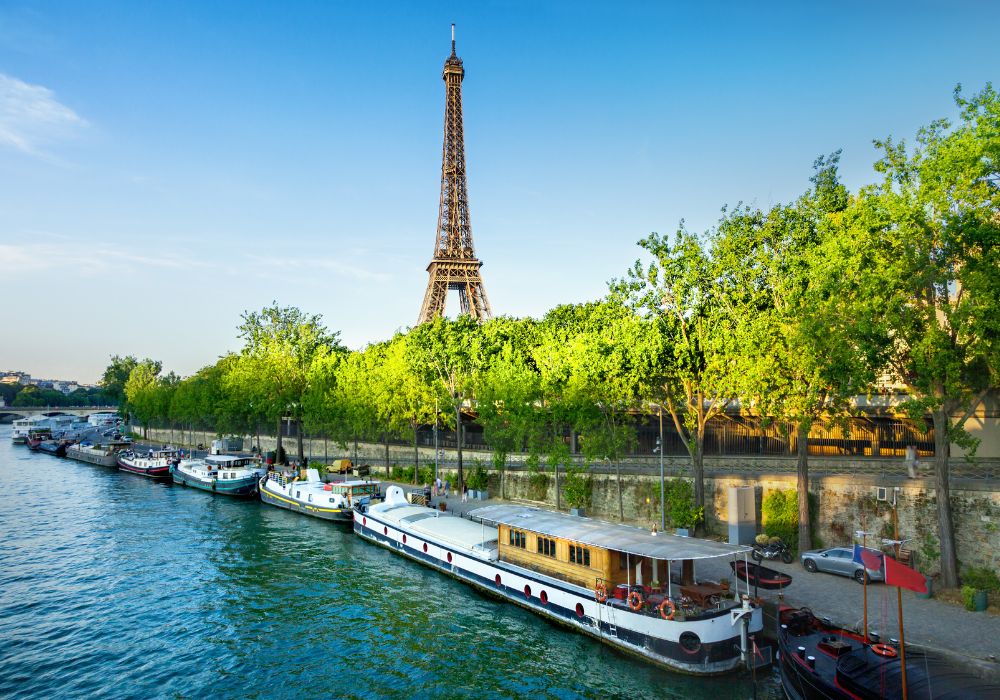 Paris Walking Food Tour in Saint Germain des Prés
Discover Paris' most ancient neighborhood and taste some of its best food on this 3-hour walking food tour of Saint Germain des Prés. You'll meet local master artisans who will teach you about their craft and invite you to taste a range of their quality products, including pastries, olive oils, traditional candies, charcuterie, cheese, and bread.
Vieux Lyon 4-Hour Food Tasting Tour
Explore the historical heart of Lyon, considered by many to be the gastronomic capital of France, on this 4-hour food-tasting tour. Your guide will take you to some of the medieval city's most authentic hidden corners, where you'll sample various local dishes, ingredients, and other delicacies.
Montpellier Wine & Food Trip to Pic Saint-Loup
This tour starts in the southern French city of Montpellier and takes you on a foodie journey through the picturesque countryside of the Coteaux du Languedoc wine region. You'll visit wineries, meet master winemakers, and taste some of their wine before enjoying a delicious traditional home-cooked farm-to-table meal in idyllic village surroundings.
Paris: Full-Day Cooking Class with 3-Course Lunch
If you'd like to learn how to make amazing, authentic French food yourself, this is the tour for you. You'll be taught a number of classic French cooking techniques using top-quality fresh produce from the local market. Then, hone your skills to make your very own sumptuous 3-course meal, accompanied by a few glasses of wine – naturally.
Nice City Foods Guided Walking Tour
In the sunny Côte d'Azur city of Nice, this guided walking tour takes you to some of the best cafes, restaurants, and historic eateries in the city. You'll taste a wide range of local products, including street food, olive oil, tapenade, typical Provençal wine, pastries, ice cream, and other sweet treats.
You're sure to leave with a new-found appreciation of this beautiful city.
Lyon 3.5-Hour Food Tour with a Local Guide
Another fantastic food tour in Lyon, this one will have you tasting a range of regional specialties including ice cream, local cheeses, white wine, craft beer, chocolates, and praline pie. Your local guide will also teach you about the history and culture of the city, its people, and customs.
Lyon is said to be one of the most liveable cities in France – this tour will help you understand why.
France Food: FAQs
Here are answers to some commonly-asked questions about the traditional local food in France.
What are the most traditional foods in France?
The most traditional foods in France include ratatouille, coq au vin, boeuf bourguignon, escargots, and – of course – baguettes and croissants.
What time is dinner in France?
Dinner is usually served between 7 pm and 9 pm in France, although this can vary depending on the region or occasion. French people typically like to enjoy long, leisurely dinners and evening meals can go on quite late into the evening.
What time is lunch in France?
Lunch tends to be served between 12 pm and 2 pm. Again, the French like to take time to properly enjoy their meals, and many businesses close for up to 2 hours for lunch throughout the week.
What time is breakfast in France?
There isn't really a set time for breakfast – it depends on what time you get up. Bakeries usually open early (around 6 am), and hotels tend to serve breakfast between 7 am-10 am.
Do you tip in France?
France doesn't have a big tipping culture and the country has strong labor laws ensuring that waiting staff are paid properly. However, if you receive good service in a restaurant, the staff will always appreciate a small tip and an average of 10% is perfectly adequate.
Some restaurants add a service charge to your bill. In this case, there's no need to leave an additional tip.
What do French people eat?
French food is incredibly varied, but fresh bread is served with most meals. The majority of French people eat a fair amount of meat and cheese, although veganism is on the rise, particularly in larger cities.
There are regional differences too. In the north, many people enjoy rich, warming dishes with lots of butter and cream, especially during the winter. In southern France, the cuisine has more of a Mediterranean influence. Seafood is very popular on the coast too.
What is France's national food?
France doesn't have a single national food, although beef bourguignon would have a strong claim, as would the humble baguette which is probably the most common staple food in France.
What city has the best restaurants in France?
Paris has the second-largest number of Michelin-starred restaurants in the world (after Tokyo). However, Lyon is often said to be the gastronomic capital of France thanks to its superb range of restaurants, from informal eateries to fancy fine dining establishments where you can enjoy some of the best food in France.
Where should I stay in France?
There are so many great areas to stay in France, but some of my favorite places in the country include the medieval towns of the Dordogne, Provence, and the French Alps.
To Summarize
Overall, France has some of the best food the world has to offer and these are just some of my favorite dishes that I look forward to eating whenever I'm there. Whether you're visiting France for the first time or the fiftieth, these must-try French foods are guaranteed to make your trip even more special.
Many of the traditional dishes in France are surprisingly easy to cook at home and make great additions to any dinner party. If any of your guests are vegan, I find that making a hearty ratatouille usually goes down very well!
Like This Article? Pin it!