Food in Yorkshire is a real treat and the county has more than its fair share of famous foods for visitors to try. From the humble Kit Kit, a coffee break favorite for many (myself included), to Yorkshire puddings, crab, scampi (another favorite), and Wensleydale cheese, Yorkshire is an excellent destination for foodies.
North Yorkshire is the largest county in England and lots of diverse foods are grown here from rhubarb to licorice and asparagus. With so much farmland, the county is also famed for its lamb and pork (York ham).
I've been visiting Yorkshire since childhood as I have family in the region and I always look forward to sampling the local fayre on my trips up north. There are many excellent restaurants, pubs, and bistros across the region where you can sample typical Yorkshire food such as local lamb, curd tart, and parkin (a traditional cake of the county).
15 Foods To Try in in Yorkshire
If you're looking for what to eat in Yorkshire, you won't be stuck for choice as the county has some excellent native dishes to try and lots of great places to try them. Below, you'll find a selection of savory and sweet traditional foods in Yorkshire and details of the best places to try them.
1. Yorkshire Puddings (Most Famous Food to Try in Yorkshire Overall)
This famous food in Yorkshire is enjoyed all across the country, usually on a Sunday alongside a traditional roast dinner (Sunday lunch). A Yorkshire pudding is a savory pudding made from a batter that's baked in the oven. These chewy treats are best enjoyed with lashings of gravy (homemade, never from granules).
The Sunday roast is one of my favorite dishes and one I miss the most when I'm away, thanks in no small part to those tasty Yorkshire puddings drowned in thick gravy.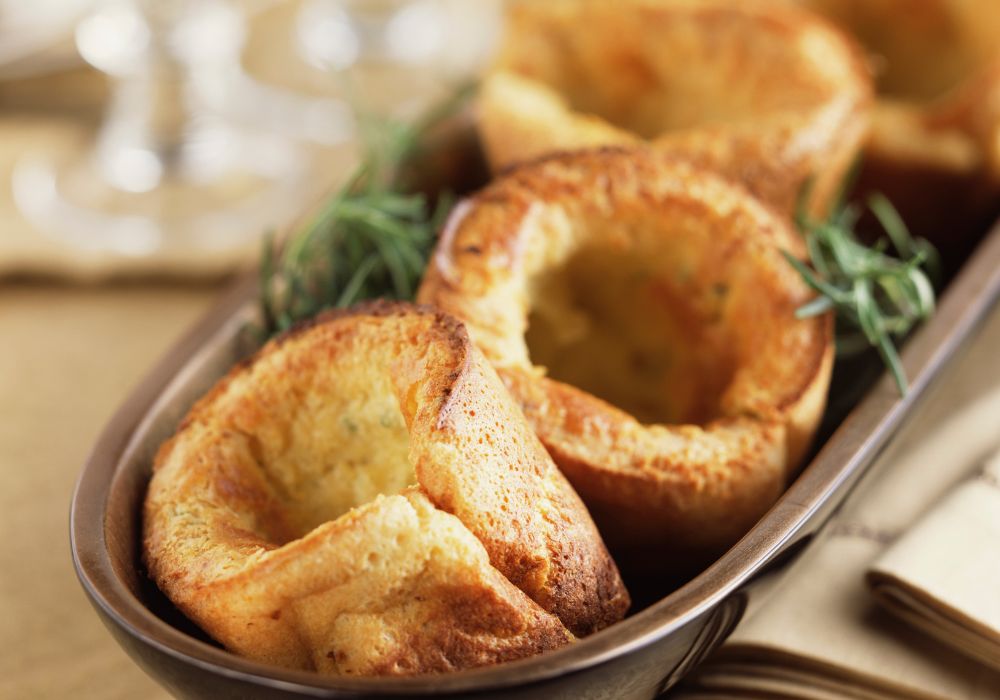 The best "Yorkshires" are homemade from scratch using eggs, flour, and milk, however, it's also possible to buy ready-made puds that just need to be popped in the oven.
2. Yorkshire Crab
Yorkshire has 45 miles (72 km) of stunning coastline that features lots of little fishing towns and villages such as Scarborough and Whitby. You'll not fail to notice the crab and lobster pots coming off the boats in the harbors up and down the county, and just like Cornwall, Yorkshire is famous for its shellfish and seafood.
You can enjoy a dressed crab from one of the many fishmongers throughout Yorkshire, but the best place to try this delicacy is next to the sea. Many restaurants and pubs in the region have crab on the menu and Cafe Fish in Scarborough is a great option. Their local Scarborough Crab Thermidor is a must-try (and very reasonable at only £16.95).
Nearby Whitby is famous for its scampi (also known as Norway lobster), which has been one of my favorite pub classics since childhood. There really is nothing better than a plate of battered scampi tails with a portion of chunky chips, fresh garden peas, and tartare sauce. This is a dish you'll find in almost every pub across the UK and for good reason.
3. Yorkshire Lamb (A Typical Meal in Yorkshire)
With so much open pasture and farmland across Yorkshire, it's little surprise that sheep farming is big in the region, and as such, locally reared lamb is one of the most traditional dishes you can find here.
The best way to enjoy a piece of lamb is as part of a Sunday roast (with Yorkshire puddings of course). The best place for a Sunday roast (aside from Grandma's house) is most definitely a country pub, and Yorkshire has no shortage of these.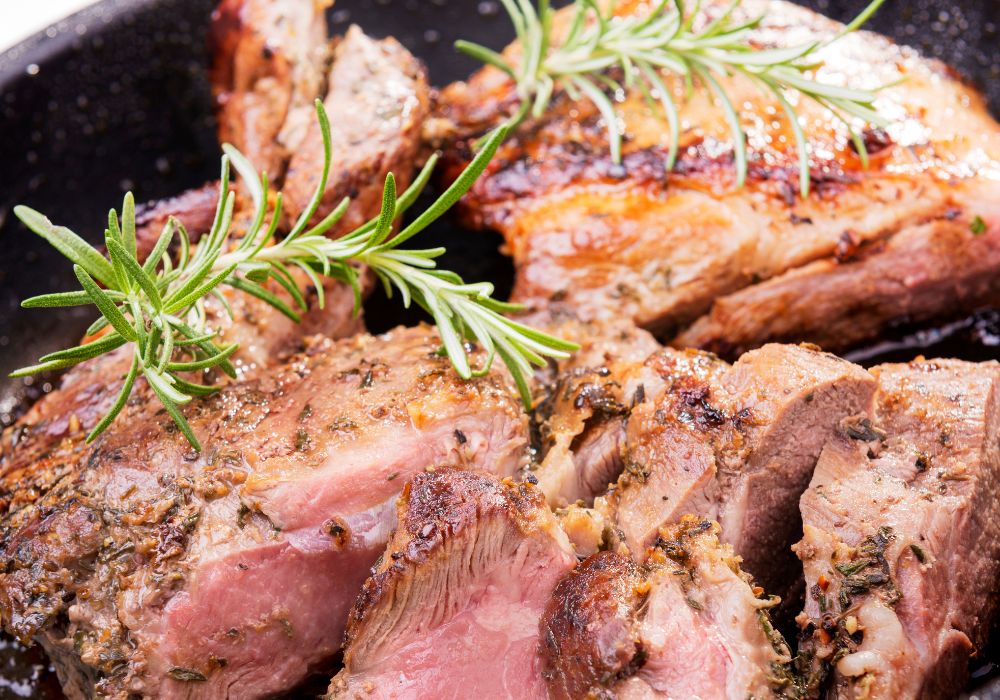 The Lister Arms is a pub in the village of Malham in the heart of the Yorkshire Dales National Park and is one of the best places to eat in Yorkshire if you're looking to stuff yourself full with a Sunday lunch.
4. Wensleydale Cheese (Famous Food in Yorkshire)
This famous cheese has been produced in the North Yorkshire village of Wensleydale since at least the 14th Century when Cistercian monks moved to the region from Roquefort in France (also famed for its cheese). As with Stilton, Champagne, and Dijon mustard, Yorkshire Wensleydale can only be called as such if it's produced in the region.
One of my favorite types of Wensleydale has the addition of cranberries which complement the creamy taste wonderfully. The cheese is characteristically crumbly, with a flakey texture and off-white, creamy color. It's a Christmas favorite and is best enjoyed with crackers after a meal or with a glass of port.
For hardcore cheese lovers, it's possible to visit the Wensleydale creamery which has a visitor center, shop, and delicatessen selling cheeses, other dairy products, and luxury hampers. The visitors center and shop are open from 9:00 am to 4:00 pm Saturday to Thursday. Wensleydale is definitely one of the must-try dishes in Yorkshire.
5. Chocolate
Yorkshire, and York in particular, is famous for its confectionary and has been the home of confectioners Rowntree for over 160 years. Some of their most famous treats include Jelly Babies, Smarties, and Kit Kat. Many of these sweets and chocolates are exported around the world – I was even able to enjoy a Kit Kat with my tea in China!
The Rowntree Company has been producing confectionary since 1862 when founder Henry Rowntree bought a cocoa plant in York and later set up with his brother to make some of the most famous sweets and chocolates loved by kids and adults the world over.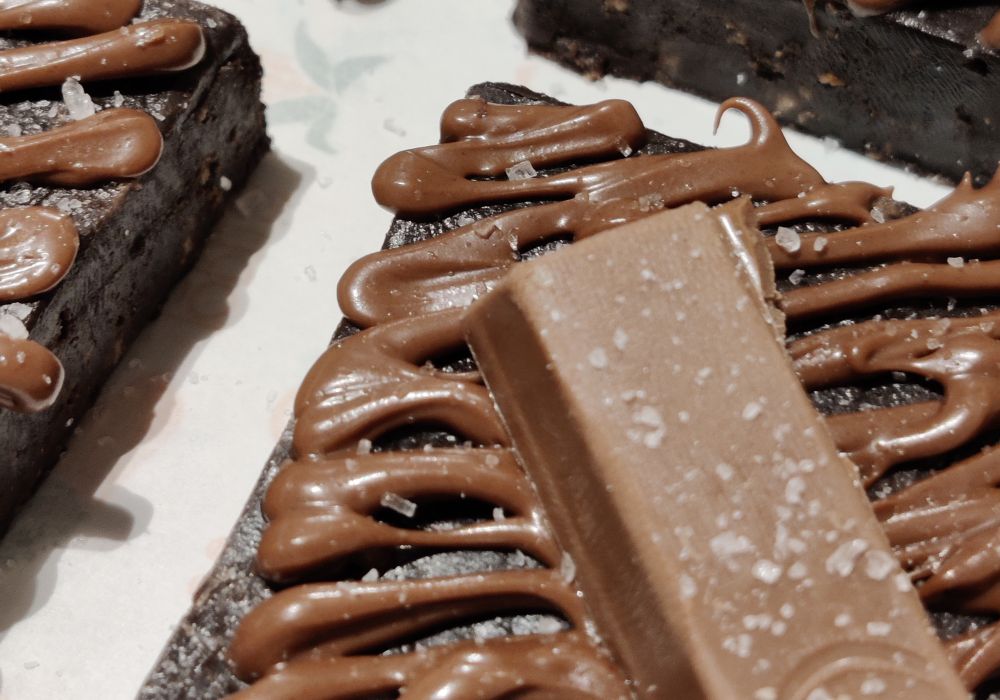 I highly recommend you get your hands on some Rowntree treats during your trip!
6. Liquorice Pontefract Cakes (Licorice)
I absolutely love the flavor of licorice which is made from the root of the glycyrrhiza glabra (sweet root) plant. Although the plant isn't native to the UK (it can be found across western Asia, north Africa, and southern Europe), it was in Yorkshire that licorice, as we know it today, was first produced.
The town of Pontefract was once the center of licorice cultivation after the plant was brought back by returning crusaders. The root is still grown here by local producers and used in everything from tea and craft beer to perfumes and toiletries. Licorice was initially used for medicinal purposes and grown in large quantities around Pontefract.
One of the most famous licorice exports from Yorkshire is Bassett's Liquorice Allsorts, another childhood favorite. The best place to sample this sweet treat and famous dish of Yorkshire is in the Oldest Sweet Shop in England in Harrogate near York. The shop opened in 1827 and is the perfect place to gorge on licorice.
7. Rhubarb Desserts
Rhubarb is another famous food of Yorkshire and is enjoyed as a dessert across the country. Rhubarb and custard is one of my favorite childhood puddings with the tart taste of rhubarb offset by creamy custard. However, like licorice, rhubarb isn't a native plant of the UK – it actually originates in Siberia in far eastern Russia.
The cold and wet conditions of Yorkshire are perfect for rhubarb cultivation and between 1900 and 1930 the plant was mass-cultivated in the "Rhubarb Triangle", an area between Leeds, Bradford, and Wakefield in Yorkshire.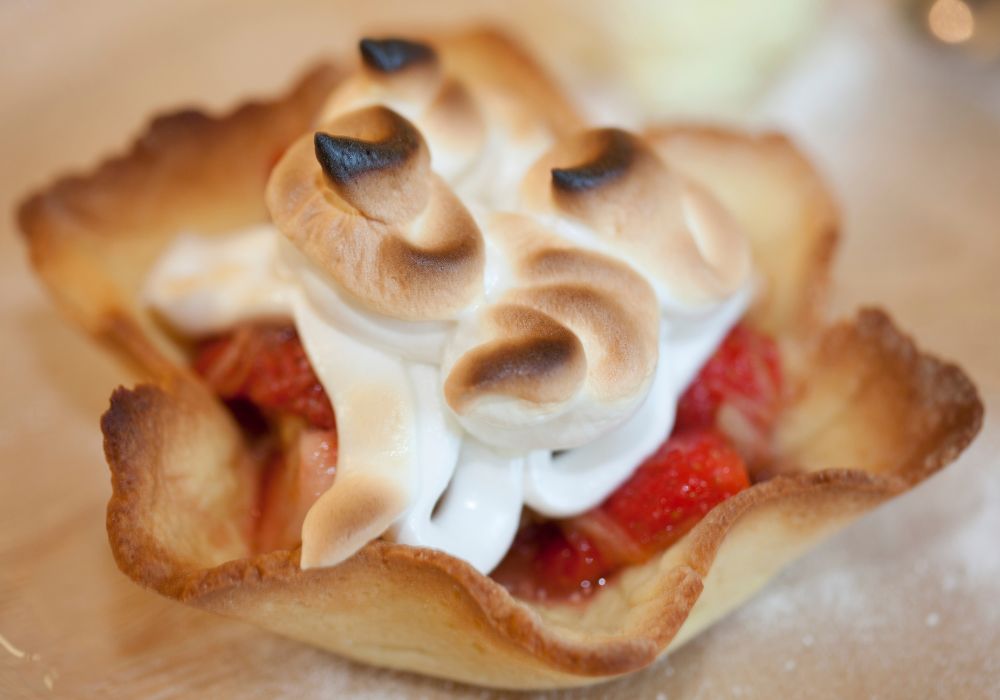 Other popular rhubarb dishes include rhubarb crumble, rhubarb cobbler, and Yorkshire pink Champagne rhubarb cheesecake. The Rhubarb Restaurant in the Yorkshire town of Skipton is the best place to enjoy this famous dish in Yorkshire.
8. British Burrito
The British Burrito is the colloquial name for a large Yorkshire pudding filled with the usual ingredients of a roast dinner (roast beef, mashed potatoes, carrots, and gravy). This large roast dinner wrap has gained popularity in recent years and is certainly a treat I enjoy when in Yorkshire.
The dish originated in the Yorkshire town of Halifax and can now be found in gastropubs across the country. The best place to try this delicacy (who said British food is dull?) is in the Long Can Hall where it was created by chef James Dempsey. The original signature British Burrito costs from £5.00 or you can opt for a large stuffed Yorkshire pudding for £14.00.
9. York Ham (A Staple Food of Yorkshire)
One of my Christmas favorites is a hunk of York ham served cold with salad on Boxing Day. This ham is made using dry curing techniques, though, unlike other cured hams such as Parma ham, it's then cooked, usually by boiling. People often incorrectly attribute York ham to New York, but its origin is in York, England.
Although a York ham is a traditional Christmas staple, it can be enjoyed at any time of year and is best purchased from a good butcher like Lishman's of Ilkley to be eaten at home or as a picnic highlight.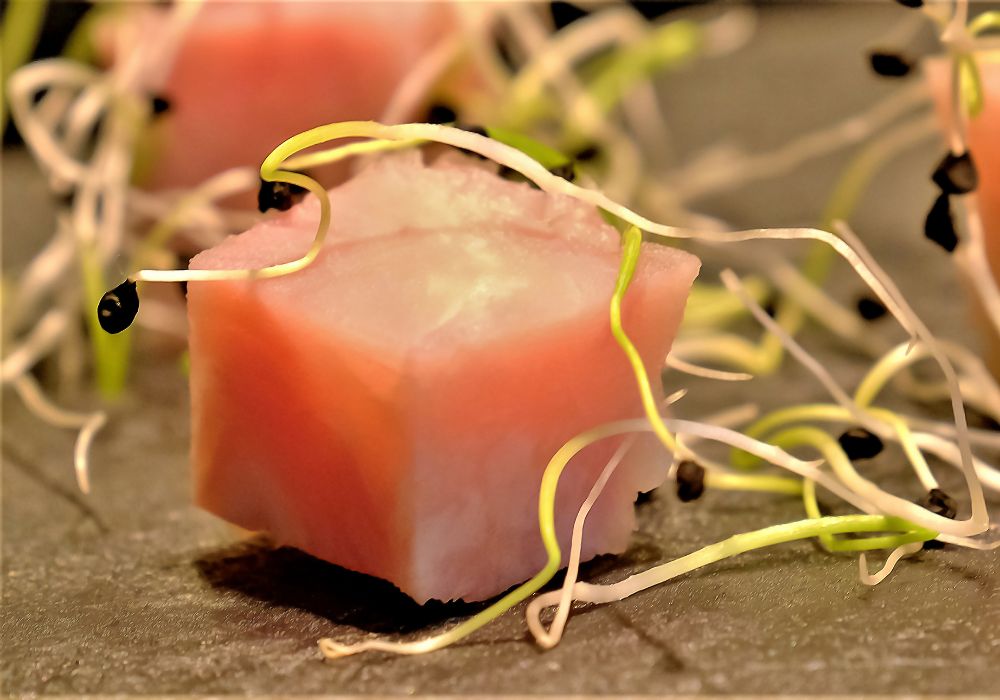 I recommend eating the ham with either a good English mustard or pickle (a type of vegetable chutney, not a pickled gherkin, although that would be a good accompaniment too).
10. Seabrook Crisps
I am a great lover of the crisp (or chip for our American friends). With so many wonderful flavors and options from potatoes to corn, this less-than-healthy but oh-so-tasty snack is a lunchtime staple (you have to try a crisp sandwich – trust me).
The Seabrook company made Britain's first crinkle cut crisp in the 1950s and is one of the biggest names in the business. The company started in Bradford, Yorkshire, and has one of the widest ranges of flavors from traditional staples like ready salted, salt and vinegar, cheese and onion, and prawn cocktail to more inventive choices such as lamb and mint, cream cheese and chive, and the thoroughly British Lea and Perrins (Worcestershire sauce flavor – delicious).
11. Fat Rascal
A fat rascal, also known as a turf cake, is a type of cake or biscuit not too dissimilar to the classic British scone. This traditional food in Yorkshire dates back to the 19th Century and is enjoyed as a teatime snack throughout the region.
It's made simply from plain flour, baking powder, butter, and currents and can also be made from leftover pastry. The best place to enjoy this typical food in Yorkshire is at Betty's Cafe Tea Rooms in Harrogate which has been serving up fat rascals since 1983.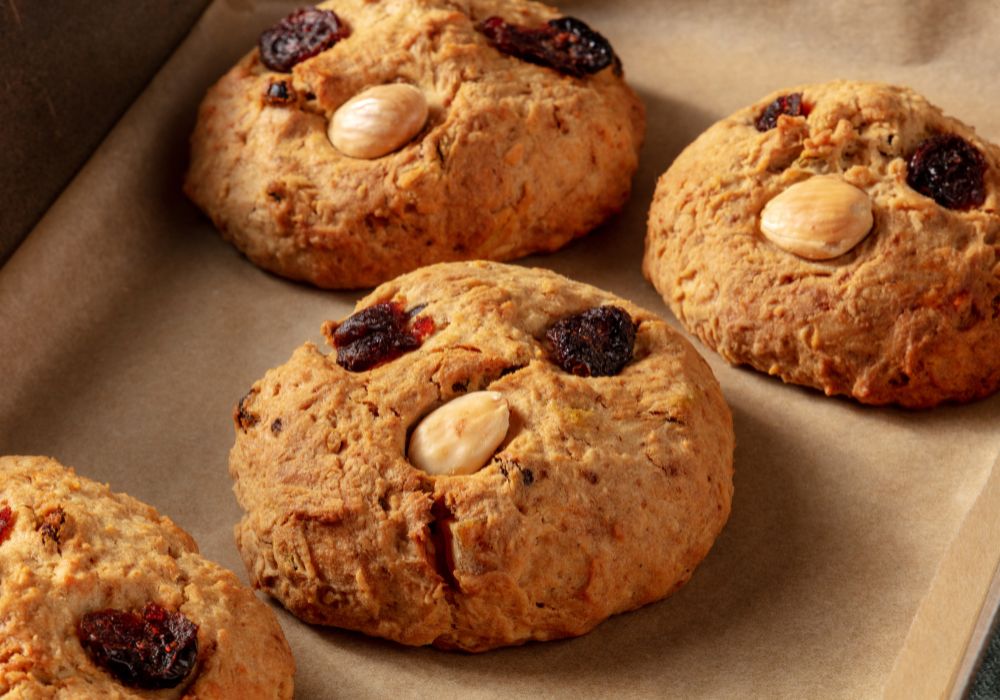 Best enjoyed with a cup of Yorkshire tea (the most popular tea blend in the UK).
12. Yorkshire Curd Tart
The Yorkshire curd tart is comparable to a fat rascal but is instead made with sweet butter pastry and filled with butter, curd cheese, currents, and nutmeg. The humble curd tart has even been featured on British breakfast television's This Morning as they scoured the country for the best tart.
Botham's of Whitby is a great place to try this traditional local food in Yorkshire (Whitby is one of the best day trips from York). You can buy four tarts for £5.95 and enjoy them in the bakery tea rooms or take them away to enjoy on the beach or as a clifftop picnic.
Yorkshire really is such a great destination for puddings and deserts and the curd tart is one of the best (although I do love a nice bit of rhubarb too).
13. Parkin
This sticky, sweet cake made from oats and treacle (molasses) is a typical food in Yorkshire dating back centuries. Parkin was traditionally eaten on the first Sunday of November (known as Parkin Sunday) and on Guy Fawkes/Bonfire night on the 5th of November. It's one of the best foods in Yorkshire for cold winter nights.
Parkin was historically very much winter fuel as this hearty cake is sure to fill you up while the warming treacle will keep the cold away. However, this is one of the popular foods in Yorkshire that can be enjoyed year-round if you know where to look.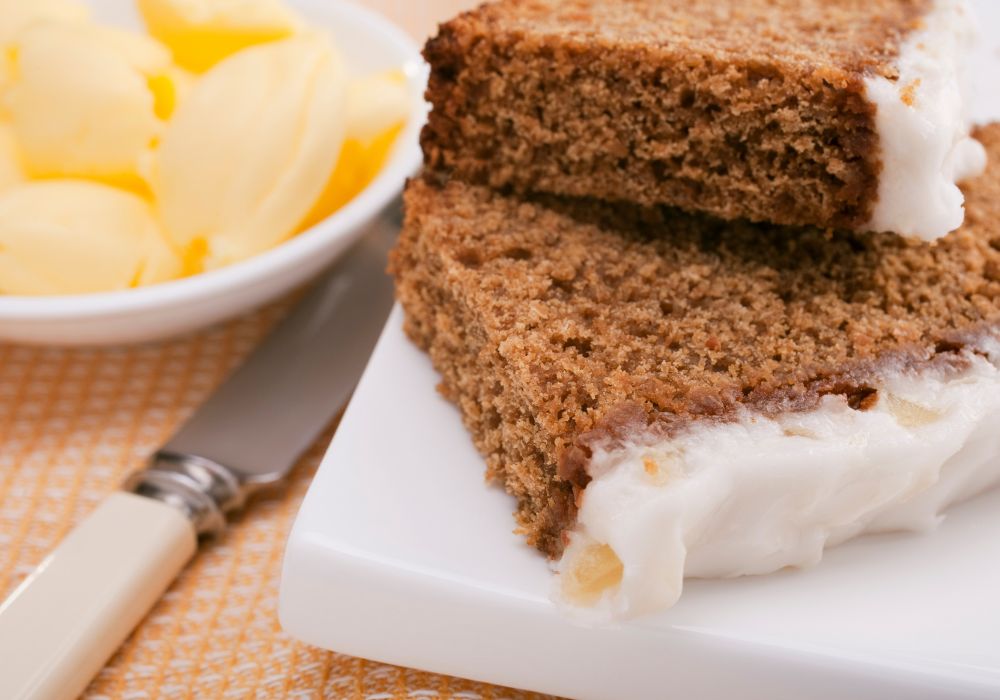 Betty's Cafe Tea Rooms and Botham's of Whitby both make and sell Parkin
14. Traditional Yorkshire Breakfast
A typical breakfast in Yorkshire consists of streaky bacon, black pudding (pigs blood sausage), fried mushrooms, sourdough toast, baked beans, and fried eggs, which is almost the same as a full English breakfast (one of the most popular traditional foods in London).
There's nothing better than a full English, and those friendly Yorkshire folks really know how to make one of the best in the country (though I'm happy to forgo the black pudding). You won't have to look far for a traditional Yorkshire brekkie as it's served in hotels, cafes, pubs, and restaurants in most towns and villages throughout the county.
My favorite place for breakfast in Yorkshire is Mannion & Co who has one cafe in York city center and one in the market town of Helmsley. The full English (Yorkshire) breakfast is served until 11:30 am and costs £12.50.
15. Asparagus
Asparagus is one of my favorite veggies and is one I often cook at home. When it's in season (from April to May) I always opt for the Yorkshire variety as it's far superior to the imported spears.
Asparagus can be enjoyed as a side dish or used in dishes like risotto and pasta (try adding the tips to pasta with smoked salmon and a squeeze of lemon juice – it's divine).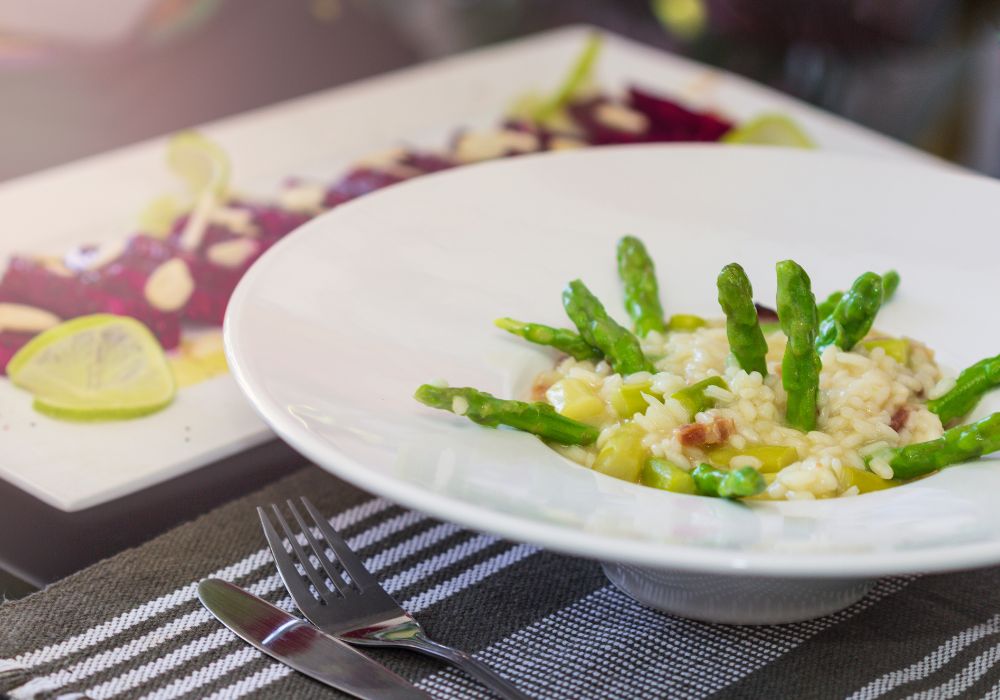 This king of vegetables is definitely best enjoyed in season and fresh from the fields. You'll find it on menus across Yorkshire during the spring, which is also conveniently a great time to enjoy the national parks and cities of the region.
Food Tours in Yorkshire
The city of York is a culinary treat for foodies with lots of great restaurants and pubs, however, the city is most known for its long association with the confectionery industry. Those of you with a sweet tooth like me will love these chocolatey-themed tours.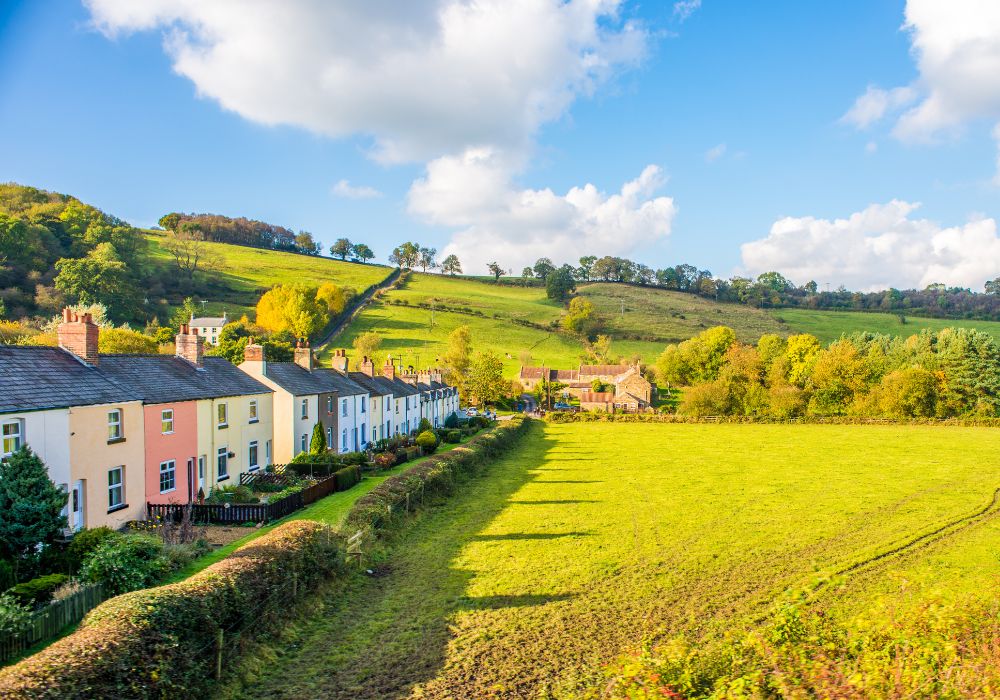 York's Chocolate Story – Guided Tour
This 75-minute tour of the York Chocolate Story includes lots of opportunities for tasting as you explore the city's connection to the confectionery industry. You'll even get to make your own chocolatey creation to enjoy afterward. Click here to find out more.
York Chocolate Bar Creation Workshop
Have a go at making your very own chocolate bar at this workshop in York. You'll learn all about the origins of chocolate and cocoa (fun fact, my grandfather pioneered the study of cocoa and chocolate) and how to work with the ingredient to make chocolate bars complete with professional wrappers. Click here for more info.
Cocoa Works Guided Tour
This guided tour of a York cocoa factory includes a history of York's chocolate industry with tastings. You'll get to see all stages of the chocolate-making process; from the mixing of the cocoa to the finished product, which of course you'll be able to taste at the end. Click here to book now.
Small Group Tasting Tour of York
This small group tasting tour of York is the perfect way to taste your way around the city and experience the best food in Yorkshire. You'll get to visit five independent food venues and taste some local specialties. You'll also get to see some of the city's sights including York Minster Cathedral. Click here to see prices.
Guided Historic Pub Tour
Some of my favorite pubs are located in York and this excellent guided tour will take you to a few of the most historic ones in Yorkshire. Enjoy a pint with some traditional beer snacks or opt for some traditional "pub grub" on this three-hour experience. You'll also get to see some of York's top tourist attractions. Click here to book.
Yorkshire Food FAQs
Below, are some frequently asked questions about famous foods in Yorkshire.
In Conclusion
Food in Yorkshire is some of the best you'll find anywhere in the UK. From locally grown specialties like asparagus, rhubarb, and licorice to the indulgent British burrito and some of the best snacks and confectionary famous all around the world, no trip to the county is complete without trying some of these staple foods of Yorkshire.
Some of the best places to sample Yorkshire's great foods include Betty's Cafe and Mannion & Co in York, Botham's of Whitby, and the Long Can Hall in Halifax. Or you can just pop into any of the restaurants, cafes, and rustic pubs across the county that take your fancy and you'll unlikely be disappointed by the welcome or the food.
So what are you waiting for? With so much to see and do in Yorkshire from the rolling countryside of the Dales and the North Yorkshire Moors National Park, come and visit this picturesque slice of the UK and feast your senses and satisfy your tastebuds all at once.
Like This Article? Pin it!