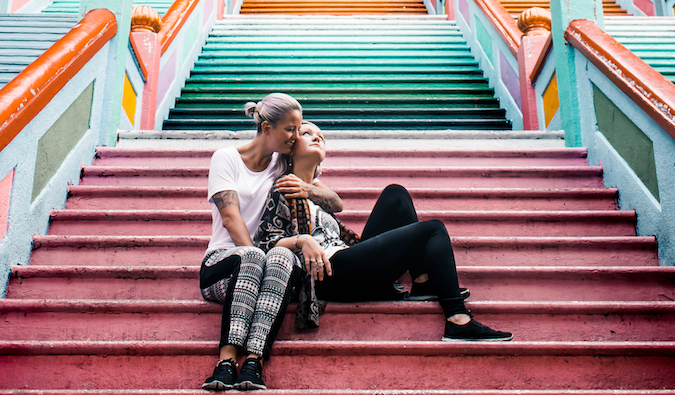 Last Updated: 2/2/2020 | February 2nd, 2020
In this guest post, Charlotte Hockin offers some insight into gay travel in Asia. She and her girlfriend, Natalie, have been traveling around the continent for the past two years. Here's what they've learned from traveling as a lesbian couple in Asia.
Asia is a vibrant, diverse, and exciting continent to visit. However, for LGBT travelers, it can sometimes seem like a daunting prospect. There are countries that criminalize homosexuality, deeply pious states and regions, and places that have negative social opinions of the LGBT community. It doesn't exactly sound like all fun and rainbows, does it?
When my girlfriend and I set off on our Asian adventures two years ago, we had no idea what to expect but admittedly were rattled. Not only were we backpacking for the first time but we were traveling as a couple. Neither of us were really into social media at that point, so it almost felt like we were alone. The only lesbian couple to ever travel! Sounds silly, I know, but that's how it felt.
Fast-forward two years, and we've spent the better part of that time traveling around Asia. And do you know what? Gay travel there has been one hell of a ride! I mean, we've experienced it all: we've visited gay-friendly destinations, attended illegal drag shows, stayed with local families, and on the rare occasion, been the victim of discrimination and hostility.
With this in mind, we have put together this comprehensive guide for LGBT travelers in Asia (excluding the Middle-East & Russia). We want to share our experiences as a same-sex couple in Asia, as well as lay out all the factors that you should consider when planning your trip.
We believe that travel should be for everyone, and with our guidance, you can look forward to an incredible and, most importantly, safe journey of a lifetime.
Tip 1: Research local laws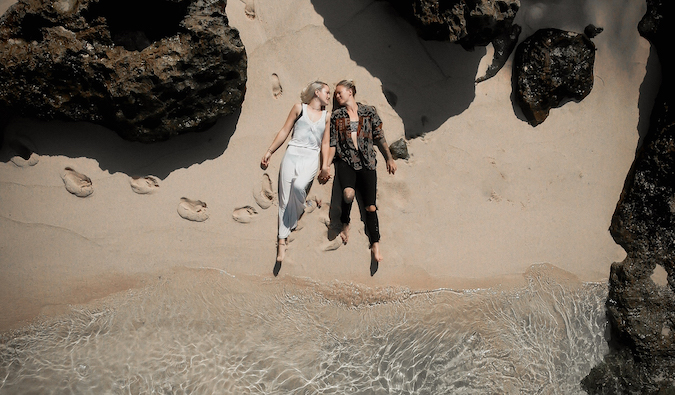 When planning your trip, it's important to be aware of local laws regarding the LGBT community in each country you want to visit. At the same time, I don't want you to make the common mistake of obsessing about these laws. Or worse, letting the law prevent you from visiting certain places.
Often, the laws relating to acts of homosexuality are incredibly complex. Some only apply to gay men, others mean the LGBT community are not protected from discrimination, and some countries implement sharia law. Governments do not expect tourists to get their head around this for the sake of a two-week trip. As a result, these laws are usually only enforced for locals, not tourists.
Nevertheless, that's not to say you shouldn't exercise caution when in public places. We suggest avoiding any public display of affection (PDA) or anything you think may draw unnecessary attention. Not just for the purpose of the law, but for the sake of being respectful. (I will touch further on understanding local cultures and social opinions below.)
On the other hand, some LGBT travelers may not want to even visit countries where these laws exist. And that's understandable. But Asia is a huge continent.
To put things into perspective, out of the 72 countries that still criminalize homosexuality, just 10 are in Asia (outside the Middle East and Russia). That means that even if you wanted to boycott the countries where anti-gay laws are in place, close to 80% of Asia is yours for the taking.
Personally, we don't have an issue visiting countries where homosexuality is illegal. We've spent a lot of time in the past two years in Malaysia, for example, where Islamic law prevails, and we thoroughly enjoyed it. (Pristine beaches, delectable cuisine, vibrant culture — what's not to love?)
In the larger cities, such as Kuala Lumpur and Penang, we found a buzzing LGBT community. And we even illegally attended a spectacular drag show!
So I guess what I'm trying to say is: you don't need to dismiss traveling in Asia for the sake of a few old-fashioned laws. Gay travel there is way too much fun for that!
Here are a few resources to help you research local laws:
Tip 2: Understand the local culture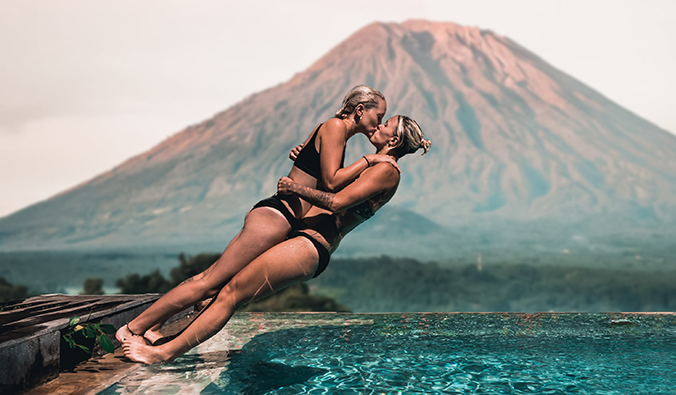 Understanding and respecting the local culture in each place you visit is just as — if not more — important than the first tip. Why? Well, think about it: you're going to spend way more time in the company of residents than you are around law enforcement officers. Comprehending the social opinion of locals could save you a lot of awkwardness and funny looks in the long run.
You see, what we discovered is that even in some countries where homosexuality is legal, it remains taboo in the community. This could be due to religious beliefs, a lack of education around the subject, or, in some cases, plain bigotry.
However, isn't that so in most places? Even in the most advanced countries, I think we can safely say there is room for improvement.
At the same time, understanding the local culture is also important for every traveler. PDA, for example, is frowned upon in most countries in Asia — even if you are a straight couple.
On the other hand, holding hands with somebody of the same sex is extremely common in India, whether it be your brother, sister, friend, or otherwise.
This is why it's essential to educate yourself in advance, so you know what to expect.
The typical social situations we have found ourselves in have never been a cause for concern when traveling in Asia. Often people assume we are sisters or friends. And even on the rare occasion that we've tried to explain our relationship, some locals don't understand. We once stayed with a family in Indonesia for over a week, and they never could get their head around the fact that we were a couple.
But that was OK with us. What's important is that they treated us like family, and honestly, it's one of our most memorable travel experiences.
On the other hand, there have been times where we were allocated a twin room despite booking a double, been catcalled for being lesbians, and had religious jargon thrown at us.
But again, doesn't this happen everywhere?
We certainly didn't allow these minor incidents to ruin our travel experience. On the grand scale of things, these are few and far between amid all the breathtaking experiences we had.
The United Nations Development Programme has a series of country reports about Being LGBT in Asia, including in-depth sections devoted to cultural and social attitudes.
Tip 3: Be prepared to adapt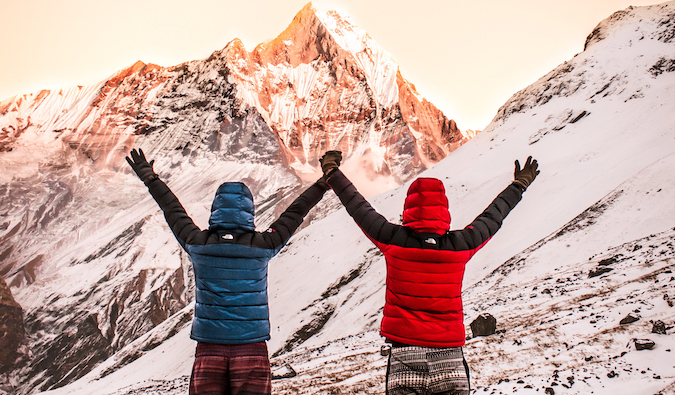 When you take into consideration everything we've talked about, being prepared to adapt is part and parcel of gay travel in Asia. Although, when you think about it, doesn't this apply to all travelers?
What I'm trying to say is that any place you travel to is bound to require an element of adaptation, whether it be the food you eat, the clothes you wear, or the way in which you address the locals. It's about recognizing what's socially acceptable and behaving in a way that's both respectful and appropriate.
That said, it's a controversial subject whether LGBT couples should travel to destinations where they can't be entirely themselves. We get challenged on this a lot, and our point is simply this: There are many elements to some religions, cultures, and the like, that I'm sure many of us don't agree with. However, does that mean we should boycott those countries? I think it would leave a very limited pool to choose from if that were the case.
At the same time, we can empathize with those who may not feel comfortable traveling to places where they can't be themselves. Or perhaps feel anxious as a solo LGBT traveler or an LGBT couple. If this is the case, there are plenty of gay-friendly travel destinations both in Asia and elsewhere in the world. Either way, so long as you do your research and take all the necessary precautions, you have no reason to be afraid.
Tip 4: Look up the local gay scene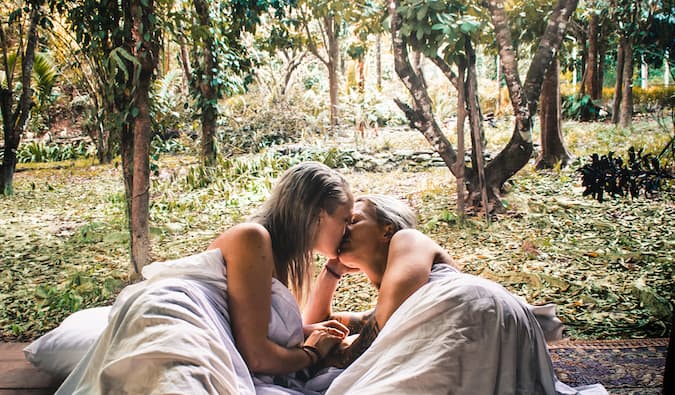 When traveling to a new place, one of the first things we do is look up if there's a local gay scene. Let's face it: everybody knows that gay bars are the most fun! But on a serious note, it's comforting knowing there is a safe place you can go to — a space where you can be yourself without judgment and let your hair down.
Thankfully, most Asian countries boast an active gay scene of some kind. Particularly in the big cities, you can expect to find gay bars, nightclubs, saunas, gay-friendly hotels, and drag shows in abundance! We've had some of the wildest nights of our travels exploring the local gay scene. Whether it's bar-hopping in Bangkok or attending illegal drag shows in Kuala Lumpur, you're guaranteed a night to remember!
While a quick Google search will tell you where all the queer fun is at, Travel Gay Asia is an excellent website for finding LGBT-friendly spots in any city.
Tip 5: Connect with other LGBT travelers or locals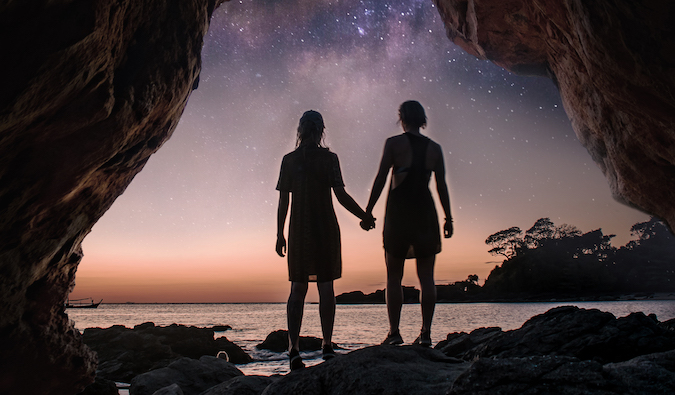 Again, socializing with people who understand you and won't judge you is a reassuring way to adapt to a new place or culture. Of course, locating the local gay scene is a great start; however, not everybody has the guts to walk into a bar or nightclub on their own and attempt to make friends.
Thankfully, there are easier ways of meeting people in this day and age. Yes, the good old web has inundated us with opportunities to connect with like-minded people.
We suggest using social media to locate other LGBT travelers or locals in your area. Facebook is a fantastic platform for this, where a simple search will yield results for any LGBT groups in your area. Similarly, navigating certain hashtags on Instagram such as #gaybangkok or #LGBTAsia can help you locate all things LGBT near you.
Some useful platforms for meeting people are:
You don't need to use the above dating apps in any sort of romantic way either — they are just great resources for connecting with LGBT locals and travelers. If you're lucky, you may find yourself connecting with a local who can show you all the best spots in their area.
***
While Gay Travel in Asia might seem daunting, it is far less scary than it sounds on paper. As a whole, we can honestly say we had nothing but a positive experience and made memories that will last us a lifetime. Asia is an extraordinary continent, oozing adventure, beauty, and culture. By following the advice in our article, and taking advantage of all the useful resources we've provided, we are confident Asia will steal your heart. Just as she has stolen ours.
Charlotte and Natalie are the explorers and adventurers behind Our Taste For Life. You will often find them wandering off the beaten path, immersed in nature, or enjoying authentic cultural experiences. The rest of the time, you will find them eating. Follow their journey on their blog or Instagram.
 
Book Your Trip: Logistical Tips and Tricks
Book Your Flight
Find a cheap flight by using Skyscanner. It's my favorite search engine because it searches websites and airlines around the globe so you always know no stone is being left unturned.
Book Your Accommodation
You can book your hostel with Hostelworld. If you want to stay somewhere other than a hostel, use Booking.com as it consistently returns the cheapest rates for guesthouses and hotels.
Don't Forget Travel Insurance
Travel insurance will protect you against illness, injury, theft, and cancellations. It's comprehensive protection in case anything goes wrong. I never go on a trip without it as I've had to use it many times in the past. My favorite companies that offer the best service and value are:
Want to travel for free?
Travel credit cards allow you to earn points that can be redeemed for free flights and accommodation. They are what keep me traveling so much for so little. Check out my guide to picking the right card and my current favorites to get started and see the latest best deals.
Ready to Book Your Trip?
Check out my resource page for the best companies to use when you travel. I list all the ones I use when I travel. They are the best in class and you can't go wrong using them on your trip.