How could you not love Paris? There is beauty at every turn. From seeking out Art Nouveau architecture to wandering along the Seine River at dusk, there are truly endless reasons to fall in love with this city. Which is, perhaps, why so many do! And for those of you looking for a lap of luxury in the city of light, we have listed the very best luxury hotels in Paris to help you narrow down your choices. These are Paris' best luxury hotels.
The 12 Best Luxury Hotels in Paris
When it comes to Paris, there certainly is no shortage of luxury hotels in the city. In fact, the city is a haven for luxury lovers with an incredible 94 luxury five star hotels at the time of writing. With so much choice, you're probably wondering: which hotels are the best in Paris? To help you decide, we've listed 12 top picks for the best hotels in Paris.
1. Hôtel Plaza Athénée
Hôtel Plaza Athénée is one of the most recognised hotels in Paris. Thanks to that courtyard, which comes to life in full greenery during the warmer months. But there's much more to this hotel than a postcard-worthy courtyard. Elsewhere in the hotel, you can enjoy afternoon tea year-round, which is quite the affair. Rather than a traditional afternoon tea experience, the hotel offers a full desserts only afternoon tea menu. Yep! No sandwiches and nothing savoury, just all of the sugary goodness.
2. Four Season George V
The Four Seasons George V is certainly one of the most recognisable hotels in Paris. Located on George V as the name suggests, the hotel is a short stroll from the Arc de Triomphe and Paris' famous Champs-Élysées shopping street. But the hotel is so undeniably gorgeous, that you'll find it difficult to leave. From the massive floral display that welcomes you in the lobby, to one of the most sought-after afternoon tea services in the city, there are endless reasons to visit this hotel (even if you're not sleeping here). But if you do fancy staying here for your time in Paris, a pretty penny will land you a view of the Eiffel Tower from your room itself. Worth it? We certainly think so.
3. Le Pavillon De La Reine
Tucked away quietly in Le Marais, Le Pavillon De La Reine is our top choice for an underrated, private boutique oasis. It's just a bonus it is hidden in our favourite neighbourhood in all of Paris! The hotel is located just a few steps from Place des Vosges, the prettiest park in Paris and best place to spend a sunny Sunday in Paris. The hotel itself has a range of rooms and suites, each with their own unique style.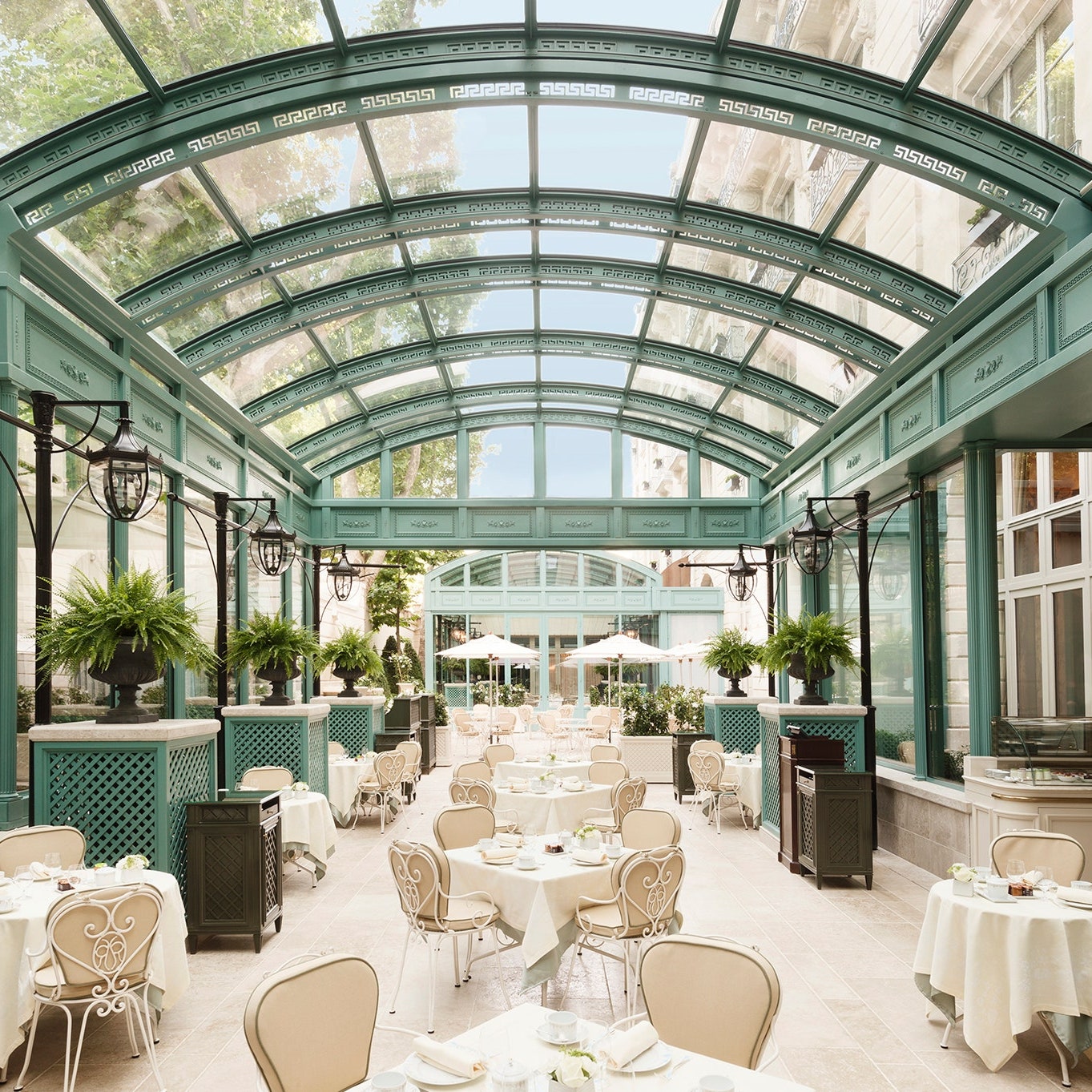 4. The Ritz Paris
If you really want to go all out, then check yourself in to The Ritz Paris. Chances are you've already heard of it, but believe me when I say it will exceed all of your expectations! I have visited the Ritz just once after their renovation and it was overwhelming – the attention to detail, ornate interiors and white glove service are just the beginning. This hotel is ranked among the best hotels in the entire world, so you can expect the room rate to match these high expectations. But if you're in town to celebrate something (or someone) special, it is worth every penny!
5. Hôtel de Crillon
Famously overlooking Place de la Concorde, Hôtel de Crillon is home to one of my favourite bars in Paris and as you can see from the photograph, one of the most beautiful spas in all of Paris! This luxury five star hotel is one of the most known names in the luxury hotel circuit of Paris, so you can expect to be amazed. But even if you don't stay here, be sure to drop by the bar at sun down. This part of Paris is beautiful as the sun sets in the background, the Eiffel Tower peeks out through the skyline, and the busy traffic passes by to really bring the scene to life.
6. Le Meurice
Dating back to 1835, Le Meurice has long been one of the best luxury hotels in Paris. But what about how it is today? The good news is, the hotel has been lovingly restored, periodically throughout history to retain its original charm. And yet, these refurbishments have allowed the hotel to constantly remain current and on trend. Le Meurice also boasts one of the most enviable locations of any hotel in Paris. It is just across the road from the Tuileries Gardens, a short walk from the Eiffel Tower (along the Seine River) and a five minute walk from Concorde train station.
7. Park Hyatt Paris
The Park Hyatt Paris is an institution in itself. I was lucky enough to stay here in 2020, right before the pandemic hit and borders closed. And I don't know about you, but I think that was a pretty good way to say goodbye (or see you soon) to travel for a while! This hotel is centrally located, making it a great choice if you are visiting Paris for the first time and wish to see all of the main attractions. From here you can walk to most of the major attractions and one that you can't miss is the Palais Garnier – just a short five minute walk from the hotel.
8. Le Bristol Paris
For as long as I can remember I have been dying to stay at Le Bristol. There's just something so casually chic about this hotel, as if it isn't trying at all (and yet is easily one of the coolest addresses in Paris). And while I'm yet to check in to the hotel, I can speak highly of 114 Faubourg, the hotel's brasserie restaurant with a typically French menu. And as far as the hotel goes, if you fancy a stay here, be sure to book in advance. This is one of Paris' most sought after hotels, especially during fashion week as the city is stormed by VIP clients, celebrities, models and designers – many of whom will choose to stay here.
9. Shangri-La Paris
If you're looking for a classic, timeless and beautifully crafted experience in Paris, then check yourself in to the Shangri-La Paris. This is one of Paris' most timeless hotels, with a beige and neutral palette, combined with typical French ornate detailing. The hotel also boasts one of the most incredible hotel room views of the Eiffel Tower, which is a great choice if you're celebrating something special. The five star hotel occupies a former royal residence, with ties back to Napoleon himself. And if you're not convinced yet, this is one of the closest five star hotels to the Eiffel Tower – which can be reached by walking just ten minutes.
10. Saint James Paris
As the only chateau in Paris, the newly opened Saint James Paris has bragging rights not many other hotels can claim in the world (let alone having a chateau right in the heart of Paris!) The hotel is located in the exclusive 16th arrondissement, an area that has been typically reserved for luxury apartments and residences. So, if you fancy staying inside a chateau all the while being just a short walk from the Eiffel Tower, then this hotel is Paris at its best.
11. Nolinski Paris
The Nolinski Hotel quietly resides in the Opera arrondissement, hiding in plain sight on Av. de l'Opéra. But for those who decide to stay here, this hotel is one of the most private and discreet locations to reside in Paris, all the while being in the hustle and bustle of it. The hotel is also only one minute from the Pyramides metro station, meaning you can venture to nearby neighbourhoods in minutes. And as for the hotel, it is fashionably chic without even having to lift a finger. You'll see what I mean!
Read now: Checking In: The Nolinski Hotel Paris
12. Prince de Galles by Marriott
The Prince de Galles, a luxury collection hotel by Marriott, rounds out our list of the absolute best luxury hotels in Paris. Known for once being an art deco jewel in the crown that is Paris, the hotel today manages to retain that history but bring a modern flair only an international hotel chain can. The hotel is mid-sized, with 159 rooms and 43 of those are suites. So if you're looking for a hotel brand you recognise, all the amenities of a larger hotel and a great location near the Champs-Elysées, this hotel ticks all of the boxes.