New York and luxury hotels go hand in hand. This city was practically built to offer visitors an experience and the experience on offer inside New York's best hotels is worth a visit to the city itself. Believe me when I say, some of the world's best hotels are here in New York City. And to make your trip planning a little easier, we've listed the very best luxury hotels in New York.
The Greenwich Hotel
If you have a design eye but love a bit of nostalgia, look no further than the Greenwich Hotel in Tribeca. This is a popular choice among the celebrity crowd, mostly due to the privacy on offer downtown. It isn't uncommon to run into a familiar face in the hotel lobby or restaurant, so be sure to keep your eyes open! The rooms are small in size but full of incredible design details. And if you weren't already aware, this hotel is extra famous due to its celebrity owner, a one Robert De Niro!
The Beekman New York
Located just a short stroll from the Brooklyn Bridge, the Beekman Hotel has an old-world feel that just can't be emulated elsewhere. The hotel feels as if you have stepped inside an old library, with rich mahogony and velvety details. If you love feeling as if you have stepped back in time to the glitz and glam of New York's heyday, then you won't find a better hotel.
Related: The 20 Best Things to do Alone in New York City
Times Square EDITION
If you are visiting New York City for the first time, there is nowhere better to position yourself than in midtown. And the highlight of staying in this part of town for visitors to the city would have to be Times Square and being within close proximity to Broadway shows. You'll also find Grand Central Terminal nearby, plus my favourite public park – Bryant Park. And better yet, this is one of New York's top rated hotels year after year.
The Pierre Hotel
If you want a classic hotel with incredible views over Central Park, then The Pierre is the choice for you. This is one of New York's most quintessential five star hotels and indeed, one of the most celebrated. Upgrading your room or suite to a view over central park is almost essential, with views getting even better the higher up you can land a room.
The Whitby Hotel
Also located in upper Manhattan, The Whitby Hotel is the perfect choice for upscale guests looking to be within close proximity to Saks Fifth Avenue and Bergdorf Goodman. In fact, you're just a few minutes away! Each room is individually designed, with a calm approach to design. The design features feel somewhere between Hamptons meets city hotel, making for a relaxed atmosphere.
Related: These are the best secret bars in New York
Crosby Street Hotel
If you want to be in the hustle and bustle of it all, check yourself in to The Crosby Hotel. This hotel is eclectic and fun, playing homage to its geographical location in the heart of SoHo. The cobblestone streets and individual designer boutiques are all within walking distance, plus this is a great location to base yourself if you're a foodie in search of the best of New York.
The Peninsula Hotel New York
Along with The Pierre Hotel, there's another key player in the New York City classic luxury scene – The Peninsula Hotel. This property is located a short walk from Central Park, right in the mix of all of your favourite designers. The hotel is classic and timeless, with neutral tones and a rooftop bar to boot.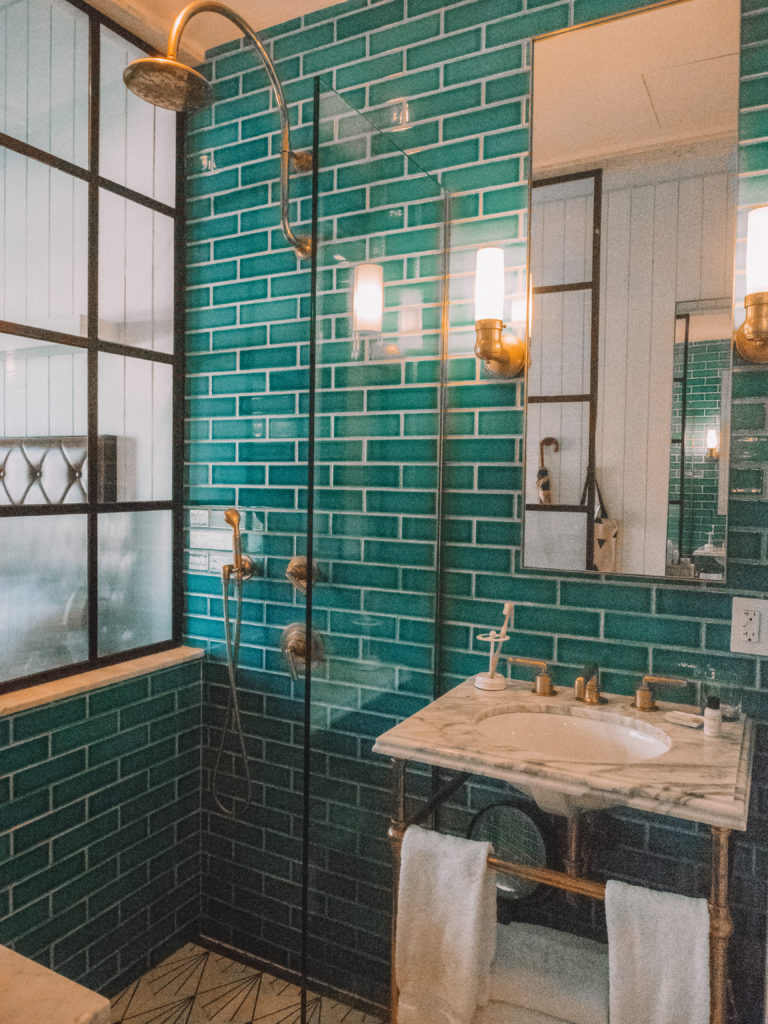 The Williamsburg Hotel
Brooklyn has become a force to be reckoned with in the last decade and Williamsburg is the most sought after location to base yourself. So the next question is, where to stay? The Williamsburg Hotel is the cream of the crop, with an incredible design focus and industrial flair. You'll get exceptional views of Manhattan from the rooftop swimming pool, so make sure to visit during your stay.
1 Hotel New York
Located right across from Central Park, 1 Hotel is one of the most sought after hotels in the city. This is one of New York's more contemporary luxury hotels, so it has a very different feel to its competitors. Be sure to visit the fitness centre during your stay as it has incredible views and a holistic approach to wellness.
Knickerbocker Hotel
And finally, another top choice for those who prefer a modern and contemporary hotel, is the Knickerbocker Hotel in midtown. If you are visiting for a special occasion or just want to make the most of your stay, be sure to book a corner suite. The rooms and entire hotel has a neutral approach to luxury, feeling very calm and serene from the moment you walk in.