The White Continent, Antarctica, is considered by most travel bloggers and outdoor enthusiasts as their ultimate travel destination. Every year, from December to February, expedition cruise ships together with their daring adventurers and passengers endure the unfathomable waters to Antarctica.
It's high summer during this time of the year. A favorable season if you would want to explore Antarctica so fares are quite expensive.
However, even with the seemingly high prices that come with traveling to this side of the Earth plus the long flights and travel documents that one must go through to be able to experience the Antarctica adventure, being able to set foot on this magical continent is worth all your efforts and hard work. So the things to bring for an expedition cruise to Antarctica is a matter that should be considered.
Other articles you can read:
An Antarctic adventure is no ordinary one. Thus, having the right gears and preparing yourself physically for this once in a lifetime adventure is a must. Your expedition cruise itinerary is not fixed due to the unpredictable weather and waters – even during summertime. This is just one of the major reasons why traveling to Antarctica is a different kind of adventure and exciting and exhilarating experience at the same time.
To enjoy your Antarctica adventure and to be able to make the most out of these chance of a lifetime, gearing up for your conquest is a must. You might want to read and include these items on your essential packing gears for your expedition cruise to Antarctica to have the most exciting and hassle feel adventure on the White Continent.
Stay warm, take great pictures, and experience a once in a lifetime expedition cruise to Antarctica geared with the right tools and accessories that will make your adventure truly a moment to remember.
Words are not enough to describe the splendor and magical experience Antarctica offers. Covered in white ice and snow, Antarctica is like a piece of heaven on Earth – ethereal, out of this world and simply magnificent. Its beauty, raw and seemingly untouched is one of Earth's wonders every human being should experience.
However, from April to September, Antarctica is an unfathomable forced to encounter. Like a goddess fighting a war, its wrath is something beyond your imagination can imagine. Early cruises to Antarctica on October allows you to see the courting and mating season of the penguins in South Georgia and the Falkland Islands.
Ice breaks up during November so you'll get to see a lot of majestic icebergs and glaciers. Wildflowers are also in bloom during this month around South Georgia. December to January, on the other hand, are the best months to visit the continent since it's high summer. Days are longer and the temperature is quite warmer (23 to 41 degrees Fahrenheit) compared to other months (-25 to 5 degrees during winter).
Still, preparing for the weather conditions in Antarctica is a must even when visiting the continent in summer. Not doing so can cut your adventure short or can bring you to unlikely situations. Even the materials that your clothing is made of may make or break your expedition. Cotton kills is something you might want to remember when conquering the snowy lands of Antarctica.
Packing for your Antarctica adventure is also a serious deal. you might want to pay close attention to this especially if your cruise line provided you with one. There are no outdoor adventure gear stores on Antarctica so you should probably want to bring your own. You might want to continue reading to gear yourself with the knowledge and tips that will make your Antarctica expedition, a book-worthy adventure.
Best Clothing for Antarctica
Cruises to Antarctica are usually long so you might need to pack as many clothes as possible and prepare for different kinds of temperatures you might encounter while on your trip. It is summer in the southern part of the hemisphere but temperatures can still be unforgiving at times. Bringing your parka might not be necessary because most cruise lines would provide you one when landing on tourist attractions. However, your basic comfy clothes are still a must. You might also want to consider bringing a few nice outfits in case you feel like socializing with the rest of the guests over dinner or some classy joint inside your cruise ship.
The Best Jackets for Antarctica
Traveling to Antarctica will expose you to unpredictable weather. Most expedition cruise ships do not have a fixed schedule when conquering these waters because climates and water conditions change constantly. Even during summertime, temperatures can still go as low as 23 degrees Fahrenheit and will require you to gear up accordingly. Bringing along your jacket is a must for this trip. You might want to bring a jacket that can perform well against freezing temperatures, should be comfortable and lightweight, breathable, windproof and waterproof.
The Best Thermal Clothing for Antarctica
Wearing too many layers of clothes to fight off the freezing weather in Antarctica is not a good idea. You will end up sweating underneath all that clothing and might end up getting sick afterward. "Peak layering" on the other hand is the ideal approach to conquer the cold climate in this region without risking your health. Having a thermal base layer, a mid-layer fleece, a jacket, and then a waterproof shell or parka is the maximum that you should consider wearing outdoors during extreme freezing temperatures. Four layers of clothing below the belt are also enough to keep you warm and comfortable. The first layer -the thermal suite or undergarment that you will use should be made of polyester, wool, or merino wool to keep yourself warm but allow air to circulate even when layered with several other garments.
Outdoor Wear
A December adventure in Antarctica is not as cold as it is during April but it will still be cold. We will be dealing with temperatures ranging from 25 to 40 degrees since it's summer but we are still bringing along items that can protect us from the cold and prevent us from the possibility of getting sick while on board. We'll be bringing just enough to keep us warm while exploring with the penguins and taking picturesque images of the Patagonian Coast.
Outdoor wear basics:
2-3 pairs of gloves
1-2 Beanies
2-3 scarves
A pair of boots
Your favorite pair of sneakers
A pair of casual shoes
Waterproof pants
Jackets and thermals
Toiletries and Medicines
One of the things that I look forward to on this trip is crossing the Drake Passage to Antarctica. It is said to be one of the roughest water in the world so seasickness might be a factor that could ruin the adventure. Bringing in some patches or pills that can prevent motion sickness wouldn't hurt. Bringing in some medications for common colds, fever and cough might also be necessary since we will be dealing with unpredictable weather and temperatures here.
Our list of basic toiletries includes:
Shampoo and conditioner in case you're not happy with what's available onboard
Lotion and Moisturizers
Lip Balm to prevent those dry lips especially with the extreme weather
Deodorants
Sunscreen
Toothbrush ad Toothpaste
Flavored Mints
Perfume and Make-up
Hairbrush and Hair ties
Feminine products
Prescription medicines
Keep your toiletries and medicines organized with these storage essentials on your trip.
Electronic Gear
Traveling with your electronic gear is a must since we're travel bloggers. It is essential to document out activities, monitor emails, and in planning for our future trips. Kach is into video blogging right now so having her phone around especially during this first-time trip to Antarctica is a must. Here is a list of the gears that we usually bring during our travels. Batteries can easily run out due to the cold weather so having power banks at hand can be useful.
Travel Photography Gears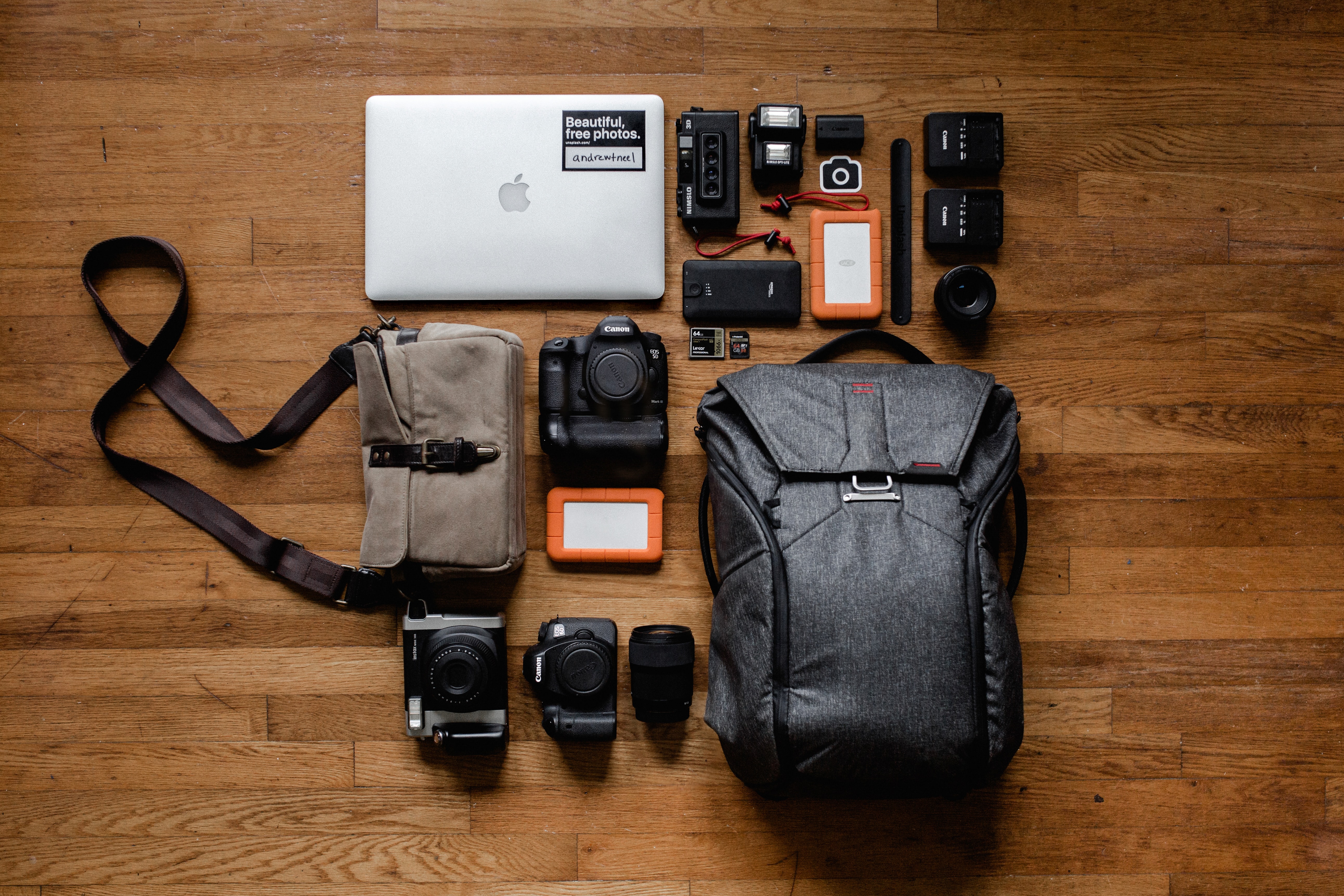 As I have said earlier, we love to document our travels and share them online. To give you the best possible experience Antarctica offers, having several photography gears that can give justice to the beauty of what lies ahead in that vast snow-white ice-laden continent is a must.  We bring along several cameras in our travels. And it's not every day that we get to visit Antarctica so taking a thousand pictures is a must. Here's a list of them. Below are some of our recommendations for photography gear for your Antarctica expedition.
Other Accessories
It's a cruise into Antarctica so we decided to bring along a few more gadgets and accessories that will help make our tour, even more, fun and convenient.
Preparing for your Antarctica expedition need not be too critical. Enjoying the experience should be on top of your list. Worrying about everything else is someone else's job. However, since Antarctica is a less traveled adventure for many, preparing the essentials and a few extra's for your trips has its rewards in the end. It's a once in a lifetime trip so you might as well throw all your worries on the ice and embrace every moment!

Are you on Pinterest? Pin these!