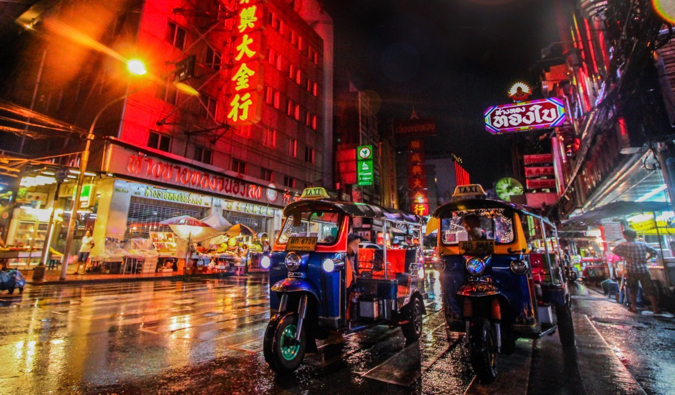 Last Updated: 10/20/22 | October 20th, 2022
Southeast Asia is one of the most popular regions in the world for backpackers and budget travelers. It's home to a well-worn travel trail that dates back to the 1960s and '70s, stretching across Thailand, Myanmar, Cambodia, Laos, Vietnam, Malaysia, the Philippines, Indonesia, and Singapore.
I've been visiting the area regularly since 2004 (I even spent a few years living in Thailand). It really does have something for everyone: bustling cities, delicious food, spectacular diving, lots of outdoor activities, historic sites — the list goes on.
Best of all? It's budget-friendly!
But is Southeast Asia safe?
That's a question I get asked often, especially by solo travelers (or their worried families).
Generally speaking, Southeast Asia is incredibly safe. In fact, it's one of the safest regions in the world.
You likely aren't going to face any significant danger here. It's rare to get robbed or mugged and people are nice, respectful, and friendly.
That said, here's everything you need to know to stay safe in Southeast Asia!
11 Ways to Stay Safe in Southeast Asia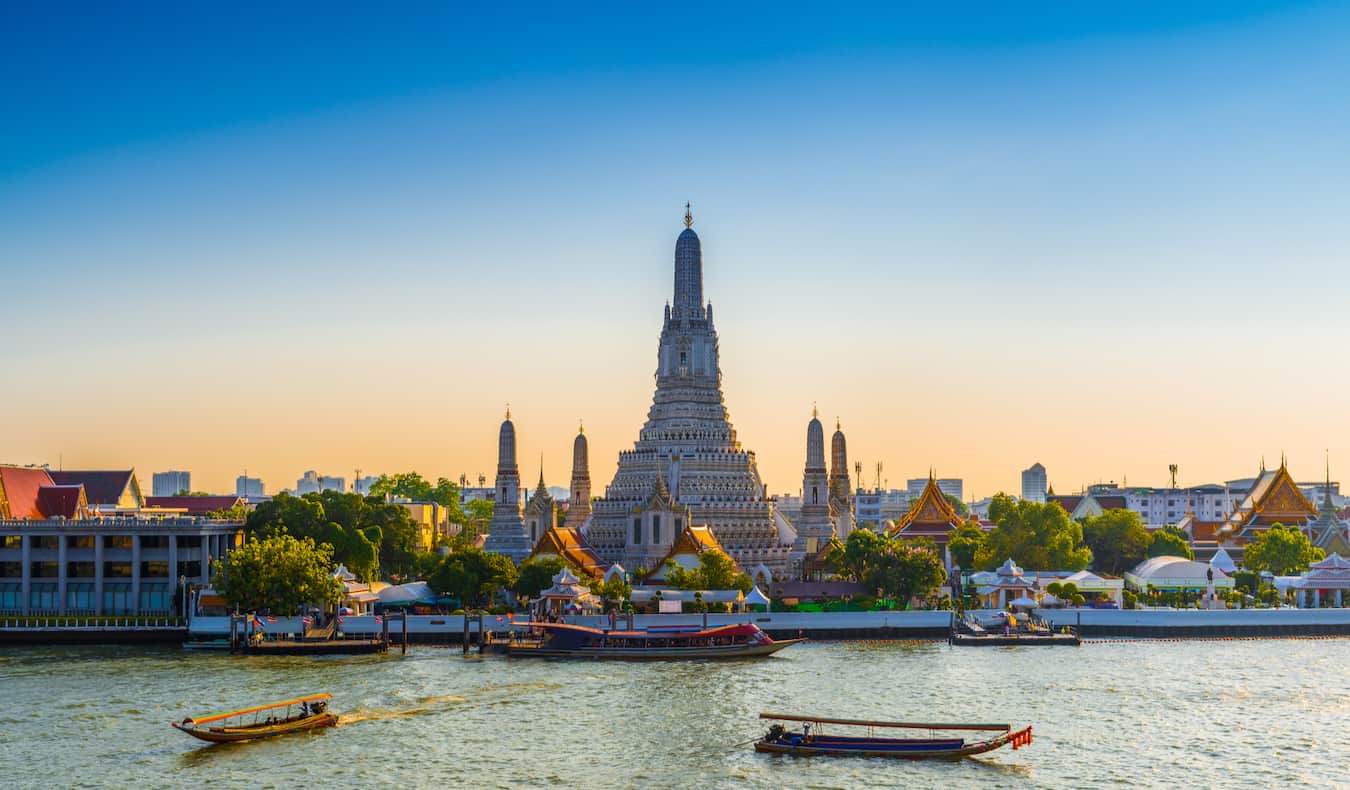 Staying safe in Southeast Asia doesn't take a lot of work. Southeast Asia is an incredibly safe place to backpack and travel — even if you're traveling solo, and even as a solo female traveler. Violent attacks are rare. There are some common scams around, like the motorbike scam where vendors try to charge you for damage to their bike, but for the most part, this is a safe place to travel (more on scams below).
People are nice and helpful and you're unlikely to get into trouble. The people who do tend to get in trouble are usually the ones involved with drugs or sex tourism. Stay away from that stuff and you'll likely be fine.
That said, here are 11 ways to ensure nothing happens on your trip:
1. Watch for purse-snatchers – Purse-snatching is rare, but it does happen. To avoid the most common types of theft, don't wear your purse or bag over just one shoulder. Instead, wear it across the front of your body. Also, many purse-snatchers are on scooters, so take particular caution when walking alongside traffic.
2. Be extra careful in traffic – Most injuries in Southeast Asia are caused by vehicles. Be especially careful walking in hectic cities like Hanoi or if you are driving (especially scooters).
3. Don't do drugs – Drugs like marijuana are easily accessible in Southeast Asia (especially in party locations, like the Full Moon Party). But they are illegal! Fines are heavy and if you get caught, expect to spend time in jail or pay a hefty bribe. Save yourself the hassle and don't do any drugs while you're in the region.
4. Wear a helmet – If you're renting or riding a scooter or motorbike, be sure to wear a helmet. Also, wear proper clothing and footwear. I saw a lot of road rash during my time in Southeast Asia.
5. Look out for bedbugs – Unfortunately, bedbugs are a reality in Southeast Asia. Though rare, you will likely encounter them at some point if you're traveling around the region for any length of time. Always check your accommodation in advance. If it looks dirty, simply move on. Also, never put your backpack on your bed. That way, if the bed is contaminated, at least your backpack won't also get contaminated.
6. Bring a lock – While theft in dorm rooms is rare, you don't want to take any chances. Hostels almost always have lockers available. Bring a lock so you can store your possessions safely while you're out and about.
7. Hide your valuables – When you're out exploring, keep your wallet and valuables hidden in your backpack (or leave them locked up in your accommodation). Carry some cash in your pockets, but keep your cards and other valuables out of reach. Most theft is opportunistic, so if you're vigilant, you'll have nothing to worry about.
8. Don't party solo – Make sure if you're out partying that you do it with friends or people you can trust. Don't get so drunk that you can't get home safely. (If you're taking part in the Full Moon Party in Thailand, you can find specific safety tips in this blog post.)
9. Keep your passport – Never give away your passport as a deposit when booking things like accommodation or rentals. Always make sure you get it back, or else you might not see it again. (And be sure to keep a digital scan of your passport in your email inbox just in case.)
10. Stay away from animals – Stray dogs (as well as monkeys) often carry diseases, such as rabies (which can be fatal). To avoid getting bitten, don't pet stray dogs or wild monkeys.
11. Buy travel insurance – While Southeast Asia is generally safe, unexpected incidents can still occur. Cover yourself by buying travel insurance. It has the potential to save you thousands of dollars while also giving you peace of mind. I never leave home without it!
 
5 Common Scams in Southeast Asia
While Southeast Asia is generally quite safe, there are still a few common travel scams. Here are four of the most common scams — and how you can avoid getting fooled by them!
1. The Taxi/Tuk-tuk Overcharge
This is one of the most common travel scams out there and you'll encounter it all across Southeast Asia. Either the driver will tell you the taxi meter is broken and try to charge you a high rate, or you'll see the cost on the meter skyrocket faster than Superman!
For tuk-tuks, you'll need to negotiate in advance, because drivers will quote a price much higher than what the ride should cost. To avoid being ripped off, you'll first need to know how much your ride should cost. The best way to figure this out is to ask your hostel or hotel staff for a quote so you have a frame of reference (or google it, if you're just arriving).
If the driver tries to negotiate the rate with you, offer them the correct rate. If they refuse, just leave and find someone who will put the meter on. (Then, if the meter seems to be going up too quickly, have them pull over and get out.)
Many tourism boards let you report bad cab drivers so be sure to always make a note of their ID number when you get in the cab.
2. The Motorbike Scam
Southeast Asia is a great place to rent a scooter or motorcycle and get off the beaten path. But there is a common scam you'll want to be aware of.
Here's how it goes: You'll rent a bike and then when you bring it back, the owner will demand an additional payment or expensive repairs because there is some "damage" you didn't know about. Sometimes the owner will send someone to mess with the bike or steal it so you have to pay.
To avoid this, take photos of the bike first to document any previous damage. Go around it with the owner so they know what you are taking pictures of.
Once you rent it, use your own lock and keep the bike out of sight and off the main streets when you park it.
Also, always make sure you buy travel insurance so you can make a claim if there is an issue.
3. Your Attraction is Closed for Lunch
I admit that I fell for this one when I first came to Thailand. A friendly local will approach you and inform you that the attraction you want to visit (often a temple) is closed for any number of reasons (religious ceremony, holiday, etc.).
They'll then try to guide you to a different attraction (or often a shop), where you're heavily pressured to purchase something or pay a high admission price.
To avoid this scam, be sure to ask your accommodation staff before you leave to confirm that the attraction is open. Then find the main entrance or ticket counter and see for yourself. Opening and closing times are almost always available online too, so you can often look them up just to be safe.
Generally speaking, most attractions in Southeast Asia don't close for lunch. They either close for the day or not at all.
4. The Drug Deal Gone Bad
This scam is common anywhere there is a party in Southeast Asia. You'll be in a popular tourist area (usually a party place) and someone will offer you drugs.
If you say yes, before you know it, a real cop is on the scene! They'll insist that they are going to arrest you unless you can pay a hefty fine right there (i.e., a bribe).
Caught red-handed, you'll probably pay the bribe rather than go to jail. Simply put: Don't buy drugs in other countries!
5. The Taxi Scam
Only use taxis that use a meter. If the meter is rigged or they refuse to use it, just get out and find a new taxi (more on this below!).
 
Is the Food Safe in Southeast Asia?
If the food weren't safe here, I'd likely never come back. Street food is almost always safe (it's important to the cultures of the locals). In fact, it's usually safer than restaurants, because the operation is so simple and the turnover so fast.
When looking for somewhere to eat, find a place with a crowd, as well as one with children. If parents think it's safe for the kids, then it's safe for you! Anywhere with a lot of people (specifically locals) is a good indicator that the food is both good and safe.
Be sure to wash your hands before eating (hand sanitizer is good for that), as you'll likely have been out and about all day and may have picked up all sorts of germs.
 
Can You Drink the Tap Water in Southeast Asia?
The tap water in Southeast Asia will vary from country to country, but as a general rule, I would not recommend you drink the water unless you have a water purifier like the Lifestraw.
 
Are Taxis Safe in Southeast Asia?
Taxis in Southeast Asia are safe — but they also have a reputation for overcharging (see above) or taking longer routes to dive up the fare.
Always make sure your driver is using the meter (and that the meter is not moving overly quickly). If you encounter a problem, simply get out and find a new taxi.
A better option is Grab or Uber (depending on where you are). You'll be able to see your driver, track your ride, and make complaints if you have a problem. It's the best way to get around in Southeast Asia, when available.
 
Is Southeast Asia Safe for Solo Travelers?
Southeast Asia is one of the best places in the world for solo travelers. There are tons visiting the region each and every year, many of them traveling solo for the first time (it's great for both new and veteran travelers alike).
With a little common sense, a solo traveler won't have to worry much about safety here. There is a well-worn backpacker trail, so you'll never be far from other travelers. That means it's easy to meet people in case you decide you'd rather travel in a group for some (or all) of your trip.
 
Is Southeast Asia Safe for Solo Female Travelers?
Female travelers have additional safety concerns they need to be aware of. That being said, Southeast Asia is still one of the best (and most safe) regions for solo female travel.
By following the tips above, as well as the same precautions you'd take at home (such as not wandering alone at night intoxicated, keeping an eye on your drink while at the bar, etc.), a solo female traveler will be able to have an amazing visit to Southeast Asia without worrying too much about her safety.
And as mentioned above, with so many solo travelers — including many women — in the region, it's easy to find others to spend time with in case you're feeling insecure or unsafe. Many hostels in the region also offer female-only dorms for extra security.
 
What is the Safest Country in Southeast Asia?
While backpackers don't come here as frequently (as it is quite expensive), Singapore constantly tops all lists for safety and quality of life, not just in Southeast Asia, but in the world. In fact, it's ranked in the top ten for safest cities globally.
That being said, overall, Southeast Asia is a very safe place in which to travel. Follow the tips above and especially pay attention to scams, and you'll minimize the chances of anything happening to you.
 
Should You Visit Southeast Asia?
So, is Southeast Asia safe?
Absolutely!
It's super unlikely that anything will happen. And even less so if you follow the advice listed above.
Just be sure to get travel insurance just in case something goes wrong. The past is not prologue and you always want to play it safe. Travel insurance was there when I lost my bag, broke my camera, and popped an eardrum while diving in Thailand. I never expected those things to happen and was glad I had insurance!
You can use the widget below to look up the travel insurance policy that is right for you. I never leave home without it. You shouldn't either.
Book Your Trip to Southeast Asia: Logistical Tips and Tricks
Book Your Flight
Use Skyscanner to find a cheap flight. They are my favorite search engine because they search websites and airlines around the globe so you always know no stone is left unturned!
Book Your Accommodation
You can book your hostel with Hostelworld as they have the biggest inventory and best deals. If you want to stay somewhere other than a hostel, use Booking.com as they consistently return the cheapest rates for guesthouses and cheap hotels. My favorite places to stay are:
Don't Forget Travel Insurance
Travel insurance will protect you against illness, injury, theft, and cancellations. It's comprehensive protection in case anything goes wrong. I never go on a trip without it as I've had to use it many times in the past. My favorite companies that offer the best service and value are:
Looking for the Best Companies to Save Money With?
Check out my resource page for the best companies to use when you travel. I list all the ones I use to save money when I'm on the road. They will save you money when you travel too.
Want More Information on Southeast Asia?
Be sure to visit our robust destination guide to Southeast Asia for even more planning tips!