The villages in Cyprus are the best places to experience authentic and traditional Cyprus. It's where you see how people live and can find a totally different side to the island, which is widely known for its beautiful coastal resorts.
I lived in Cyprus for around 4 months as a digital nomad and based myself in Limassol, which is a great place to explore neighboring coastal cities and the most beautiful towns in Cyprus.
I loved making day trips to some of the mountain villages in Cyprus, eating at local taverns, and exploring narrow cobbled streets. The villages in the mountains offer a completely different feeling than the cities on the coast.
10 Best Villages in Cyprus
There's also plenty to do in the local Cyprus villages. From exploring Byzantine monasteries, hiking nature trails, and visiting waterfalls to trying locally made halloumi or wine.
So, without further ado, here are my top 10 best villages to visit in Cyprus. Don't miss our full guide to traveling to Cyprus, which is filled with everything you need to know about visiting this island.
1. Kalopanayiotis
Kalopanayiotis village is nestled in the valley of Marathasa, around 70 kilometers from Nicosia and Limassol.
As a result, it's surrounded on all sides by mountains and lush greenery. In the village itself, you'll find traditional 2-story houses and cobbled streets. These are perfect to explore, and you'll find local stores and tavernas scattered amongst them.
The most popular spot in Kalopanayiotis is the UNESCO-listed Monastery of Agiou Ioanni Lambadisti, which is one of 5 churches to explore here.
If you prefer escaping into nature, then Kalopanayiotis is one of the best villages in Cyprus for hikes and trails. You'll find Venetian bridges to explore, as well as the Kalopanayiotis dam. There's also the Kykkos watermill nearby to visit.
There are plenty of picnic areas in and around Kalopanayiotis. It's one of my favorite Cyprus villages for a day of exploring the valley before a traditional lunch in one of the local tavernas.
Location: Kalopanayiotis is located in the heart of the Troodos Mountains. It's around 70 kilometers from Limassol and Nicosia.
Getting There: You'll want to hire a car or take an organized tour to Kalopanayiotis. It's accessible from Limassol, Nicosia, or Paphos.
Things To Do: Visit the Monastery of Agiou Ioanni Lambadisti, explore the cobbled streets, and take a hike out to the Kykkos watermill.
2. Omodos
Omodos is, in my opinion, one of the most beautiful villages in Cyprus and one of the top destinations in the country. I absolutely love visiting this place.
It's another village nestled up in the Troodos mountains. It's packed full of sand-colored houses and buildings. There's a beautiful square surrounded by tavernas, cafes, and market stalls which is a lovely place to people-watch.
☞ SEE ALSO: When to Go to Cyprus: Guide to Weather and Costs
Head further into the village to find the famous Monastery of the Holy Cross. It's so named as it's believed to house part of the true cross. Continue to explore Omodos, and you'll find lots of quaint little boutique shops.
As you'll be in the heart of the wine-growing country, why not head into the excellent Stou Kir Yianni Wine Cellar for a tasting?
Omodos is one of the most popular villages in Cyprus with locals, particularly at weekends. So if you're going to visit, I recommend heading here on a weekday or early on the weekend if you want to avoid crowds.
Location: Omodos is 40 kilometers from Limassol and around 60 kilometers from Paphos.
Getting There: The best way to get to Omodos is to drive or take a tour. Both the Troodos and Kykkos Day Tour and the Tour to Troodos mountains and villages visit Omodos. It's possible to catch the number 40 bus from Limassol, but check the times in advance.
Things To Do: People watch in the main square, visit the Monastery of the Holy Cross, and try local wine at Stou Kir Yianni wine cellar.
3. Lofou
Lofou is one of the best-known wine-producing villages in Cyprus, located near Limassol.
This picturesque village is built in a large semicircle, nestled in the surrounding Troodos mountains. Its location makes it an excellent place for wine-making, and so trying the local wine here is a must.
There's also a short and relaxing nature trail that takes you from the village for around a kilometer to the local water fountain. Here you'll find some incredible views of the surrounding landscape.
This is one of the smallest Cyprus villages on the list, with only around 100 local residents. However, you'll still find plenty to do in this remote village.
There are cobbled streets and traditionally built houses. There are also plenty of local taverns to try locally produced food and wine at much cheaper prices than in the cities.
The village also boasts its own microbrewery, which is well worth a visit while you're there. Lofou may be small, but it packs a punch, and that makes it one of my favorite villages in Cyprus for a day trip from Limassol or Paphos.
Location: Lofou is located in the Troodos Mountains, around 25 kilometers from Limassol, and 65 kilometers from Paphos.
Getting There: Hire a car or a driver from either Limassol or Paphos to explore Lofou. Alternatively, take the Tour to the Troodos Mountains, which I talk about more below.
Things To Do: Take the nature trail, visit a local taverna to try the local wine, and visit Lofou Microbrewery.
4. Agros
Agros is famous for its roses and rose water and so during April and May it's one of the prettiest villages in Cyprus with the hillside covered in pink roses.
If you're in Cyprus in May, then I definitely recommend visiting Agros for its amazing Rose Festival. There are lots of celebrations in this lively mountain village during the Festival.
To learn more about the Damascas Roses grown in Agros, and how they are used, take a trip to the Rose Factory. Here you can learn all about their use and buy some locally produced goods.
Alongside its roses, Agros maintains its traditional agricultural roots. So you'll find plenty of locally-grown and produced treats, such as marmalade and cured meats.
Agros is one of my favorite Cyprus villages in the spring and summer, as it's awash with color and activity. I could spend many hours people-watching from the cafes here.
Location: Agros is 40 kilometers north of Limassol and 60 kilometers from Nicosia.
Getting There: The best way to get to Agros is either by car or in a privately organized taxi.
Things To Do: If you're here in Spring then take in the Rose Festival, visit the Rose Factory, and people-watch from the local cafes.
5. Platres
Platres is one of the best mountain villages in Cyprus. Nestled in the heart of the Troodos Mountains, it's a beautiful setting surrounded by pine forests and hiking trails.
In the summers, locals and tourists flock to the boutique-style hotels which have popped up in Platres over recent years. It's a good base for hiking, mountain biking, and exploring the forests and mountains that surround it.
From Platres, you can hike out to explore the popular medieval Milia Bridge (around 2 kilometers) and the tallest waterfall in Cyprus, Caledonia Falls. There are two well-marked trails to both of these spots.
In the winter, Platres becomes the base for those wanting to ski in the Troodos Mountains. It's an incredible experience where you can ski in the ski zone in the morning and then head down to the coast for a dip in the sea in the afternoon.
Platres is one of the most beautiful Cyprus villages and definitely worth a day exploring. It's also a great base for those wanting an adventure-packed stay.
Location: Platres is located 40 kilometers from Limassol, 70 km from Paphos, and 90 km from Nicosia.
Getting There: Head to Platres in a car or via a private transfer. Alternatively, take a look at the Tour to Troodos mountains and villages, which I talk about below.
Things To Do: Hiking the Milia Bridge trail and the Caledonia Falls trails, exploring the ski zone in the winter, and mountain biking in the pine forests.
6. Kathikas
If you're staying in Paphos, then Kathikas is one of my favorite villages to visit in Cyprus.
It's historically known as a resting spot for merchants traveling the island, so you can expect lots of tavernas and cafes – perfect for some local Cyprus food and a slower pace to your day of exploring.
It's everything you'd want from the Cyprus villages, and these days it's famous for its wine-producing. It's surrounded by stunning views of vineyards, making this an idyllic spot for a day trip from Paphos.
You can spend a lot of time wandering around the cobbled streets and traditional, stone buildings that make up Kathikas. It's also a great location to explore some of the local wineries, such as Vasilikon.
Kathikas is also blessed with incredible views over the nearby Akamas National Park and Coral Bay. If you're heading from Paphos to Akamas, then Kathikas is the best village in Cyprus to visit. It's the ideal spot for lunch or dinner and a few drinks in a stunning, traditional setting.
Location: Kathikas is 23 kilometers from Paphos, 15 kilometers from Coral Bay, and halfway between Paphos and Akamas National Park.
Getting There: There's a local bus from Paphos which calls at a number of the nearly Cyprus villages, including Kathikas. Details of the number 641 and 648 buses can be found here. Otherwise, it's a short drive from Paphos or Coral Bay.
Things To Do: Visit the local wineries, explore the nearby hiking trails, and dine in the local tavernas.
7. Lefkara
Another one of my favorite villages in Cyprus is Lefkara. It's probably one of the most well-known and most visited for good reason. Not only is it one of the prettiest villages in Cyprus, with cobbled streets lined with bougainvillea flowers, but it has a rich history.
Lefkara is known for silversmithing and lace-making. It dates back centuries, and you can still see both ancient skills being practiced today. You'll see ladies sitting together making their laces in the street and men in workshops making their silver handicrafts.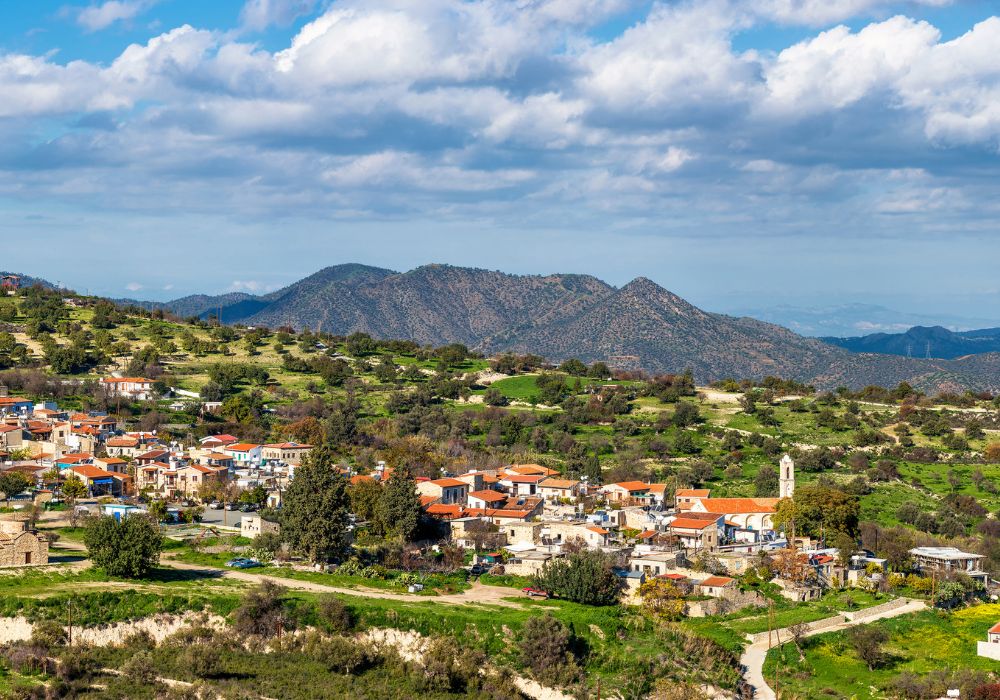 You can walk the streets, attend workshops to see how it's done yourself, and buy some beautiful handmade souvenirs to take home with you.
Legend has it, Leonardo da Vinci visited Lefkara, and it's Lefkara lace that features in The Last Supper painting.
There are also some great cafes here, my favorite is the Da Vinci Cafe. Go for the pizza – you won't be disappointed, it's amazing.
Location: Lefkara is located in the Troodos Mountains and is very close to Limassol (around 50 km away), and Larnaca (around 40 km away).
Getting There: If you've rented a car, you can drive to Lefkara easily. Just don't drive into the village itself, as the roads are very narrow (as I was warned by a kind local). Park just outside, around here. Otherwise, I recommend taking a tour, like this one, to visit to Lefkara.
Things To Do: Head to the souvenir shops and buy some handmade lace or silver, eat at one of the cute taverns or cafes, and visit the Bee & Embroidery Museum.
Entrance Fee: €2 for entry to the museum.
8. Kyperounta
Kyperounta is the largest village in the mountains and the third highest in Cyprus. It's retained its traditional character over the years and is a really pretty village, full of grapevines, and narrow uphill roads (wear comfortable shoes!).
If you love being outdoors or are a hiker, you'll love this beautiful village in Cyprus. There are some amazing trails to walk, including the Madari Circular Trail, which is a moderate to hard trail, but one that rewards with views of the Troodos Mountains and Limassol Bay.
I don't recommend doing this in the height of summer as the first 4 km is uphill, but – wow – the views are worth it. Stop in at Kyperia Tavern post-hike for a delicious refuel.
Location: Kyperounta is around 40km from Limassol and 78km from Nicosia.
Getting There: To get to Kyperounta you'll need to travel by car, or by private transfer.
Things To Do: Kyperounta Winery, hike the Madari Circular Trail for amazing views, and visit the Adventure Mountain Park for rock climbing and other adventurous activities.
Entrance Fee: Check the price list for activities at the Adventure Park and contact the winery for tasting prices.
9. Pedoulas
Pedoulas is in the north of the Troodos mountains, sitting at 1200 m above sea level. Because of its location, temperatures are a lot cooler than in the main cities and towns of Cyprus.
Pedoulas is a super cute and picturesque village that differs slightly to others in the mountains. It has more of an Alpine feeling from the surrounding pine forests and it's a gorgeous little place to visit as it feels completely different from the rest of the island.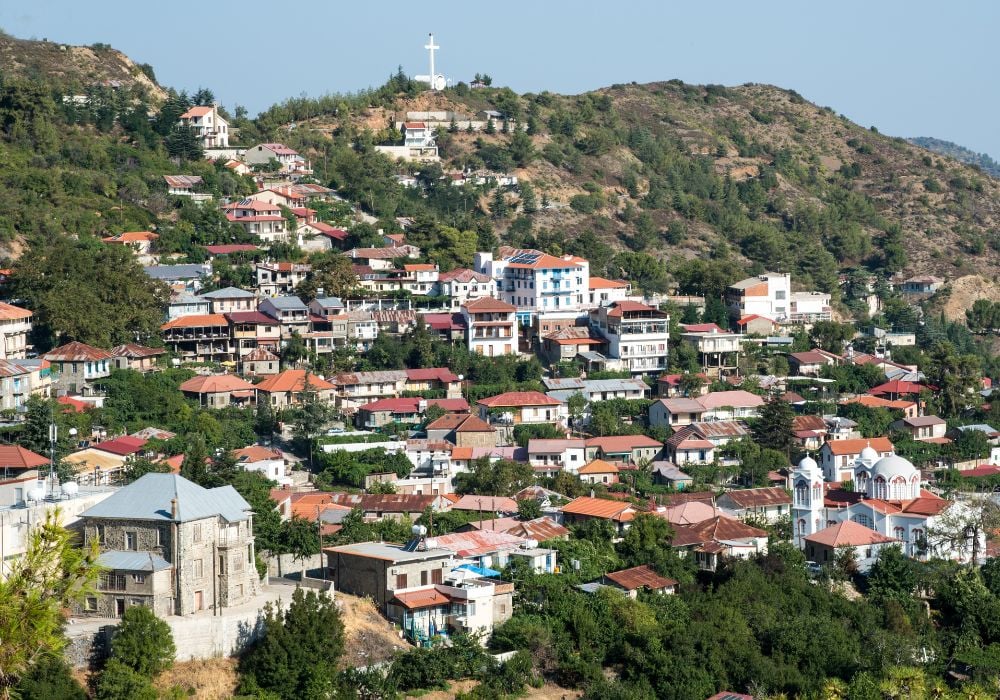 The Archangelos Micheal Church, a UNESCO World Heritage-listed church, is well worth the visit.
I recommend that you visit as part of a tour, have a look around, grab something to eat, and enjoy the fresh air. This tour stops for lunch in Pedoulas and gives you enough time to see this charming village.
Location: While Pedoulas is located in the Nicosia District of Cyprus, it's actually closer to Limassol (around 60 km away).
Getting There: You'll need to rent a car or arrange a private transfer. I recommend visiting as part of a tour, so you get to see other villages too. I recommend this tour, which I mention in the tours section below.
Things To Do: Vrissi Poumi Hiking Trail, Church of the Archangel Micheal, Two Flowers Cafe (for an incredible view).
10. Arsos
The beautiful village of Arsos is one of the largest wine-producing villages in Cyprus. It's located on the slopes of Laona mountain and at a height of 1,092 meters above sea level.
The views from Arsos are amazing. You'll see over the surrounding mountains and countryside, with views all the way to the Mediterranean Sea.
It's one of the prettiest villages in Cyprus in its own right with cobbled streets, all-stone buildings, and a beautiful village square to sit in and relax. It's also much cooler than the coast so it's a lovely escape from the mid-summer heat.
For those that love to walk, there are 6 medieval fountains that surround Arsos which are now connected by a walking trail. Head out on the Arsos nature trail, which follows the nearby Diarizos river.
It's one of the most tranquil Cyprus villages and a great trip with kids as the walking trails have plenty of wildlife to find along the way, and for parents, there's plenty of wine to be found in town.
Location: Arsos is located in the Limassol District, but it takes roughly an hour to get to it from both Limassol and Paphos.
Getting There: I recommend renting a car or arranging a private transfer.
Things To Do: Fountain Walking Trail, Folk Art Museum, Medieval Fountains
Getting Around Cyprus
The best way to see the villages in Cyprus is by car. Public transport is irregular at best, and where there are options, it takes hours.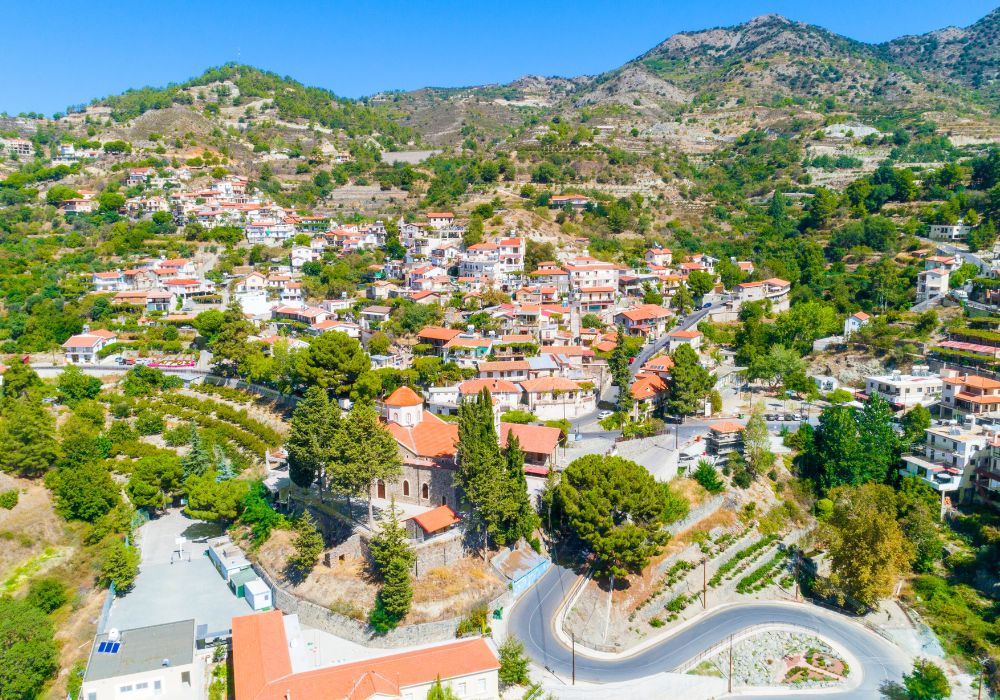 Renting a car, or arranging private transport will be your best option but my choice is to join a tour, as many include visits to multiple villages.
Quick Itineraries for Visiting the Cyprus Villages
Here are a few simple itineraries to follow when visiting the above villages in Cyprus.
3 Days in Cyprus
If you're staying in Cyprus for 3 days, I recommend that you take a tour of the villages, so you get to see a couple all in one day. Then you can spend the rest of your time on the island enjoying the coast and the place where you're based.
A tour is definitely one of the best ways to get a flavor of traditional Cyprus in a short amount of time.
One Week in Cyprus
If you have a week to enjoy, you could base yourself in either Limassol or Paphos and take a couple of day trips to the villages in Cyprus.
If you're a keen hiker you could visit Kalopanayiotis or Kyperrounta and stay overnight as some of the trails will take you more than half a day. Enjoy nature and local taverns before returning to your base in Limassol, Paphos, or Nicosia the next day.
You could also consider doing a wine tour. The Troodos Mountains are famous for their wine, so I recommend taking this tour to explore a few wineries in the region.
10+ Days in Cyprus
The possibilities are endless if you have 10 days. You could either use Limassol, Paphos, or Nicosia as a base and take some tours and day trips out of those places. Or, you could even stay overnight in some of the towns.
If you want to stay overnight, I recommend Omodos as they have some lovely accommodation options and there's plenty to do and see there.
I also recommend taking a wine and/or food tour, as the best way to understand a country is through food and drink – and the Cypriots are so hospitable. This is a great tour to consider as it combines both!
If you'd prefer to have a base, I recommend staying in Limassol, as there are so many villages on the doorstep and it's close to the mountains.
Top Tours to the Cyprus Villages
Here are a few of my favorite tours, many of which stop into a few of the best villages in Cyprus which feature on this list.
Tour to Troodos Mountains and Villages
For the ultimate tour of some of my favorite villages in Cyprus, I highly recommend this excellent 1-day village tour from Paphos.
You'll start off in Paphos and head down the coast to check out Aphrodite's Rock. Rumor has it, if you swim around the birthplace of the Goddess of Love 3 times, you'll be granted eternal beauty. It has to be worth a shot, doesn't it?
From there, you'll head inland and visit my best village in Cyprus, Omodos. You'll also head to Lofou for some halloumi and coffee tasting before taking lunch in the heart of the pine forests at Platres.
On the way back, you'll call in at Milomeris waterfalls before stopping at Lambouri Winery (my favorite winery in Cyprus) where you can take part in a wine tasting.
This 8-hour tour is incredible value and highly recommended. It's a brilliant way to see some amazing Cyprus villages and partake in some Cypriot traditions.
Troodos and Kykkos Day Tour
Another fantastic value tour is this Cyprus villages day tour – check out this option that sets off from Paphos.
It combines some of the most famous monasteries in the Troodos Mountains with a couple of the best towns in Cyprus from the list above.
You'll visit both the Chrysoroyiatissa Monastery and the Kykkos Monastery on this tour. The latter has an icon of the Virgin Mary which was reputedly painted by the Apostle Luke. Both are very impressive monasteries and worth a visit in their own right.
From there, you'll explore two of my favorite villages in Cyprus. Firstly, you'll head to Pedoulas for lunch before exploring the incredible village of Omodos. Again, you'll have guided tours and so you'll be able to delve into the history of both of these wonderful Cyprus villages.
This is an excellent 1-day tour of some of the best villages in Cyprus and is excellent value for money.
Grape Escape: Troodos Mountain Wine Tour with a Local
For those of you that love wine, the amazing Grape Escape tour is not to be missed when visiting Cyprus. It can be organized from any of the major holiday cities, and you'll get to see some incredible villages in Cyprus.
On this great full-day tour, you'll visit two of the wineries that feature in my best-loved wineries in Cyprus list.
It also stops in at another of my choice villages in Cyprus, the famous lace-making village of Lefkara. You'll be given a full tour by their knowledgeable guide who will tell you all about the famous past of Lefkara, and all the other highlights you visit while on the tour.
The Grape Escape tour is a fantastic way to combine a tour of the Troodos Mountains with some of its amazing Cyprus villages, and a trip to a few of the famous wineries in the region.
FAQs About the Villages in Cyprus
Answers to some commonly asked questions about visiting the beautiful villages in Cyprus.
Which is the largest village in Cyprus?
Kyperounta is the largest mountain village in Cyprus. It's closest to Limassol and is home to a gorgeous hiking trail – the Madari Circular.
What is the prettiest village in Cyprus?
There are so many beautiful villages in Cyprus. The prettiest has to be Omodos for its historic and well-kept buildings, vineyards, and fruit fields that surround it.
What is the most popular Cyprus village?
Omodos is a very popular village in Cyprus as it's one of the main wine-making villages in the region. There are lots of amazing taverns and wineries to explore and try – you can easily spend the whole day here.
What is the nicest mountain village in Cyprus?
Lefkara is a nice village in Cyprus, particularly to experience the traditional artisan skills and way of living on the island, which you can still witness there today.
What is the prettiest seaside village in Cyprus?
Latchi is a very pretty seaside village. It's where the Akamas National Park is located and has a beautiful harbor and lots of waterside taverns serving local food and fresh seafood.
Where should I base myself in Cyprus?
If you're based in Limassol, you'll be able to easily access the Troodos mountains where many of the best villages in Cyprus are located. However, there are tours that run from Paphos, Protaras, and Nicosia to visit these villages too.
What is Cyprus famous for?
Cyprus is famous for its beautiful beaches, complicated history with Turkey, and its incredible Cypriot meze.
Is Cyprus safe to visit?
Yes. Cyprus is a perfectly safe country to travel to and around.
In Conclusion
Visiting the villages in Cyprus is the best way to experience and get a feel for traditional Cyprus, which you often miss in the resorts on the coast.
There are some beautiful villages to visit in the Troodos mountains, a great place to escape the summer sun and to see a completely different side of this wonderful island.
I hope this blog helps you decide which village to visit during your trip.
Like This Article? Pin it!