What are the best places to visit in Mexico? This list of destinations will help you start planning your trip.
With bustling cities, pristine beaches, colorful hill towns, ancient ruins, and natural wonders, Mexico is the gift that keeps on giving to travelers.
Unfortunately, many skip Mexico entirely thanks to its less-than-stellar reputation. While there are certainly dangerous areas, most of the best places to visit in Mexico are quite safe. Would you skip out on the Grand Canyon because you read about violence in Chicago? I didn't think so!
The Best Places To Visit in Mexico
With so many amazing places to see and things to do in Mexico, give yourself some time here. Mexico travel is exciting, simple, and affordable. It's one of my favorite countries to travel and in this post, I'll share my recommended spots.
Check out this list of the best places to visit in Mexico and start planning your trip to the land of tequila and tacos!
1. Mexico City
When it comes to the best places to visit in Mexico, we have to start out with the country's vibrant capital city. Mexico City (or CDMX as it's known to locals) is one of the liveliest cities out there. There are so many things to do in Mexico City that a couple of days in the city or even a week isn't really enough.
Spend your days visiting museums on a wide range of topics, from anthropology to art, to history, and even tequila. You can also see the ruins of the former Aztec capital city and a stunning cathedral right downtown.
Don't miss the great tours in the city and the easy and fun day trips just outside of Mexico City as well. This highly rated, affordable walking tour of the historic center is a great way to get your bearings in the city when you first arrive. Click here to find out more.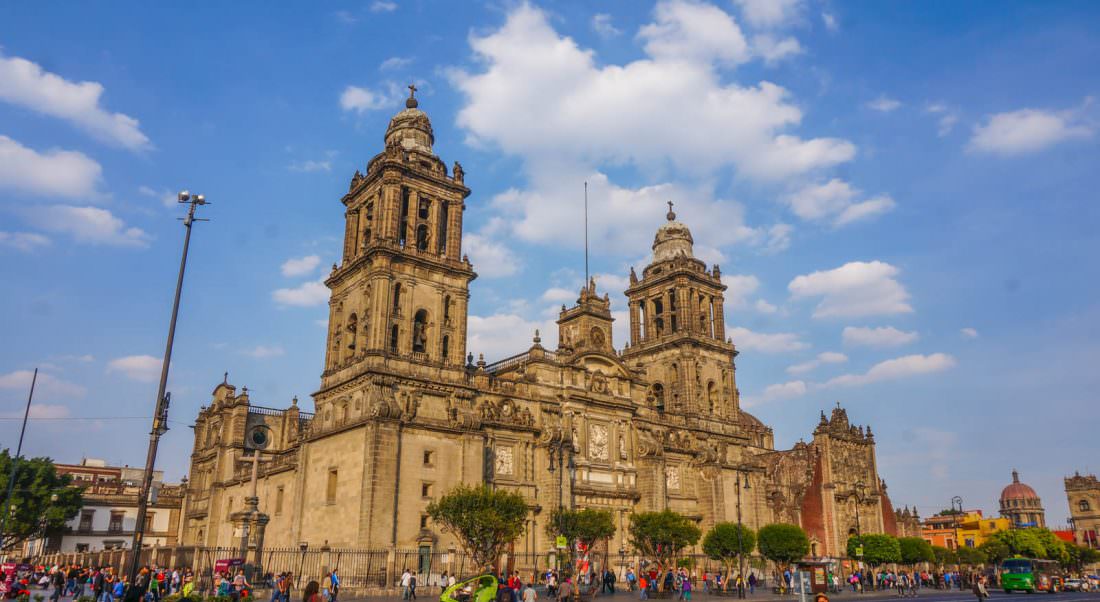 Sightseeing is great but it's the culinary and nightlife scene in Mexico City that makes it one of the best places to visit in Mexico.
Foodies and party animals alike will be in paradise here. You're spoiled for choices with a bounty of street food, international restaurants, bars, and clubs. There are endless things to do in Mexico City, with every night out being a great one.
☞ Click here to compare prices on all accommodation options available in Mexico City on Booking.com. Or, have a look at our list of the best Airbnb stays in Mexico City.
Mexico City is huge and can be intimidating at first. Learn how to get from the airport to downtown in our post.
2. Guadalajara
Mexico's 2nd largest city definitely lives in the shadow of the capital, but Guadalajara has enough going on that you should also include it when choosing your places to visit in Mexico. After all, this is the birthplace of tequila and mariachi.
In addition to sampling both (ideally at the same time), there are quite a few cultural sights to take in. Most of these are located in the Centro Historico and are easily visited in a day.
For sports fans, Guadalajara is home to two football teams. You can catch the wildly popular Chivas or the ultimate underdog Atlas for a wild, beer-soaked good time.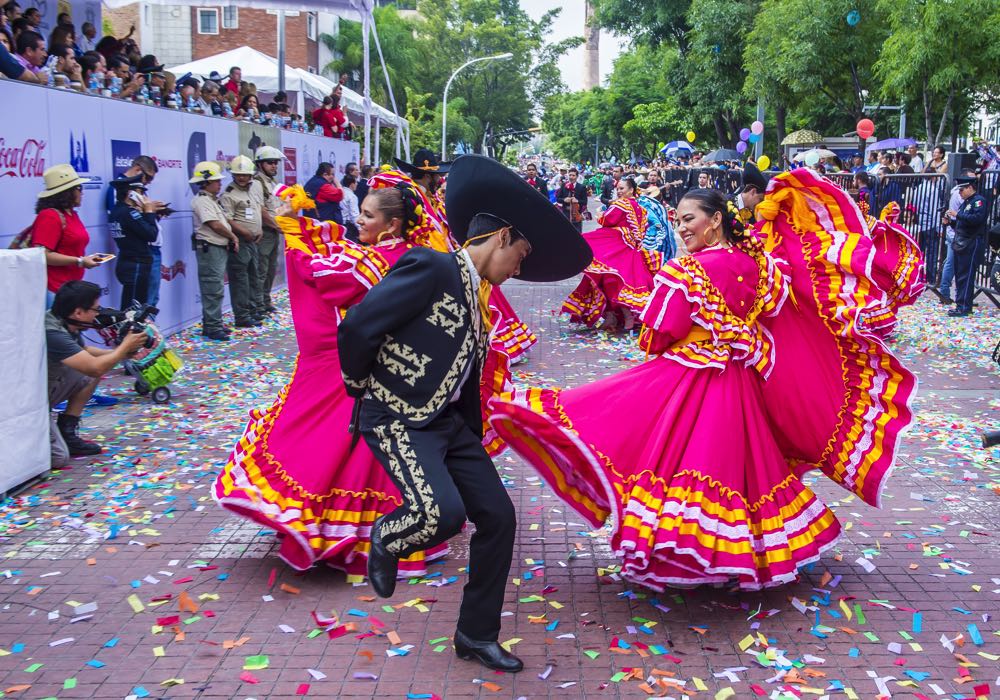 No visit to Mexico would be complete without an evening of lucha libre, and the Estacion Pub runs a great party bus to the arena every Tuesday night. Be sure to grab a colorful mask as a great souvenir. Find out more and book your lucha libre night here.
When backpacking Mexico, don't miss all of the amazing things to do in Guadalajara and the party nights!
☞ Click here to compare prices on all accommodation options available in Guadalajara on Booking.com.
3. Monterrey
Do a quick Google search of the best places to visit in Mexico, and you probably won't find the country's 3rd largest city there. Known more as an industrial city, Monterrey often flies well under the radar of tourists.
Surrounded by epic mountains, it's actually a great choice for eco-tourism and you can enjoy hiking, mountain biking, rock climbing, and more, all within reach of the city. Don't miss this incredible day trip to the dramatic La Huasteca Canyon, or this awesome trip to the caves!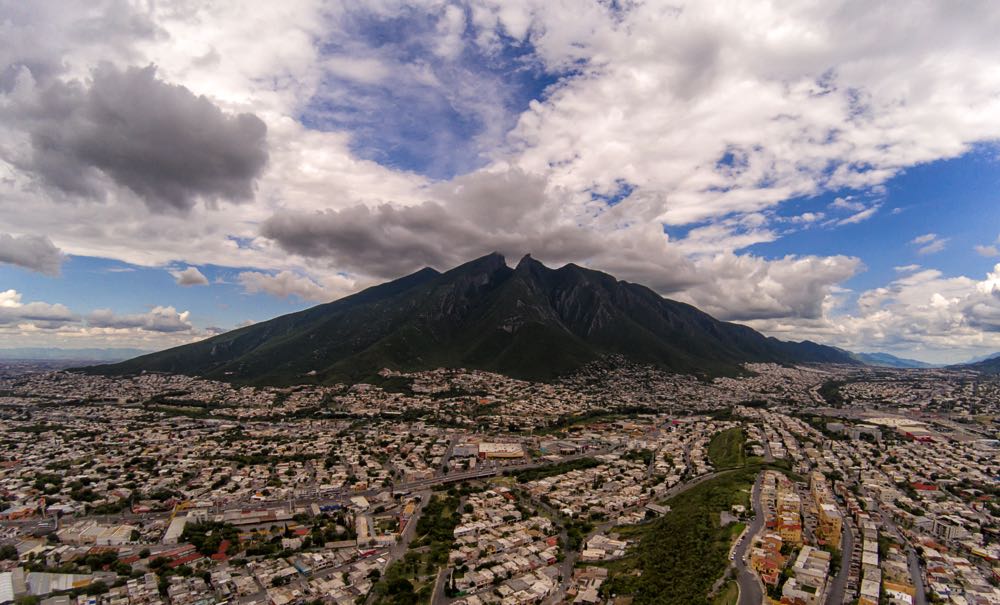 In the city, you can enjoy a stroll through the Macroplaza to take in some cutting-edge architecture.
After visiting the massive Mexican History Museum, take a boat cruise up the manmade river to Parque Fundidora and stick around for sunset. Be sure to work up an appetite and dig into a plate of cabrito (slow-roasted goat), the local specialty. 
☞ Click here to see the top accommodation options available in Monterrey.
4. Puerto Vallarta – Definitely One of The Best Places to Visit in Mexico!
Forget the touristy Yucatan area and head to Mexico's west coast for your beach vacation. Puerto Vallarta has been making lists of the best places to visit in Mexico for decades now and for good reason.
While it is well-known as an all-inclusive resort and spring break party destination, PV is so much more than that.
There are numerous activities, excursions, and tours in Puerto Vallarta to keep you busy. Adventure junkies will love this place, as you've got sky diving, bungee jumping, and paragliding all on tap here. For foodies, this affordable, 5-star food tour is a must (come hungry!)
Speaking of on-tap, PV has two craft breweries and several fantastic cocktail bars. Enjoy the amazing food by eating your way through the city while searching for the best Puerto Vallarta restaurant.
The real fun goes on outside of the resorts in town, where the party goes all night. There's some awesome nightlife in PV, numerous incredible beaches to see and endless things to do in Puerto Vallarta!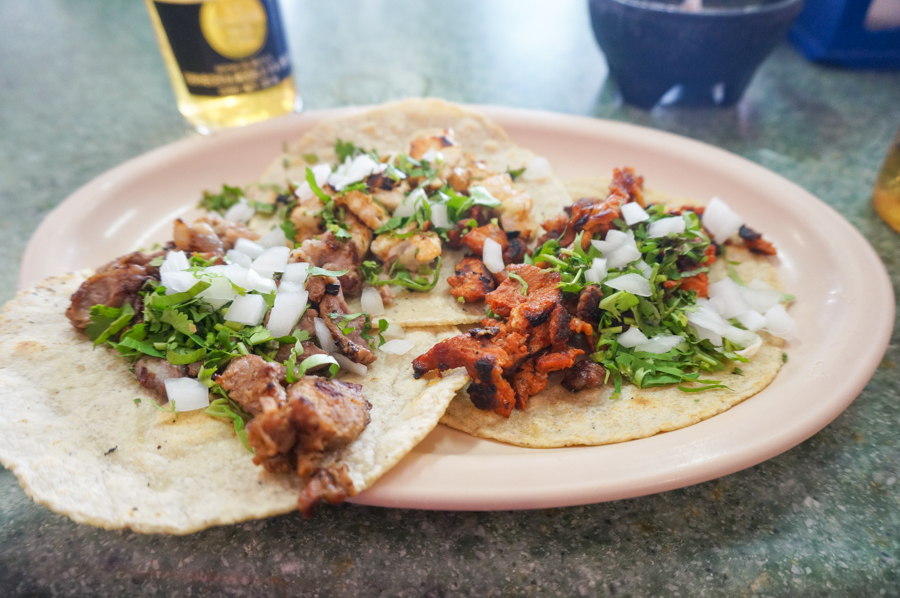 Having spent six months in Puerto Vallarta, I can say with confidence that this is also a great place to live as a digital nomad. Although it's on the coast and is wildly popular, it's surprisingly affordable.
Read more about the cost of living in Puerto Vallarta and you'll be ready to move there as well. Puerto Vallarta has something for everyone, it's a great place for digital nomads, retirees, solo travelers, couples, and one of the best places to visit in Mexico with family.
☞ Click here to search for the best accommodation options in Puerto Vallarta.
Looking for more information on Puerto Vallarta? Since Puerto Vallarta is one of the top places to visit in Mexico, it's no surprise that we have numerous articles about this beach town on our website! Check out these posts:
5. Huatulco
How does a pristine and undeveloped stretch of beach sound? If you're into that, you should probably be planning a trip to this gorgeous part of Oaxaca.
Huatulco is home to nine bays and thirty-six beaches, and many of them are ecological preserves where development is not allowed. It's actually the only resort area in Mexico that has won a Green Globe award.
In addition to sunbathing, you can also visit nearby coffee farms and waterfalls or join a rafting or cycling trip. This hidden gem is mostly popular with domestic tourists, but it won't be long until the secret is out.
This is definitely one of the best places to visit in Mexico this year, so start planning! Make sure to check out nearby Puerto Escondido in Oaxaca too.
Free Mexico Travel Guide
We've put together a comprehensive guide to travelling Mexico. Our epic guide includes when to visit, the best things to see and do, information on Mexican culture, the best foods to sample, how to get around the country and much more. Check out our free Ultimate Guide to Travelling Mexico and start planning your trip. Happy travels!
6. Tulum
Once upon a time, Tulum was considered an off-the-beaten-path destination in Mexico. The path has definitely been beaten now, as more and more travelers flock here for the white sand and turquoise waters.
That being said, you'll still find far smaller crowds here than you will in nearby Cancun and Playa del Carmen. Just be sure to get to the ruins early in the morning to avoid the tour buses.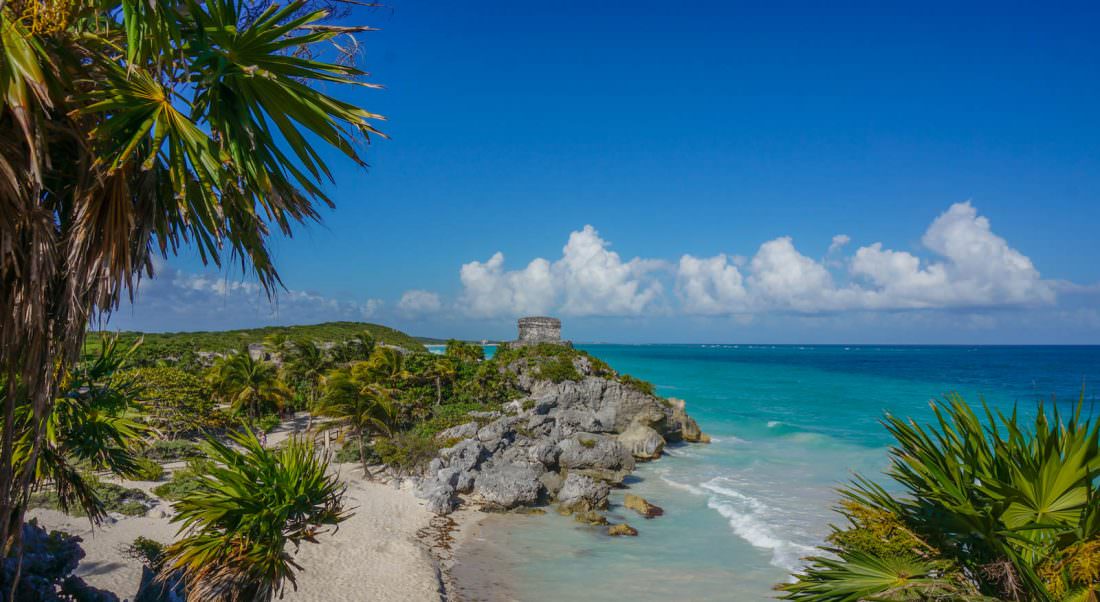 The beaches are great here, but you can't come to this part of Mexico without taking a dip in a cenote. These sinkholes are abundant in the Yucatan, and they're a great place to do a bit of snorkeling or scuba diving.
Back in town, there are tons of choices to wine and dine the night away — Tulum is one of the best places in Mexico to party. Although not a hidden gem, there are numerous fun things to do in Tulum and it's still one of the best places to visit in Mexico.
Find out how to visit the ruins in our complete guide to the ruins of Tulum. Find the best places to stay in Tulum, here.
Looking for more Mexico posts? See Also:
7. Teotihuacan
When visiting Mexico City, be sure to set aside a day to explore the ancient city of Teotihuacan. It was the largest pre-Colombian city in the Americas, with a population of around 150,000 at its peak. 
As the legend goes, this is the place where the gods planned the creation of man.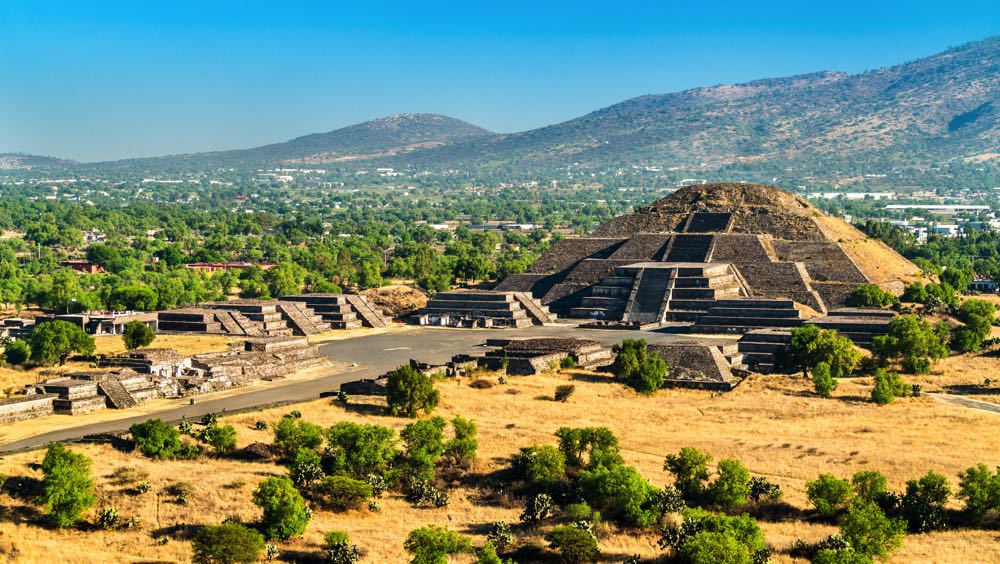 Here you'll be able to climb on some of the largest ancient pyramids in the world. After taking in the views from atop the Temple of the Sun, you can sit down to lunch in a cave.
La Gruta is located right outside of the ancient city and is the perfect place to cool down. Oh yeah, the food is pretty good, too. There are numerous Mexico City tours that will take you here, including this highly-rated, affordable trip (which includes tequila!)
If you're into ancient ruins, the best time to visit Mexico to see the sites without tons of tourists would be during the shoulder season in April or May.
Make sure you spend some time around the Yucatan, visiting the other amazing ruins of Ek Balam, Coba and Chichen Itza — some of the best Mayan ruins in Mexico.
Located in the state of Chiapas (which in itself is one of the best places to visit in Mexico), the Mayan ruins at Palenque are much smaller than some of the more well-known sights.
8. Palenque (best place to go in Mexico for ruins)
Surrounded by jungle and far from any major city, it also means that they're far less crowded. In addition to exploring the ruins, you've also got several waterfalls and caves in the area to check out.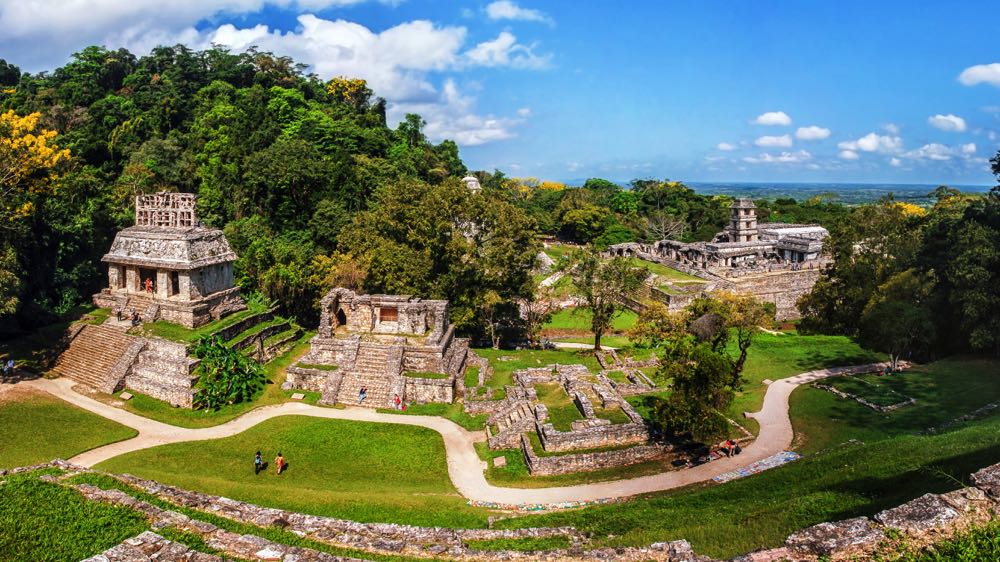 While some travelers visit the ruins on a long day trip, you're better off basing yourself in one of the cool forest hideouts and exploring the ruins from there. Check out this fun tour of the ruins.
Spending the night at one of these funky spots allows you to get an early start and take in the ruins before the hottest part of the day. Check out accommodation options in Palenque here. 
9. Chichén Itzá
As one of the New Seven Wonders of the World, it should come as no surprise to see Chichén Itzá on a list of the top places to visit in Mexico.
Be prepared to be awestruck by the amazing El Castillo (The Castle), which was built to honor a Mayan serpent deity. This is one place where it's well worth it to shell out a few extra pesos for a guide, so you can learn the fascinating details of this impressive structure.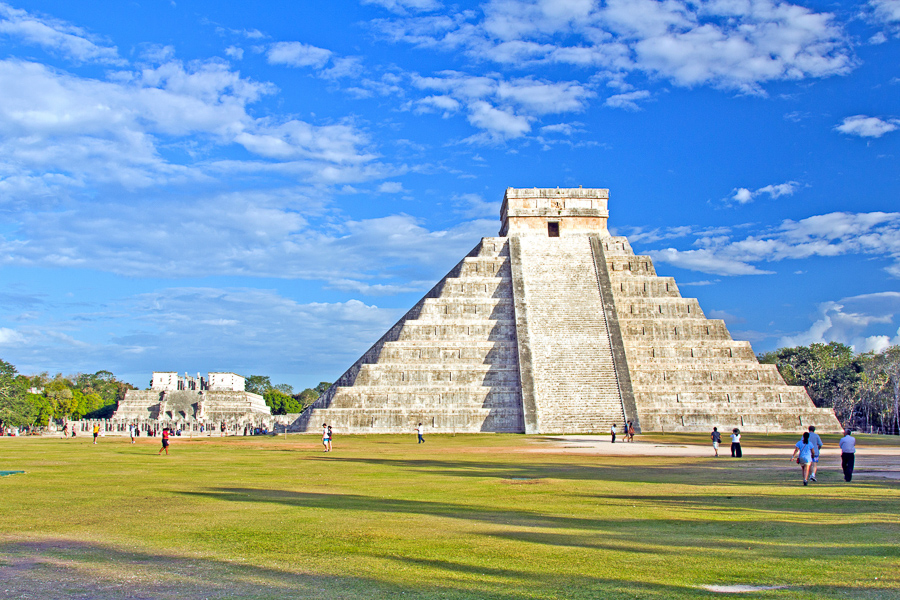 While hordes of tourists descend upon the site on a daily basis, it's very easy to escape the crowds. Stay at a hotel a few miles up the road rather than visiting on a day trip, and you'll almost have the place to yourself in the early morning. Even the vendors and touts aren't going yet when the doors open.
If you're staying in the Riviera Maya (Cancun, Tulum, Playa del Carmen, etc.), click here for the highest-rated day trip to Chichen Itza. Don't miss it!
Visiting this incredible site is one of the best things to do in Playa del Carmen, and Mexico in general. Find out more in our complete guide to visiting Chichen Itza.
☞ Click here to see all accommodation options available near Chichén Itzá on Booking.com.
10. San Miguel de Allende
A longtime favorite destination for "Mexpats," San Miguel de Allende was recently awarded the Best City in the World by Travel + Leisure.
This charming, colorful city boasts a temperate climate, a vibrant arts scene, and a beautiful church at its center. There are numerous things to do in San Miguel de Allende to keep you busy. Outside of town, you'll find hot springs, horseback riding, cycling, and more.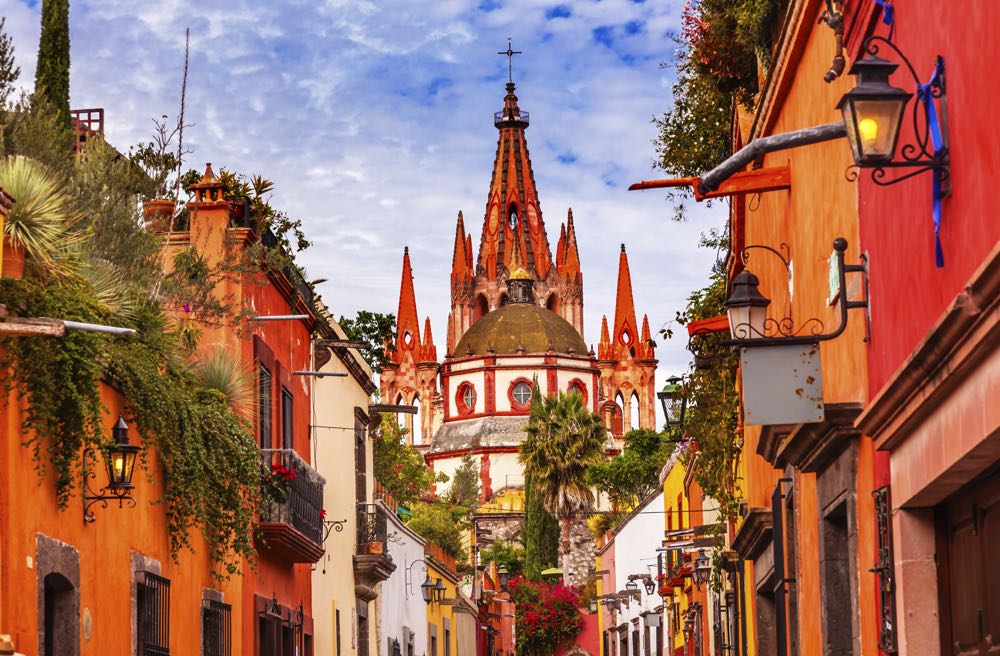 While it's true that San Miguel is somewhat of a "Gringolandia," that doesn't mean you can't enjoy a local experience here. 
It's one of the best places in Mexico to study Spanish, and there are several options for homestays where you can live with a local family and get lots of practice.
If you're looking for somewhere a bit more authentic, check out the things to do in Guanajuato, which is just an hour and a half away.
☞ Click here to see all accommodation options available in San Miguel de Allende on Booking.com.
11. Oaxaca City (one of the best cities to visit in Mexico for culture)
This beautiful colonial city is the capital of the state by the same name, and it definitely earns its spot on the list of top places to visit in Mexico. 
In case you were wondering, it's pronounced wa-HAH-ka. Here you'll find some of the best cuisine in Mexico, bustling markets, and a thriving arts and crafts scene.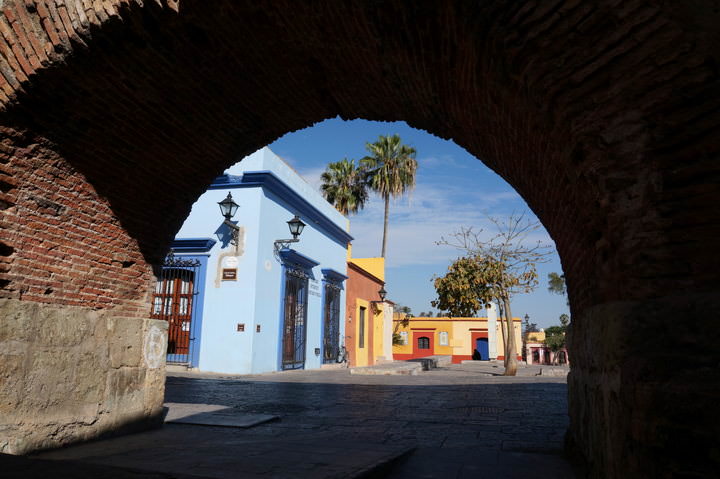 Oaxaca is also home to the Guelaguetza festival, which highlights the indigenous culture of the area and is focused primarily on traditional dancing. This is one of the best festivals in all of Mexico.
The city also throws one of the biggest celebrations in the country for the Dia de Los Muertos (Day of the Dead) – this is one of the best things to do in Oaxaca, don't miss it.
SEE ALSO: 
12. Guanajuato
Once a thriving silver mining town, Guanajuato is now a huge draw for tourists and expats. It's a gorgeous city located on the steep slope of a ravine, with a name meaning "Place of the Frogs."
Walking around town, you can admire the colonial architecture and bright houses, pausing to chill in tree-filled plazas or quaint cafes.
☞ SEE ALSO: Manzanillo, Mexico – The Ultimate Travel Guide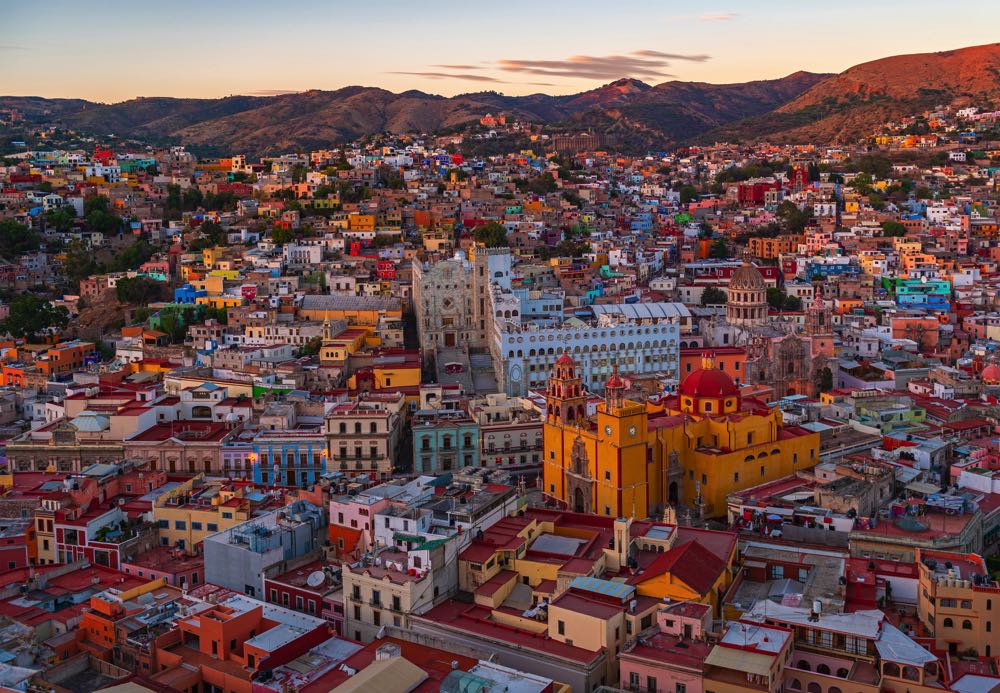 It's a very cultural city, with plenty of museums, theaters, music venues, and festivals. Be sure to join a walking tour with the city's famous callejoneadas, a band of musicians and storytellers who lead you through the meandering alleyways on a musical journey like no other.
There are numerous things to do in Guanajuato, including a great food tour, for those of you who want to eat all of the tacos and then some. Plus, Guanajuato's wine region is pretty fantastic. This is one of the best places in Mexico for couples.
With colourful buildings, historical sites and an awesome vibe, Guanajuato is definitely one of the most vibrant places to visit in Mexico.
☞ Click here to see all accommodation options available in Guanajuato on Booking.com.
13. Yelapa
Those looking to escape the all-inclusive resorts, chain stores, and packaged tour groups that descend upon Puerto Vallarta should consider hopping on a speed boat and heading 45 minutes south in the Bay of Banderas to Yelapa.
It's not an island, but it sure feels like one. Since it's wedged in between the mountains and the ocean, there are no roads or cars here.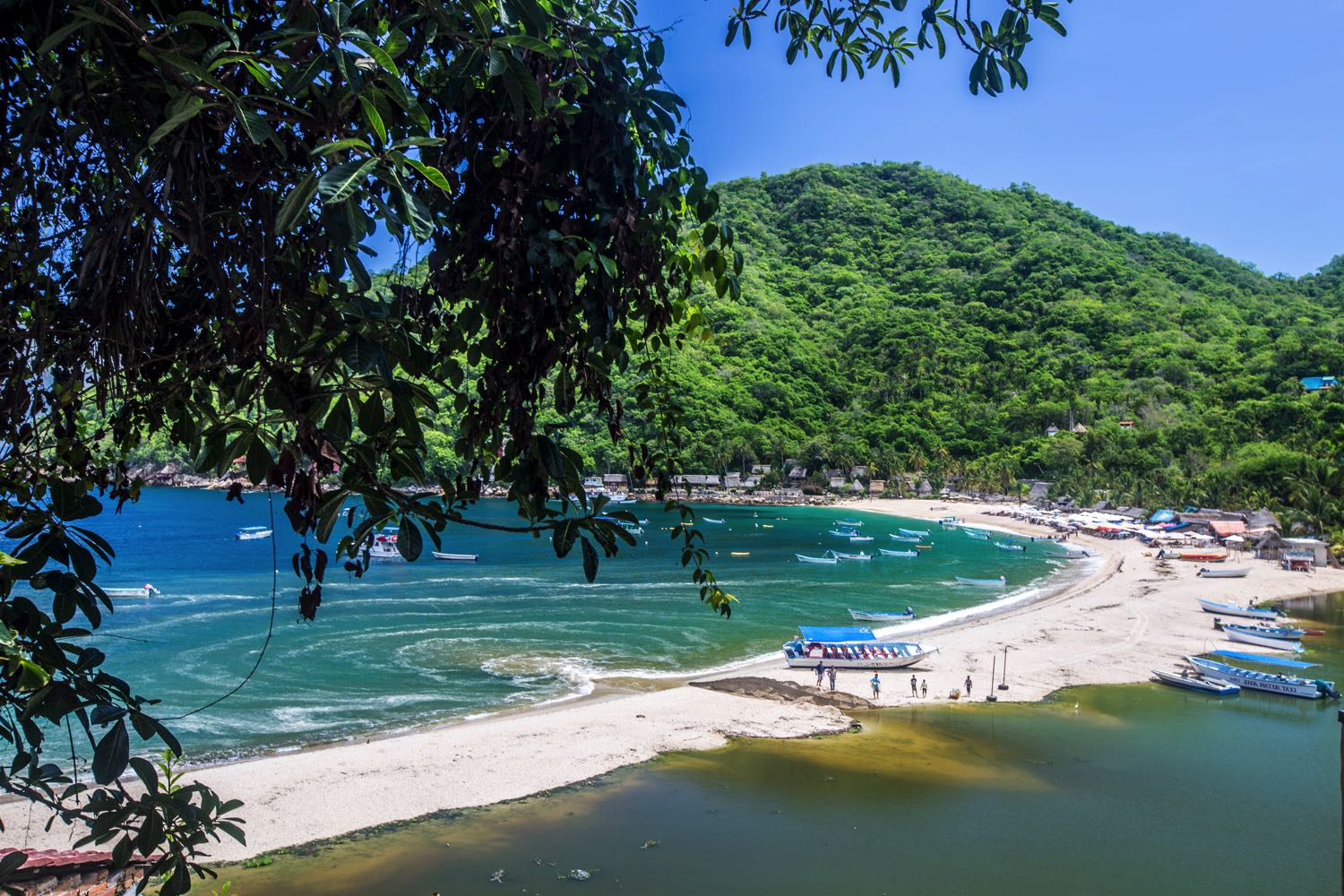 This small fishing village once attracted famous actors and musicians (like Bob Dylan), who sought an escape here in this little slice of paradise in Mexico.
You might not find Mr. Tambourine Man hanging in Yelapa anymore, but you'll be able to enjoy horseback riding, hiking to a waterfall, or just chilling in a hammock listening to the sounds of waves crashing and kids playing.
Life is slow here, and life is good. Don't miss Yelapa if you're looking for unique places to visit in Mexico. 
14. Los Cabos
Los Cabos is the collective name for two towns found at the southern end of Baja — Cabo San Lucas and San Jose del Cabo.
This was a remote, rural area until a few decades ago when the Mexican government developed it for tourism. It's now one of the most popular places to visit in Mexico, famed for its world-class beach resorts, excellent sport fishing, and championship golf courses.
The two towns are only about 20 miles away from each other, but they feel worlds apart. San Jose is a more traditional Mexican town that still has cobblestone streets and a tree-lined plaza centered around a gorgeous cathedral.
Cabo San Lucas, on the other hand, is far more touristy and is known for its raucous nightlife. There are many other things to do in Cabo San Lucas if you aren't into partying, so give yourself some time here to explore.
There's now a corridor of resorts and golf courses in between the two towns where many vacationers choose to stay.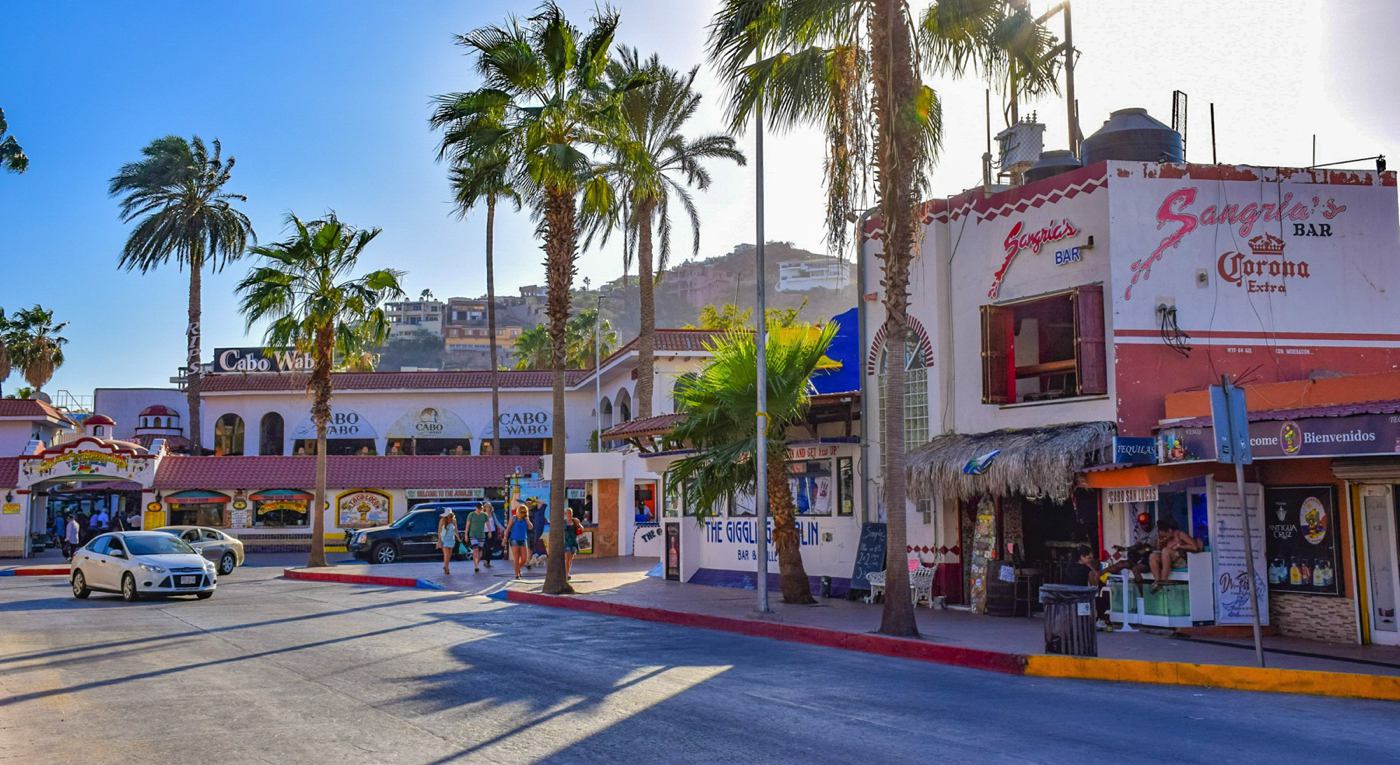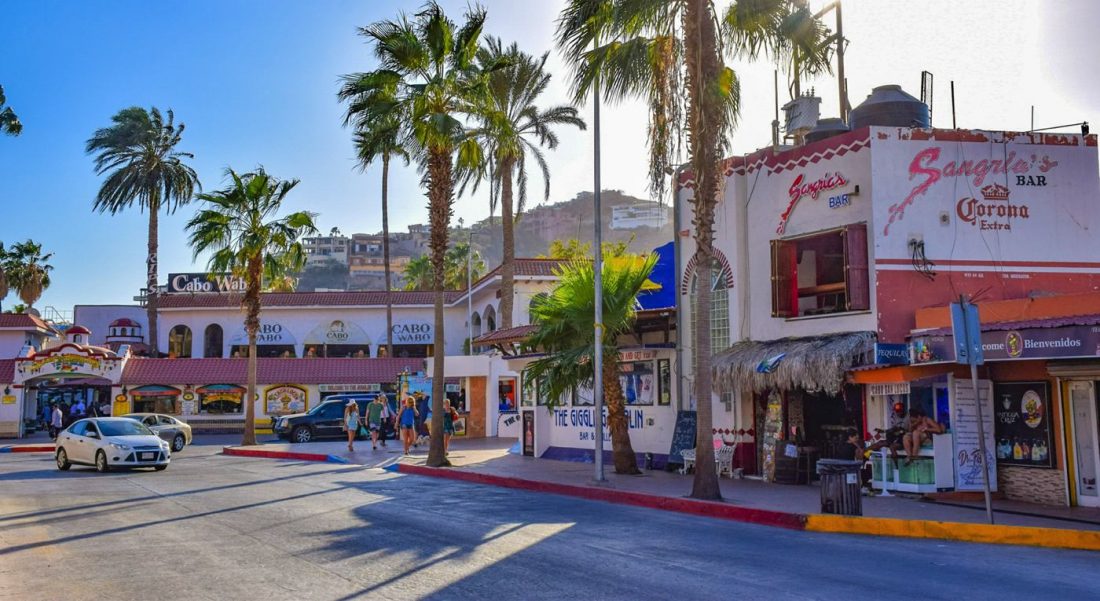 If you're heading to the Baja, don't miss the Valle de Guadalupe, it's one of the best places to visit in Mexico near the border.
15. Zihuatanejo
Once a sleepy fishing village, Zihuatanejo experienced a tourism boom with the development of the nearby resort city of Ixtapa.
Skip the government-planned resort and head instead to this chilled-out town that locals simply call Zihua. Roam the cobblestone streets, feast on the super fresh catch of the day, and just kick back and relax on the idyllic beaches.
If this seems familiar, that's because this is the paradise that Andy and Red escaped to in The Shawshank Redemption. After a few days lounging in Zihua, you'll probably be planning your permanent escape here as well.
Click here to search for a beautiful villa, apartment or house to rent during your stay in Zihuatanejo.
☞ READ MORE: 15 Fun Things To Do in Zihuatanejo, Mexico
16. Cozumel (one of the must visit places in Mexico for scuba diving)
If you'd like to add a Caribbean island to your Mexico trip, you can catch a quick ferry from Playa del Carmen over to Cozumel.
The main draw here is the incredible diving and snorkeling that's quite possibly the best in all of Mexico. There are tons of dive shops here, and it's a great place to finally get certified if you're not already.
There are numerous things to do in Cozumel, so rather than just visit on a day trip, it's well worth it to spend a few days here. Rent a scooter and explore small Mayan ruins, an excellent national park, and the rugged beaches on the east coast.
You have plenty of choices when it comes to places to stay, eat, and party in Cozumel, but it's still far less developed than its neighbors over on the mainland. Click here to search for accommodation in Cozumel.
17. San Pancho
"The San Francisco You've Never Heard Of" is a popular nickname for this beach town. It's more commonly referred to as San Pancho, and it's a little slice of paradise on the Pacific coast of Mexico.
While it's just up the coast from Puerto Vallarta and Sayulita, it's less built up and crowded than its neighbors.
Even though it's a small, sleepy pueblo, there are plenty of things to do in San Pancho. You can take yoga classes, check out the polo club, volunteer at the excellent community center, and so much more. Not bad for a little beach town of only 2,000 people!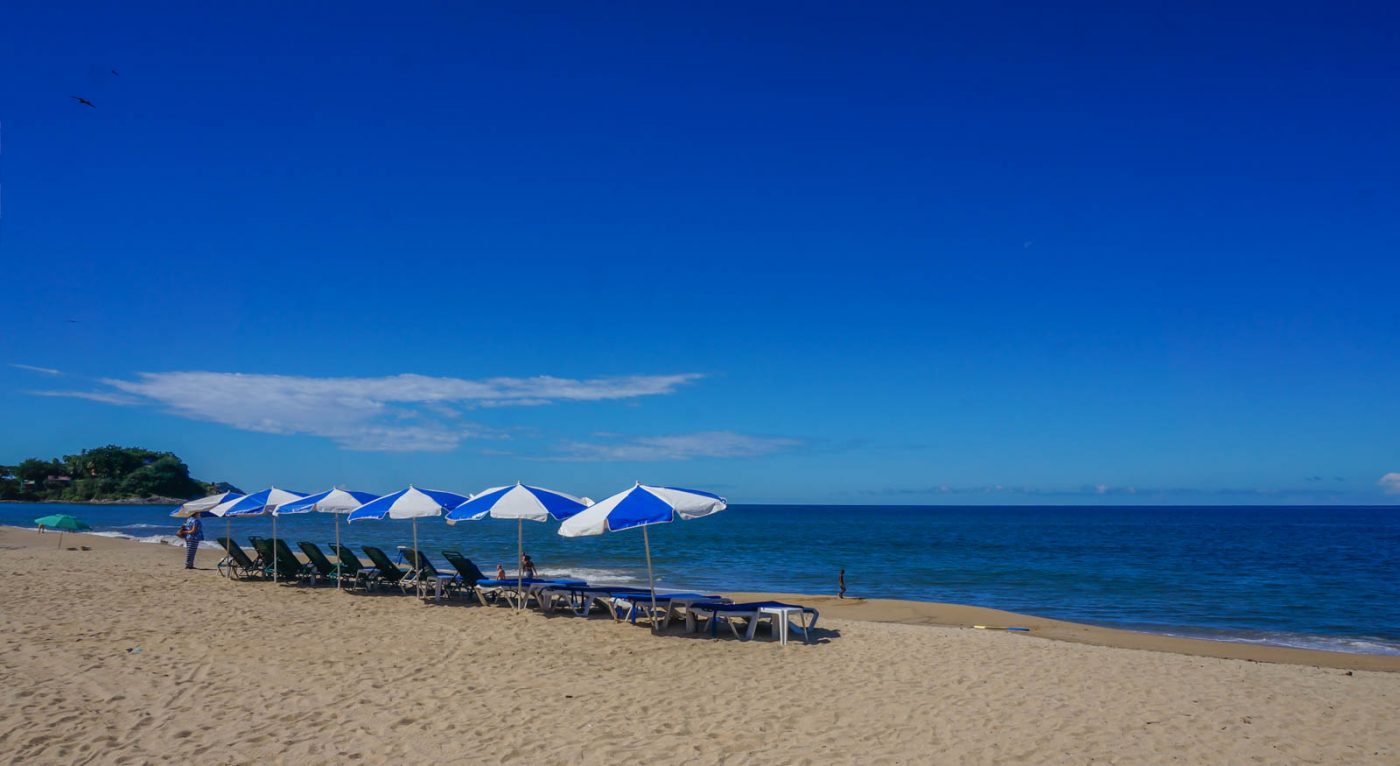 18. Isla Holbox (one of the top places to visit in Mexico to relax)
Often touted as Mexico's best-kept secret, Holbox is a tiny island off the north coast of the Yucatan peninsula. This is a great spot for wildlife spotting, highlighted by the whale sharks that visit in the summer months.
There's not much else to do here, but that's the point. Simply enjoy this beautiful, laid-back place where you can spend the majority of your time barefoot. Isla Holbox is one of the top places to visit in Mexico if you're seeking some relaxation.
To get here, you'll need to drive or take a bus to the town of Chiquila and then catch a ferry. Cars are not allowed on the island, so if you do have one you'll need to leave it parked in Chiquila.
Since there are no cars here, your options for getting around include rented bicycles or golf carts.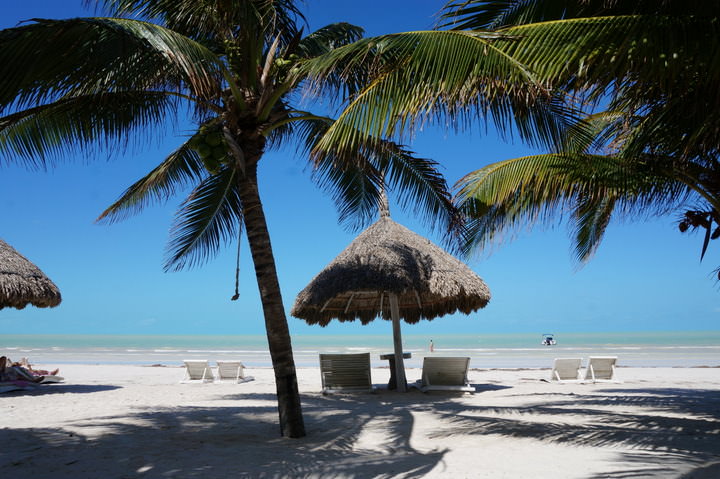 19. Isla Mujeres
The "Island of Women" is located in the Caribbean, just a few miles off the coast of Cancun.
If you're wondering where the name comes from, it's because the island was once a Mayan sanctuary dedicated to the goddess of childbirth and medicine named Ixchel. When the Spanish arrived and saw all the images of the goddess, they called it Isla Mujeres.
While most travelers simply visit for the day, for such a small island there are many things to do in Isla Mujeres and it's definitely worth a longer stay if you've got the time.
Rent a scooter or a golf cart and spend a couple of carefree days beach hopping and enjoying the relaxed pace of life.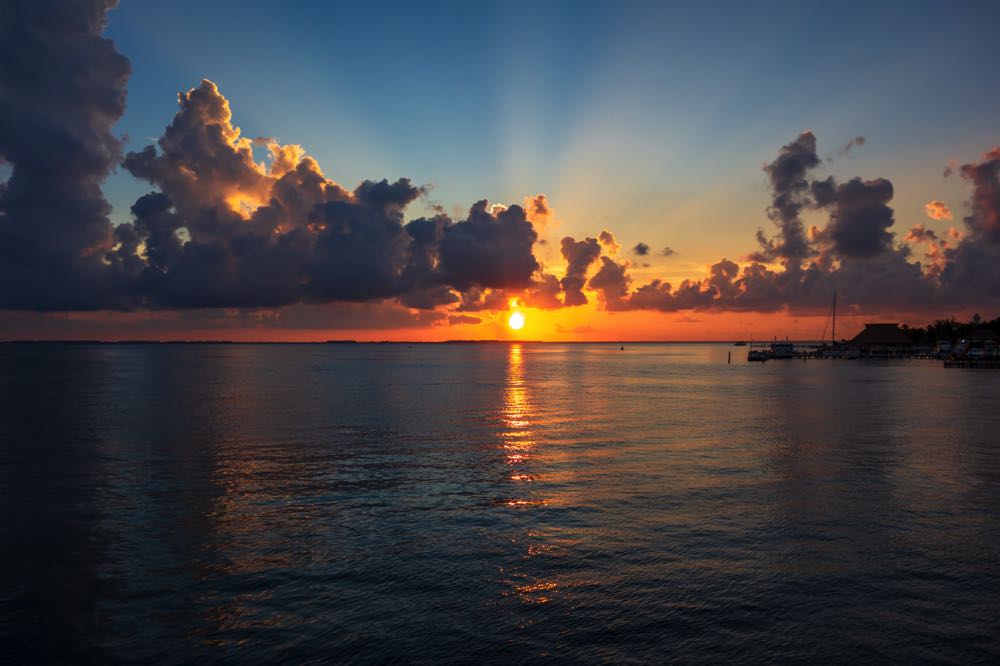 Click here to search for a beautiful place to stay in Isla Mujeres.
20. Morelia
Although it's often mentioned on lists of the most beautiful cities in Mexico, Morelia still remains off the beaten path. The capital of Michoacan, this gorgeous colonial city is so well-preserved that it was given UNESCO status in 1991.
There are over 200 historic buildings here that were built out of the pink stone that's characteristic of the region.
Morelia is also a cultural hub in Mexico. The city is home to several big events and festivals throughout the year. Whether it's food, dance, or film, there's probably something going on in Morelia, and there are lots of fun things to do to keep you busy. 
21. Puerto Morelos
If you're looking for a more authentically Mexican experience in the Riviera Maya than what you'll find in Cancun or Playa del Carmen, look no further than Puerto Morelos. This peaceful beach town is located between the two tourist hot spots, meaning you still have easy access to both.
Although it's geographically close, Puerto Morelos feels the world's apart from the glitz of Cancun.
You won't find massive resorts in town, as buildings are limited to three stories here to retain its small-town feel. If you still want that luxurious vacation, though, there are some amazing resorts on the coast.
Just offshore is the Great Mesoamerican Reef, which is the second-largest reef system in the world. This is one of the best places to visit in Mexico if you're into snorkeling or scuba diving.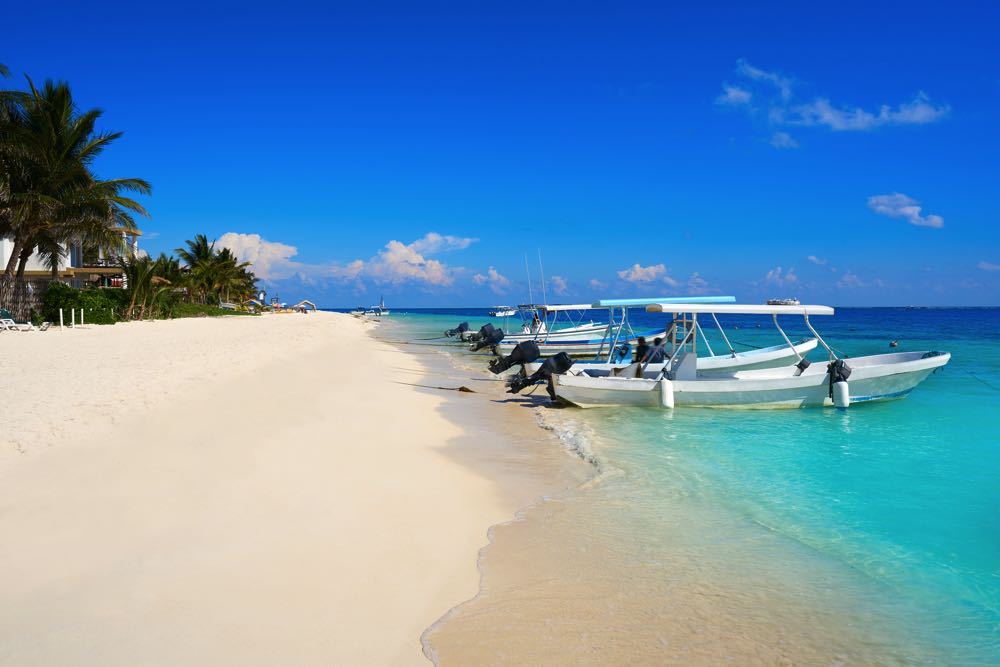 22. Tijuana
Located just south of the US border with San Diego, Tijuana is one of Mexico's fastest-growing cities. It's a pretty wild place, to say the least.
Gringos flock here for cheap everything — dental work, pharmaceuticals, eyeglasses, Cuban cigars, plastic surgery, and a good time.
If you can look past the absurdities like donkeys painted as zebras for you to pose with, there's plenty to discover in Tijuana.
The city has an impressive art scene, which is centered around the massive Centro Cultural Tijuana. You'll find lots of vibrant street art here as well. Tijuana loves its sports, as the city is home to several professional teams. You can also catch a night of lucha libre wrestling while you're here.
Of course, you'll also want to indulge in the city's famous nightlife scene, whether it's trying out the various craft breweries or doing a tequila tasting.
For Americans, Tijuana is one of the easiest places to visit in Mexico, but it's still worth a visit if you're not coming from the States.
Tijuana Airport is a jumping-off point for many who are visiting the Baja Peninsula to check out the fantastic wine and food in the Guadalupe Valley (Valle de Guadalupe). If you're coming from San Diego, you can simply cross the Mexican border and drive to the Valley!
23. Puerto Escondido (one of the best places to visit in Mexico for surfing)
The name of this Oaxacan beach town translates as "Hidden Port" in English. Despite being a longtime favorite of surfers and backpackers, it remains a relatively undiscovered corner of Mexico.
That's probably because there are no direct flights here from the US or Canada, and it's a bumpy 7-hour bus ride from Oaxaca City. It's well worth the effort to get here, though!
Even if you're not here for the waves, there's plenty to keep you busy. You can take a boat tour to spot marine life, swim in the bioluminescent lagoon, or even go sky diving.
After all that excitement, kick back and relax in a temazcal — an indigenous steam bath. Don't miss our Travel Guide to Puerto Escondido.
24. Mazatlan
New Orleans and Rio may get all the hype, but did you know there are plenty of huge Carnaval celebrations in Mexico as well?
One of the most famous takes place every year in the coastal city of Mazatlan. For one week, the oceanfront Malecon is packed full of revelers who come out to enjoy the massive parade, fireworks, live music, and the epic party that ensues.
Outside of Carnaval, there are still numerous things to do in Mazatlan. Explore the beautiful historic centre, take part in some water sports, play a round of golf, or just go lounge on the beach on nearby Stone Island.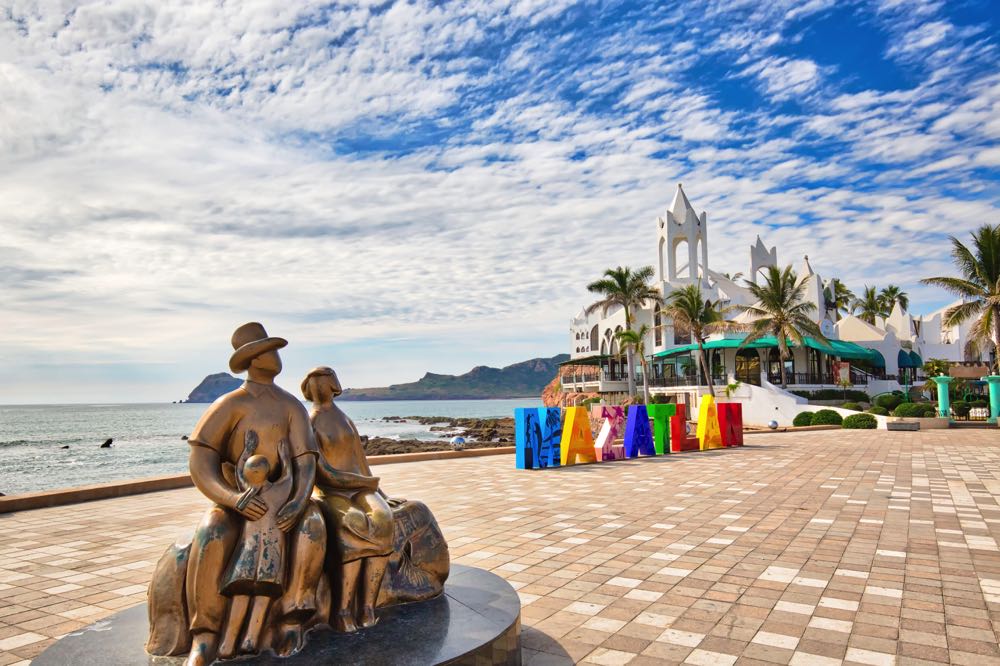 25. Valladolid
Valladolid is a fine example of the blending of cultures that exists across Mexico. The colonial city in the Yucatan is just as much Mayan as it is Spanish.
Walking around the main square, you'll see women wearing traditional Mayan dresses walking by the pastel buildings and the beautiful central cathedral. The pace of life is slow here, as most shops shut down for an afternoon siesta.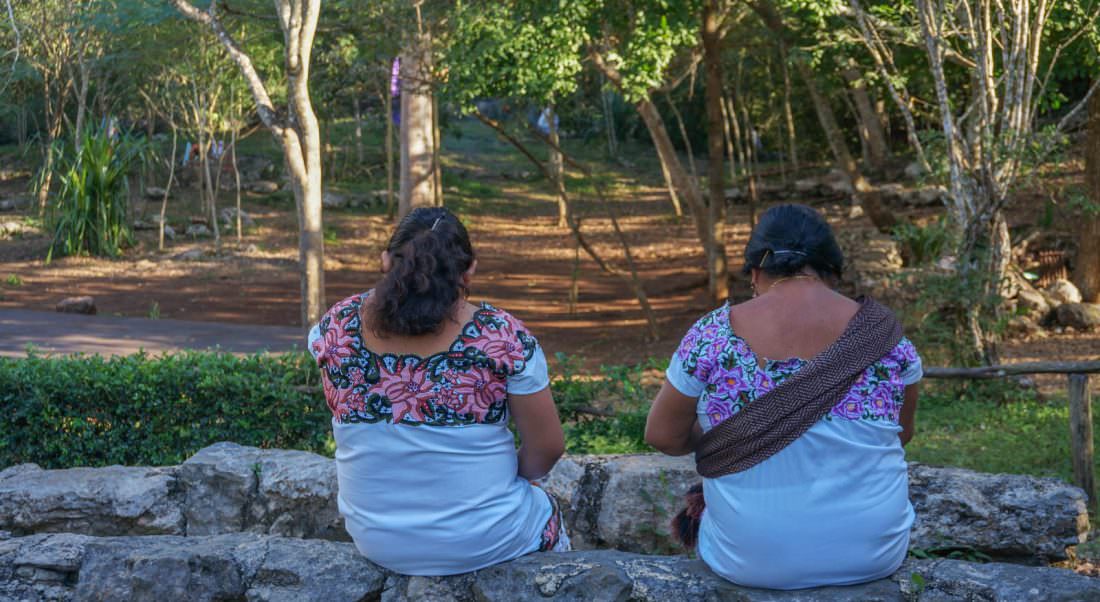 There are thousands of cenotes (underground sinkholes) around the Yucatan, and you can easily visit several of them from Valladolid. There's even one just a short walk from the square.
The impressive ruins at Ek Balam are nearby as well. Unlike Chichen Itza, you can still climb up the ruins here, and you may even end up with the entire place to yourself. Learn more about visiting Valladolid, in our complete guide.
26. Merida
The colorful capital of the Yucatan state, Merida was recently named the American Capital of Culture. Its culture is a unique blend of ancient Mayan traditions and customs brought by the Spanish conquistadors.
Days here can be spent taking in the gorgeous architecture, visiting world-class museums, and of course, digging into the mouth-watering cuisine.
If you're looking for the perfect base to explore all that this corner of Mexico has to offer, look no further.
From here, you're just a short ride away from the beach (Progreso and Sisal), numerous archaeological sites, the city of Campeche, and plenty of opportunities for adventure. It's a great alternative to overly touristy places like Cancun and Playa del Carmen.
Learn more in our article showcasing the best things to see in Merida. 
27. San Cristobal de las Casas
All across Mexico, there are places designated as Pueblos Magicos (Magic Villages). One of the best is the lovely town of San Cristobal de las Casas in the southern state of Chiapas.
As with many other colonial towns, San Cristobal de las Casas features red-tiled roofs and scenic cobblestone streets. Start your day with some famous Chiapas coffee and head out to take in the plazas, museums, cathedrals, and markets.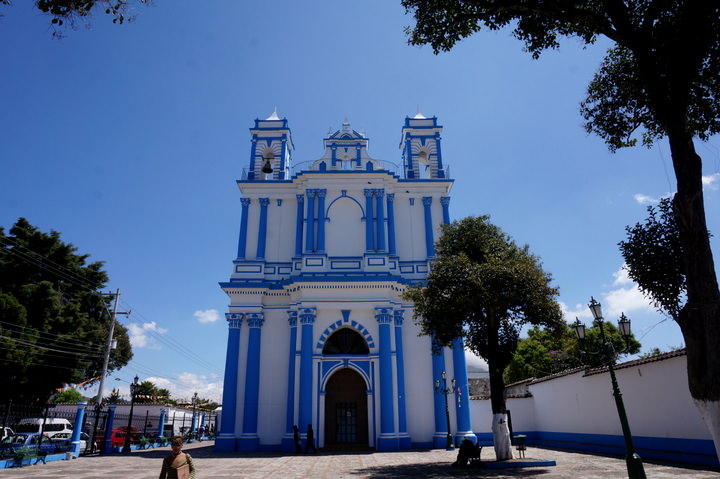 It lies in a valley and is surrounded by hills, meaning you have plenty of choices for getting out and enjoying the great outdoors.
There are day trips around Chiapas to canyons, waterfalls, eco-reserves, and so much more at your fingertips here. Keep in mind that the elevation here is 2,200 meters, so you may want to get acclimated before doing anything too intense.
28. Cancun
Ah, Cancun — the gateway drug to travel in Mexico. This is the first place many people visit in the country, myself included. It's probably the most popular tourist destination in all of Mexico, thanks to its picturesque beaches and wild nightlife.
While it's easy to dismiss Cancun as a sort of "Disneyfied" version of Mexico, it's worth it to visit and make up your own mind.
Once you get out of the glitzy hotel zone, you'll find a truly Mexican city full of taco vendors, bustling markets, and rowdy salsa clubs. It's not all beaches here! There are many cool things to do in Cancun that don't involve laying in the sun.
Cancun is considered to be the gateway to El Mundo Maya (the Mayan World), meaning you're not far from several Mayan temples including the famous Chichen Itza. Before you head out there, be sure to check out the informative Mayan Museum in the city.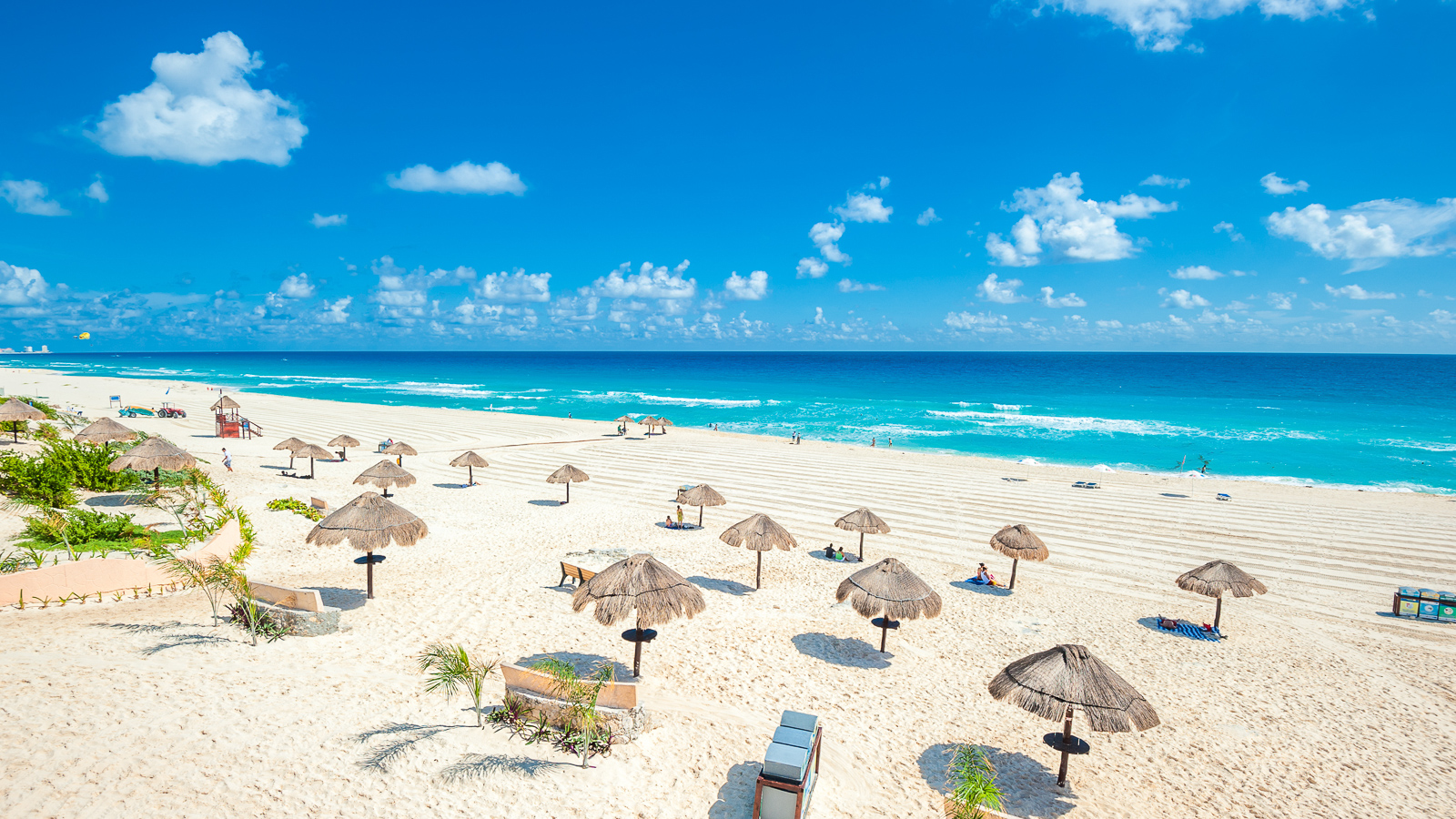 29. Sayulita
Just about an hour up the coast from Puerto Vallarta, you'll find the bohemian beach town of Sayulita. This chilled-out town in Nayarit attracts surfers, yogis, and artists looking for a more laid back vibe.
If you've never been on a surfboard before, this is a great place to learn. The waves are pretty calm and there are plenty of instructors available for hire.
If you want to get off the beach for a bit, you have a lot of different options. Sayulita is surrounded by jungle, where you can enjoy some hiking, horseback riding, or cruising on an ATV.
Visiting between November and January gives you the chance to head out on a boat trip to do a bit of whale watching.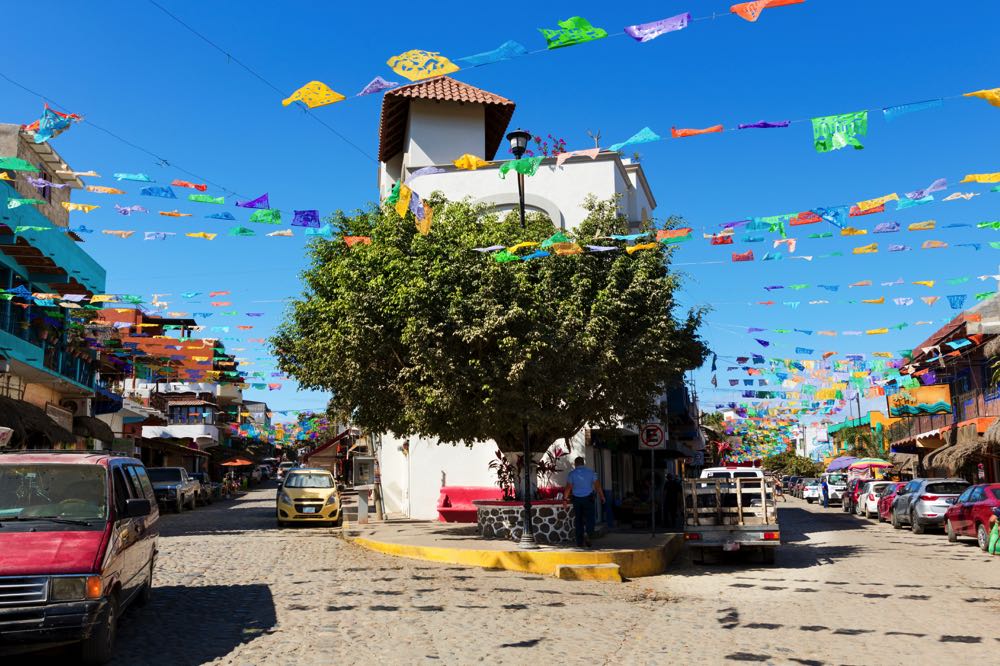 30. Puebla
Despite being the 4th largest city in Mexico, Puebla is often forgotten in the shadow of its neighbor — Mexico City. It's only 110 km away from the capital, meaning you can easily visit on a day trip while you're in CDMX.
With a day here, you can explore the historic downtown area that was granted UNESCO status in 1987.
Puebla's biggest claim to fame is Cinco de Mayo. The holiday celebrates the victory of the local army over French expeditionary forces in 1862.
You won't find people chugging margaritas and stuffing their faces with nachos to celebrate, but you will find a festive atmosphere around the historic forts where the battle took place. See also: 15 Best Things To Do in Puebla, Mexico
31. Playa del Carmen
Playa del Carmen is a popular beach destination located right in the heart of the Riviera Maya. Its central location between Cancun and Tulum (with easy access to Cozumel) makes it a great choice for a base from which to explore the region.
Playa – as the locals call it – is naturally home to several stunning beaches. Spend your days snorkeling, fishing, yachting, or just kicking back and chilling at one of the many excellent beach clubs.
You don't come all the way to Mexico just to sit on the beach, though. There are several eco-parks nearby Playa del Carmen, where you can enjoy some bird watching, explore caves and underground rivers, or even swim with sea turtles.
Back in town, your options are endless for wining, dining, and dancing the night away. Oh ya, there are lots of fun things to do in Playa del Carmen. It's also becoming a hotspot for digital nomads.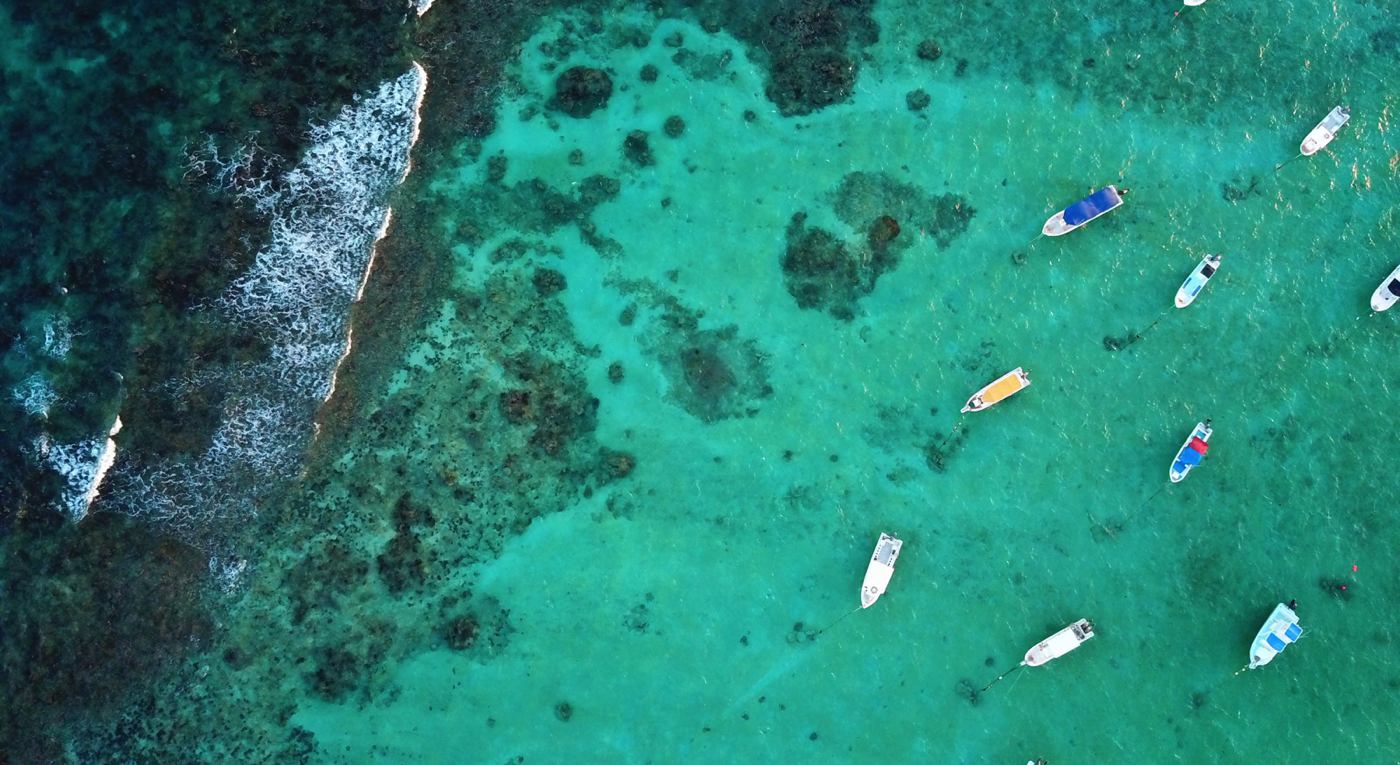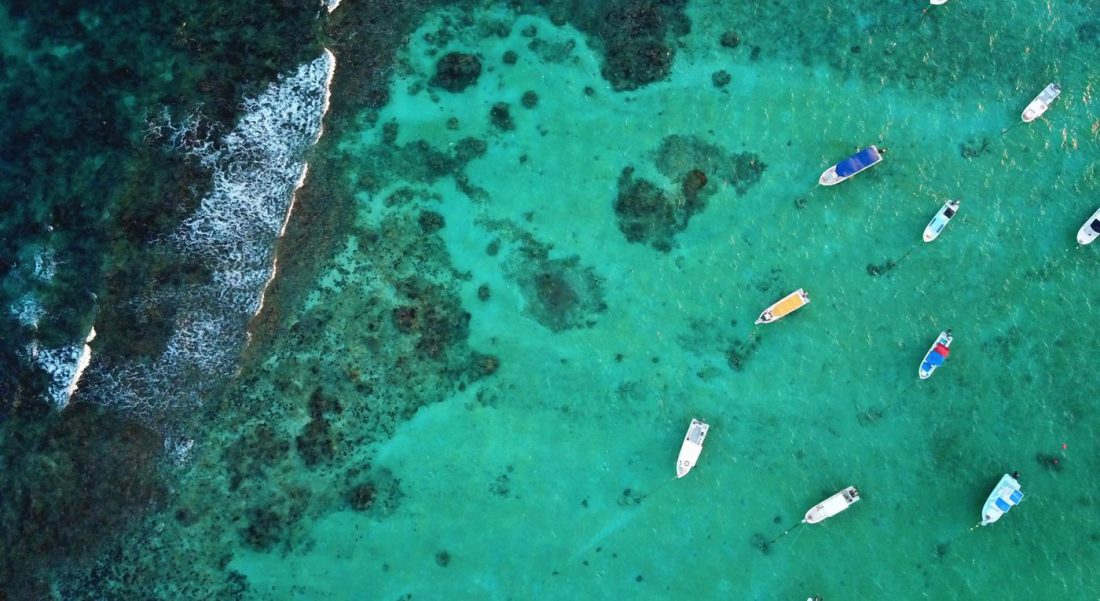 Looking for more posts on Playa del Carmen? Check out our articles here:
32. Lake Chapala
Just south of Guadalajara, you'll find Mexico's largest freshwater lake. Known for its pleasant climate, lovely scenery, and friendly locals, this is definitely one of the best places to visit in Mexico.
There are several towns around the lake, with the most popular being Chapala and Ajijic.
While the lake is easily visited on a day trip from Guadalajara, you're better off staying a few days. Just be warned that you may fall in love with the place and want to move here. And who knows, maybe someday you will. After all, it is one of the most popular retirement destinations in the world.
33. La Paz
Most travelers to Baja California Sur flock straight to Cabo San Lucas. If you're headed to this part of Mexico, you might as well include a stop in La Paz.
This scenic capital city has some amazing beaches on the Sea of Cortez. Fun fact: this sea is one of the most bio-diverse places on Earth!
There's an abundance of marine life here, meaning you can swim with sea lions, go diving with hammerhead sharks, and head out on a whale-watching adventure.
In order to see the majestic whales, you'll have to visit between January and March. After all that fun in the water, you can enjoy a nice stroll on the long waterfront Malecon that's full of shops, restaurants, and bars. There's a wide range of things to do in La Paz Mexico, make sure you add it to your list.
34. Valle de Guadalupe (best place to go in Mexico for wine)
If you're interested in wine, food, beautiful accommodations and a low-key vibe, the Valle de Guadalupe (Valle) is for you. 
The Guadalupe Valley is basically an extension of the Napa Valley in California — but with winery visits and accommodation costing a fraction of the price. Located in Baja California, this underrated area of Mexico is a great place for a fun weekend with friends, a romantic getaway, or if you just want to eat good food and drink excellent wine.
The boutique hotels, villas, and restaurants blend into the desert landscape, and visitors dress to impress by wearing a desert-inspired color palette.
We recently ate and drank our way through the Valle de Guadalupe (Guadalupe Valley) on a week-long trip. It was the best experience! I highly recommend it as one of the best places to visit in Mexico for foodies and wine aficionados. See also: Valle de Guadalupe – Complete Travel Guide
35. Bacalar
Located on the Yucatan Peninsula, close to the border with Belize, you'll find the stunning La Laguna de los Siete Colores (the 7 color lagoon), or simply, Bacalar. 
With crystal clear water, this freshwater lagoon looks like something you would find in the Maldives or the Caribbean. Bacalar is a slow-paced destination in Mexico where swinging in your hammock and swimming in the water is the best way to pass the day. 
Other options include taking a boat trip (I recommend a sailboat to help keep the water free from pollution), dining at one of the local waterfront restaurants, and cycling around the town. Don't miss Bacalar, it's one of the best places to visit in Mexico for a relaxing holiday.
FAQs About The Places to Go in Mexico
Here are some answers to commonly asked questions about visiting Mexico. 
What is the nicest part of Mexico to visit?
The nicest part of Mexico is probably the Yucatan Peninsula. With Caribbean beaches, colonial architecture, ancient ruins, and cenotes scattered throughout the area, the Yucatan is a beautiful place in Mexico.
Where is the safest place to vacation in Mexico?
Some safe areas in Mexico include San Miguel de Allende, Merida, and Puerto Vallarta. Although bad things can and do happen in Mexico, if you keep your wits about you and aren't involved in drugs, you should be fine.
What is the most visited place in Mexico?
According to Statista, Mexico City is the most popular place in Mexico, followed by Cancun, Acapulco, and the Riviera Maya. If you're looking for a bustling city, the capital is a great choice. For beautiful beaches and relaxation, consider the pacific coast (Puerto Vallarta, Puerto Escondido or Zihuatanejo), or the Yucatan Peninsula.
Is Mexico Safe?
If you're a tourist staying in tourist towns or resort areas, Mexico is totally safe. There are some very off-the-beaten-path border towns and areas of major cities where you have to keep your wits about you, but generally, you'll be totally safe in the areas where tourists frequent.
Pack Your Bags!
Now you know where to go in Mexico. These are just a few of the best places to visit in Mexico, a list that could easily top 100.
It's a vast, diverse, and incredible country with a fascinating culture. From its lively capital and ancient ruins to the pristine beaches and colorful colonial towns, Mexico ticks all the boxes for a perfect travel destination.
The fact that Mexico has some of the best food in the world is just the icing on an already incredible cake.
The question isn't whether or not to go to Mexico, but rather where to go in this amazing country. Hopefully, we've given you some good ideas. Mexico is waiting for you. Vamos, amigos!
*Note: Some images in this article are courtesy of Shutterstock.com.
Like This Article? Pin it!