Wander through deep canyons, explore bright orange hoodoo spires, stand in awe under natural arches, and hike across sandstone bridges while exploring Utah's "Mighty 5" National Parks. Zion, Bryce Canyon, Capitol Reef, Arches, and Canyonlands are all packed with natural beauty and adventure.
Don't know where to start? If you're wondering when to visit, what to see, and how to pack, use this guide to plan your Mighty 5 Utah road trip itinerary.
The Best Time to Visit Utah's National Parks
Some months are better for exploring the Mighty 5 than others. Opt for either the spring or fall for a smooth, trouble-free road trip, where the temperature is warm, and the trails are snow-free.
Spring
Warm and friendly, spring is one of the best seasons for any desert destination. The weather is pleasant; days are warm, not blazingly hot, and the nights are cool, usually with a light breeze.
However, it's not uncommon for a late snowfall to grace the higher peaks in early spring.
Considering the excellent weather, spring in Utah is, unfortunately, one of the busiest seasons to visit the Southwest. Arrive at the parks early to avoid the large crowds in April and May.
Summer
Summer is not the best time to visit Utah's national parks unless you're highly tolerant of the heat. Temperatures flare beyond 100°F (38°C), and the simmering heat is unbearable for most.
If you plan to visit during the summer, pack lots of water and start hiking early to avoid the midday heat.
Fall
Like spring, fall is one of the best times to visit Utah's national parks. The season offers fantastic weather with mild temperatures during the day and cool, crisp nights.
Peak season is during September and October thanks to these excellent weather conditions, so plan your trip keeping this in mind.
Winter
As hot as the summers of Utah are, the winters are equally, if not more brutal. Daytime temperatures range between 30°F (-1°C) to 50°F (10°C), and the nights are even colder. With snowy and icy temperatures, some roads and trails become inaccessible.
Traveling through the Mighty 5 in winter isn't for the faint-hearted, but if you happen to do so, make sure to check weather conditions and don't forget your winter gear.
Where to Begin Your Utah National Parks Road Trip
There are many cities you can start the Mighty 5 road trip from, however, it's most popular to start from Las Vegas because it's home to the closest large airport. From Vegas, it's easiest to travel from Zion to Bryce to Capitol Reef to Arches to Canyonlands.
If you're starting from another large city this semi-circle loop is one of the easiest options so just start on the loop at whichever park is easiest to access first.
Check out the following Utah National Parks map to see how close each destination is and use the park information below to explore the best activities at each stop!
Utah National Parks Map
Here's a map of Utah's national parks:
7-Day Utah National Parks Itinerary
This itinerary takes you on a road trip through Utah's national parks in seven days, but it can also be extended to ten days or even more. 
Seven days is the absolute minimum I'd recommend in order to see all the parks, but you definitely should extend your trip to 10 days or more if you can. A longer trip will allow you to spend a good amount of time exploring the parks and steer a little off the main route now and then for some side trips.
Tise itinerary maneuvers through the Mighty 5 to take you on a road trip through Utah's five most famous national parks in company with a list of things to do once there. Here's a quick rundown of the seven-day plan:
Day 1: Make your way to Zion National Park
Day 2: Spend a day in Zion National Park
Day 3: Visit Bryce Canyon National Park
Day 4: Head to Capitol Reef National Park
Day 5: Enjoy Arches National Park
Day 6: Explore a little more of Arches and then head to Canyonlands National Park
Day 7: Explore more of Canyonlands before heading home (sad face)
Days 1 & 2: Zion National Park
Start your road trip off at Zion National Park. Home to some of the tallest sandstone cliffs in the world, carved out by the Virgin River and formed into a majestic canyon; the geology in Zion National Park is like nowhere else. 
As one of the most famous national parks in the country, Zion offers plenty of opportunities to explore the park. I'd recommend spending at least two full days in Zion National Park to experience everything this park has to offer.
Things to Do in Zion National Park
Zion National Park is filled with miles of hiking trails, places to explore the river, scenic drives, and impressive viewpoints. There are plenty of ways for all travelers to enjoy their visit here.
Hike to Angel's Landing
Angel's Landing is a bucket list hike when visiting Zion National Park. The 4.5-mile trail takes you up 1600 feet and looks down on the canyon floor below. However, this hike is not for the faint of heart.
After climbing up some switchbacks you'll reach the famous chain section; a narrow exposed stairway and ridge where you'll carefully reach the summit by trusting the chains. The summit rewards you with impressive views but if the chain section is too much, you can stop at Boy Scout Point for a similar vista.
Wander Through The Narrows
The Narrows are a narrow scenic section of Zion Canyon formed by the Virgin River flowing through it. It's another one of the most popular hikes in Zion National Park—and for good reason.
It's possible to hike this 16-mile trail from top-down if you have canyoneering experience. Otherwise, the most popular option is to hike a mile on a paved trail from the Temple of Sinawava to enter the canyon.
Bring hiking poles and shoes you're comfortable to wade in the water and head up the canyon for as long as you want before heading back to the Temple of SInawava.
At certain times of the year this trail is closed when the CFS (cubic feet per second) water level is too high so check with rangers before you head out.
Visit Emerald Pools
The moderate 3-mile Emerald Pools Trail takes you to a beautiful waterfall and continues on to three emerald-colored pools. You'll enjoy views of the lush forest and sheer cliffs along this hike.
If the full trail is too much, it's possible to hike to the Lower or Middle Pool then turn around.
Drive Zion-Mount Carmel Highway
Zion-Mount Carmel Highway runs from the park's east entrance to the south entrance and offers dramatic views across the canyon. Massive red and orange sandstone walls tower above you.
You'll pass through a 1-mile tunnel and have plenty of pullouts to enjoy the incredible sites of swirling rocks, towers, hoodoos, and mountain peaks along the way.
Check out Checkerboard Mesa
Located on the east side of Zion National Park, Checkerboard Mesa is a unique geologic formation. It's just a pullout on the side of the road but worth the stop.
The white mesa has a unique checkerboard pattern. Continuing on you'll see a landscape of swirled white and amber-colored stone up the mountainsides covered in pine trees. It's a can't miss vista.
Explore Kolob Canyons
If you want to get off the beaten path, Kolob Canyons is an underexplored section of Zion National park. It's only accessible off of I-15 at exit 40. Kolob Canyon is located in the northwestern part of the park and has a scenic drive and beautiful hikes.
Hike Timber Creek Overlook Trail for panoramic views of the canyon. The 1-mile trail is rated easy and gains 250 feet.
Catch a Sunset at Zion Canyon Overlook
Zion Canyon Overlook Trail is a moderate out and back 1-mile trail that offers a spectacular view. It's a rocky trail but only gains 180 feet.
The trail has some narrow spots and exposure but is with it for the views.
How to Get Around Zion National Park
Zion National Park has an impressive shuttle system that efficiently transports visitors through the canyon. This free shuttle is a great option because it reduces traffic as parking fills up early.
Hop on at the Zion Visitor Center just inside the park's south entrance and hop on and off throughout the day. It stops at all the main trailheads and hot spots.
When the park is really crowded it's possible to park in Springdale and take an additional shuttle to the visitor center.
Zion-Mount Carmel Highway is only accessible by personal vehicle so plan to drive this at some point on your own.
Where to Stay in Zion National Park
Springdale is the closest town to Zion National Park located just outside the park's south entrance. There are plenty of hotel and camping accommodations here as well as a cute downtown with restaurants, shops, and cafes.
Kanab is the most popular town on the east side of Zion. It's a bit farther from the park but has plenty of hotel options. Kanab is also next to a few other hot spots including Coral Pink Sand Dunes State Park.
There are plenty of free primitive camping options outside of Zion on BLM (Bureau of Land Management) land for car camping and van-lifers.
Day 3: Bryce Canyon National Park 
After Zion, travel 2 hours northeast to Bryce Canyon National Park. Famous for the largest concentration of hoodoos in the world, these unique rock amphitheaters are a site to see.
Spires, windows, and walls in the brightest of oranges, reds, pinks, and whites make up the unique geology in this Utah national park. At the very least you'll want a full day to explore Bryce Canyon, National Park.
Things to Do in Bryce Canyon National Park
Bryce Canyon has a variety of day hikes for all fitness levels in addition to a bunch of impressive viewpoints to check out during your visit. For the best variety of colors in the sandstone rock formations add a sunrise or sunset to your to-do list.
Catch a Sunrise at Sunrise Point or a Sunset at Sunset Point
Sunrise Point and Sunset Point are two of the most popular viewpoints in the park for sunrise or sunset with their east and west-facing points. The two viewpoints are a half-mile walk apart on a flat, paved path overlooking one of the many hoodoo amphitheaters.
This trail is suitable for all walking levels and a must-stop when visiting Bryce Canyon.
Hike the Fairyland Loop Trail
The Fairyland Loop Trail is one of my favorite hikes in the park. It's an 8 mile, moderate trail that gains 1500 feet. Along the way, the hoodoo spires tower over you as you wind down into the amphitheater.
The trail includes other popular spots, both Sunrise and Sunset Points, and a section of the Rim Trail.
Navajo Loop Trail
The Navajo Loop Trail is a scenic 1.5-mile trail that gains 500 feet and is rated moderate. Wind down switchbacks between the narrow walls and enjoy the views of the hoodoos. Along the way, you'll cross two bridges, and have sites of Douglas-fir trees.
The Wall Street side of this trail closes during cooler months when it freezes.
Go Stargazing
Sitting in the remote part of south-central Utah, the night skies in Bryce Canyon National Park are an impressive sight. Spend an evening in the park for a chance to see the Milky Way. On a full moon, enjoy the views of the lit-up towering red rocks.
How to Get Around Bryce Canyon National Park
Bryce Canyon National Park has one main out and back road running through the park with a few side roads. When the park isn't crowded it's easy to pull off at viewpoints and park at trailheads in your personal car.
If the park is crowded (midday or during the high season from late spring to early fall) I'd recommend parking near the visitor center and hopping on the park shuttle. It runs frequently and stops at all the viewpoints and trailheads.
Where to Stay in Bryce Canyon National Park
The Bryce Canyon Lodge is the only lodge in the park, and it's open from May through December. Otherwise, there are hotel accommodations in the town of Bryce just a few miles outside the park.
There are two first come first served campgrounds in the park or there are private campgrounds outside the park. There is some dispersed camping in the nearby national forest.
Day 4: Capitol Reef National Park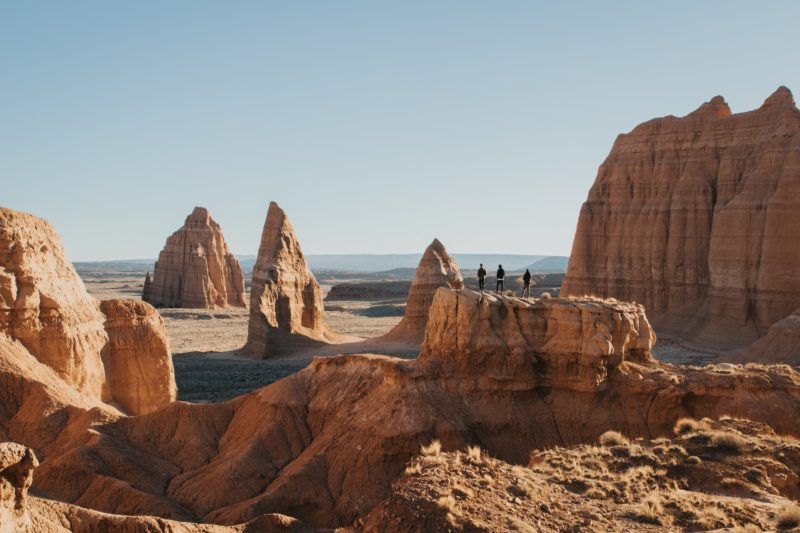 Capitol Reef National Park is 2.5 hours from Bryce Canyon National Park making it a great third stop on your Mighty 5 road trip. It's possible to see many of the park's highlights in a day; if you have extra time, spend at least 2 days visiting Capitol Reef National Park.
Things to Do in Capitol Reef National Park
Like the other Utah national park's there are plenty of hiking options, wonderful viewpoints, and ancient petroglyphs in Capitol Reef National Park. What is different about this park is the historic early-1900s Gifford Farm. Check out some of the unique ways to spend your time here.
Visit Petroglyph Panel
Petroglyphs are ancient rock drawings carved into the sandstone cliffs. In Capitol Reef National Park they date back to 300-1300 A.D. and tell stories of the time.
These unique drawings are park artifacts and worth the stop. They are highly protected so do not deface these ancient drawings.
Hike the Cassidy Arch Trail
The Cassidy Arch Trail is a 3-mile trail with a 660 foot gain. It's located within the western walls of Grand Wash near the Capitol Reef Scenic Drive.
The Arch Trail creates spectacular photographs from any angle and showcases the red, orange, and white sandstone colors.
Pick Fruit at Gifford Homestead
The Gifford Farm Homestead is a 200-acre farm listed on the National Register of Historic Places. The National Park Service has renovated and refurbished this farmhouse to create a cultural demonstration site to learn about the Mormon settlement in Fruita Valley in the early 1900s.
The homestead has a barn, garden, pasture, smokehouse, and rock walls. It's still inhabited by a few farmers growing cherries, peaches, and apples (when in season) for visitors to pick and enjoy during their visit to Capitol Reef National Park.  
Hike the Hickman Bridge Trail
The Hickman Bridge Trail is one of the most popular trails in the park. It's 2 miles long with a 400 foot gain and brings hikers to a large natural arch.
From the bridge, you'll catch views of Navajo Dome, Capitol Dome, and Pectols Pyramid.
Drive the Capitol Reef Scenic Drive
The Capitol Reef Scenic Drive is a paved 8-mile road that winds past the tall canyon walls and is suitable for all passenger vehicles.
At the end of the paved road, it meets two dirt roads; Pleasant Creek Road and Capitol Gorge Road. They take you further into remote parts of the park but you'll need a higher clearance vehicle.
How to Get Around Capitol Reef National Park
Capitol Reef National Park has some roads accessible for all vehicles. However, most of the park highlights and trailheads lie near these areas. Typically it's possible to find parking close to trailheads. There are no shuttles like Zion and Bryce Canyon.
Where to Stay in Capitol Reef National Park
There is no lodging in Capitol Reef National Park, however, there are hotels, ranches, cabins, and Airbnbs within a short drive. There are a few established campgrounds both inside and outside the park in addition to plenty of dispersed camping outside of Capitol Reef.
Day 5: Arches National Park
With the densest concentration of natural stone arches in the world, Arches National Park is a must-visit place. It's just two hours from Capitol Reef, making it a perfect fourth stop.
Arches National Park is the smallest of the Mighty 5 but still worth a visit. I'd spend at least a day here to visit all the park highlights and to go hiking.
Things to Do in Arches National Park
With a scenic drive with easily accessible viewpoints and hikes, there are plenty of ways to enjoy your time here. Make sure you arrive early to avoid the crowds!
Hike to Delicate Arch
Delicate Arch is my favorite arch in the park, and one of the most popular trails. Visit at sunset or early in the morning at sunrise for a less crowded experience.
The 3-mile trail gains 620 feet as you hike up slabby sandstone out to the impressive viewpoint. Looking through Delicate Arch you'll have amazing views of the La Sal Mountains in the distance contrasting the bright orange sandstone.
Check Out Balanced Rock
Balanced Rock is one of the most iconic rock formations in the park. The boulder-looking rock staring atop a narrower column of rock stands 128 feet tall and is visible across the horizon. While someday the boulder will crash down due to erosion, it's a very unique formation worth seeing.
This formation can be seen from the park road but there is also a pullout for a 0.3-mile walk around the famous rock. It's also a popular photo spot to capture the impressive night sky.
Hike to The Windows and Double Arch
The Windows and Double Arch are two short trails starting from the same pullout. They are both worth visiting. It's one of the most scenic areas in the park and they are suitable walks for all fitness levels.
Double Arch is two arches sharing the same sandstone leg foundations. The Windows frame the La Sal Mountains in the distance. All of the arches in this area are proof of the unique geological erosion that has formed this park throughout history.
Check Out Fiery Furnace
Fiery Furnace is a collection of sandstone canyons with narrow slots, fins, and natural arches. There is a viewpoint that overlooks this area or if you have time you can hike down and explore.
If you choose to hike in the Fiery Furnace, prepare yourself for rough terrain, loose sand, drop-offs, and steep edges; and great views as a reward.
Drive Arches Scenic Drive
This 36-mile road winds you through the park with many pullouts along the way. From the scenic drive, you can see many of the park's highlights without hiking which is great in the heat of the summer or if trails are covered in snow in the winter.
How to Get Around Arches National Park
Arches National Park has a main out and back road running through it. Unlike Bryce and Zion, there is no park shuttle and therefore, the park gets very crowded mid-day during the high season.
Avoid the crowds by entering early to snag a parking spot at the popular trailheads. There are plentiful pullouts also worth checking out right off of Arches Scenic Drive.
Where to Stay in Arches National Park
Arches National Park does not have any lodging in the park but the nearby town of Moab is a trendy destination with plenty of hotels and unique Airbnb stays to choose from. There are some glamping options nearby including Under Canvas in addition to plenty dispersed for car camping on the surrounding BLM land.
Days 6 & 7: Canyonlands National Park
And for the grand finale, Canyonlands National Park is a must-visit on your Utah parks' itinerary for its dramatic, colorful landscapes. A drive from Arches to Canyonlands is a quick 30-minute trip down the road.
Canyonlands National Park is divided into 3 "districts"; Island in the Sky, The Needles, and The Maze. To truly explore the whole park I'd recommend at least a day in each but if you only have two days, I'd spend one at Island in the Sky and your next day wandering through The Needles.
Things to Do in Canyonlands National Park
Canyonlands National Park is the largest of Utah's Mighty 5. It has hiking, scenic viewpoints and drives, plenty of backpacking routes, and off-road adventure opportunities. Check out some of the top things to do while visiting the park.
Check out Grand View Point and Trail
Grand View Overlook in Island in the Sky is one of the most impressive, birds-eye views of the lower canyons in the park. It overlooks where the Green and Colorado Rivers merge.
You'll see layers of canyons below and catch views of large mesa and butte rock formations in the distance.
Grand View Point Trail is a 2-mile trail that offers panoramic views the whole way. It's a flat, paved trail suitable for all visitors.
Hike the Mesa Arch Trail
Mesa Arch is the most famous arch formation in Canyonlands National Park. It's also located in Island in the Sky and the loop trail is just under a mile with minimal gain.
Halfway through the trail, you'll see an impressive, large arch framing the canyon layers below. It's especially cool to see at sunrise since it looks to the east.
Get Lost in The Needles
The Needles are massive Cedar Mesa Sandstone spires where you can wander for as long as you please. They're located in the southeast corner of Canyonlands and should be explored separately from Island in the Sky.
Hiking, backpacking, and four-wheel-drive roads are all the adventure opportunities you can have in this part of the park.
Go Off-Roading in The Maze
If you have a high clearance vehicle, get lost for hours when you drive through The Maze district. Here you can get up close to large mesas and buttes and explore the deep canyons.
This is the least accessible part of the park so if you're unfamiliar with the area, it helps to go with a tour group from Moab. Otherwise, prepare for full self-efficiency with the proper equipment and self-rescue gear.
How to Get Around Canyonlands National Park
You'll need to drive yourself around the paved roads of Canyonlands National Park when you visit. There are plenty of viewpoints and trailheads to stop at but note that the three park districts all have separate entrances and are a ways apart so plan accordingly.
If you want to enjoy a crazy off-road adventure, book a tour with an off-roading company in Moab to dive deep into the remote parts of the park and go for a crazy ride.
Where to Stay in Canyonlands National Park
Like Arches, there are no lodging accommodations in Canyonlands National Park. Book a hotel or Airbnb in Moab.
There is one front country campground in Island in the Skye and one in the Needles District. Otherwise, the park has plenty of backcountry camping or dispersed camping on the surrounding BLM land.
Utah National Parks Road Trip Packing List
Check the weather well in advance before deciding what to pack for your Utah road trip.
This packing guide is fit for a road trip to Utah in spring or fall, considering they are the peak seasons with the best weather. If you're traveling in winter, pack more layers; in summer, pack more lightweight clothes made of breathable materials.
Hiking shoes: With all the trails you'll be encountering, having the right hiking shoes will make your hiking adventures safe and comfortable. Get a pair of comfortable sturdy shoes. Trail running shoes are a great lightweight option while still offering good traction; Otherwise, hiking boots are great for ankle support.
Wool socks: These Merino wool socks are perfect for hiking in summer. They allow your feet to breathe, and their sweat-wicking quality keeps your feet dry by trapping moisture inside the wool fibers.
Hiking Daypack: A good quality daypack is a must for your Utah road trip. A 20-25 liter pack is a suitable size. Osprey makes some great ones; men try the Talon and women check out the Tempest 20.
Headlamp: It's always helpful to carry a headlamp. Even if you don't plan to hike at night, if you get stuck on a trail late or want to explore a cave it's a small, lightweight hiking essential.
Mini towel: Hiking or not, a mini towel (especially in the hot weather) is a must to wick away moisture. You certainly don't want to be caught in a photograph moment with sweat trickling down your forehead. I recommend getting a mini towel like this REI Co-op multi towel that's compact, so it won't take too much space in your backpack. Its woven texture also absorbs up to three times its weight in water and wrings out almost completely dry, perfect for an intense hike.
Sun hat: No one wants the sun to hit them in the face when they're hiking or exploring for long hours in the outdoors. Ensure you pack a good sunhat to keep your face safe from the sun and a good sunscreen to prevent sunburn.
Sunscreen: Even if it's winter, sunscreen is still very important, so pack it regardless of the weather. This mineral sunscreen provides broad UVA and UVB protection and is free from harmful preservatives like parabens.
Sunglasses: Sun protection isn't restricted to just the skin, with your eyes and lips needing protection too. These polarized sunglasses block almost 100% UV light and decrease eye strain from sand, pavement, water, and snow.
Lip Balm: While this Sun Bum mineral sunscreen lip balm has a good SPF of 30 and is free from gluten, parabens, and dyes.
Water bottle: Switch single-use plastic bottles for a reusable water bottle. Plastic bottles don't only harm the environment, but your health too. Hydro flasks keep you hydrated in a healthier way and keep your drink hot or cold for hours on end.
Water: Pack at least one gallon of water per person per day and extra water if you're camping. Most parks have spigots to refill gallons.
Snacks: Bring your favorite snacks to keep you going through a long road trip. Healthy snacks like an energy bar are great for fueling your energy on strenuous hikes.
First aid kit: Lastly, but most importantly, a first aid kit is essential for any trip. Check out MyMedic kits for a variety of sizes and options.
Tips for Your Utah Road Trip
To make your journey as easy as possible, here are some of the best tips to help your trip flow smoothly.
Buy an "America the Beautiful" National Parks Pass. The America the Beautiful Pass is $80 a year and allows entry into all US National Parks. This will save you a significant amount of money as entrance fees are $30-$35 a park.
All the parks are open 24 hours a day 7 days a week. All 5 of Utah's national parks are always open, weather permitting.
Utah national parks can get pretty crowded. If you're seeking a secluded getaway, try to plan your trip for the weekdays or in the off-season. Most parks experience less traffic around sunrise and sunset hours.
Take advantage of park shuttles. When the parks get crowded, the park shuttles are the most convenient way to get around the park. Avoid the stress of searching for parking and possibly never finding a spot.
Certain hikes, especially overnight ones, require permits. Check on the park's website to see which hikes require permits.
Follow basic trail etiquette. Learn which hikers have the right of way, how to respect others on the trail, and basic hiking safety tips.
Check the park website for updated road and park closures. The national park websites regularly update their info for road conditions and closures. This is especially important to check during winter when it snows.
Avoid bringing pets. In most parts of all US national parks, pets are prohibited. If they are only allowed it's generally only on a few paved walking trails. Generally, bringing a pet will significantly limit what parts of the park you can visit.
Follow the 7 Principles of Leave No Trace. These principles outline rules and guidelines on how to preserve the parks' natural elements and reduce damage as much as possible. The code includes properly disposing of waste, respecting the wildlife, camping on durable surfaces only, and minimizing campfire impacts.
Fuel up regularly. Many of these national parks are located in remote locations with limited services. Always fuel up when you get the chance to avoid a breakdown.
Don't pack too much into your schedule. While it sounds amazing to hit every park highlight, be realistic. You want to enjoy the places you visit without rushing or spending all of your time driving. Pick a few reasonable activities and visit those first; If you have extra time, check out other spots.
The Ultimate Utah National Parks Road Trip Itinerary
The Mighty 5 Utah Road Trip is a bucket list adventure for anyone who enjoys national parks. Despite their close proximity, the diverse desert environments throughout southern Utah offer impressive and unique visits to each park.
So pack your bags and hit the road to check out all the natural wonders throughout Zion, Bryce, Capitol Reef, Arches, and Canyonlands National Parks. You won't be disappointed!
Where along the Utah Road Trip route are you most stoked about? Let us know in the comments!