Amsterdam Schiphol International Airport continues to be a mess so if you're transiting through there anytime soon, I would recommend arriving with plenty of time to clear immigration/security or scheduling a long layover in between flights if you're crossing between the Schengen and non-Schengen zones. My flight from Helsinki landed at 8:45 AM and it took me approximately 45 minutes just to get through passport control. Once through, it took me another 15 minutes just to walk to the non-Schengen KLM Crown Lounge.
Luckily for me, I had a few hours to kill so I was able to get a shower in, grab a bite to eat and relax a bit before my connection flight. The new KLM Crown Lounge is a beautiful space with multiple zones for resting, working and socializing with your fellow passengers. It's massive but since it's the only lounge in the non-Schengen zone, it does get fairly busy. I'll have a full review up in a few days but here are some pictures in the meantime.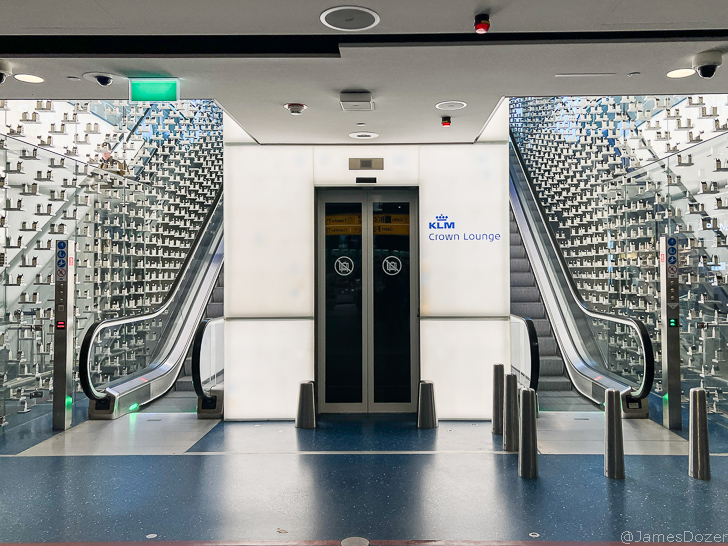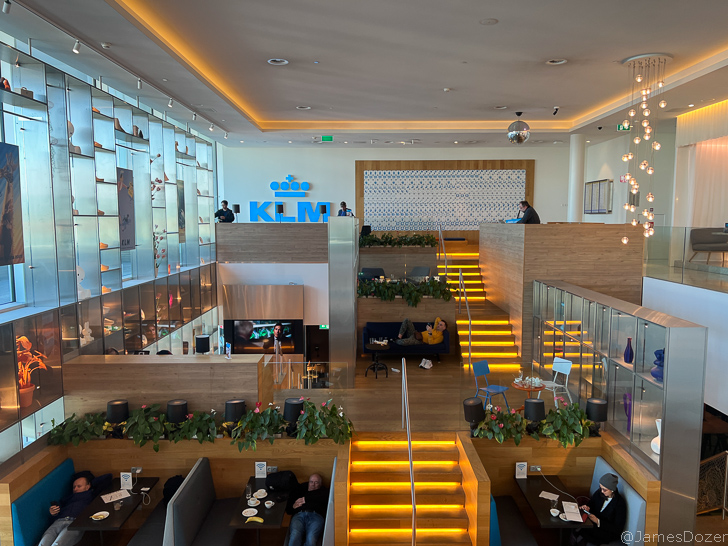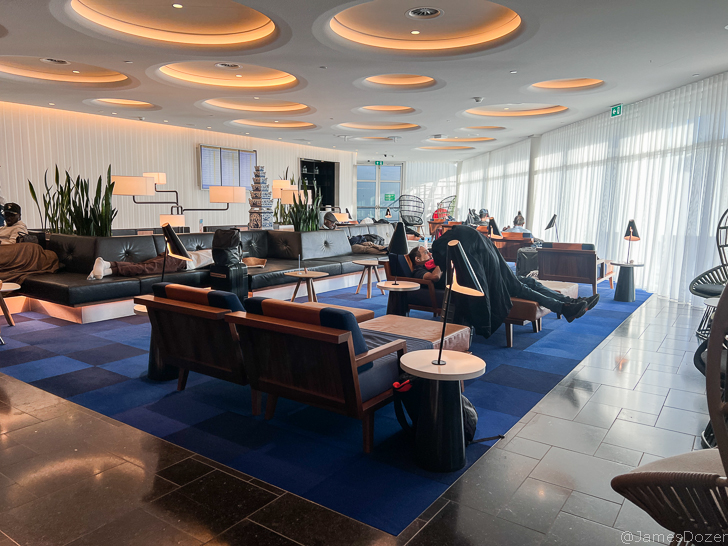 I left the lounge at approximately 12:00 PM and made my way to gate D10, where my brand new Boeing 787-10, registration number PH_BKH, was waiting. This jet was recently delivered to KLM just a few months ago and it still had that new plane smell!
KLM Boeing 787-10 Business Class Review
Flight: KL601
Aircraft: Boeing 787-10
Amsteradm (AMS) to Los Angeles (LAX)
Depart: 1:13 PM on Friday
Arrive: 3:27 PM same day (22 mns late)
Duration: 11hrs 14mns
Seat: 9K Business Class
Boarding started with business class passengers and SkyPriority passengers. Business class passengers boarded through door 1L and everyone else boarded through 2L. This was great in reducing foot traffic through the business class cabin and it made the boarding process much more pleasant.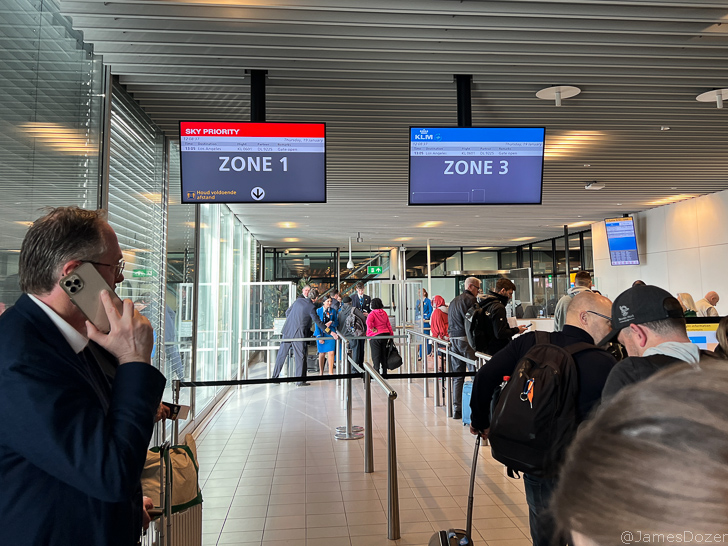 KLM configured their Boeing 787-10s with just one business class cabin located between doors 1 and 2. These Jamco "Venture" business class seats are arranged in a 1-2-1 reverse herringbone layout and they offer plenty of space, privacy, and direct aisle access for all passengers. According to SeatGuru, these seats offer 20.5 inches of width and a full-flat bed length of 75 inches (6.25 feet).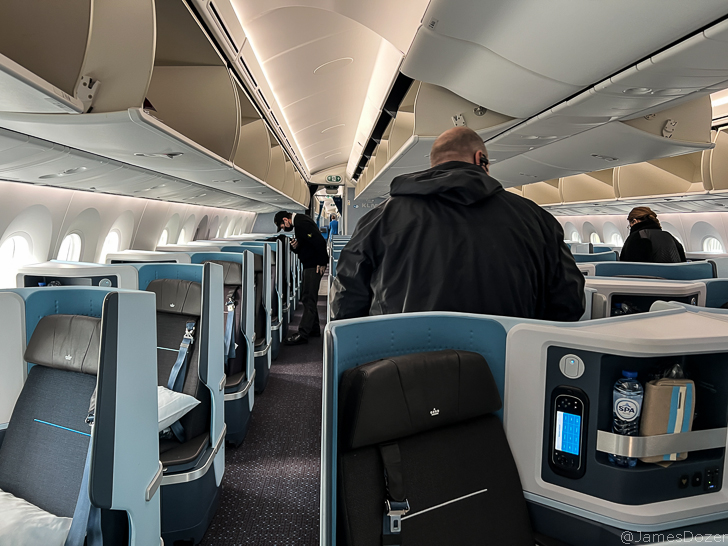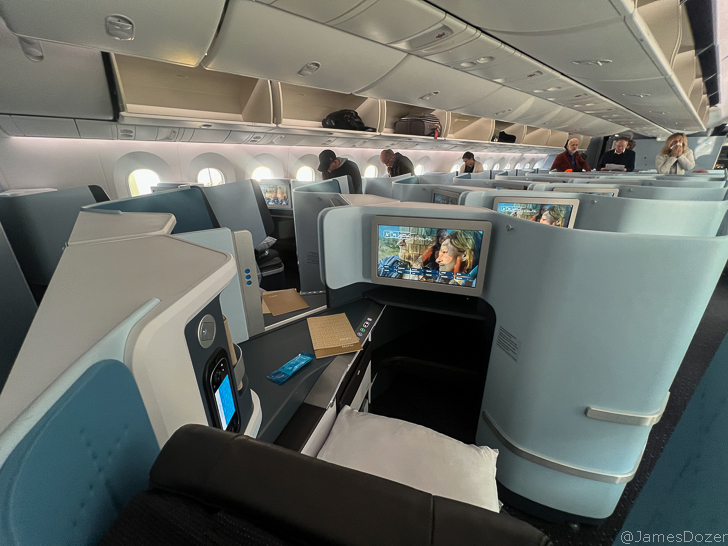 Each seat offers a large IFE monitor, one USB and electrical outlet, multiple reading lamps and several storage spaces (but no air vents!). The IFE monitors are bright and crisp and KLM's entertainment selection offers a good selection of new movies, television shows, music and other entertainment. WiFi was provided on this flight and prices weren't unreasonable. KLM provides free messaging for all passengers and one hour of internet costs 8 Euros and a full flight pass costs 18 Euros. I didn't connect to it so I can't tell you how fast or reliable it was.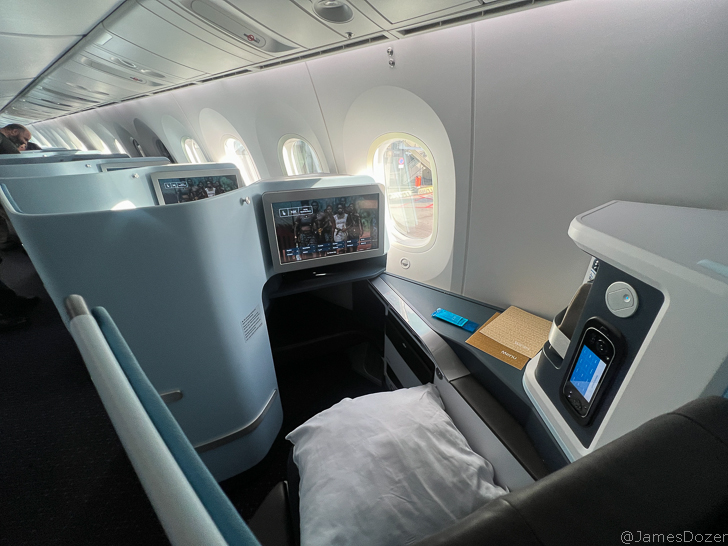 For storage, there's an open storage compartment by your inside shoulder to secure your headphones, water bottles and other items. There's also a shelf located directly underneath the IFE monitor for your laptop, iPad, books, etc., and another storage pocket down by your knee for your other small items. Additionally, for seats in the last row, you can also store items above your storage compartment to keep them handy during your flight.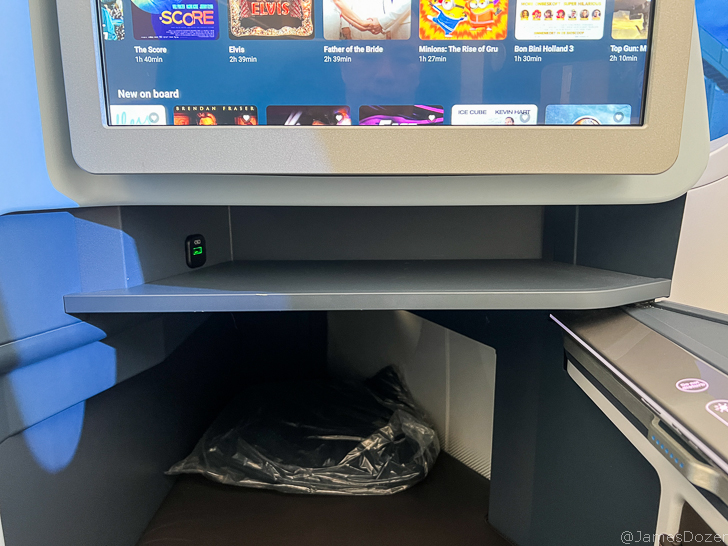 Seat and lighting controls are simple to use and are located adjacent to the inside armrest.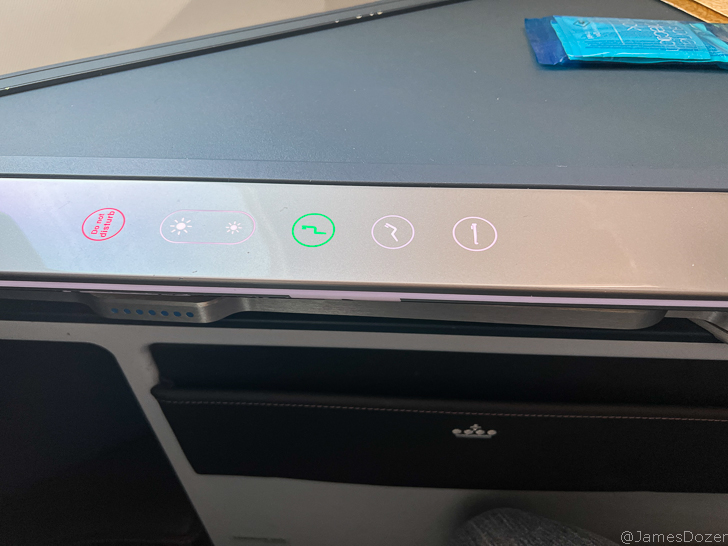 The window seats are perfect for solo travelers and the center seats are great for couples traveling together. There is a center divider in between the two center seats but it can be tucked away to interact with your partner.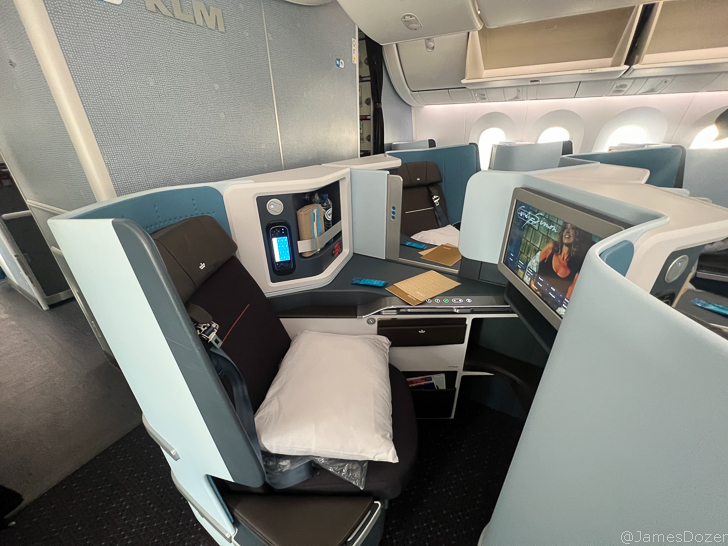 On this flight, I was seated in seat 9K, a window seat on the right side of the aircraft. Waiting at our seats were a pillow and duvet. The pillow was okay, a little on the flimsy side, but the blanket was good enough for the flight as the cabin was kept really warm during the flight.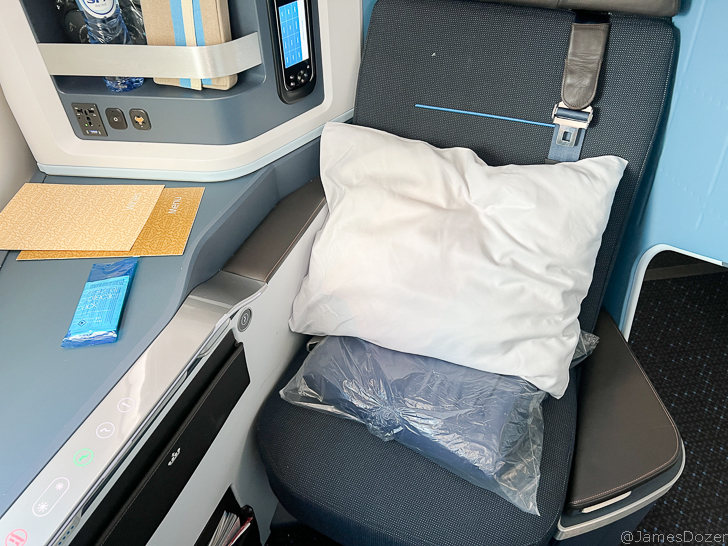 A bottle of water, amenity kit, and a pair of generic noise-canceling headphones were also provided at our seats. The headphones were not great so bring your own. The Jantaminiau branded amenity kit was very nice and it featured both zippered and magnetic enclosures. Inside, there were socks, ear plugs, eye shades, a pen, and a dental hygiene kit. Rituals branded face moisturizer and lip balm were also provided. The Tulip and Yazu scent, developed exclusively for KLM, is light and refreshing and it's one of my favorite exclusive scents for an airline.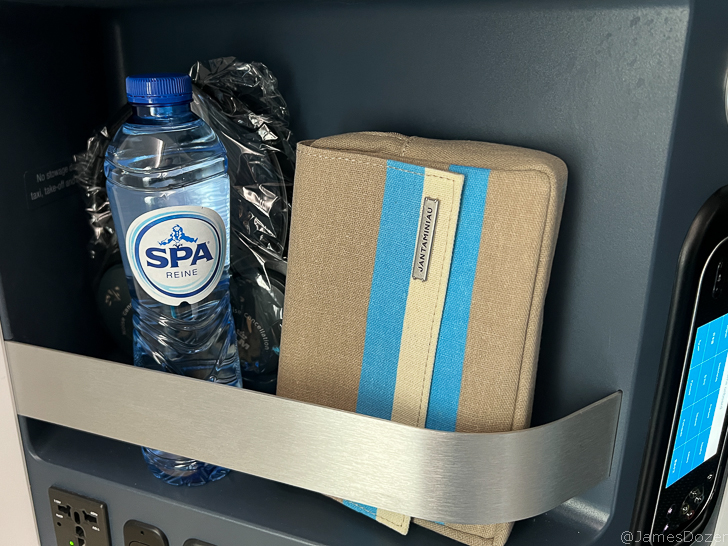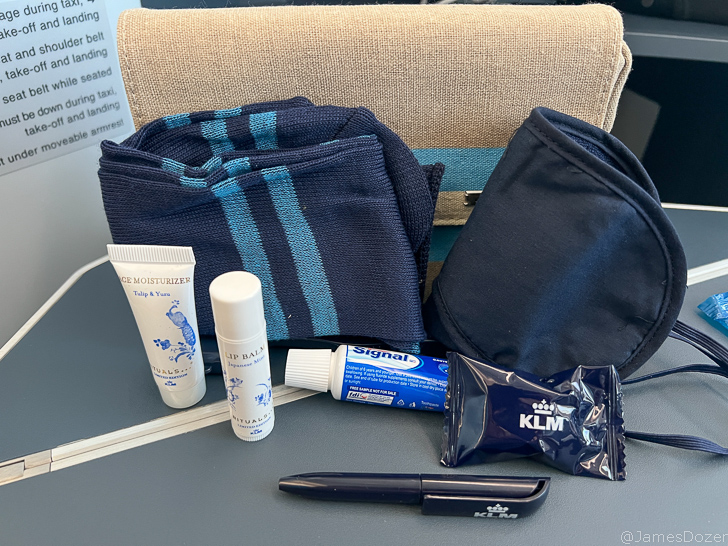 There are three lavatories for the 38 passengers in business class. There is one located in the front of the cabin and two located behind the cabin. The lavatories were stocked with the same Rituals Tulip and Yazu scented body lotion, body mist and hair gel.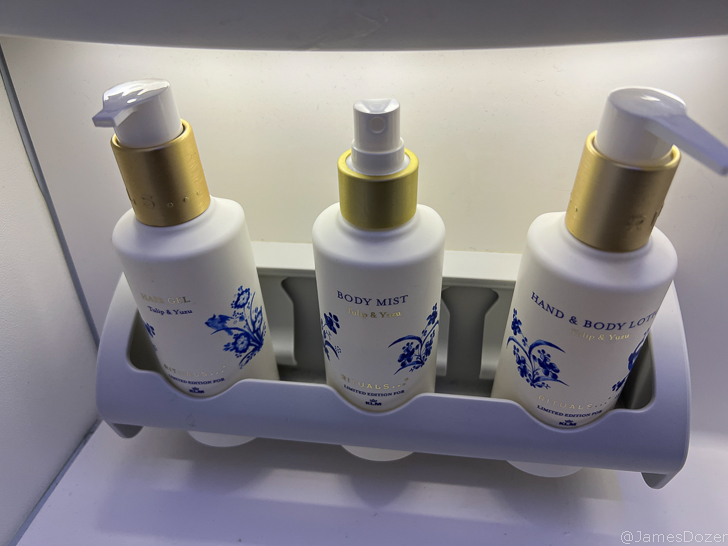 Once the majority of business class passengers were on-board, the flight attendants came by with hot towels and a pre-departure beverage of champagne or orange juice. Menus were then distributed and the flight attendants came by later to take our meal order.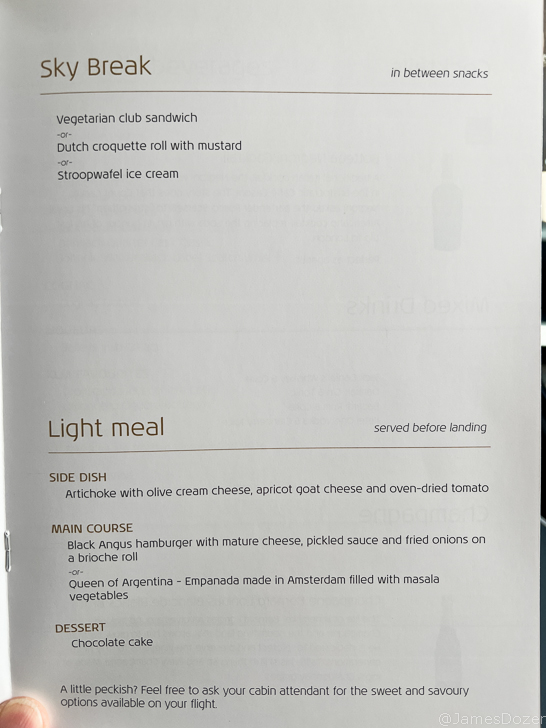 With boarding completed and bags finally loaded, we then pushed back from the gate and taxied to the runway for our 11-hour flight to Los Angeles.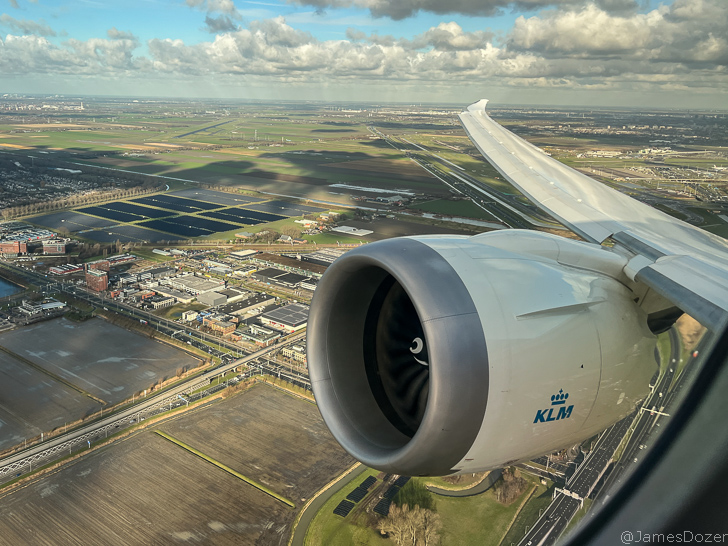 About 20 minutes into the flight, the beverage carts were rolled down the aisle for our pre-meal drink service. Drinks were served with your choice of either a small ramekin of mixed nuts or a mixed cheese plate.
An appetizer tray was then brought out with two options for starters, either a smoked bavette or a cup of tomato soup. The starter tray was served with a side salad and a warm bread roll. I didn't know what bavette was but I decided to be adventurous by ordering that over the tomato soup. It was interesting to say the least.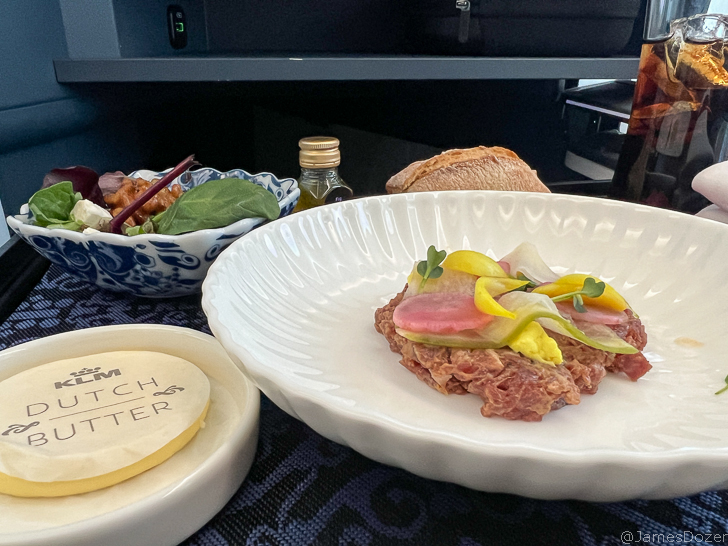 For my main course, I went with the salmon and quinoa plate. I really wanted the Thai chicken but it was all gone by the time the flight attendant got to my seat. The salmon portion was very small and it tasted the way it looked. The fish was dry. The sides were soggy and it was drenched in sauce, which helped with the overcooked salmon but it wasn't great.
For dessert, our options were either another cheese plate or a plate of petite desserts. I went with the petite desserts and they were delicious.
And then a piece of chocolate.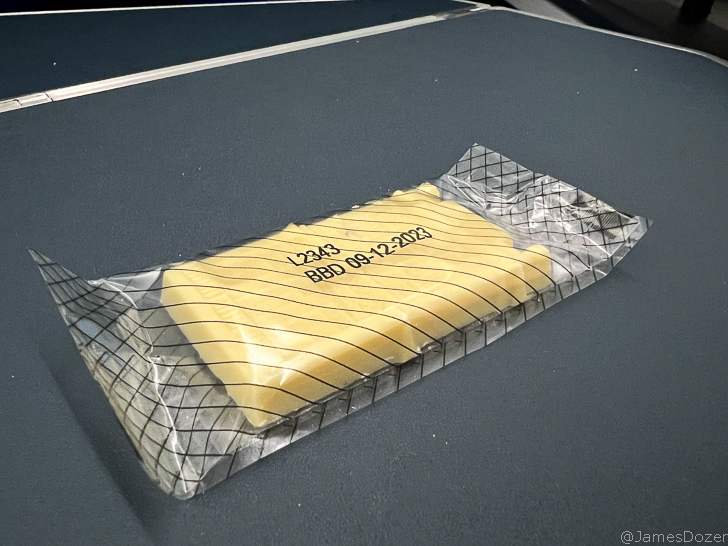 After dinner, our tray tables were cleared away and the windows were automatically dimmed and locked for the passengers who needed sleep. I then put my seat into bed mode and snoozed for about two hours. This seat was decent for sleeping. The outside armrest can be lowered to give you some additional shoulder width but the footwell is a little constricted.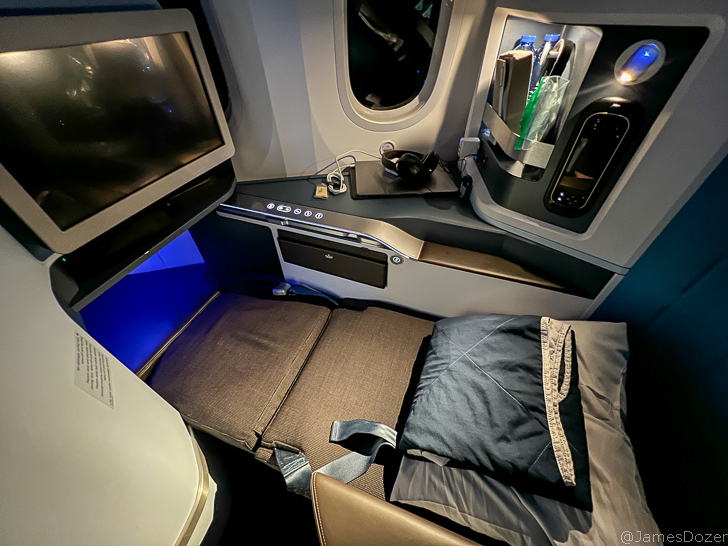 After I woke up from my nap, I put my seat back up and worked on my laptop for a bit. In between meals, a small selection of snacks including a vegetarian sandwich and Stroopwafel ice cream were made available for passengers. I got a vegetarian sandwich and a stroopwafel ice cream. The sandwich wasn't great. It was just two slices of bread with a thin spread of something.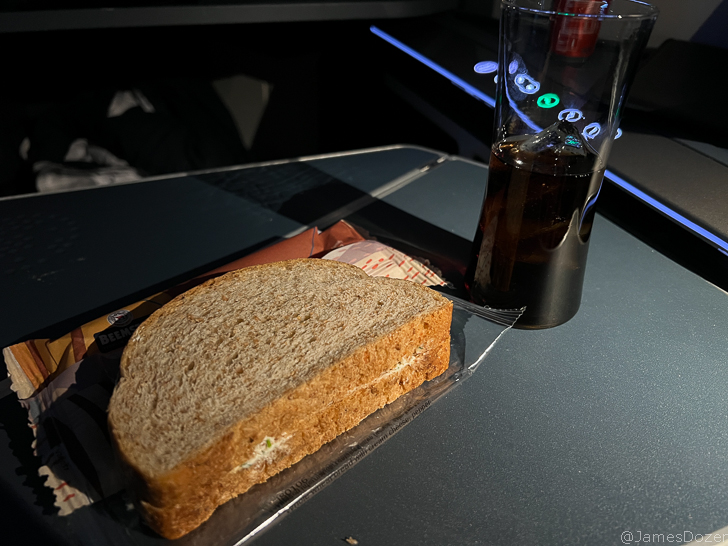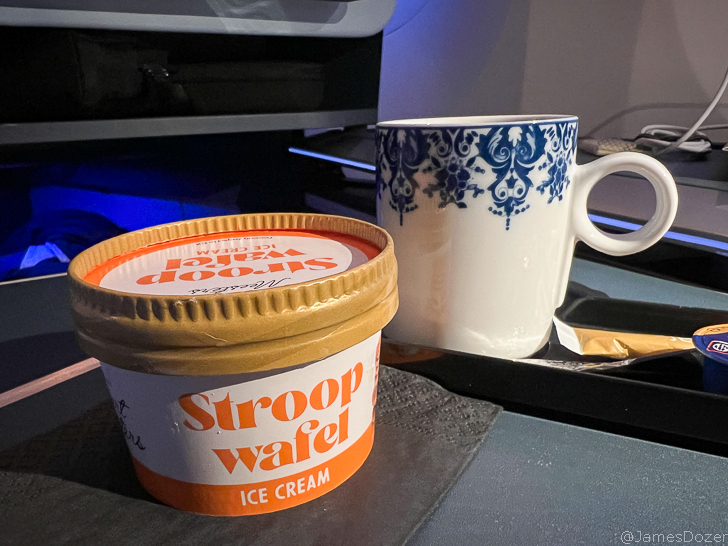 Service-wise, this crew was nice but they weren't the best. They seemed really rushed with everything and they weren't really proactive with clearing plates and other service items. During the meal service, they came by several times to refill drinks but they were kind of non-existent in between meals. They weren't very proactive with service and they just hung out in the galley for most of the flight. And they were very loud. Even with my earplugs in, I could hear them talking and laughing with each other and I know it kept a few passengers up.
About two hours before landing, the cabin lights slowly came on and a pre-arrival meal was served. Our two choices were either a burger or a dutch empanada. I went with the empanada and it was just okay.
KLM Business Class Bottom Line
This was my first flight with KLM and I can say that I wasn't that impressed. Their hard product was solid and I appreciated the great amenity kit but the service and catering on this flight were slightly lacking. The crew felt rushed the entire flight and when they weren't rushed, they were laughing and joking in the galley. They weren't proactive in providing service outside of the meal services and the catering wasn't great. I was slightly disappointed with this flight but I'm hoping this was a "one-off" and not the norm for KLM.
What are your thoughts? Have you flown with KLM Royal Dutch Airlines lately? If so, please let me know your thoughts below. Thanks for reading!
The other posts in this series include:
Air France Salon Lounge Paris Airport
VR Express Train, Helsinki to Rovaniemi
Aspire Lounge Helsinki Airport, a Priority Pass Lounge
KLM Boeing 737 Business Class, Helsinki to Amsterdam
KLM Crown Lounge Amsterdam
KLM Boeing 787-10 Business Class, Amsterdam to Los Angeles