stAfter reading about the opening of the new Kansas City International Airport (MCI) terminal on 28 February, I was … less excited about trying out the relatively new Terminal A at Newark's airport (EWR), which debuted to the public on 12 January of this year.
Current airlines at Terminal A include American Airlines, Air Canada, jetBlue, and some United flights.
This past week, I had a flight out of Newark, so I decided to take NJ Transit from New York's Penn Station to the Newark Airport station, from which point the downtrodden AirTrain journeys to the airport terminals and parking. Note: if you're opting for this route, because the new Terminal A is a bit further from the rest of the terminals, add on a few more minutes to the ride. All told, from NY Penn to Terminal A, it took under 50 minutes, because it was a surprisingly quick transfer.
Once you leave the AirTrain at Terminal A, you can either take a shuttle bus, or walk down a depressing passageway for about 10 minutes (that was without much luggage):
Upon exiting the walkway, I was greeted by glass art by the restrooms, and escalators leading up to a pedestrian bridge to enter the main hall of the terminal:
My first impression of the main hall was mixed. Firstly, you're deposited onto a mezzanine between the arrivals hall/baggage claim, and the check-in hall above. On the other hand, it certainly felt airier, and more spacious. (at least until more airlines/flights are added)
Check-in Hall (aka Landside)
Long story short, very underwhelming. Yes, it's new, and yes, it feels more open. However, in my opinion there's one big muck up: there's no priority security line if you have airline status.
TSA Precheck and Clear have their own spots, but it's for everyone else, it's a free-for-all.
I did notice that the jetBlue Mint and Mosaic section had its own TSA Precheck security screening entrance, which you can see if you zoom in to the jetBlue photo above. Besides that, enjoy the potential scrums. (To be fair, I barely had to wait on line for my 10am departure, but it's not exactly peak travel season/such a busy terminal yet.)
There's are a couple of places to grab unhealthy bites and coffee, but nothing from New Jersey. In the U.S., it's not so common to have local specialties at airports — although Kansas City's new terminal has rotating barbecue options, and Charlotte's (CLT) has a Bojangle's (/sarcasm) — but there might be one or two places to sample inferior versions of say deep dish (Chicago), or wings (Buffalo). Anyway, as someone who prioritizes trying regional/local dishes, I'm also trying to think about what a New Jersey food store would offer– taffy, Taylor Ham, rippers, and in the summer, tomatoes and blueberries?
Post-Security (aka Airside)
In short, meh. There are standard issue food and shopping options with those expectedly ridiculous prices, and there are a lot of wooden lounge chairs and benches. It really felt like Newark's Terminal C post-security, but with different seating choices.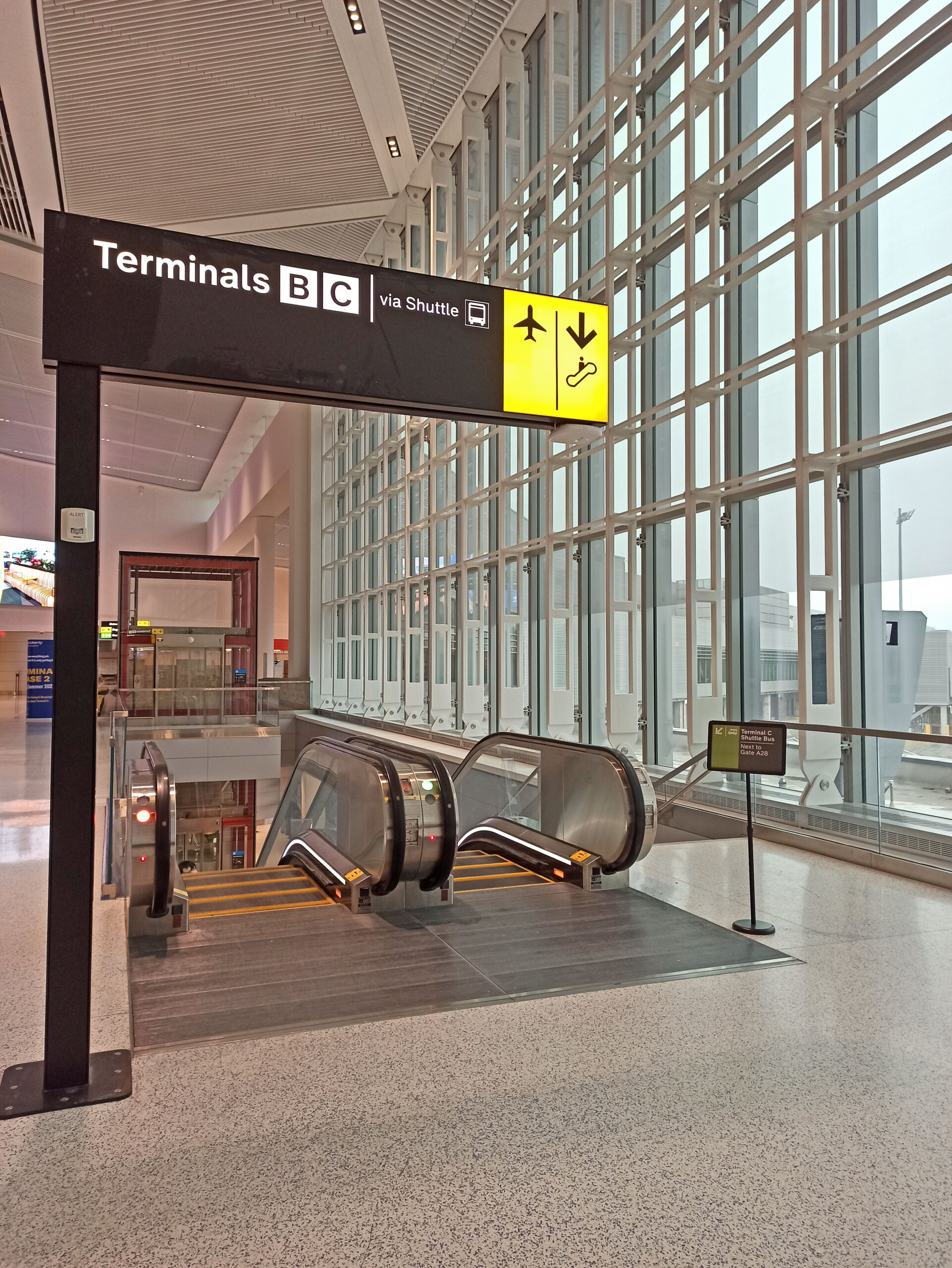 After having visited Newark's new Terminal A, I was left predictably disappointed. Superficial design elements and glass and steel do not a quality airport make. It simply felt like almost any other U.S. terminal, but "newer."
I don't aspire to spend a lot of time in an airport, but it's often inevitable. Having a lot food options, a quiet place to park myself, and/or some outdoor area free of smoke would be bonus.
---
Have you been to Newark's new Terminal A?