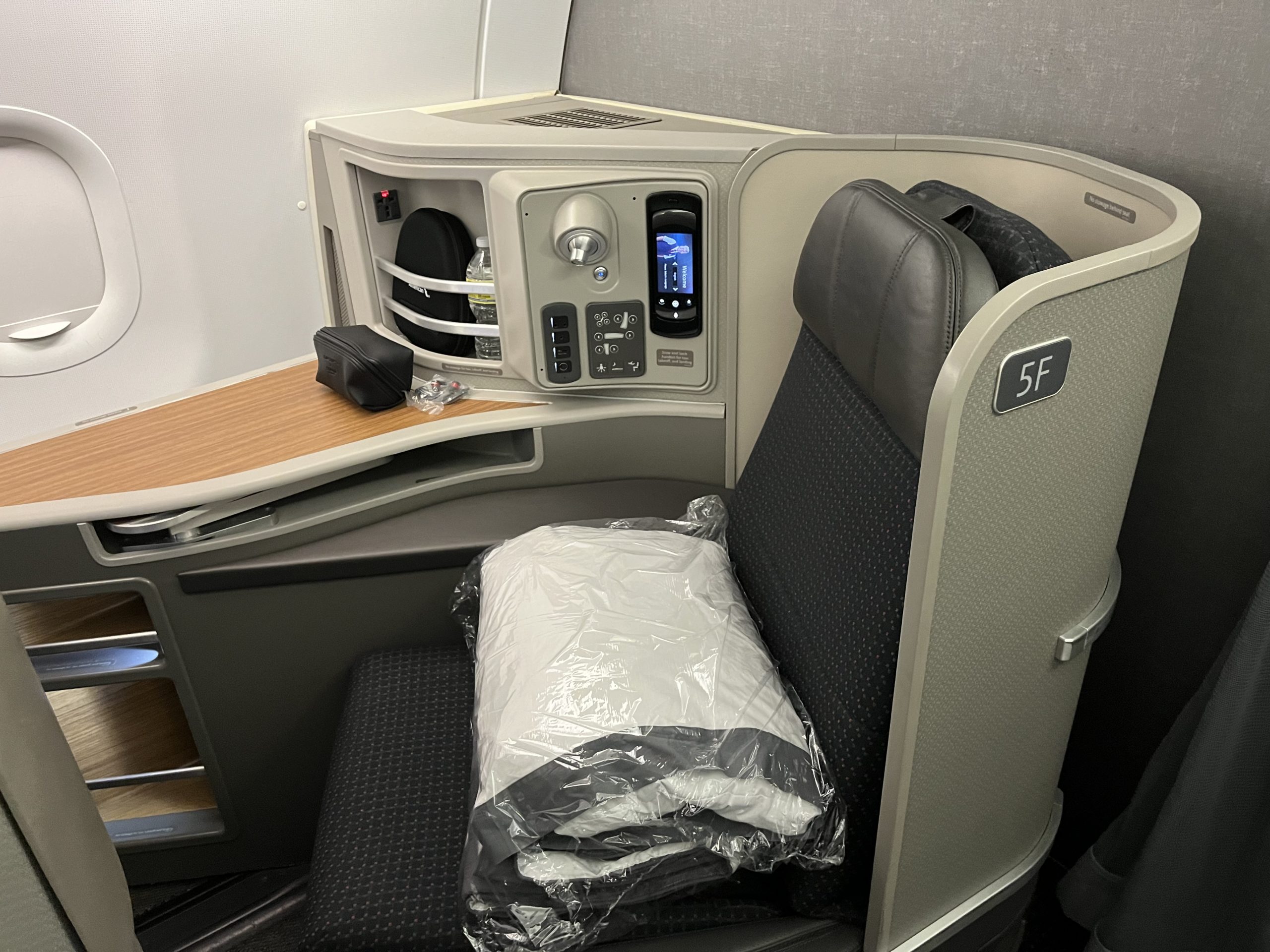 Review: American Flagship First A321 Transcon
It finally happened: I had my first American Flagship First A321 transcontinental experience. I've wanted to fly this product for a while. There are only a few select routes on which American operates their specially-configured Airbus A321 with Flagship First. San Francisco to New York-JFK is one of them. Sadly, departing San Francisco, you cannot enjoy the Flagship Dining experience. But the flight was great overall.
Booking Details
After learning that American Airlines would be retiring their A321 first class over this year, I knew it was now or never to book. Since I happened to have some expiring Cathay Pacific Asia Miles, I decided that this would be my currency of choice for booking the flight.
Asia miles aren't the best deal you can get for booking A321 transcon first class, but they are among the better options. You do have to find dates where American Airlines has opened seats to partner airlines. I had little difficulty finding a flight that worked about 6 weeks from departure.
The flight cost 45,000 Asia Miles and $5.65 one way (after currency conversion from paying in HKD). Totally happy with the redemption, as I had to do something with my Asia Miles stash. American Flagship First A321 flights often go for well over $1,000 each way.
Airport Experience
Yes, I picked the 6:00 AM flight. This meant getting to the airport super early. I'm a morning person, so the early morning wasn't too hard. But I knew I'd be a walking zombie once I finally got to Connecticut that evening.
The early morning American Airlines queue wasn't even close to full. However, since a handful of people were in line, I opted to check in using a kiosk. Even though I'd had trouble online, I soon had a boarding pass in hand and was on my way. With no luggage to check, it made no sense to use the full-service queue.
I was off to the Admirals Club after clearing security. It's been a long time since I've used any American Airlines lounge. The SFO one is very new. I enjoyed a cup of coffee and a light bite to eat. My mind was on what would be served in American Flagship First in just a couple hours. 
Boarding and General Impressions
I made my way to the gate just before boarding. It was a quick process, and I was soon settling into my seat at the back of the A321 cabin.
There are a total of ten seats on the American Flagship First A321 transcontinental configured aircraft. They are in a 1-1 configuration, with the galley and lavatory providing a nice buffer between the business cabin. I reveled in the fact I was flying a lie-flat seat on a narrow-body aircraft. This is a first for me.
Only four seats were occupied when I checked in, but the flight departed with a full cabin. I'm assuming American offers either buy up or complimentary upgrades into these seats, but I have never looked into the details.
Boarding started right on time and was very quick. We weren't anywhere close to a full load. The flight attendants handed out first class menus once boarding was complete and also offered pre-departure beverages in the cabin. Coffee is still the right choice at 6:00 AM, even when flying. The champagne will come later. 
The taxi is short from terminal A, and we were wheels up just seven minutes after scheduled departure. 
American Flagship First A321 Seat
I'd chosen seat 5F at the back of the cabin for my flight to JFK. At time of booking, I was the only passenger in the cabin. I almost went with 1A, but I've since decided that I'm not keen on bulkhead seats. They feel claustrophobic. I like being able to sit up and look across the whole cabin.
It was strange to settle into a reverse-herringbone, lie-flat seat on a narrow-body aircraft. This is quite rare. The only other carriers I'm immediately aware of that offer this are JetBlue, La Compagnie, and TAP Air Portugal.
The seat obviously offers ample legroom and some privacy, as you are angled toward the windows. Speaking of windows, seat 5F is effectively missing one. But you still have two others to look out.
I stored the blanket and pillow on the ottoman until I needed it later. As a daytime flight, I planned to only take a short nap before arrival.
The American Flagship First A321 seats feature a robust seat control, with adjustable lumbar support and two buttons to take you directly to either fully upright or fully lie-flat. There is also a controller for the IFE screen.
Next to these in the cubby was a water bottle and a set of Bang & Olufsen noise-canceling headphones. American is known for providing these. They are also known for collecting them from everyone a full hour or so before arrival. A universal power outlet is also located within the cubby area. The tray table folds out from under the counter to the side.
I did have one complaint about my seat. As soon as I opened up my tray table, I could feel that it was sticky all over. Definitely not wiped down as well as it should be. The flight attendant did her best to clean it later, but it still wasn't great even after that. Luckily, it was covered by a tablecloth during meal service. I didn't use it much otherwise. 
But for the sticky table, the seat would have been perfect. The American A321 Flagship First seat is among the best hard products you can fly across the country. The only ones I might rank better are the rare United Business flights featuring their Polaris seats, or any flight on which you can score domestic Delta One suites.
Service and Catering
I perused the menu right after the flight attendant brought them to everyone in Flagship First. Of all the options, the avocado toast sounded best. This was unfortunate, as it wasn't catered that day. I found that out later once the flight attendants took orders, about 40 minutes into the flight. The flight attendant was apologetic.
My second choice was the American breakfast of eggs, Canadian bacon, and potatoes. The food was decent. No wow factor, but an enjoyable breakfast.
After breakfast it was champagne time. American Flagship First A321 catering offers a good wine selection for a domestic flight. I enjoyed the champagne, but didn't end up trying anything else. 
About an hour later, I was offered a cheese plate. I passed since I wasn't still hungry, but it was nice to know there was the option. It's the dessert on the Flagship First menu. The flight attendants served warm cookies about an hour before landing.
Overall, I thought the catering was good. Nothing impressive, but I enjoyed everything and the presentation was nice. It's better than most things I've had domestically, but falls well short of international first class luxury.
Flight and Arrival Experience
Compared to my two American business class flights, the flight attendant staffing the Flagship First class was better. But it still fell short of the service I'd expected. She wasn't especially enthusiastic or friendly. I prefer when flight attendant don't hover, but after offering the cheese plate, she up and disappeared for a long time. I had specifically mentioned I might want to have the cheese plate later. It was never re-offered.
I watched a movie during breakfast and the early part of the flight. American has a good film selection. The IFE screen pops out of the seat back and must be stored for takeoff and landing.
The middle of the flight included getting some work done and then a brief nap. I still had a long trek ahead of me, planning to head to east Connecticut on the Northeast Regional once I'd made it to NYC.
The Flagship First flight attendant collected the Bang and Olufsen noise canceling headphones about an hour before landing, as I'd expected. I read a book for a bit after that. Then the lovely views appeared. 
If there is one thing I love about flying into NYC, it is being treated to wonderful Manhattan views. I last recall enjoying the Manhattan skyline while descending into Newark. This time, I was on the right side of the aircraft as we headed for JFK. Man, what a treat.
Final Thoughts: American Flagship First A321
Flying American Airlines A321 Flagship First definitely goes down as one of my favorite domestic flights. I'd probably rank flying the United 767 Business (high-J configuration with Polaris seat) above it, mainly because I really like that seat. The catering is definitely a step up in American Flagship First.
I don't know if I'll be able to squeeze in another trip in Flagship First before it is discontinued, but I am going to try. It'd only be if I could book an itinerary where I could enjoy Flagship First Dining and do it for just 25,000 Etihad Guest miles. We shall see!