If you're going to Lapland to visit Santa Claus and the North Pole, there are two primary ways to get there. The easiest and quickest way is by flight. This is my recommended method as there are plenty of flights to Rovaniemi Airport from Helsinki, London, Paris, and other parts of Europe. The flights are all quick and Rovaniemi Airport is a very easy airport to navigate. From there, it's a quick 10-minute drive to Santa Claus Village or to the Rovaniemi city center.
But if you're looking for something a little more special, then you can take the Santa Claus Express Train from Helsinki to Rovaniemi and back. The Santa Claus Express Train is operated by VR, which is the national railway operator in Finland. They operate a modern fleet of trains ranging from regular intercity trains to high-speed and overnight trains and all their trains are equipped with modern facilities. To get to Rovaniemi, the official home of Santa Claus, you can either take the intercity or Pendolino day trains, or the overnight-sleeper trains.
The big difference between the day and night trains is that the overnight trains are primarily equipped with sleeper berths. They do have a small section of economy-class seating but I don't recommend this unless you're really on a budget. Whereas, the day trains are all equipped with economy and first-class seating; panorama seating, and private (non-sleeper) compartments. It should also be noted that the day trains from Helsinki to Rovaniemi will take you about 8.5 hours. Whereas, the overnight trains will take about 12 hours.
The VR Santa Claus Express Trains to Rovaniemi-Lapland are super affordable and if you book in advance, you can easily snag an economy class seat from Helsinki for about 30 Euros, with no baggage fees. Seats in first class (Ekstra Class), a private compartment, or in the panorama restaurant car will cost you slightly more. In this post,
VR Finland Intercity Santa Claus Express Train
In economy class, seats are arranged in a 2-2 configuration, facing either forwards or backwards. They all feature adjustable headrests, tray tables, and electrical outlets at every seat and some seats are also equipped with footrests. Free WiFi is provided on all trains for all passengers. There are storage racks located above the seats but they aren't very tall. You can keep your coats and other small personal items up here but anything larger than a backpack will need to be stored in the luggage racks at the end of the cars.
The economy class trains are all configured with spacious lavatories, luggage racks, cell phone booths and bike racks.
For those traveling with small children, you can book a seat in the family car. These cars are configured with a small playground area to keep your kids occupied. 8.5 hours is a long time and kudos to any parent that can keep their kids entertained for that long.
In Ekstra Class, seats are arranged in a 1-2 configuration. These seats offer a little more space and comfort in a quieter cabin and all seats (except the seats facing another passenger) are equipped with footrests.
Passengers in Ekstra Class also get a dedicated space to secure their belongings, a cell phone booth with a padded seat, and their own lavatory. The Ekstra Class cars also feature a small self-serve beverage area with unlimited water, coffee and tea.
If you're looking for something a little more private, then you can upgrade to a private compartment. These compartments come in 2-seaters or 4-seaters but you have to "buy out" the whole compartment if you want to use them. You can't just book one seat in a private 4-seater compartment at the moment. Maybe this will change in the future but as of now, you can't.
These private compartments are great because you get your own dedicated space to sit, relax, talk, and store your belongings. Each compartment is equipped with regular economy class seats, a fixed table, electrical outlets, and personal lighting controls. You can store your belongings in the oversize rack above your seat or in the center of the compartment. The compartments all have their own windows and the doors can be shut to give you more privacy.
On this trip, my friend and I booked one of these 2-seater private compartments and it worked out well for us. We loved having our own space and with the door closed, we could talk and listen to music without having to worry about disturbing any other passengers. If we did this again, I would for sure book another private cabin. That being said, I will admit that these cabins do feel a little tight. It's not because the seat is any smaller than the normal economy class seat but because the enclosure of the compartment does make the space feel a tad constricting. We didn't have a problem with it but it's something to be aware of. I also didn't like how small this table was and you have to twist your body a little bit to use your laptop.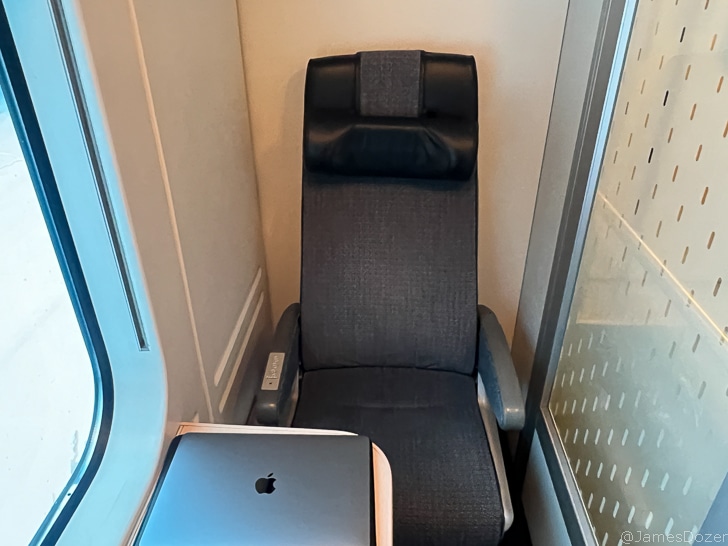 But look at how spacious this overhead storage rack is. That's a full-size international carry-on bag and a large backpack. We didn't have to worry about our bags being stored outside and we could easily go in/out of them to grab whatever we needed during our train ride.
And here's the 4-seater. It's basically the same compartment but just double the size.
All of the day and overnight trains are configured with dining cars. Seating in the dining cars is on a first-come, first-served basis but of course, you can always take your food "to go" and go back to your seat if there is no seating available in the dining car.
Food-wise, I was very impressed with the quality of the VR trains' food selection. I was really expecting a limited menu but they surprisingly had a good selection from salads and wraps to salmon soup and different kinds of pasta.
I wanted to point out that VR trains have both a dining car and a restaurant car. The dining car is what I just showed you above and the restaurant car is a seat that you can actually reserve. I don't know why they call it a "restaurant" car as there is no restaurant there but I'm assuming they call it a restaurant car because the car has restaurant-style seating. I totally forgot to take a picture of this car for you so here's one from their website. These seats feature a row of seats that face the window and two rows of seats that face each like a table at a restaurant. There is a small upcharge to book a seat in this car. However, no other amenities are provided for passengers in this car.
VR Santa Class Express Train Finland Experience
As I stated above, my friend and I booked a 2-seater compartment for our trip up to Rovaniemi. We booked the Intercity 23 train, which is a direct train from Helsinki Central Station to Rovaniemi Central Station. It did stop at several stations along the way but passengers did not have to get off or switch to any other trains during the entire journey. The train departed on time at 8:24 AM and arrived at Rovaniemi at 4:46 PM the same day. The entire journey took us 8 hours and 22 minutes and though that is a long time, it actually flew right by. My friend and I had our own space to watch a movie, chat and catch up. We enjoyed the views outside and even had a meal in the dining car. If you love train rides through the European countryside, you won't be disappointed.
For two passengers, the base price of the ticket was 90.80 Euros. The upcharge for the private compartment was 18.20 Euros for a grand total of 109 Euros.
Santa Claus Express Train Bottom Line
Overall, we had a pleasant experience riding the Santa Claus Express Train to Rovaniemi. The train was clean and the journey was pleasant. The seats were comfortable and the private compartment was great. The views of the snow-covered trees were beautiful and the dining car had a great selection of food. I also appreciated the free WiFi to help keep us connected and entertained. That being said, eight hours is a long time to be traveling when a flight to Rovaniemi takes about 50 minutes.  If you're short on time, then book a flight. But if you're on a budget or have time to spare, then the Santa Claus Express Train will be a good experience for you and your family.
What are your thoughts? Have you been on the Santa Claus Express Train to Rovaniemi-Lapland? If so, please share your thoughts with us in the comments section below. Thanks for reading!
The other posts in this series include:
Air France Salon Lounge Paris Airport
VR Santa Claus Express Train, Helsinki to Rovaniemi
KLM Crown Lounge Amsterdam