Hidden away on the eastern coast of Crete, Elounda is a pretty fishing village which is the perfect destination for a relaxing seaside getaway.
You'll love Elounda if you're looking for a traditional Greek resort which isn't too crowded or commercialized. However, that doesn't mean there's nothing to do here. If you're planning on travelling to Greece, then consider adding this hidden gem to your itinerary.
Spend your days relaxing on the beach or bathing in crystal clear water. Explore pretty streets and admire the stunning scenery. The coastal paths are perfect for walking, and you can explore the surrounding area and get to know this part of Crete a bit better. 
I loved the authentic Greek feel of Elounda, the friendliness of the locals we met, and the generally relaxed atmosphere of the village. Moreover, the view across the bay is spectacular. I could have spent my entire week just gazing out to sea — this is one of the most relaxing places to visit in Greece. 
In this travel guide to Elounda Crete, I'll list the best things to do, where to eat, where to stay, the best beaches, and how to get around. 
Jump To: 
Best Things To Do in Elounda Crete
We stayed in Elounda for 7 nights and although it's a low-key place, we found plenty of things to do. We like to get out and about exploring but if you like to spend a lot of time on the beach then you could stay longer.
Elounda is the perfect base for leisurely walks, and no matter where you are in the village, you're pretty much guaranteed a lovely view of the bay. If you love the water, you'll be delighted with the crystal clear sea here on the Eastern Cretan coast.
Here are some of the best things to do in Elounda, Crete:
1. Explore the Harbour
Probably the first thing you'll want to do when you arrive in Elounda is to take a walk around the central town. Here, you'll find the picturesque harbour with everything from traditional fishing boats to rowing boats.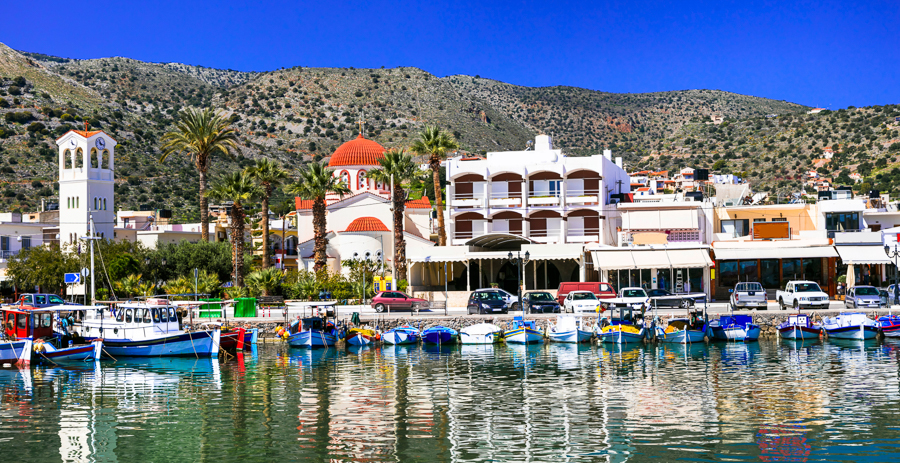 Walk along the harbour to the east and you'll pass some of Elounda's popular tavernas before you come to the main beach. If you walk south along the harbourfront, you'll be rewarded with some of the town's more exclusive restaurants overlooking the bay.
2. Walk to The Sunken City of Olous
Continue further south of the resort and you'll come to the Sunken City of Olous. Olous was an ancient Greek city from the Minoan age. Don't expect to see obvious ruins below the sea, although if you look carefully you can make out some of the ancient walls.
Some reports suggest that Olous sunk due to volcanic activity but others say it's more likely that it just sunk slowly over many years.
For tourists today, it makes for an interesting place to visit for a gentle coastal walk outside the main resort. If you're keen on finding the ruins below the water, you can join this fun snorkel trip.
3. Take a Boat Trip to Spinalonga
One of the highlights of our trip to Crete was a visit to Spinalonga. The island is a former leper colony. Sufferers from Crete (and sometimes mainland Greece) were forcibly relocated to the island in an attempt to stop the spread of the disease.
Although quite infamous locally, Spinalonga was made famous by the publication of Victoria Hislop's novel, The Island. The book tells the story of the Fielding family which is caught up in the drama of leprosy and Spinalonga island.
It's actually a terrific read so if you're looking for some holiday reading during your stay in Crete, I highly recommend it. The leper colony on Spinalonga was closed in 1957, some years after a cure was found for the terrible disease. 
How To Get To Spinalonga Island
For a long time, Greek officials preferred to forget about Spinalonga, but that all changed when tourists, inspired by Hislop's novel, started asking to visit.
You can now visit Spinalonga for yourself by taking a boat across from the main island. This boat trip is highly rated and is a great option to enjoy the island.
If you prefer to go independently, it costs around 10 Euros per person or 5 Euros for children. It's a pleasant trip and you'll get to see more of the coast as you cruise across.
For a shorter crossing to the island, head to the nearby village of Plaka. There's plenty of free parking in Plaka near the boat docks which makes it an easy option if you have a car.
Boats depart at regular intervals from two boat docks so if you've just missed the first one then walk a bit further along the harbour and try the other one.
It's a short 10-minute crossing from Plaka and costs 8 Euros per person. Boats from both locations start from around 10 am and run at regular intervals all day until around 4 – 4:40 pm.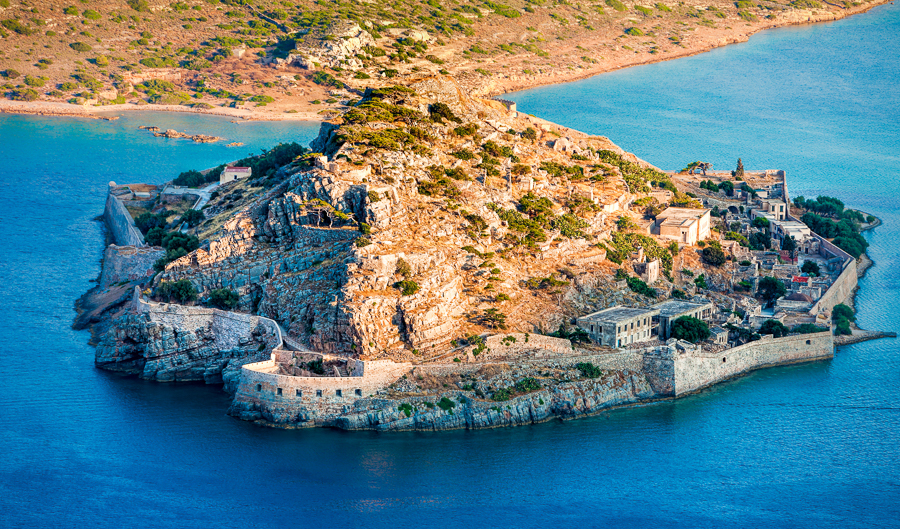 Exploring Spinalonga Island
Once on the island of Spinalonga, you need to buy an entrance ticket at the small kiosk for 8 Euros. Walk through the archway and you'll emerge into a world of narrow lanes and coloured houses.
Inside some of them, you'll find displays with information on their former inhabitants. It's both fascinating and rather sad, especially if you've read Hislop's book.
Many of the buildings have already been restored but more work is currently underway. As you leave the main settlement you walk around the base of the hill and if you look up you'll see that there are ruins stretching right up to the top.
Although most visitors seem to stick to the main pathway at the bottom, the upper levels are accessible if you don't mind scrambling up a few slopes and rocky steps.
I'd recommend making the trip up for some fabulous views back across the bay to Plaka and Elounda. You also get a birds-eye view of the settlement of Spinalonga.
If you're staying in Agios Nikolaos or want to combine your trip to Spinalonga with swimming and lunch, then there is a half-day excursion available locally. Expect to pay around 25-30 Euros for a half-day cruise with stops for swimming and snorkelling, including lunch.
4. Visit the Windmills
If you like walking, then head south from Elounda harbour and you'll come to the saltpans on your right. Look carefully into the water and you'll see stone squares. Sometimes people confuse these with the sunken ruins of Oleus but they're actually salt pans.
The saltwater collects in the squares and when the water evaporates, salt is left in the bottom. Workers balance on the low stone walls to scrape the salt from the bottom of the squares. An ingenious system.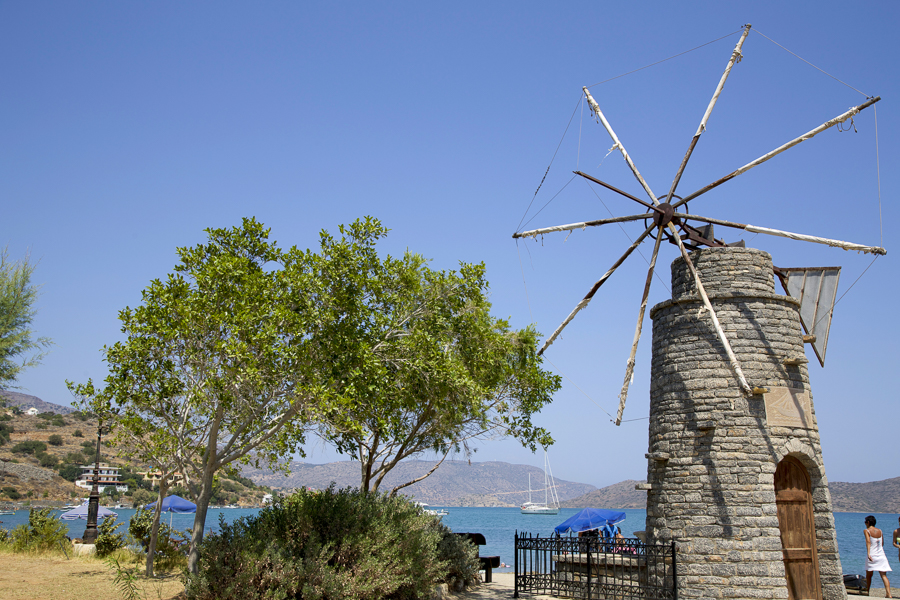 Keep walking and cross the small stone bridge and you'll come to the Kolokytha Peninsula. As you cross the bridge, you'll see the first windmill.
Due to the shape of the landscape, the peninsula forms a breakwater which makes Elounda Bay so tranquil. There are three stone windmills here, built to take advantage of the wind on this part of the peninsula.
This is a lovely area for walking. If you'd like to go further there are a number of trails which head up and over the hill to some uncrowded beaches.
Best Day Trips from Elounda Village
Here are a few of the day trips I recommend from Elounda.
Visit Nearby Plaka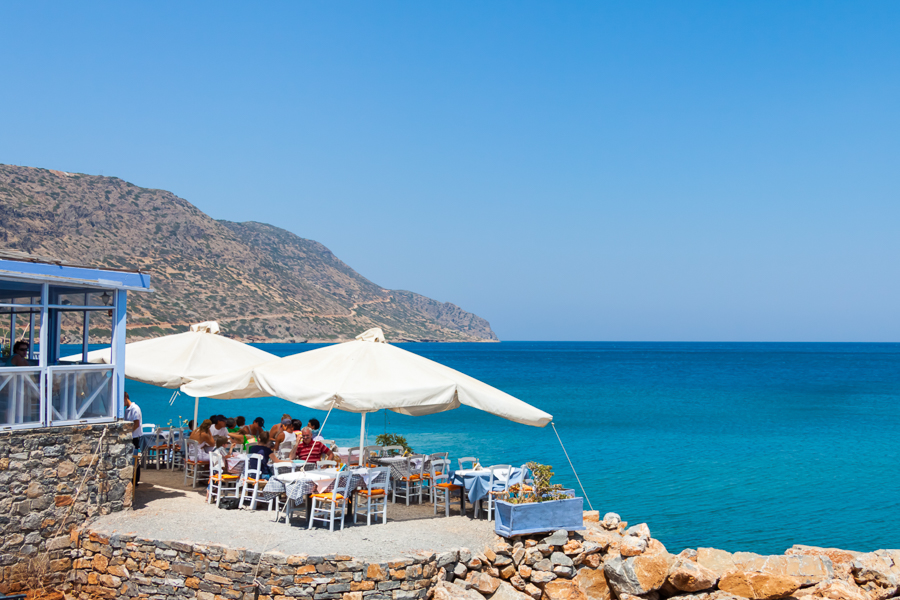 Plaka is a picturesque small village about 5km north of Elounda and it's well worth making the trip to have a look around. If you've got a car then it's an easy drive along the coastal road and there's plenty of parking available in Plaka just off the main road.
For those without transport, there is a small tourist train which makes the trip several times a day and there is a public bus although it only runs a few times a day.
You'll find plenty of restaurants to choose from along the harbour and Plaka's fish restaurants are particularly popular. Plaka is also a good starting point for a visit to Spinalonga Island as the boat trip is only 10 minutes from here.
Make a day of it and check out the beautiful beaches around Plaka and browse the souvenir shops around the harbour.
Despite its growing popularity, Plaka still feels traditionally Greek. Plaka is a tourist destination but it's much smaller and quieter than Elounda. Although it's busier in July when they hold a music festival in honour of a local musician, Mikalis Papadakis. 
Ride the Little Blue Train
As well as providing a fun transport option between Elounda and Plaka, the little blue train also provides sightseeing tours.
You can take a four-hour trip from Elounda into the Cretan countryside. You'll get to see some traditional villages and there are many opportunities to get some fabulous photographs from high in the hills.
The train makes a number of stops where you can wander through the picturesque villages, sample some of the local delicacies, shop for souvenirs and explore interesting churches.
If you don't have a car then it's a fabulous way to get out and about and see more of the stunning Cretan landscape.
The tour costs 18 Euros per person. The train departs from Elounda at 12 pm and returns at 6 pm. Lunch is not included but the train does make a stop at a local taverna where you can purchase food and drink.
Explore Agios Nikolaos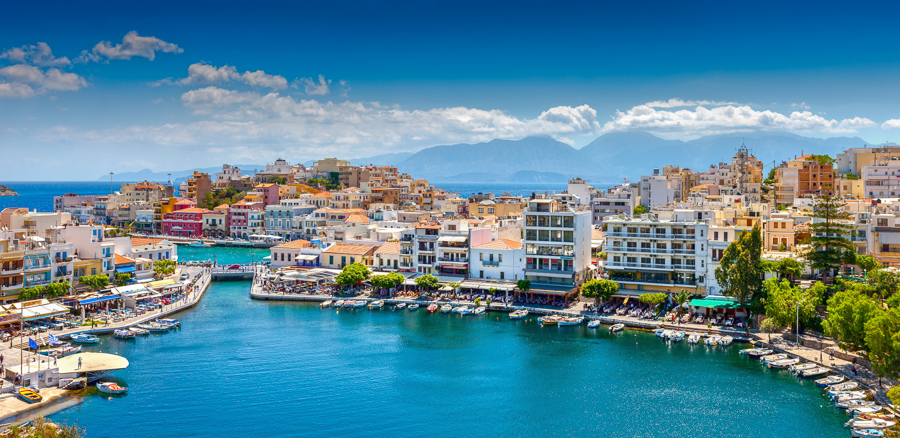 Agios Nikolaos is approximately 10km south of Elounda and is a good choice if you're looking for somewhere a bit more lively for a day out.
Here, you'll find a bustling coastal town with plenty of shops, restaurants and bars. The harbour area is particularly nice for walking and if you follow it around, you'll come to the marina.
You can reach Agios Nikolaos in just a few minutes by car and we had no problem finding on-street parking. There's also a car park near the main harbour area.
If you don't want to drive then the little blue train also goes this way, or it's a short hop by taxi. We did see quite a few people walking as well.
Visit Knossos Palace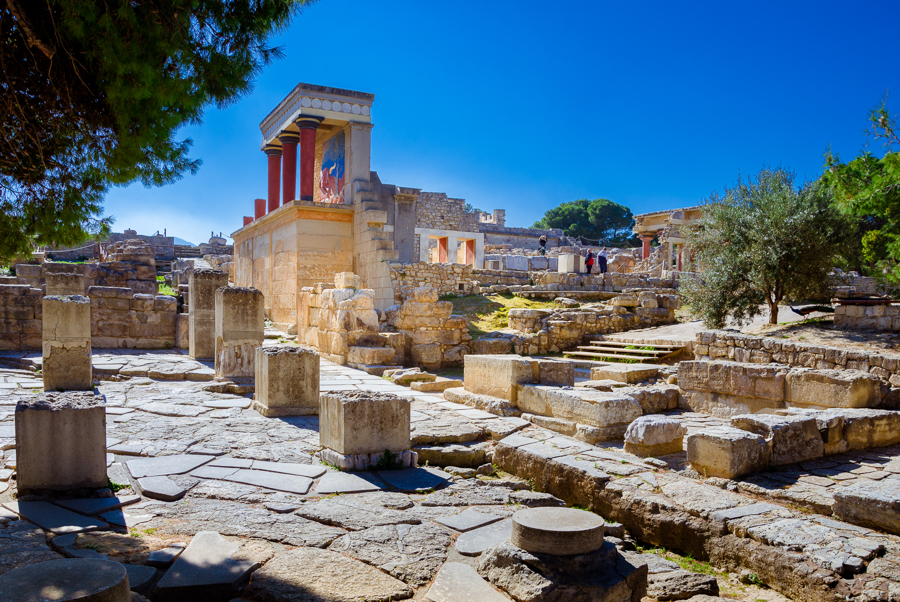 No visit to Crete would be complete without a visit to the famous Minoan ruins of Knossos. Renowned as the location of the mythical labyrinth, Knossos Palace is just south of Heraklion.
Here you'll find extensive archaeological excavations of the palace which date back to around 2AD. However, settlements have existed on this site since the Neolithic period, around 7000-9000 BC, so it's an exceptionally interesting place.
You'll really need a car to get here from Elounda and I advise that you arrive early as (free) parking is limited and it gets very busy. 
The site opens at 8 am and in summer is open as late as 8 pm. You'll enjoy it more if you visit early or late as the ruins are not covered and are thus fully exposed to the sun.
Get your skip-the-line and guided tour ticket here. I recommend a guide for sure, otherwise you won't really know what you're looking at. A guide brings Knossos to life!
Wear sensible shoes for walking and climbing up and down uneven steps and take water with you. Expect to spend at least 2 hours exploring, more if you're particularly fascinated by history.
Where To Stay in Elounda Crete
If you want to be within walking distance of stunning beaches, fabulous tavernas, restaurants and bars then choose to stay in an Elounda hotel within the main village area. Elounda itself isn't very big and you can easily walk everywhere if you base yourself near the main beach or harbour.
For excellent views across the bay, I'd recommend staying on the hill overlooking the town. If you're looking for somewhere a bit special, another option for those who want to get away from it all is to stay at one of the luxury Elounda hotels on the road to Plaka.
Adrakos Apartments
We stayed here for 7 nights and it's a beautiful family-run apartment complex. Great for couples as it's an adults-only facility. Each room has a small kitchen area but the real appeal is the balcony or terrace facing across the bay. The views are absolutely spectacular.
You'll need a car if you're going to stay here as it's just outside the main resort area of Elounda but there is free parking available.
Adrakos has a popular restaurant and bar on site and they also have a large pool, so you don't need to drive every day if you don't want to. Click here for the latest prices and reviews.
Studio with a View
If you're looking for a place to rent with incredible views of the sea and Spinalonga island. Plus, you have access to the water as well, check out this apartment in Plaka.
The studio has a balcony with gorgeous views, mini fridge, a coffee machine and a TV. A quick walk into Plaka will being you to lots of authentic tavernas. Learn more here.
Sentido Elounda Blu
Part of the Sentido Hotels group, Sentido Elounda Blu is the choice for you if you desire pure luxury and relaxation. It's located on the road between Elounda and Plaka overlooking the magnificent bay and Spinalonga Island.
Indulge yourself by booking a junior suite which has its own private pool. At Elounda Blu, you can enjoy a private beach with watersports available or take advantage of some of the many activities offered at the hotel, for instance, wine tasting, cooking classes and aerobics. 
A garden view room starts from around $155 a night in September for half board, or book all-inclusive from $215 a night. My sister stayed here for 10 nights and absolutely raves about it. When it comes to Elounda hotels, this is a great option. 
Elounda Krini Hotel
If you're looking for a hotel within a few hundred metres of Elounda beach and which gets consistently great reviews then consider the Elounda Krini Hotel.
All the rooms have balconies and you can choose whether yours faces the mountains or the landscaped pool area. Rooms are fresh and clean with tiled floors and whitewashed walls. Expect to pay from around $80 a night. Click here to learn more.
Emilia Apartments
A great budget option which is still close to everything is the Emilia Apartments. Located right in the heart of Elounda, the apartments are just 300m from Elounda Beach.
Rooms are modern with fresh, light decor. Each room has a kitchenette with a dining area and a patio or balcony. Rooms start from around $45 a night. Click here to learn more.
To search for more Elounda hotels and apartments, click here.
Where To Eat in Elounda Crete
Although Elounda is a small town, you'll still find plenty of choices when it comes to dining out. Whether you're looking for traditional Greek meze, fabulous seafood or just a good steak, you'll find a restaurant or cafe in Elounda which can satisfy your hunger.
Most restaurants have menu boards outside the restaurant, so take a wander along the streets near the harbour and centre of town and see what appeals most. Don't forget to walk along the harbourfront towards the windmills as there are some amazing fish restaurants overlooking the bay.
Here are a few of my favourites.
Rakomelo Cretan Cuisine
Located right on the water with stunning views, you won't want to miss Rakomelo for local Cretan food. The service is friendly and the dishes here do not disappoint.
Order a table of mezes (king prawns, calamari, tzatziki, mussels, meatballs and more), or one of the fresh seafood dishes, or salads. This restaurant is a great place to eat in Elounda for groups as well as couples.
Address: Akti Olountos, Schisma Elountas 720 53, Greece. Click here for directions.
Kanali
Kanali restaurant has a unique setting just across the peninsula near the sunken city of Olous and the windmills. If you're looking for somewhere special with a tranquil atmosphere and great food then this is the place for you.
Kanali specialises in seafood and the lobster pasta gets rave reviews. However, they also have several vegetarian choices and a selection of gluten-free options as well.
Kanali is open for lunch and dinner. You can call them on +30 2841 042075 to check specific hours and make reservations. Find Kanali Restaurant on Google Maps here.
Okeanis
Okeanis is located just past Elounda Beach. If you ask locals where to eat in Elounda this is where they'll send you. It's casual dining at its best and you'll enjoy top-class service as well as delicious food.
Okeanis specialises in local Greek and Mediterranean dishes and they have quite an extensive menu. Don't miss their traditional Greek salad. It's amazing.
You can contact Okeanis on +30 2841 044404. It's open for lunch from 11.30 am to 4.30 pm and for dinner from 6 pm to 11 pm. Find Okeanis on Google Maps here.
Cypriana Taverna
This was one of our favourites while we were in Elounda village. Situated right in the centre of Elounda, overlooking the beachfront, Cypriana offers a wide menu including breakfast, omelettes, pasta, pizza and sandwiches.
However, you really should try some of their Greek Cypriot dishes — chicken gyros, moussaka or souvlaki. It's good value, casual dining at its best, and they're justifiably well-known for their friendly service.
Whenever you're hungry, they seem to be open – from 9 am to midnight. You can contact them on +30 2841 041752 but just turn up, no need to book. Find Cypriana on Google Maps here.
Best Beaches in Elounda 
If you're a beach lover then you've come to the right place. The Eastern Coast of Crete boasts miles of superb sand and pebble beaches, many of them Blue Flag rated.
While some of the larger beaches are popular it's also possible to find small stretches of almost uninhabited coastline. Wherever you choose, you can bathe in warm, crystal clear water as you gaze on some absolutely spectacular scenery. 
Elounda Beach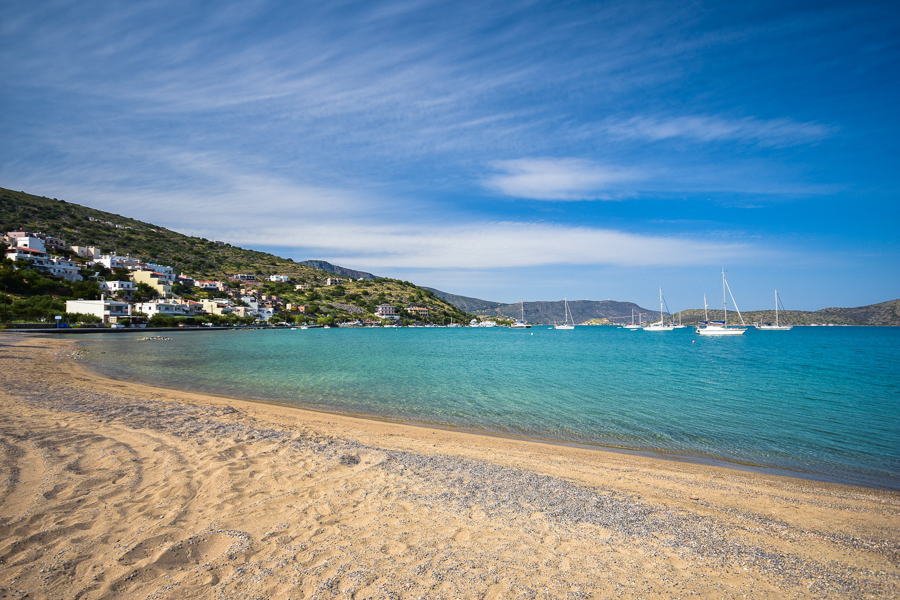 Right in the centre of the resort is the Blue Flag-rated Elounda Beach. Here you can spend the day relaxing under a straw umbrella or floating in the blue water.
If you're feeling a bit more energetic, sign up for some of the watersport activities. For the kids, there's a playground and organised activities are available in the summer.
Although a lot of the smaller beaches in this area are pebbly, Elounda Beach is beautiful and sandy so an excellent choice if you're staying nearby.
Find Elounda Beach on Google Maps here.
Beaches On The Road To Plaka
Drive or walk from Elounda towards Plaka and you'll pass several small, pebbly beaches. These quiet coves offer a fabulous alternative to the more crowded central beaches. You'll often have the cove to yourself.
The water is just as clear and warm and the views across to Spinalonga are amazing. If you're driving, there are small parking spaces at intervals along the beach road.
Take your water shoes though, there's no sand here and the pebbles are small and uncomfortable underfoot. It's worth it though for the luxury of sunbathing and swimming in your own stretch of the bay.
Kolokitha Beach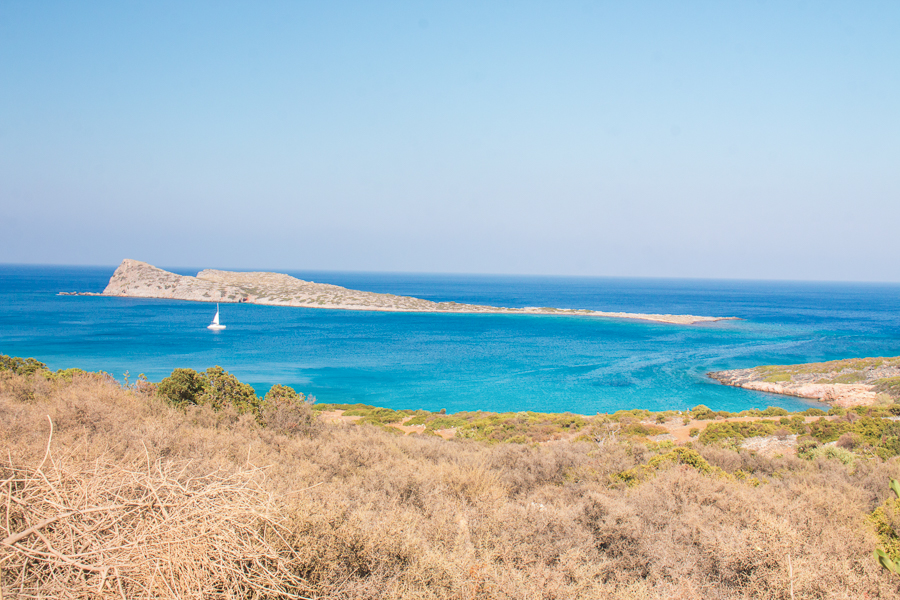 We found this amazing little beach while walking on the Elounda peninsula. After viewing the windmills, we kept on walking. Walk up the small road/track to start with.
Somewhere near the church, this track ends but you can see the other coastline from here so keep walking along the trails towards it.
As well as Kolokitha beach there are a number of smaller inlets nearby as well. Although the locals know where to find it, you won't find many tourists this way. It's an easy walk, uphill in parts but not strenuous if you're reasonably fit.
Being able to stretch out on the sand and bathe in the crystal clear water at the end of the walk is reward enough though. It's a mix of pebbles and sand here but enough sand to make it comfortable underfoot. 
Find Kolokitha Beach on Google Maps here.
How To Get To Elounda
By Air
You have several options for getting to Elounda. If you want to fly into Crete then the most convenient airport is Heraklion which is located on the north coast of the island.
There is another airport on the island, near Chania in the west but Heraklion is Crete's main airport and definitely the easiest to get to Elounda from.
You'll find a wide choice of airlines flying into Heraklion airport. British Airways and Easyjet have daily non-stop scheduled flights from the UK and TUI offers charter flights.
In addition, several airlines including, Lufthansa, Air France and Swiss Airlines provide scheduled flights from mainland Europe.
By Boat
Of course, Crete is an island and you could choose to arrive by boat instead. Ferries depart daily from Piraeus port near Athens. In summer there may be up to 4 journeys per day. Choose to travel during the day or overnight from Piraeus to Heraklion Port.
The journey takes between 5 and 8 hours and nothing quite beats waking up in the morning as you sail into a new port.
If you're travelling overnight you'll probably want a cabin to relax in, but reclining seats are also available. During the day you can enjoy some fresh sea air on the deck or relax in one of the bars or lounges. Search for ferry routes, times and prices for Elounda here.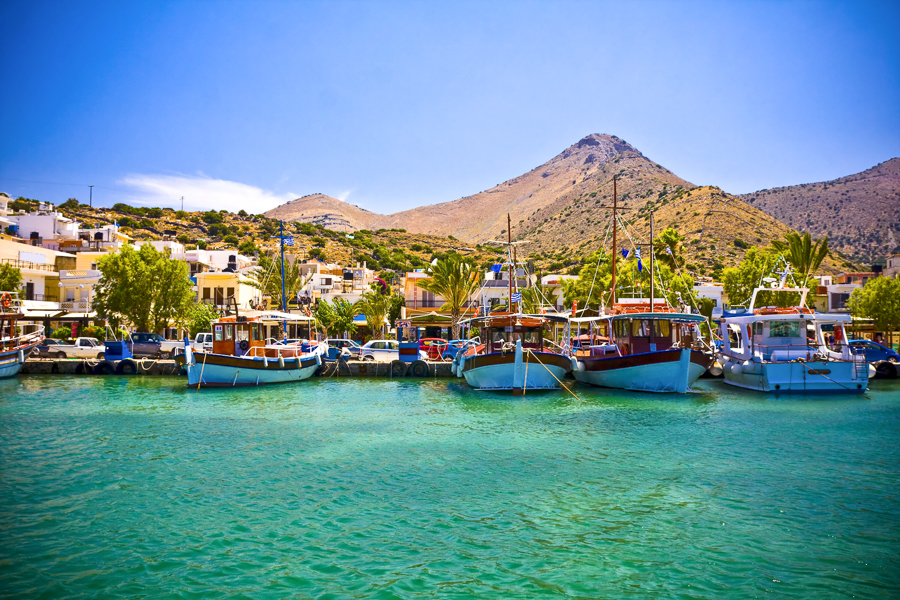 Getting To Elounda From The Airport / Port 
Once you arrive in Heraklion you'll need to make your way east to Elounda. The easiest way is to hire a car and drive yourself. A good tip is to pre-arrange car hire with one of the local firms in Elounda.
They will arrange to meet you at the airport with your hire car. Generally, online reviews are much better for these companies. If you prefer, the usual European car hire companies are also located at Heraklion airport.
It's about an hour's drive to Elounda so if you prefer not to drive yourself you can take a taxi. You can take a fixed-price airport taxi for 75 Euros from the stand outside arrivals.
Another alternative is the shuttle bus. You can book this via the Easyjet website even if you're not flying with them. At 25 Euros per person, it's a cheaper alternative if there are only 1 or 2 of you in your group.
It is also possible to reach Elounda by public bus but it's not easy. Unfortunately, there is no direct bus so you must first take the bus to Agios Nikolaus. This takes around 75 minutes.
From Agios Nikolaus, it's a further 30-minute bus ride to Elounda. You need to bear in mind that the bus service from Agios Nikolaus is not that regular so check the timetable before you set off.
You'll be travelling for over 3 hours so it's not an option I'd recommend. However, if the budget is tight it is a very cheap alternative at 9 Euros.
How To Get Around Elounda
I'd recommend hiring a car if you're staying in Elounda. It makes it so much easier to get around. However, if you're just planning a week of relaxation in the resort and on the beach then you'll be able to walk everywhere.
You really don't need to leave Elounda village, but it would be a shame not to get out and about and see a bit more of Eastern Crete.
Of course, there's always the option to hire a car for the day. You'll find at least a couple of car hire agencies in the centre of Elounda who can help you out.
Now You Know What to Do in Elounda
Elounda village is the perfect place to get away from the crowds and enjoy a relaxing holiday. However, if you're looking for something more active, you'll find plenty of opportunities as well.
Spend time exploring this traditional Greek village, sample the local foods and chill with a beer or a glass of the local Raki. You'll rediscover a slower pace of life here and you're sure to be sorry when it comes time to leave.
For more on travelling Crete, see our complete travel guide to Crete, and the top things to do in Crete that you won't want to miss!
Images in this post are courtesy of Shutterstock.com.
Like This Article? Pin it!