At Tokyo Narita, Japan Airlines operates one daily flight from Tokyo Narita to Hanoi, Vietnam, utilizing a Boeing 787-9 aircraft. This is a nice "upgrade" as Japan Airlines also flies older Boeing 767s and 777s, which are configured with recliner seats, on these secondary markets. For a sub-7-hour evening flight, lie-flat seats are not necessarily needed by any means but they are definitely appreciated.
Japan Airlines Boeing 787-9 Business Class Review
Flight: JL751
Aircraft: Boeing 787-9
Tokyo (NRT) to Hanoi (HAN)
Depart: 6:30 PM on Tuesday (6:31 PM actual)
Arrive: 10:55 PM same day (11:10 PM actual)
Duration: 6hrs 39mns
Seat: 8K Business Class
I left the Sakura Lounge and arrived at the departure gate right at our scheduled boarding time. Boarding was delayed by a few minutes but the actual process was very efficient and orderly. I'm always impressed by the level of service and communication provided by the Japanese carriers and I have always wondered why we can't implement this same process here in the states. They had agents with signs directing passengers and lining people up in an orderly fashion. Boarding began at 6:10 PM for our 6:30 PM flight and even with a packed flight, we were only one minute delayed! That's so impressive.
My aircraft for this flight was a three-year-old, Boeing 787-9, registration JA865J. It was configured with 38 Apex "Sky Suites," business class seats configured in a 2-2-2, staggered forward-facing layout. These seats are great for couples traveling together or for solo passengers (if you can snag one of the true window seats).
According to SeatGuru, these seats provide 25.5 inches of width, 74 inches of pitch, and a fully-flat bed in sleep mode. I didn't measure it but I don't think those numbers are correct. The seat didn't feel tight by any means but it didn't feel like it was 25.5" wide either, so take those numbers with a grain of salt. Because of the staggered layout, every seat offers direct-aisle access and a high privacy wall to separate the two passengers. There is a small cutout for the true window-seat passenger to exit their seat without having to bother the adjacent, aisle-seat passenger but the two seats are close enough for the two passengers to converse and dine together.
Each seat is equipped with a large 23-inch personal entertainment system, two reading lamps, one universal electrical outlet and a USB port.
The entertainment options on this flight were very mediocre with only a handful of new Hollywood movies and TV shows. WiFi was provided but I did not pay for it so I couldn't tell you how reliable or fast it was.
On this flight, I was seated in seat 8K, a window seat located in the aft business class cabin. There are two business class cabins on the Boeing 787-9s. The forward business class cabin has four rows of seats and the aft cabin has three rows of seats. I would choose a seat in the forward business class cabin if possible but I don't think there was a noise or comfort difference between the two cabins.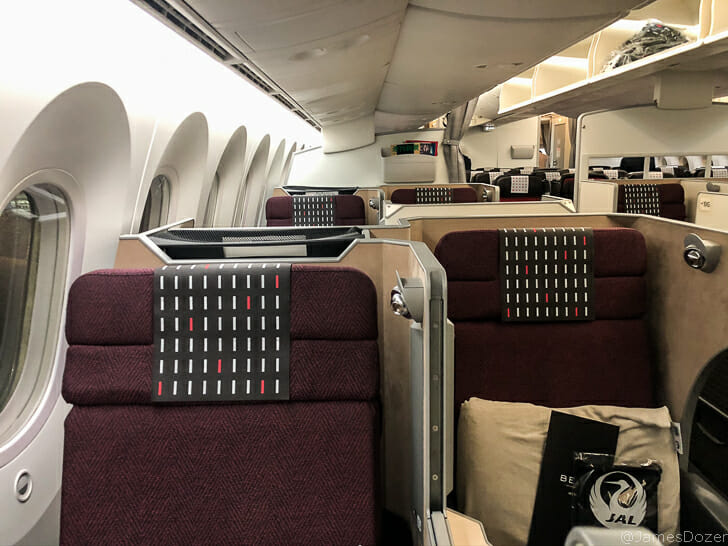 Here's the cutout from the window seat to allow you to get in and out.
And this is what it looks like with the divider raised between the two seats. If you're looking for privacy, it really doesn't get much better than this.
Waiting at our seats were a water bottle, printed menu, pillow, blanket, amenity kit, slippers and a pair of Sony noise-canceling headphones.
The Japan Airlines branded amenity kit was rather basic but it had almost everything you would need for a short international trip. The cloth pull-string case had a moisture mask, earplugs, eyeshades and a dental hygiene kit. It wasn't a bad kit but socks, lip balm or facial moisturizer would have made the kit much more useful. The slippers were very comfortable and came with a shoehorn.
Storage-wise, these seats are not great. For window seat passengers, there are no pockets or bins to secure your personal items during flight and I ended up keeping all my items in my backpack, kept underneath the ottoman. There is a storage bin located behind your headrest but if you have to get up from your seat to use it, I don't really consider it accessible (without contorting your body).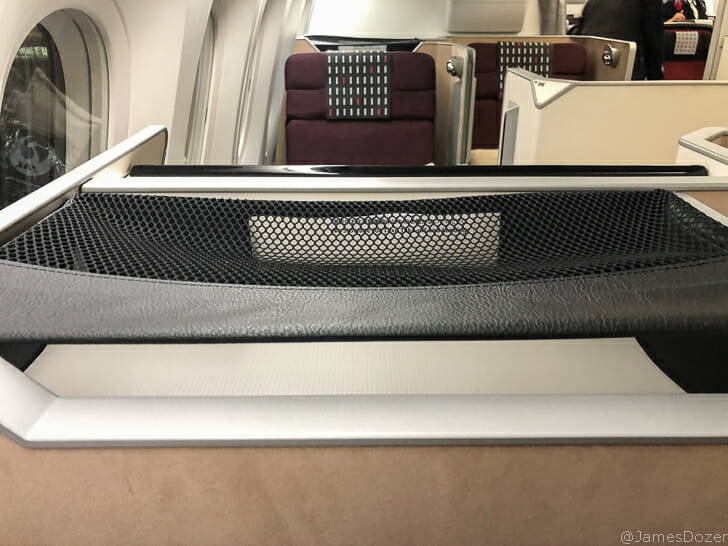 As I settled into my seat, the flight attendants came by with warm towels and cardigans.
The cardigan was nice but it was not necessary considering how warm the cabin was.
Once all the passengers were boarded, we pushed back from the gate and taxied to the runway for our 6-hour and 39-minute flight to Hanoi. It was wet and rainy with not much of a view.
Once we reached our cruising altitude, the seatbelt signs were turned off and the crew prepared for our meal service. Here's a look at the menu.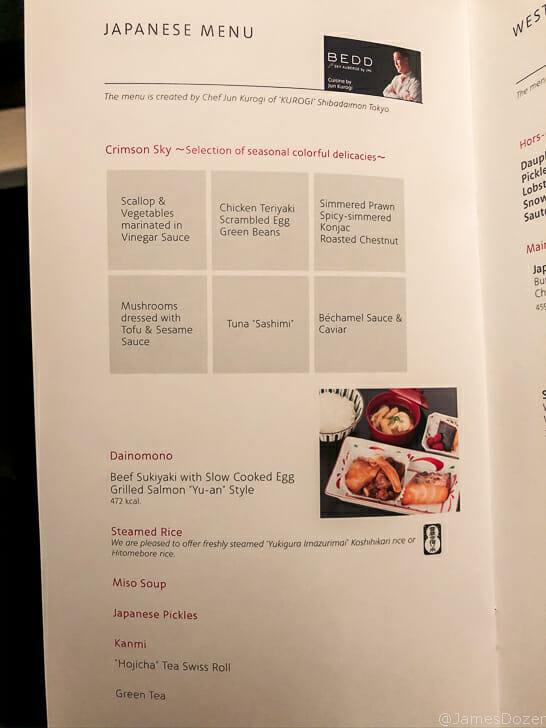 Dinner started with a beverage service, which was accompanied by a package of Japanese rice crackers.
Up next was a selection from the bread basket and an assorted appetizer plate.
For my main meal, I went with the Japanese beef sirloin steak. It was small and a little overcooked but the sauce was quite tasty.
Dinner concluded with a small piece of green tea cake.
Overall, I thought the dinner service was good. The service was efficient and appropriately paced. The dishes did not sit on my table for too long but I also didn't feel rushed either. It wasn't the biggest meal and I'm definitely glad I ate in the lounge beforehand. Once my plates were cleared, I checked out the lavatory and changed out of my street clothes. The lavatories were stocked with additional body products and dental amenities.
The overhead lights were dimmed once all the passengers were done eating. I then reclined my seat, settled in for a movie and tried to nap for a bit. The seat itself was comfortable to sleep on. It looks a little tight in the pictures but it actually wasn't bad. I can honestly say that I napped comfortably (once I stole another pillow). The blanket was perfect but the thin pillow was very flimsy. It was great for back support but not great for head and neck support. When fully extended, the bed measured 74 inches long.
I was able to snooze for a bit and woke up just prior to our initial approach into Hanoi. For a sub-seven-hour flight, I was hoping for a second meal prior to landing but nothing additional was offered. There were some packaged snacks in the galleys but nothing substantial.
Japan Airlines Boeing 787-9 Business Class Bottom Line
Overall, I was happy with this Japan Airlines Business Class flight. The pros included a great hard product with direct-aisle access for all passengers and a friendly and personable crew. The cons were very minor, in my opinion, a better amenity kit, thicker pillow, and more efficient storage solutions would have made this Japan Airlines Business Class flight much more memorable.
Have you flown in Japan Airlines' business class? If so, please share your thoughts with us in the comments section below. Thanks for reading!