Despite being a relatively small island, there are so many amazing places to visit in Cyprus. It has so much to offer; incredible white sand beaches, a rich and complex history, some phenomenal food, and cosmopolitan cities.
I spent around 4 months exploring the most beautiful places in Cyprus and completely fell in love with this relaxed and mesmerizing Mediterranean island.
I was based in Limassol and traveled from here to visit all of the main parts of the Island; including the most popular destinations in Cyprus that bring tourists to the island such as Paphos, Ayia Napa, and Nicosia.
I'm lucky enough to have friends that live in Cyprus, so I've experienced some incredible places which are popular with locals, as well as tourists. There are endless things to do in Cyprus, you'll never be bored on a trip here!
25 Best Places to Visit in Cyprus
If you're planning a trip and are wondering where to go in Cyprus, this guide will help you plan the perfect itinerary to ensure you see the best of all that Cyprus has to offer. Don't miss the full guide to traveling Cyprus!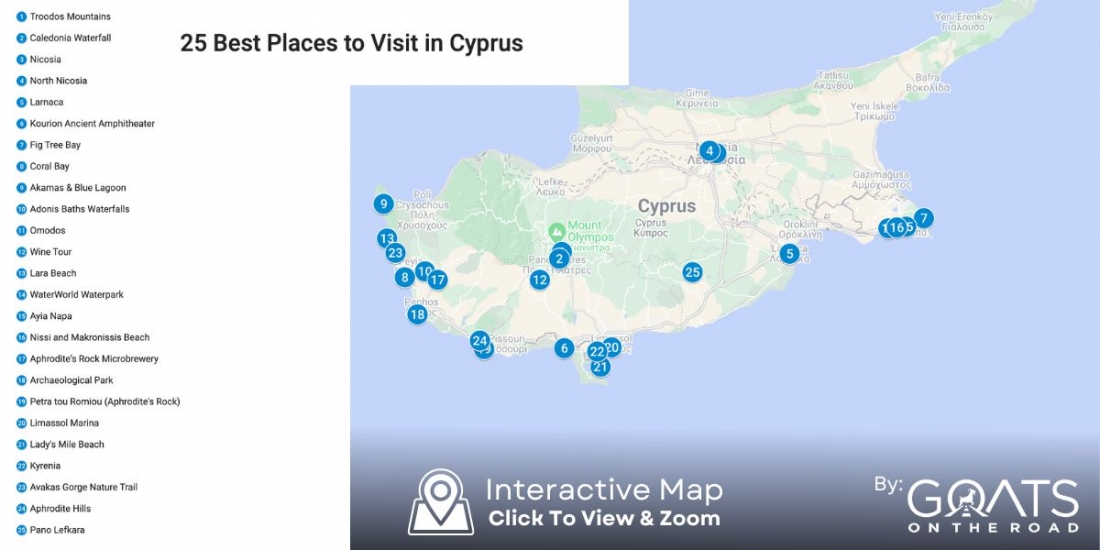 1. Troodos Mountains
Cyprus is famous for its sun and beaches, but the Troodos Mountains are one of the coolest places to visit in Cyprus.
The Troodos Mountains are spread across the center of the island with Mount Olympus being its highest peak at nearly 2,000 meters.
The mountains are a Cyprus must-see all year round. In the winter, head up to the Sun Valley ski area to see snow in this island paradise. You can hire skis or sit in my favorite cafe whilst taking in the sights at Sun Valley Olympos.
If you're planning a trip to the mountains, check out Omodos and the wineries which are also located in the Troodos Mountains, (more on them below).
2. Caledonia Waterfall
In the summer, take advantage of the cooler mountain temperatures and tackle the Caledonia Waterfall trail, which is one of the most enjoyable hikes in Cyprus.
Caledonia Waterfalls is one of the highest falls in Cyprus, at 12m in height. It's located in Platres village which is around an hour's drive from Limassol.
There's a lovely walking trail set in a beautiful forest with incredible views. The trail is around 3km long and is fairly easy to complete as it's not too steep. It's split into two parts; the trail that leads to the waterfall and the trail from the waterfall to Platres.
The trees along the trail provide lots of shade so you won't be walking in direct sunlight and the temperature is so much cooler, providing a welcome break from the Cypriot sun. It's one of the best places to visit in Cyprus for something a little different from beaches and palm trees. Find Caledonia Waterfall on the map.
3. Nicosia (Lefkosia)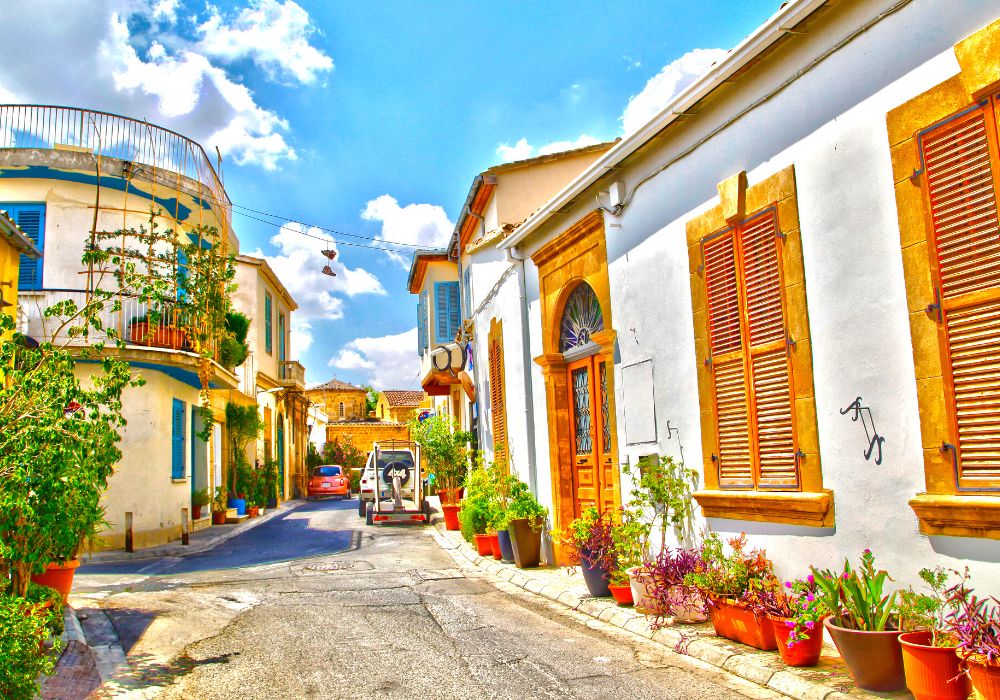 The Cypriot capital is one of the best places to go in Cyprus. It combines a bustling street scene with some incredible history, much of it being played out in real time.
Nicosia is a divided city after the Turkish invasion in 1974. The southern part of the city belongs to the Republic of Cyprus and the northern part to Turkish-held Northern Cyprus.
Nicosia is packed with museums and churches, as well as trendy bars and restaurants. The old town can be a maze to navigate and so I highly recommend this walking tour to fully appreciate the history of this Cyprus must-see.
Otherwise, walk the Green Line, (the dividing line of the city), and head into the buffer zone. It's one of the most interesting places to visit in Cyprus. Head into the Home Café and try their aptly named freedom beer. Read the full post: 15 Best Things To Do in Nicosia.
4. Northern Nicosia (Lefkosa)
If you're heading to Nicosia then I recommend taking your passport so you can cross the green line at Ledra Street. From here you can explore the Turkish-held part of Nicosia known as Lefkosa.
The contrast in cultures is evident as soon as you cross the border and you can spend hours exploring the cobbled streets of this fascinating part of Cyprus.
Once you're across the border, go and check out Büyük Han, a traditional inn that previously housed travelers visiting the city. Today it's been well-restored and has lots of small shops and restaurants to browse.
If you need a rest after all that exploring, head to Hoi Polloi for a Turkish coffee or a cold beer.
5. Larnaca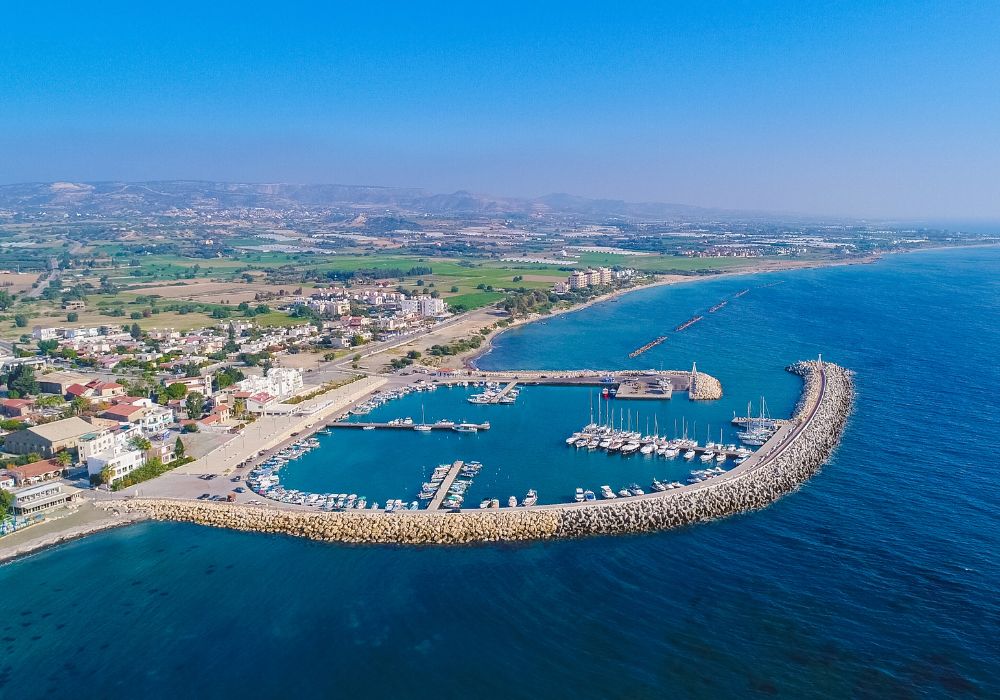 Larnaca is a city on the southeast coast of Cyprus and is the city to the east of Limassol.
It's far more local than Limassol, and much less built up. As a result, it's a much more affordable city to visit in Cyprus. Price aside, there's still plenty to do in this coastal city.
It has a very pretty palm tree-lined promenade along the seafront, Foinikoudes, which is lined with cafes and bars. It has some amazing beaches, including Mackensie beach which is a long and golden sandy stretch.
If you love diving, Larnaca is a popular choice. The Zenobia, (a ship that sank in 1980), is considered one of the best wreck diving sites in the world where you can still see over 100 articulated lorries on board.
Finally, Larnaca is an ideal location for exploring the Cypriot villages of Lefkara and Omodos. It's a short drive from Limassol and is close to some of the best beaches on the east of the island, including Nissi Beach and Fig Tree Bay. See the full article: 15 Best Things To Do in Larnaca.
6. Kourion Amphitheater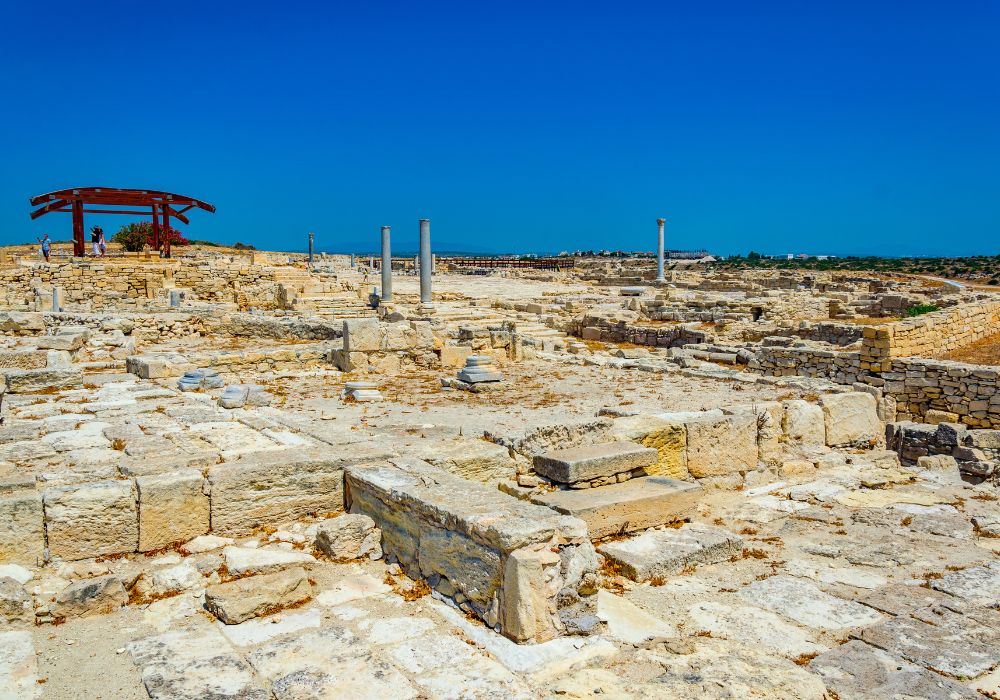 Kourion is one of the ancient kingdoms of Cyprus and is one of the most culturally rich places to visit in Cyprus – there's evidence of human habitation as early as 5500 BC!
It's built along Episkopi Bay, not far from Limassol. Although the city was mostly destroyed by a catastrophic earthquake in the 4th Century, the Amphitheatre remains and attracts many visitors. Its position overlooking the beautiful Mediterranean Sea makes for fantastic photographs.
I'd recommend getting here early in the summer season to avoid the crowds and the heat as it gets very hot by midday and there's little shade. Click here to find Kourion on the map, and click here for a highly-rated tour of the site.
7. Fig Tree Bay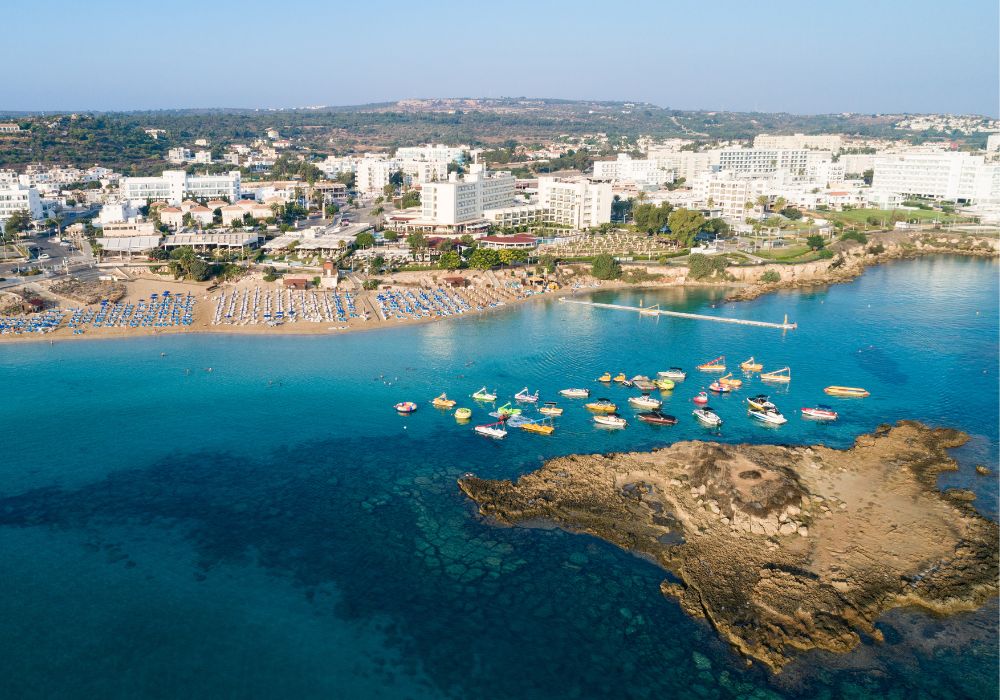 Fig Tree Bay is one of the most popular destinations in Cyprus for tourists and locals alike and it's easy to see why. This stretch of white sand and crystal-clear water is located on the east coast of the island in Protaras.
In the summer it's packed with tourists and holidaymakers but you'll always find a spot on the sand somewhere. There are hotels, restaurants, and bars as well as water sports and all the amenities you might need for a perfect beach day.
If you want to escape the crowds a little, take one of the cool boat trips that depart from Fig Tree Bay Pier. From here you can explore the Blue Lagoon, as well as the spectacular coastline along the side of the island. The trips are very reasonably priced and are a great way to explore the area.
8. Coral Bay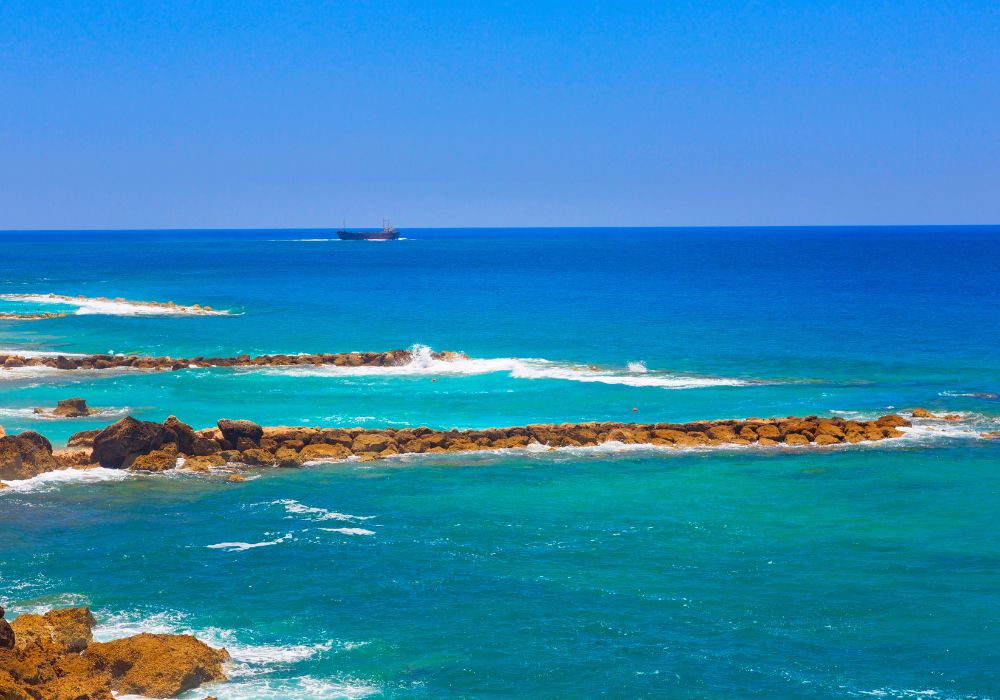 Coral Bay is one of my favorite beaches in Paphos. While most of the beaches in Paphos are rocky or pebbly, Coral Bay is sandy. Because of this, it's very popular and gets particularly busy in the summer. I recommend you arrive early to reserve an all-important sun lounger.
It's a large horse-shoe-shaped cove set between limestone cliffs. The beach itself is clean and has been awarded Blue Flag status for its sparkly turquoise waters. It's also a shallow and calm beach which makes it very attractive for families.
9. Akamas National Park and Blue Lagoon (My Favorite Place to Visit in Cyprus)
In my opinion, Akamas National Park is one of the best places to visit in Cyprus. It's my favorite place to explore each time I return. You can read my blog post on my quad biking adventure in Akamas National Park here.
The National Park is located near Paphos and covers some 230 square kilometers. Here you'll find the stunning Lara Beach, (see below), as well as Cyprus' second Blue Lagoon.
If you're a keen hiker, you can also seek out the incredible views over the peninsula from the viewpoint. This is one of the best places for hiking in Cyprus.
You can get to Akamas from Paphos by bus or car but the best way to explore is either on quad bikes or by boat from nearby Latchi. This tour includes a trip to Aphrodite's Baths as well as a boat cruise out to the Blue Lagoon.
10. Adonis Baths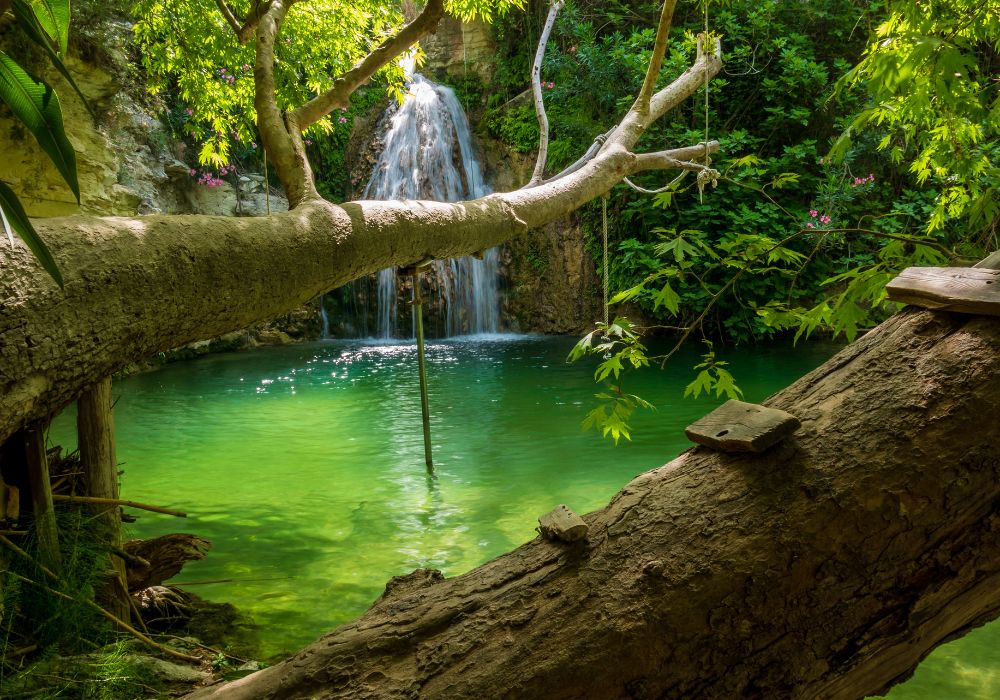 Around 12km from Paphos lies Adonis Baths, a waterfall, and a pool with ropes to jump into the lake. Swimming in the baths is supposed to preserve a woman's beauty and strengthen a man.
Greek mythology says that this is the location where the Greek Gods Adonis and Aphrodite had their children and spent most of their lives. They are commemorated in statue form at the baths.
The road which leads to the falls is more of a dirt track and isn't really suitable for a hire car. I recommend taking a jeep or quad tour to reach the falls. Not only are they ideal for the roads, but quad biking is a really fun way to explore the Paphos area.
This tour not only visits the Adonis Waterfalls but it covers other sites that are difficult to reach by car like Lara beach, (also featured on this list).
11. Omodos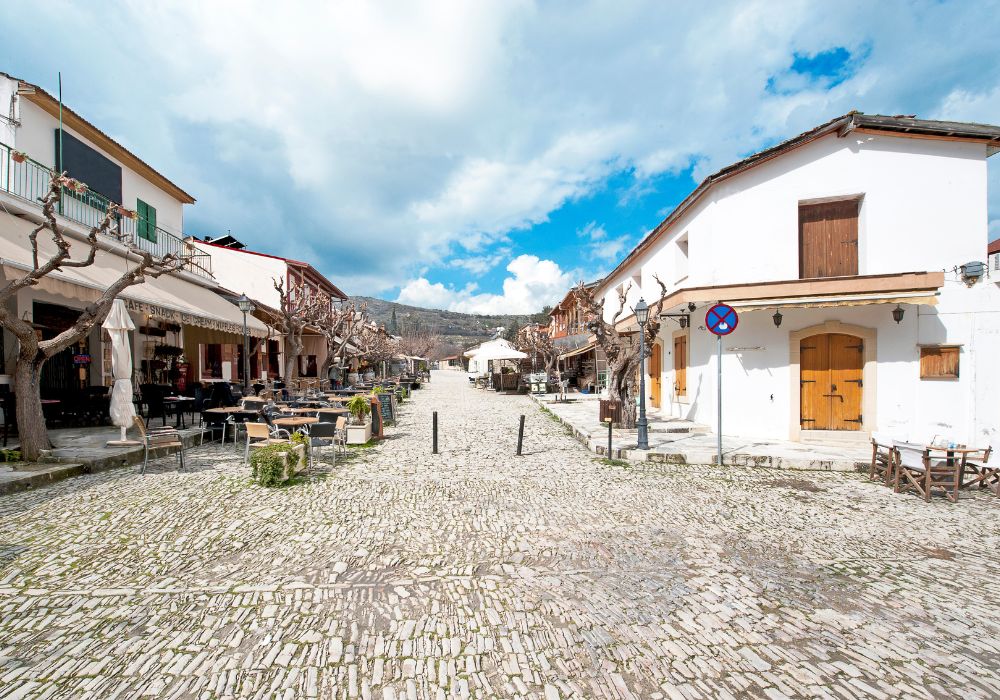 Nestled in the Troodos Mountains, Omodos is the epitome of a traditional Cypriot village. Imagine cobbled streets, sandstone buildings, a busy central square, and stunning views over the mountains and you're in Omodos; one of the most beautiful places in Cyprus.
Omodos is located in the heart of the wine-growing region of Cyprus and is known for its traditional glassware which is still made to this day.
I recommend a trip to the impressive Timios Stavros Monastery. In English, it's the Monastery of the Holy Cross, so named because it's said to house part of the True Cross and is considered one of the oldest and most historic monasteries on the island.
Afterward, wander the cobbled streets and the small boutique shops that line alongside. Finish up at the main square, grab a seat, a coffee, and a local pastry or pie and watch the world go by.
It's a beautiful day trip and at night it's one of the best places to visit for couples. The lighting and the traditional setting are very romantic.
12. Cypriot Wineries and Vineyards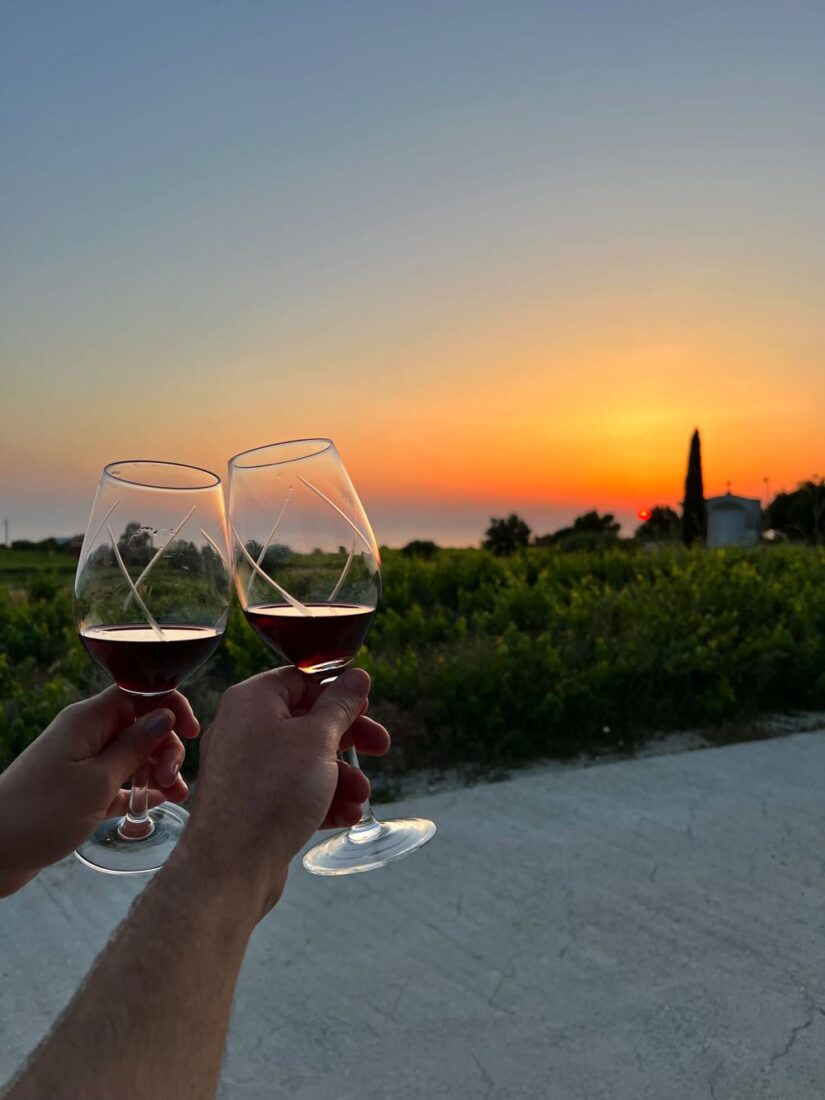 Cyprus is home to the world's oldest named wine still in production – Commandaria – and so it's no surprise that wine growing is hugely popular in Cyprus.
The climate in the Troodos Mountains makes this part of the island an excellent wine-growing area. This is reflected in the 41 or so modern wineries that operate throughout the mountain ranges. Many of them are located in mountainous villages like Omodos and offer fantastic wine-tasting experiences.
If you want to learn more about wine tasting in the region, and more importantly sample the wine, then I recommend taking this tour. It combines a trip to beautiful Omodos with wine tasting at an award-winning winery.
If you prefer to explore on your own then I recommend heading to any of the wine villages, including Omodos, where you'll be able to book a wine tasting or try local wine in the restaurants. I highly recommend Stou Kir Yianni Wine Cellar and Restaurant.
13. Lara Beach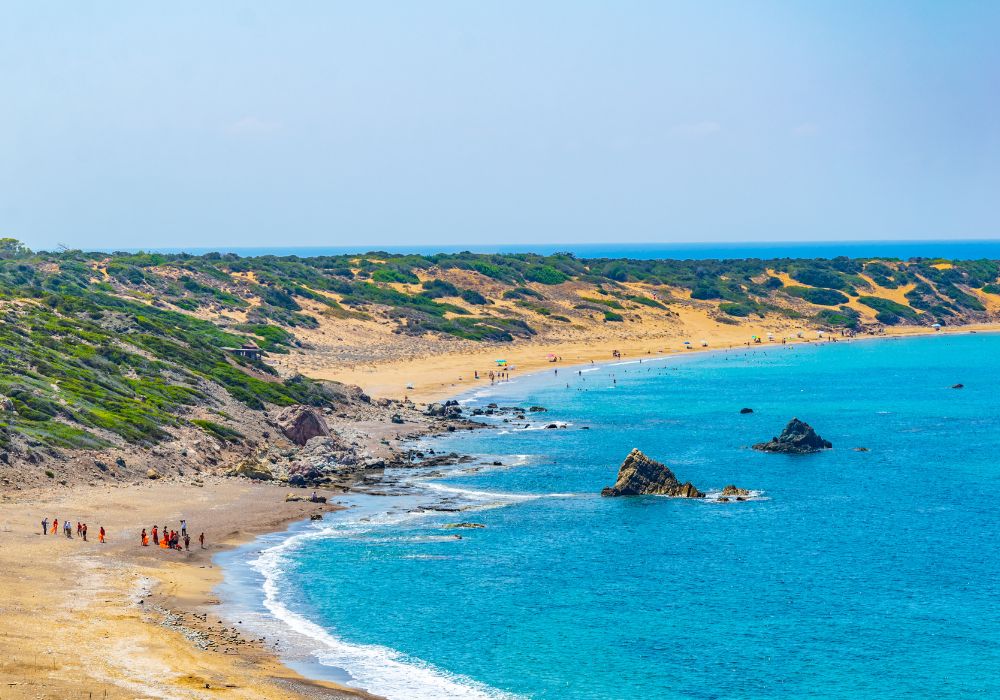 Lara Beach is located within Akamas National Park and is an unspoiled slice of paradise on the Cyprus coast.
It's most famous for its turtle hatchery which is one of the last remaining sanctuaries for green and loggerhead turtles. The eggs are laid around June or July and volunteers relocate the eggs to the hatcheries to protect them from predators.
Due to its importance to the turtles, Lara Beach is a protected area in Cyprus. Therefore, no vehicles are allowed on the beach during egg-laying season, and you won't find sun loungers here either.
This really is one of the last wild beaches on the island and is one of the coolest places to see in Cyprus.
You can explore Lara Beach by parking at nearby Agios Georgios, by taking a quad bike through Akamas National Park, or via one of the guided tours to this wild oasis.
14. Waterparks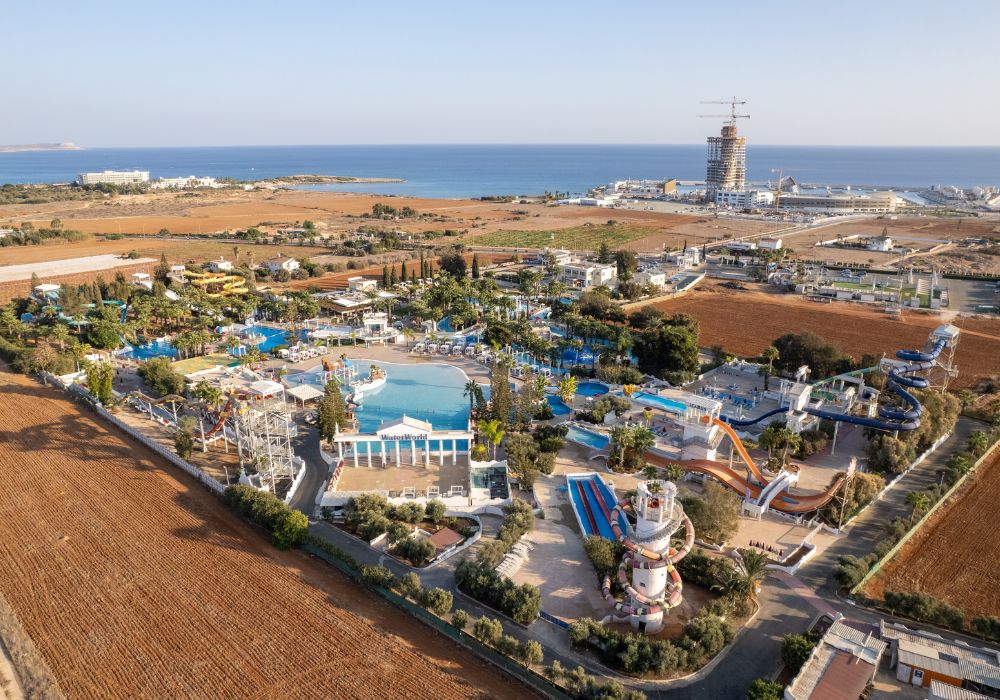 Cyprus has its share of waterparks which are some of the best places to visit in Cyprus for families. There are waterparks in Limassol, Paphos, and Ayia Napa.
WaterWorld Ayia Napa is a fun day out with its Ancient Greece-themed waterpark and rides. It has plenty of adrenaline rides for adults and fun options for kids of all ages. It also has a great selection of pools, lounging areas, and bars and restaurants for an entire day out.
Fasouri Watermania, located in Limassol, is my personal favorite. It's the largest water park in Cyprus by area and has over 30 rides to try. It's not as busy as the other two parks, (most likely because Limassol does not attract as many tourists).
Paphos Aphrodite Waterpark is probably the most popular waterpark on the island due to its location. I particularly enjoy the cannon drop slides!
Wherever you're based in Cyprus for your trip, you'll find a waterpark close by and all are worth a visit. Check the links above for reduced tickets.
15. Ayia Napa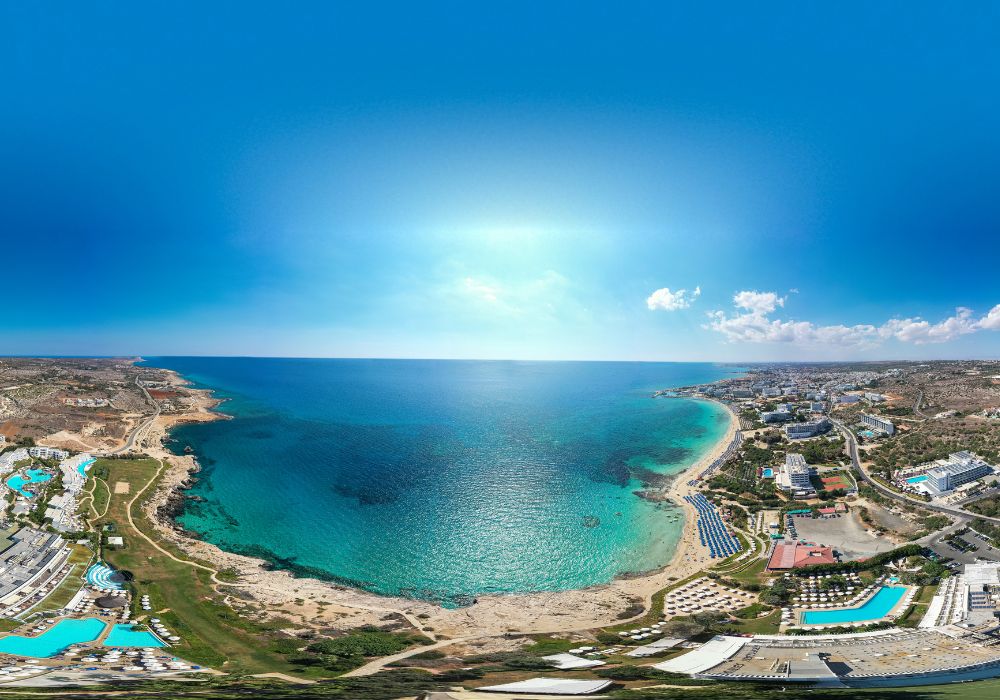 If you're looking to party in Cyprus then look no further than Ayia Napa. It has a legendary nightlife scene and is popular with both tourists and locals. The 100 or so bars offer something for everyone; from upmarket beach clubs, to paint parties and karaoke.
The party season in Ayia Napa runs from April to October but is busiest in July and August, and the various bars have different themed nights during the week. Definitely check out Senor Frogs, a legend of the Ayia Napa party scene, and Bedrock Bar.
You can also join one of the many Ayia Napa bar crawls that are organized daily if you want to sample some of the best that this party destination has to offer.
16. Nissi and Makronissis Beach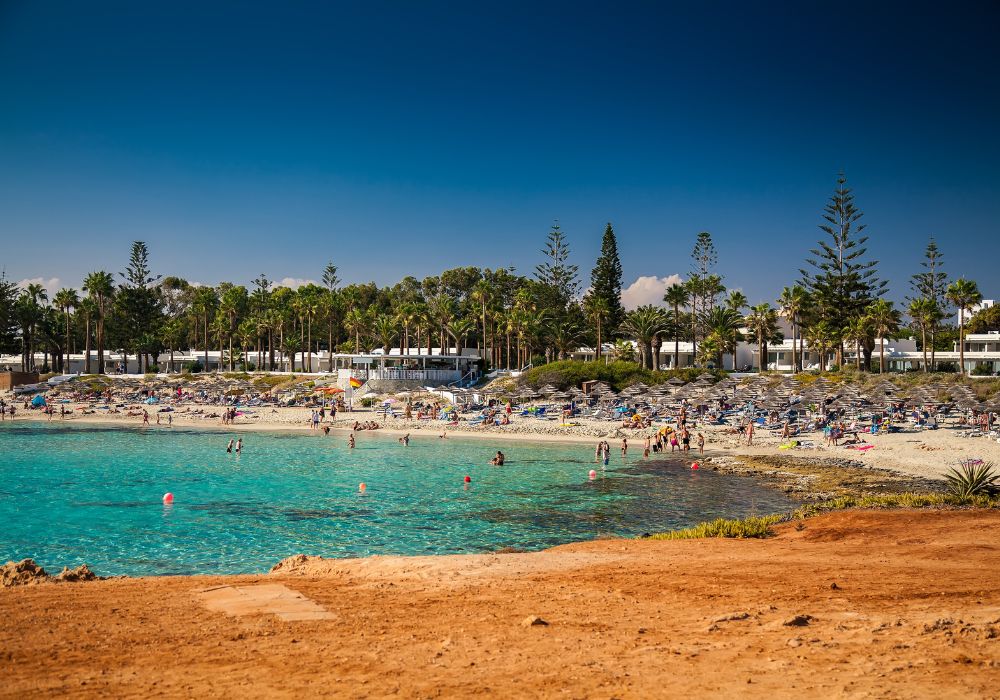 There's so much more to Ayia Napa than late nights and foggy mornings. It's also home to some of the best beaches in Cyprus.
Nissi Beach is a picture-perfect beach that features white sand and azure waters. The sea is very shallow here and so you can wade out for some distance which is great for children. The beach has plenty of loungers, beach bars, and watersports so there's always something to do.
Nissi beach's neighbor, Makronissos Beach, is also another jewel in the Cypriot crown. Makronissos Beach is 5 kilometers from Ayia Napa and is made up of 3 small bays. Again, you can expect fine sand and crystal-clear waters here, as well as all the beach amenities you could need.
17. Aphrodite Brewery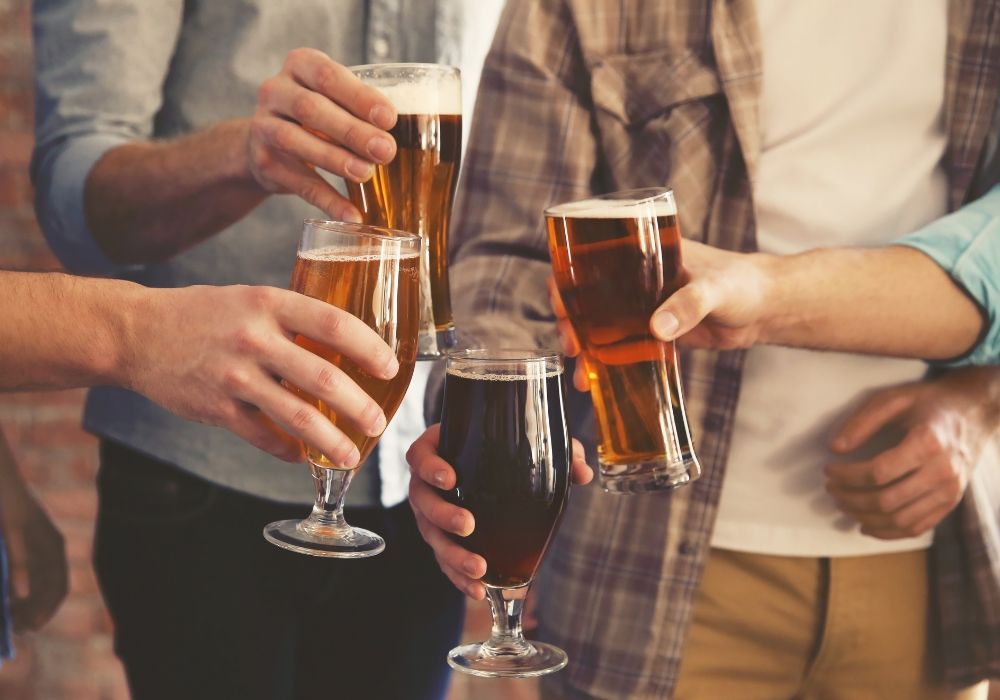 Aphrodite's Rock microbrewery is a Cyprus must-see if you love trying out new craft beers. Located just 20 minutes away from Paphos centre sits this amazing microbrewery in the hills overlooking Paphos. All the beers are brewed on-site and they also serve amazing food.
The best bit is that it's so picturesque. Sit in their shaded beer garden and while away an afternoon trying their different Meditteranean craft beers or cider. The sourdough pizzas are delicious and are the perfect accompaniment to any beverage.
I recommend booking a package through their website because this will include your transfer to and from Paphos; meaning you can really enjoy the experience without having to worry about traveling back to your hotel.
18. Paphos Archaeological Park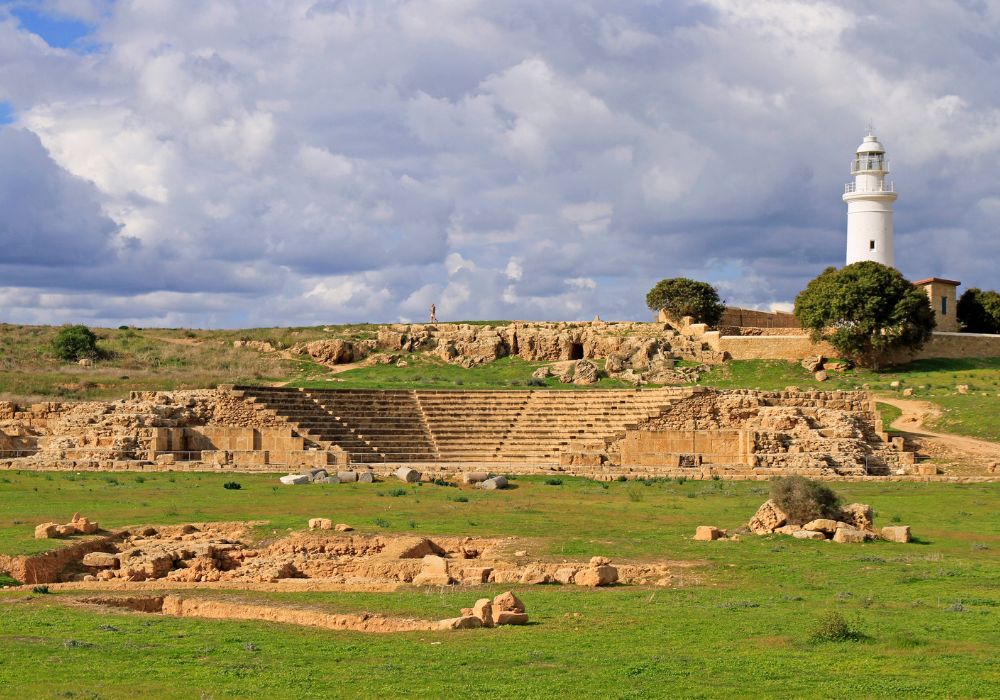 Cyprus is home to some amazing ancient sites which are really well preserved and interesting to walk around.
The archaeological park of Kato Paphos has been a UNESCO heritage site since 1980. It has various fascinating sites and monuments dating back to the 4th century BC.
My favorite element of the park is the Tomb of Kings. These underground tombs are carved out of solid rock. Despite its name, it's believed that they were created as burial places for senior officials rather than kings. They are spectacular to see, and you can get up close to the site itself.
The Park is located just beyond Paphos harbor and is open all year round. Entry to the Park is €4.50, (with an additional €2.50 for the Tomb of Kings). Don't miss it, this is one of the best things to do in Paphos by far.
19. Aphrodite's Rock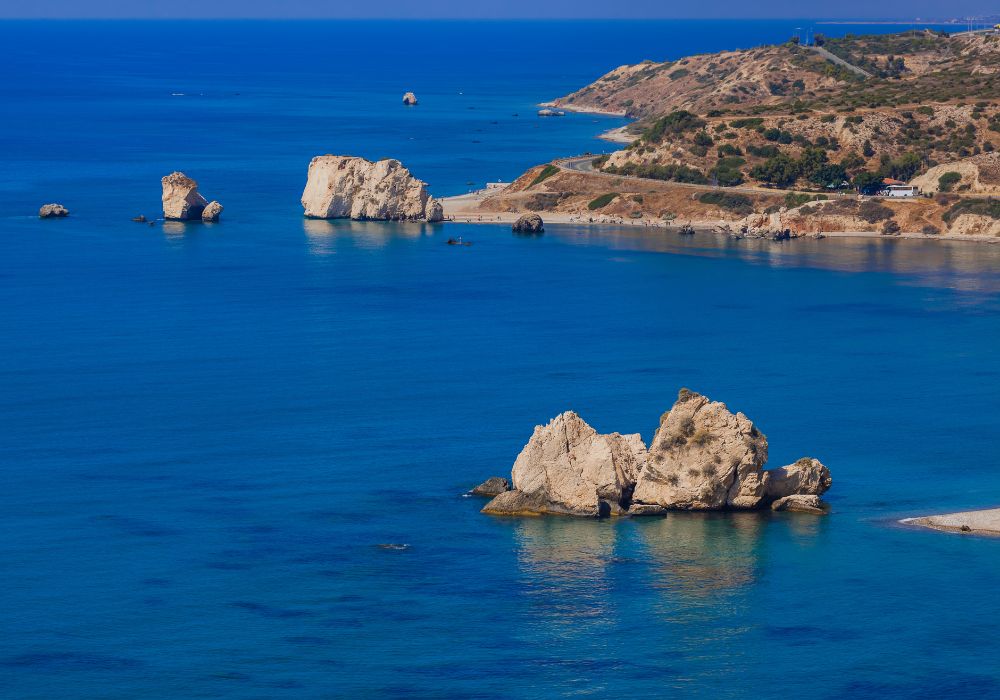 Aphrodite's Rock attracts visitors from all over the island. Legend has it that this is the birthplace of the goddess of love, Aphrodite herself. It's believed that if you swim around the rock, you'll achieve eternal beauty.
It's a strange beach because it's located beside the main road, but it's a wide beach and one where you can either perch on one of the many rocks or lay your towel on the sand/shingle. Although the rock itself is the main attraction, many people come just to swim in the water which is a bright turquoise color.
Be careful in your quest for eternal beauty as the water is quite rough here, but it's lovely and warm to swim in so long as you're cautious of the currents.
One of the best times to visit Aphrodite's Rock is sunset. It's so beautiful and while many people stand at the side of the road to watch it, you can also climb the rock formation next to Aphrodite's Rock for an amazing view over the ocean. My favorite spot is from the viewpoint.
20. Limassol Marina and Old Town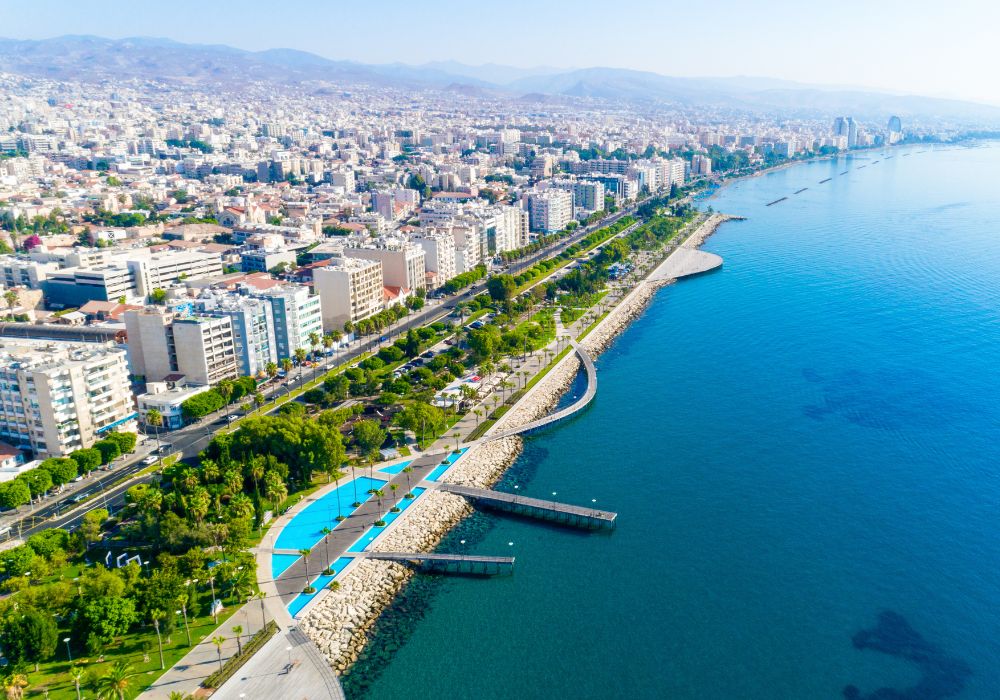 Limassol is one of my favorite places in the whole of Cyprus, particularly if you're a digital nomad living in Cyprus. It's such a cool city, full of amazing bars, cafes, and restaurants while maintaining a really chilled vibe.
Limassol Marina is probably one of the best places to visit in Cyprus for couples because it has some really cool bars and some of the best restaurants in Limassol. My top picks include Pier One for a tasty brunch with an amazing view, or Bar du Soleil for evening cocktails.
By day, you'll find some excellent cafes and beautiful beaches in Limassol. At night, you should take a walk down Molos, the promenade next to the Old Marina, which is lined with palm trees and lots of cafes and bars to stop for a drink.
While Molos is gorgeous in the day, it looks so pretty at night, and it's lovely to walk in the breeze once the sun has gone down. Read more: 15 Best Things To Do in Limassol.
21. Lady's Mile Beach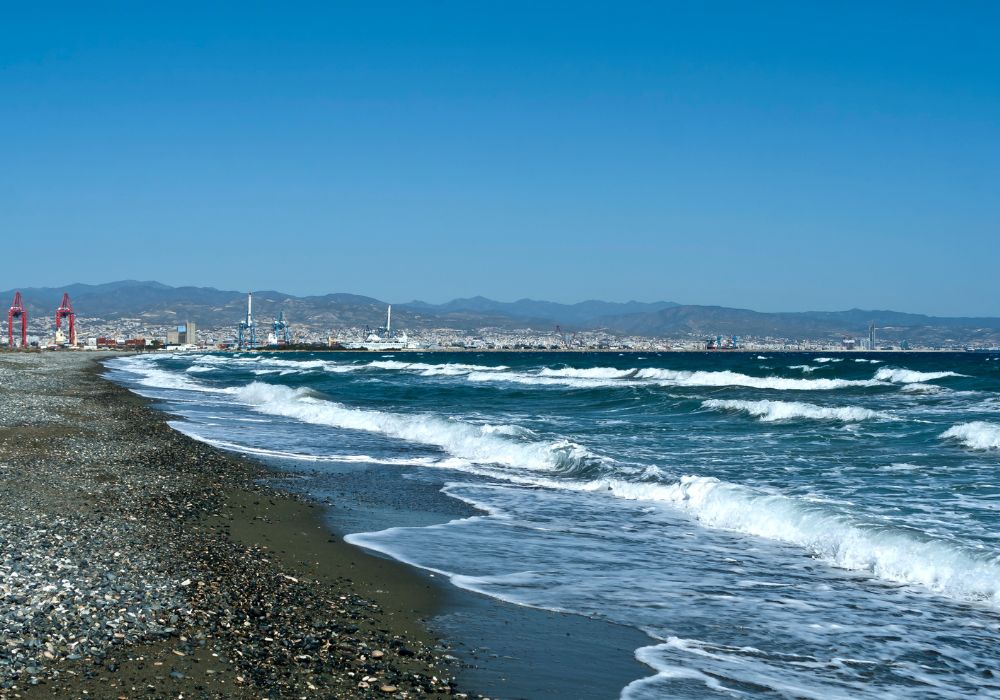 Lady's Mile is a 5km long beach in Limassol. It's named after the horse of a British Governor who used to love to ride the length of this beautiful beach.
Lady's Mile is currently undergoing renovation at the moment. The introduction of a casino at the end of the beach has injected some luxury into this area, which was once just a stretch of pebbly and sandy beach.
The beach bars have been upgraded, with new additions being added every summer, and there's an upmarket Mykonos feel to this side of Limassol now.
The coastline is both long and lovely, and there are patches of beach where you can simply lay down your towel if you fancy a peaceful afternoon on the beach. Alternatively, there are lots of lively beach bars to enjoy. Visiting Lady's Mile is one of my favorite things to do in Limassol.
The beach bars here are now a lot more expensive than they once were but it's still a nice place to come and enjoy something different, or perhaps to celebrate a special occasion. Currently, my top choice for beach bars is Aplostra.
22. Kyrenia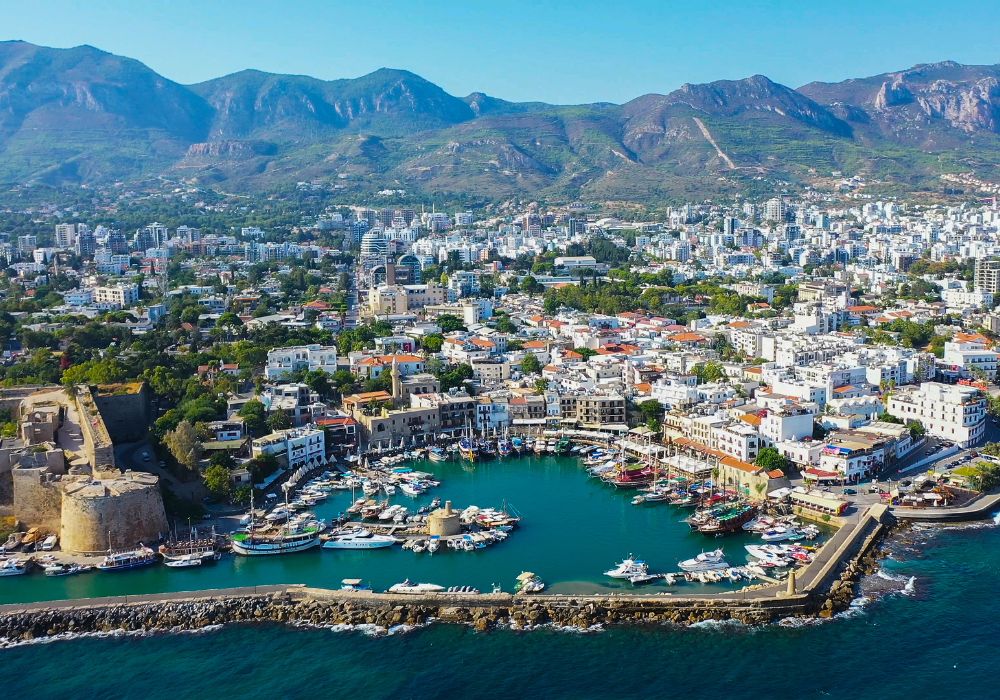 Kyrenia is located in the North of Cyprus, in the Turkish area. It's a very picturesque city, with a charming castle, a pretty harbor, and lovely beaches. You can visit here on this day trip from Limassol which takes in Kyrenia and Nicosia.
The Old Harbour is so quaint and feels like you've stepped back in time. The backdrop is dominated by Kyrenia Castle. I recommend that you climb to the top of the castle for postcard pictures of the harbor. It's my preferred part of the city to take a walk, relax, and eat.
If you want to visit a unique beach, you should try Algadi Turtle Beach which is a tranquil beach where turtles come to hatch in the summer. As such, there are no sunbeds or umbrellas here. It's a wild beach, but it's quiet and clean for optimum relaxation and swimming.
23. Avakas Gorge
Avakas Gorge is one of the best places to visit in Cyprus for nature lovers and those that love getting out and being active. This is one of the best places to go hiking in Cyprus.
It's a natural limestone rock formation that stands at 30m in height and is around 3km long, (although the end becomes very narrow). The walk runs next to an active stream and you'll walk through the valley with the limestone rocks towering above your head.
It's best to visit the gorge in the spring or autumn. The scenery is often at its best at this time of year – it's so green and lush.
Not a lot of the walk offers shade and so it could be too hot to explore during the peak of summer. Equally, the stream becomes more ferocious in the winter so the terrain can become more slippery and difficult to cross.
It's a beautiful place to visit in Cyprus to enjoy the great outdoors but I recommend being mindful of the weather when planning a visit.
24. Aphrodite Hills
The Aphrodite Hills resort is just a 5-minute drive from the famous natural monument from which it lends its name.
If you love golf, there's an amazing golf course in the Aphrodite Hills resort. It's quite expensive, at €110-170 for a round of golf, (depending on the time of year), but it's a cool place to go and have a coffee or a juice as the view over the course is quite spectacular.
There's also a Costa Coffee and a Haagan Das on site so it's a nice place to pop in for a quick coffee or a cooling ice cream before, or after, visiting Aphrodite's Rock.
25. Lefkara Village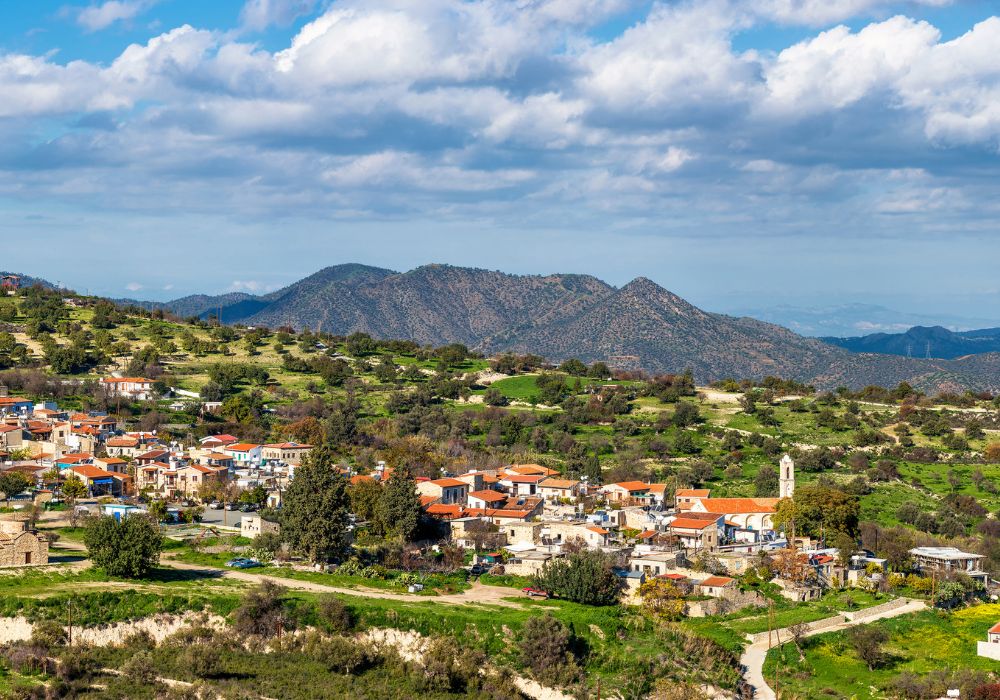 Lefkara is a village outside of Limassol in the hills. It has a long history of silversmithing and lace making. Even now, when you walk the cobbled streets you will see men in the workshops crafting and ladies making lace.
It's a very picturesque and pretty town full of souvenir shops and lovely cafes. My favorite cafe is the Da Vinci café. Legend suggests that Leonardo Da Vinci himself once visited Lefkara and was so taken with the lace that he took some back as a gift for the Milan Cathedral.
Lefkara is a must-visit to see a traditional Cypriot life, with lovely streets lined with bougainvillea flowers and pretty colorful buildings with overhanging balconies.
Quick Travel Itineraries For Cyprus
Here are a couple of itineraries that include some of the best places to visit in Cyprus to help provide a starting point when planning your trip.
2-3 Days in Cyprus Itinerary
If you want the best of island beach life then fly into Larnaca and base yourself in Protaras.
On your first day book yourself onto a boat trip from Fig Tree Bay to explore the eastern Blue Lagoon and snorkel in the beautiful water at Cavo Greco. Relax on the incredible Fig Tree Bay beaches in the afternoon. Don't miss this amazing boat trip from Protaras.
Head to the Protaras main strip in the evening for some authentic food or some lively music.
On your second day, travel along the coast to Ayia Napa. Here you have the choice of trying out the water park or if you prefer to relax, visit both Nissi Beach and Makronisos Beach.
Take an ice-cold frappe (iced coffee) at one of the beach bars here. In the evening, head to the Ayia Napa strip to party like a local.
1 Week in Cyprus Itinerary
If you have a little longer, consider flying into Paphos and basing yourself there.
In one week, you can explore quite a bit of Cyprus. On your first full day, organize a day-long tour into Akamas National Park to explore the incredible Blue Lagoon, Lara Beach, and Avakas Gorge. On this tour, you can explore the lovely village of Latchi and the Blue Lagoon by boat.
If you love wine then one day should be spent on a day trip from Paphos into the Troodos Mountains. Either book a tour to visit the incredible authentic villages of Lefkara and Omodos, or go by car yourself. From here you can sample local wines and head into the wine region for a vineyard tour.
To explore more of Cyprus, you should definitely consider heading to Nicosia for the day to walk and explore the green line. From here, you can head over the border to experience the contrast in culture and enjoy some delicious Turkish Cypriot food.
Alternatively, you could head south to Limassol and explore the beaches at Lady's Mile before returning along the coast to Paphos.
In Paphos itself, explore the cobbled streets of the Old Town and enjoy some traditional Cypriot food at Laona Restaurant. I'd recommend giving their delicious moussaka a try.
Enjoy views of the sea and take a walk along the beautiful beachfront promenade which goes all the way to the harbor. Take a break from the heat and stop for a swim at the Municipal Baths and enjoy an iced coffee at Ta Mpania.
Where to Stay in Cyprus
There's something for everyone in each area of Cyprus and all types of travelers can have a great time in any of the areas listed below. To learn more, have a look at our full article: Where to Stay in Cyprus (Best Areas and Accommdoations)
However, I want to tell you a little about each part of the island so you know where the best places to visit in Cyprus are, and to help you best plan your trip.
These are a few of the best areas for tourists.
East of Cyprus – Best for Beach Holidays and Nightlife
The island's east side is the best place to visit in Cyprus for a beach holiday. The best beaches in Cyprus are Nissi Beach and Makronissos Beach in Ayia Napa, and Fig Tree Bay in Protaras. The beaches here are stunning, with fine white sand and turquoise water.
There are lots of beachside hotels, bars, clubs, and restaurants on this side of the island. You go to Ayia Napa to party, so it's a top choice for groups of friends. For a more relaxing and slightly more private vibe, you should go to Protaras. It gets very busy in both places in the Summer months, (June – September).
I'd recommend this gorgeous villa in Protaras or this lovely apartment in Ayia Napa.
South Cyprus – Best for Coastal City Living
For a more local take on Cyprus, Larnaca and Limassol are good places to base yourself. Both are cities based on the coast so have everything on your doorstep. Sandy beaches, excellent cafes, restaurants, and bars.
Larnaca and Limassol are far less touristy so they're the best places to visit in Cyprus for a more authentic experience.
Both of these cities are a good base for exploring other parts of the island. The Troodos mountains are within an hour's drive away, as are the traditional villages of Lefkara and Omodos. Limassol is also an hour's drive from the capital, Nicosia, which is perfect for a day trip.
These cities are great for couples, friends, or families who want to enjoy the beach but explore the island too.
I'd recommend this seafront property if you'd like to stay in Limassol or the fun Rise Street Art hotel in Larnaca. Have a look at my full list of the best Airbnbs in Limassol here.
West Cyprus – Best for Families and Explorers
On the West of the Island, you'll find Paphos and the Akamas National Park which is one of my favorite places in Cyprus.
Paphos is lined with lots of hotels for all kinds of travelers. While it doesn't have a lot of beaches, it does have a beautiful promenade and harbor which provides access to the sea via stairs and platforms to jump from.
It's a popular place for the summer holidays. However, Paphos has so much to offer. It's a great place for families, as there are many hotels to choose from. There is also Paphos Waterpark close by. It's also an excellent city for friends and couples as there is so much to do.
Take a quad bike and explore the countryside, discover the blue lagoon by quad or boat in the Akamas National Park, bathe in the Adonis Baths, or go and see turtles hatch on Lara Beach. The west side of the island is a fun place to visit in Cyprus for adventurers.
I'd recommend staying in the fantastic Palmiers Suites which is close to the promenade, harbor, and beach.
FAQs About Visiting Cyprus
Answers to some commonly asked questions about visiting the beautiful places in Cyprus.
What is the Most Beautiful Part of Cyprus?
If you're looking for the most beautiful beaches in Cyprus, Protaras and Ayia Napa on the east coast of the island are the best. For the coastline and scenery, the Akamas National Park is unbeatable. It's without a doubt one of the most beautiful places in Cyprus.
Is Cyprus a Good Place for Tourists?
Absolutely. Cyprus is a very popular tourist destination for good reason. It's a great place for digital nomads, couples and families, and friends. It has a beautiful coastline, an interesting history, fantastic food and lots of adventurous things to do. There is something for every type of tourist in Cyprus.
What is the Most Beautiful City in Cyprus?
I think that Limassol is the most beautiful city in Cyprus as it's a coastal city. Therefore, you benefit from all the amenities that a city offers, while being able to soak up the sun on the beach. Limassol provides the best of both worlds which is why I loved it so much.
What is Cyprus Famous For?
Cypriot culture is among the oldest in the Mediterranean. The country is known for its welcoming nature, cuisine (Halloumi in particular), beautiful beaches, history, and parties!
In Conclusion
These are just a few of the top places to explore in Cyprus. I loved visiting every single one of these amazing spots and have no doubt that you will too.
I hope this blog post helps you figure out where to visit in Cyprus and get an epic itinerary together.
Like This Article? Pin it!