In retrospect, my travel plan for the week looked a bit like something Spalding Smails might have tried to piece together. I wanted to get back from two weeks in Europe, visit a customer in New York City, spend a couple nights at home, see the ViaSat-3a satellite launch on a Falcon Heavy from Cape Canaveral and attend the Freddie Awards outside Washington, DC. That's a LOT to squeeze into five days. But if everything went to plan it should've worked. Alas, while the early bits suffered minor hiccups, later in the week things went off the rails in a hurry.
---
---
Chasing the Falcon Heavy Launch
I've been adjusting my travel plans around theoretical dates for the ViaSat-3 launch for at least five months now. It is an important launch for the inflight connectivity business, and one of very few Falcon Heavy launches ever. I rebooked a trip to California and Copenhagen in January because of the shifting launch window. I was bummed when the launch date was set for early April when I'd be in Italy with family.
And then a little excited when that date slipped a couple weeks to April 26th. I'd be back in the country and had nothing else planned for that day. Could I shift my schedule to attend?
A major challenge with rocket launches is the myriad external factors that influence the go/no-go decision. Missing a launch window is hardly a rare occurrence. And I was confirmed for dinner the night of the 27th at the Freddie Awards at the Air & Space Museum Udvr-Hazy Center near Dulles. I knew there was a risk I'd miss one or the other. But I decided the chance to see everything was worth that risk. It was time to rebook everything.
---
---
I'd previously booked flights from Portland, Maine as an easier option for a quick trip than Boston, Those would no longer work, as I had to first get to Orlando. Fortunately I found a Spirit Airlines flight from Manchester to Orlando nonstop on Wednesday morning. Getting from Orlando to Dulles was relatively easy. And I could change my final flight to arrive at Boston rather than Portland. I'd still have to take a bus back to Manchester to pick up my car, but I've done that before. The plan was coming together.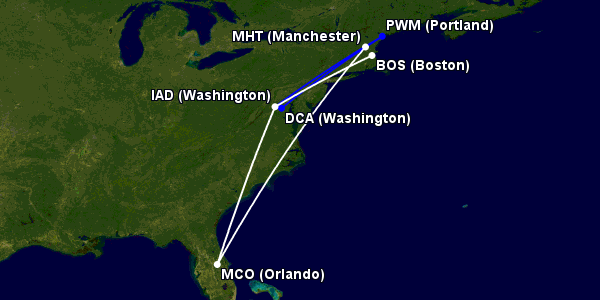 Things fell apart early
I was up early on Wednesday morning to get to MHT for my flight. Spirit, however, had other plans in mind. The plane never made it from Orlando to New Hampshire on Tuesday night and my trip was cancelled. There were no viable rebooking options available from the carrier, so I took a refund on that one.
I scrambled and found a JetBlue flight leaving in about 1:45. I live about 1:10 from the airport with no traffic, and I was about to join the morning commute into Boston. Odds were against me, but I took the chance.
A patch of traffic popped up just outside the airport; that was probably the deciding factor. Even with valet parking at Logan and a quick trip through security I failed. By three minutes.
Which is to say that I arrived at the gate 12 minutes prior to departure time, but 3 minutes after the official gate closing time. I missed the flight. Yes, I know the rules. But the plane pushed early and arrived early. It stung, especially being so close.
I knew there was a Frontier flight leaving in a couple hours. I'd still be in Florida for launch time, though I'd miss a couple interview times with the Viasat team. That still seemed better than giving up (or waiting for the next JetBlue flight several hours after that). Fortunately I was able to reschedule the meetings and the Frontier flight went off relatively smoothly.
Tm flying with Cubby the bear this morning to Florida. Didn't pay off a seat and ended up in a middle adjacent to the FA jump seat at door 2L. Space to put my bag under the window seat is a small win. #PaxEx pic.twitter.com/gpJEFdt7Ko

— Seth Miller (@WandrMe) April 26, 2023
At least I was in Florida.
The first scrub
But by the time I landed in Orlando the launch on Wednesday night had been scrubbed. A Falcon9 launch slated for earlier Wednesday out of Vandenberg in California was scrubbed at the last minute due to "probability of a landing failure" for the first stage. Out of an abundance of caution, SpaceX chose to hold the Heavy launch as well while they worked through the error reports on the Falcon9.
At this point I knew I could not be at both the launch and the Freddies. Something would have to give.
I rebooked my MCO-IAD flight to a later departure. I had previously given myself a solid cushion to be on time in DC, but now I wanted as much time as possible in Florida to get an idea of the weather and if the Falcon9 would go from Vandenberg on Thursday morning. The Falcon went up smoothly, but weather in Central Florida remained iffy. So much so that my United Airlines flight from Orlando to Dulles took a four hour delay. I'd be hours late to dinner if I took that flight.
Good news: Looks like whatever tech issues cropped up late yesterday are solved, as the Falcon9 went up at Vandenberg this morning.

Bad news: Weather forecast for Florida tonight is worse than expected.

I have 2-3 hours to make a decision on whether to stay or go. 🤔 https://t.co/BMbwsFfYmI

— Seth Miller (@WandrMe) April 27, 2023
Somewhat ironically, the earlier flight I was originally booked on was still on time. But there was now no way for me to reasonably get to the gate for that departure. I was leaning towards taking another chance on the launch anyways. Now I didn't have much of a choice. United gave me a full refund because of the delay and I'd work out how to get home from Orlando later. In the interim, I needed to find another hotel and get back over to the coast for the launch.
The second scrub
Meteorologists expected rough weather for Thursday evening, but I held out hope we'd get lucky. Around 5p I was on a bus from the parking lot at the Kennedy Space Center Visitors' Center to the viewing area when a drizzle started. I quipped to my seatmate that maybe the rain would come through early – launch was still 2.5 hours away – and then we'd get our chance.
On the grounds at KSC this afternoon, in advance of the ViaSat-3a launch.

🚀🛰️ pic.twitter.com/6o8Q2Khomw

— Seth Miller (@WandrMe) April 27, 2023
Instead I sat through one of the most severe thunderstorms I've experienced in my life. Fortunately we were all safely inside (and the Apollo/Saturn V exhibit at KSC is pretty darn cool).
But as tornado warning alerts echoed across hundreds of cell phones in the area it was pretty clear the rocket would not fly. Lightning continued in the area for hours, even after we were safely off the property.
Last night's storm in Florida produced hail, tornadoes, and lightning. Following this strike on the tower at 39A, teams performed additional checkouts of Falcon Heavy, the payloads, and ground support equipment pic.twitter.com/GZwCARaZTx

— SpaceX (@SpaceX) April 28, 2023
The KSC staff handled it spectacularly, keeping us all away from the glass windows and doors of the building and, when clear, getting everyone quickly and efficiently back to the parking lot. But, again, there would be no launch.
Heading home
At some point on Thursday I booked the Orlando-Boston flight on Spirit for Friday morning. Just before falling asleep Thursday night I canceled my DCA-BOS trip, pocketing a travel credit I'm sure I'll have no trouble using.
The flight was slightly delayed on Friday morning, but that worked in my favor, letting me call in to a work meeting that I otherwise would've missed. And I was able to call in to another meeting on Thursday afternoon because I wasn't flying to DC. Perhaps the travel gods were telling me I should be working more and flying less??
Ultimately the trip was a two night boondoggle to Florida. Or, as I explained to my parents later Friday, the most expensive box of Publix fried chicken I'd ever bought. I picked some up for launch night on Thursday. It was delicious. But probably not worth the $800ish I spent overall getting to and from Florida with all the changes.