While going through some old files, I came across an old review that I never did publish. Back over the Christmas holidays of 2019, my entire family spent a week in Hawai'i.  On the way back, we went via San Jose to drop off my sister and her family before heading home. Conveniently, Hawaiian Airlines offers a daytime nonstop from Honolulu to San Jose. (We avoid redeyes, as my son…doesn't do well with disrupted sleep.) That gave me a chance to try out Hawiian Airlines A321neo Extra Comfort for a little extra room. I paid $644 cash for each seat, which represented a modest $80 premium over standard coach.
Hawaiian Airlines (HA) Flight 44
Wednesday, January 1, 2020
Depart: Honolulu – Daniel K. Inouye International Airport (HNL), Terminal 1, Gate E1, 12:33, 3m late
Arrive: San Jose – Norman Y. Mineta International Airport (SJC), Terminal A, Gate 4, 19:56, 11m late
Duration: 5 hours 23 minutes
Seats: 12A, 12B, 12C
Equipment: Airbus A321neo
Check-In and Boarding
We actually started our day with a tag flight from Hilo, so we checked in there. Hilo is a tiny airport, so check-in took hardly any time at all. As with all flights to the mainland, all passengers must undergo an agriculture screening. Make sure to do this and get a sticker before check-in, or they'll send you back to get it done.
As we taxied to the gate in Honolulu, we passed ANA's Honu A380. What does this have to do with Hawaiian Airlines? Nothing, but you could use some extra Honu A380 in your life.
Our layover at Honolulu was right at 2 hours, so I took my son planespotting to stretch his legs. Not far from our gate was a nice Japan Airlines Dreamliner.
Boarding began about 40 minutes prior to departure. Economy Comfort receives priority boarding immediately after First Class. Thus, we were among the first onboard the Economy Class cabin.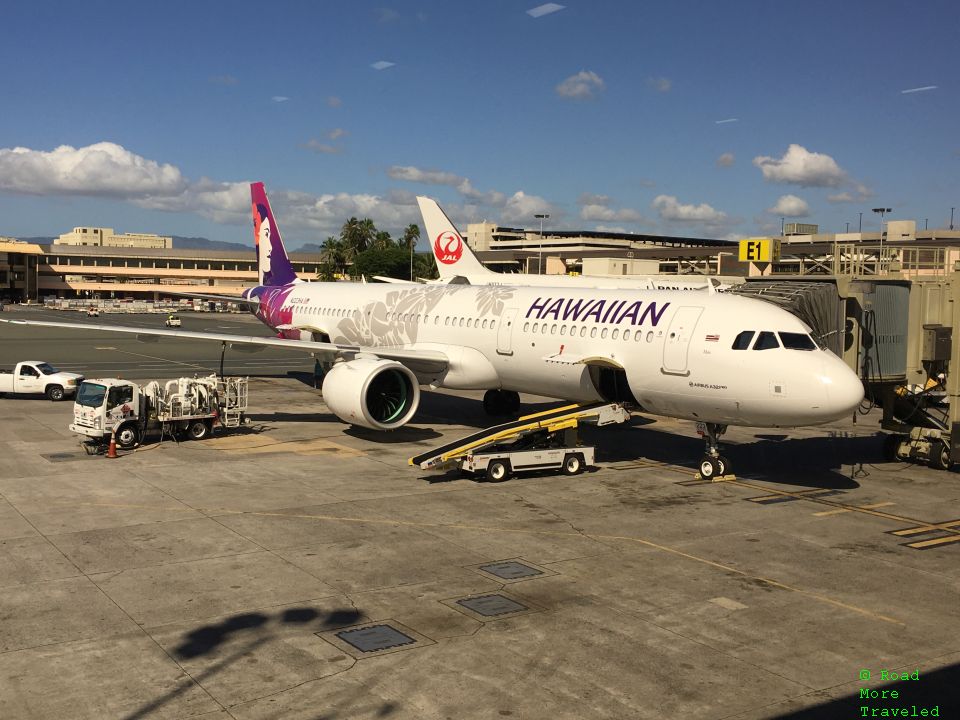 Hawaiian Airlines A321neo Extra Comfort – Seating and Interior
This particular A321neo entered service just two months prior to our flight. Ahhh, you could still get a whiff of that new plane smell. Anyway, Hawaiian's Extra Comfort is kinda-sorta their equivalent to Delta Comfort+, American Main Cabin Extra, etc. It's the same coach seat, but with 5 extra inches of pitch (35″ vs. 30″). The A321neo features 44 Extra Comfort seats in a 3-3 configuration, though spread over two separate sections. Well, I guess to be precise, three sections. Extra Comfort includes the first three rows of the Economy cabin, the exit row and the row behind, and then the overwing exit row and the two rows behind. The seats definitely looked brand new.
Differentiators between Extra Comfort and standard Economy are the color scheme (teel versus light brown) and the "Extra Comfort" moniker on the headrest.
I found legroom quite generous in these seats, with enough room to completely extend my legs.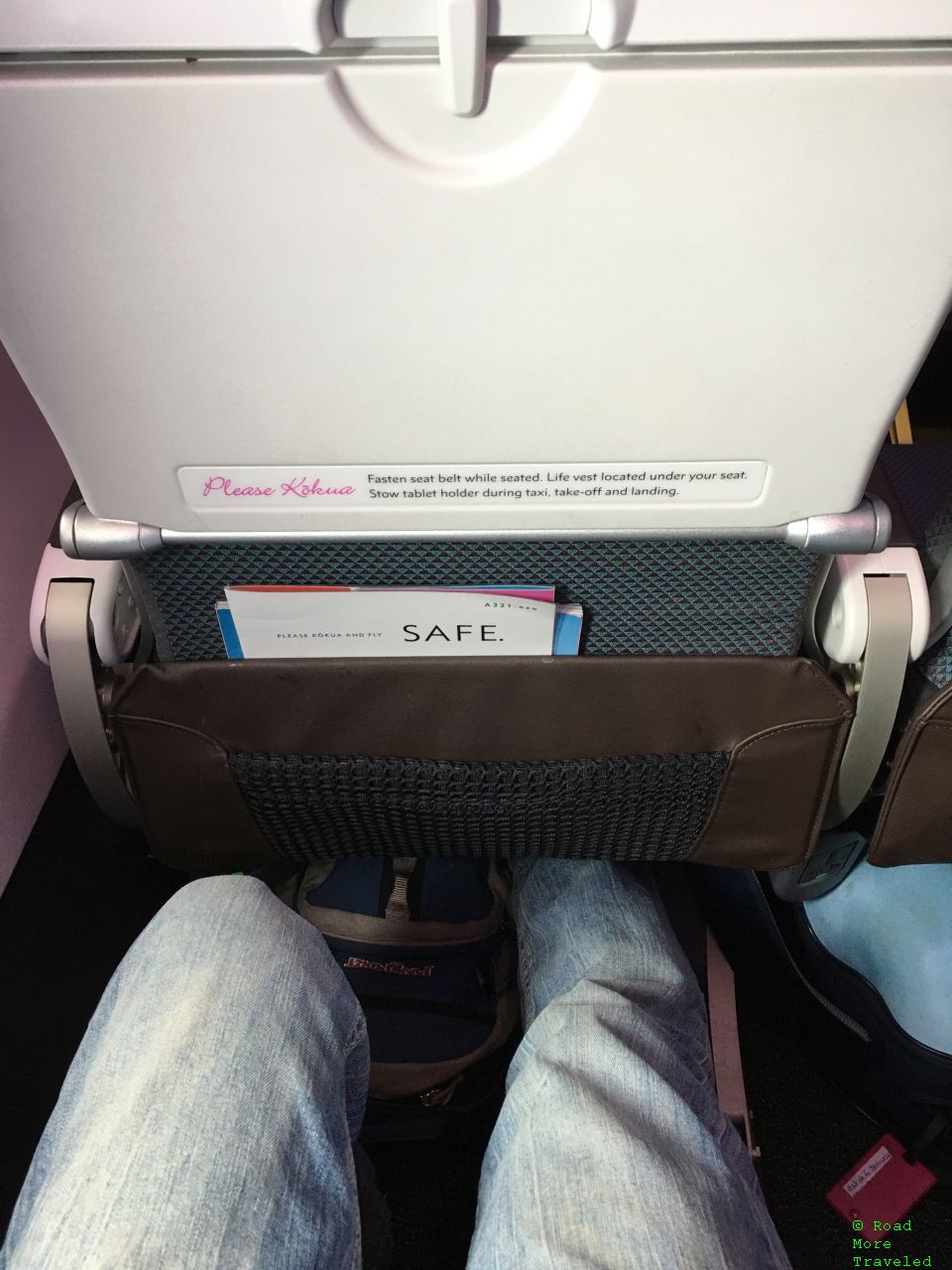 Meanwhile, my son had plenty of room in his seat to curl up and sleep with the armrests raised.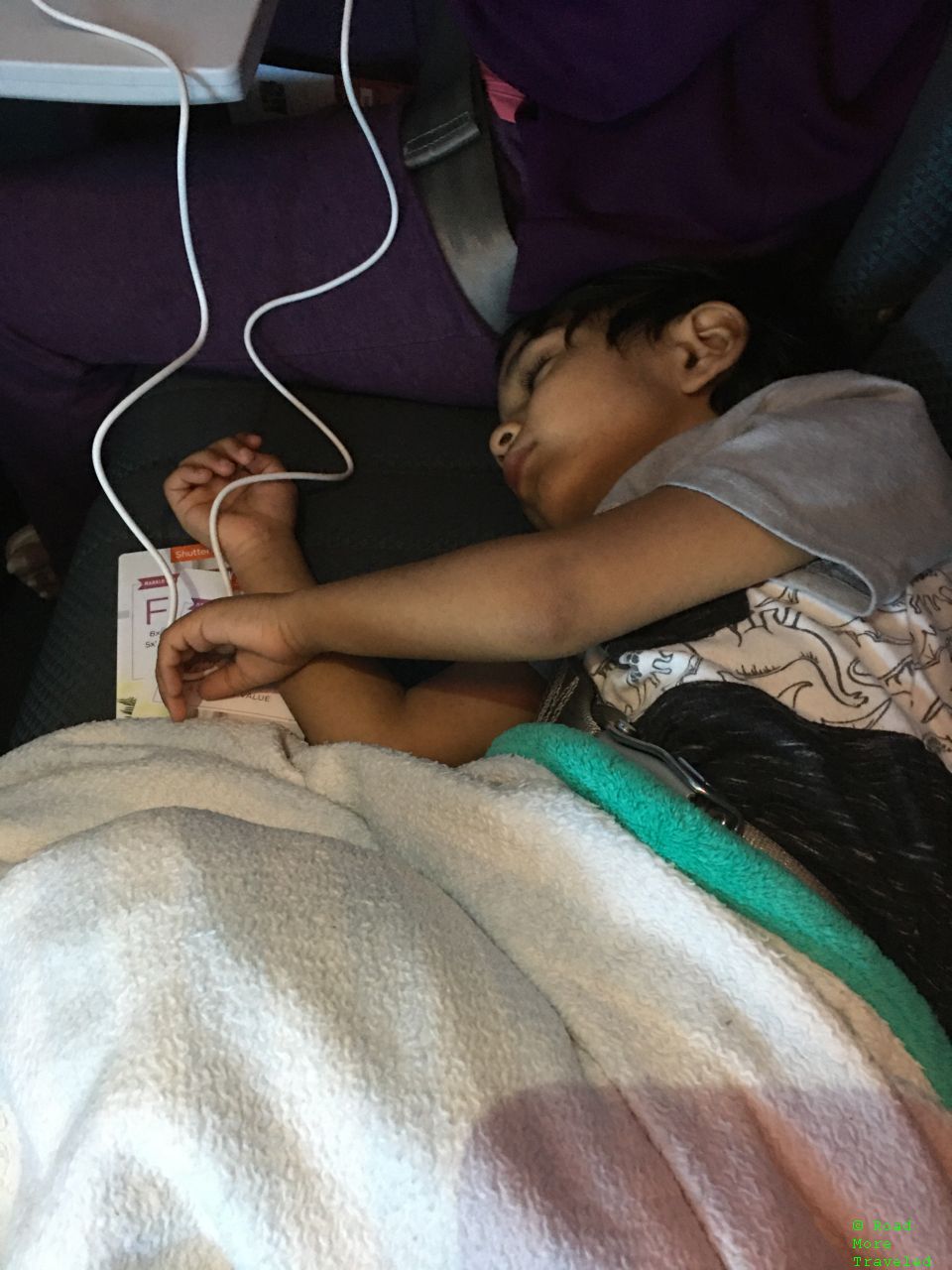 All that said, Extra Comfort seats are the standard 17.3″ wide, so they're not exactly spacious in that regard. Seat comfort, though, was decent. Despite the slimline design, Hawaiian's A321neo seats feature adequate padding and thigh support. I didn't experience back pain or saddle sore on this 5 1/2 hour flight. We flew Southwest from San Jose on the way over, and Hawaiian's seats definitely win in the comfort area.
Similar to the Boeing 737-MAX, the A321neo interior includes mood lighting. The soft colors create a relaxing atmosphere aboard the coach cabin.
The other area where I really like the A321neo – it's noticeably quieter than a standard A320 family aircraft. Even in Row 12, relatively close to the engine, it's really quiet at cruising altitude.
Hawaiian Airlines A321neo Extra Comfort – In-Flight Entertainment
Similar to American and Southwest, Hawaiian offers only streaming entertainment on board. To that end, the seatback includes a phone/tablet holder to keep your device in place. While possibly user error, I had difficulty keeping my iPhone 6s from falling out. And my eyesight isn't great, so I had trouble watching on my screen with the phone on the holder. Really, I've tried, but I just really don't like this whole BYOD trend.
Each Extra Comfort seat includes both a USB port in the seatback, and a 110V outlet on the floor between seats. While I prefer outlets at seatback level, these forward-facing outlets aren't bad, as you don't have to contort to try and plug a device in. Note: only Extra Comfort seats include 110v outlets. Standard coach seats come only with USB ports.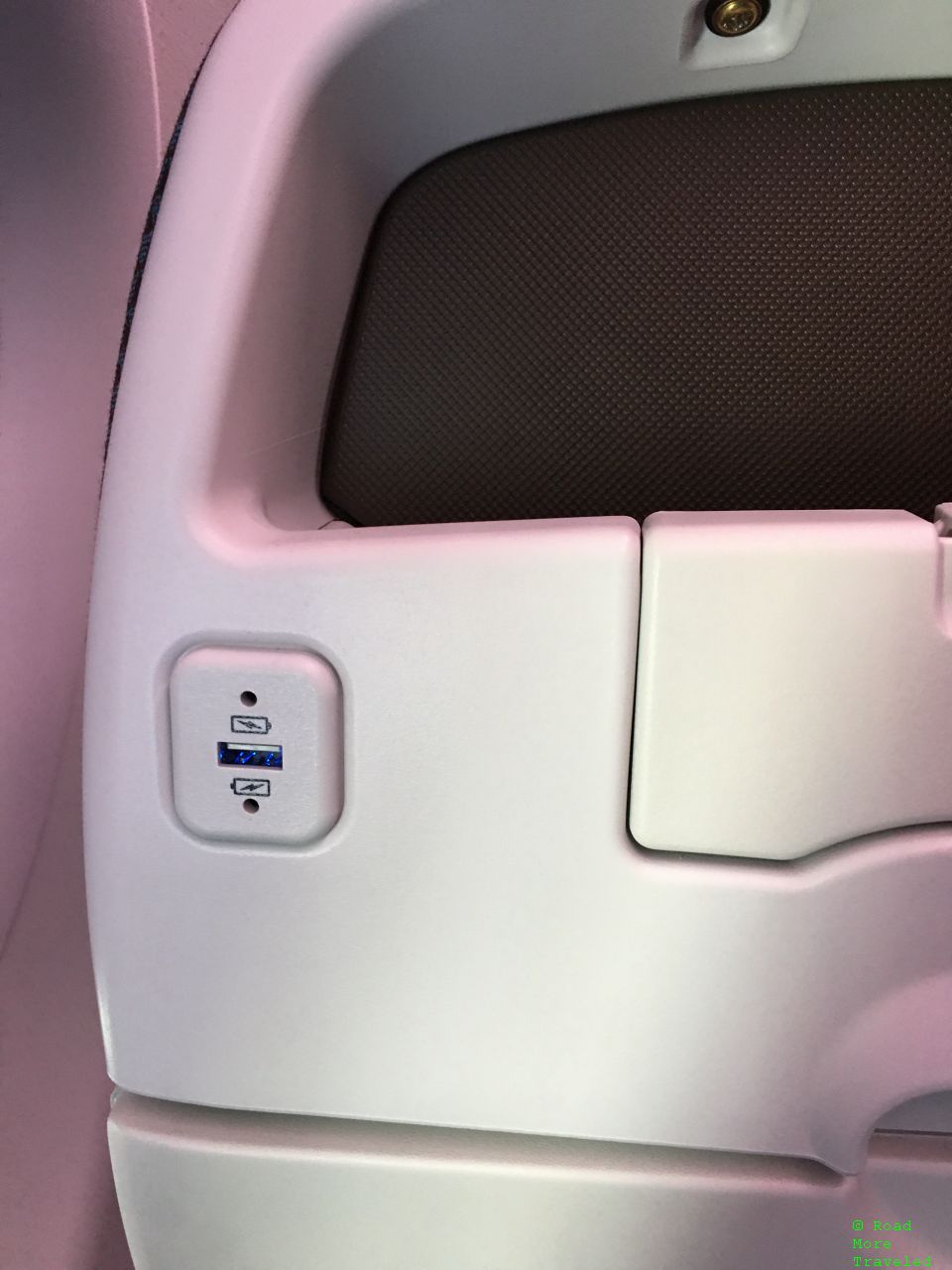 Hawaiian offers a fair selection of options on its streaming service. While I've seen better, there are enough movies and TV shows to keep you occupied, especially on a shorter flight to the West Coast. The offerings include a selection of kids shows and international (mostly Japanese) TV and movies. With Gordon Ramsay: Uncharted on tap, I watched a few episodes as we crossed the Pacific.
Of course, there's always the moving flight map. This one is OK. The mobile version provides basic flight information and a map position, but doesn't offer much in the way of zoom or other points of view. Perhaps this has improved in the last three years..
Hawaiian Airlines A321neo Extra Comfort – Food, Beverage, & Service
Unlike extra legroom products on the other major domestic carriers, Hawaiian offers no differentiation in Extra Comfort as far as food and beverage goes, at least on Hawai'i-Mainland routes. That means unlike Main Cabin Extra, for example, you don't get alcohol for free. About 45 minutes after takeoff, FAs offered a "Pau Hana Cafe" service. On this route, that included a chicken and pesto hot pocket, sweet onion chips, and chocolate covered macadamia nuts. And, of course, the obligatory POG (passionfruit-orange-guava) juice. If you don't fancy POG juice, a full selection of soft drinks, tea, and coffee are offered.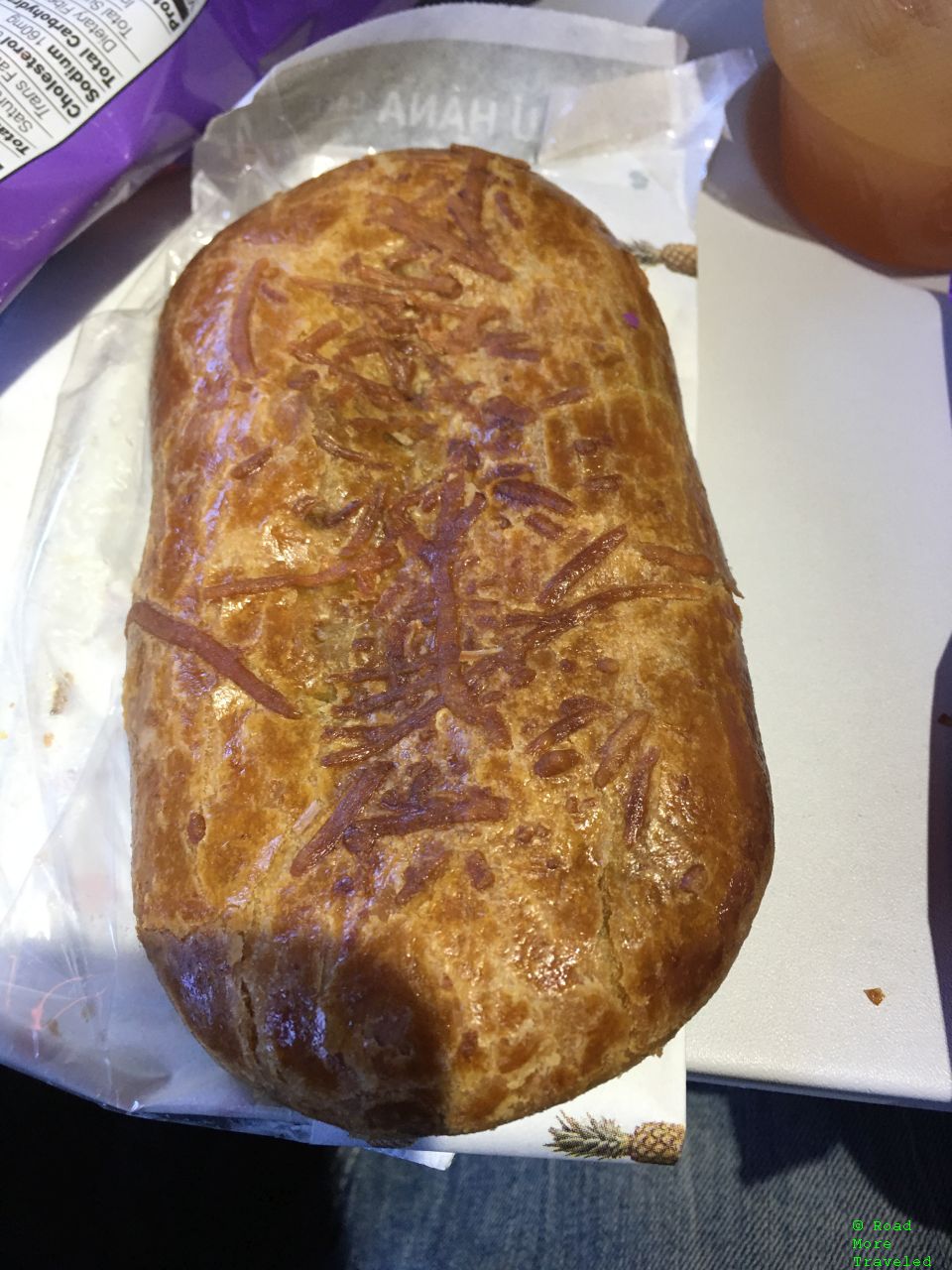 Perhaps surprisingly, the hot pocket wasn't bad at all. It had a reasonably flaky crust, and I found the filling fairly tasty. And of course, who doesn't like chocolate covered macadamia nuts. The problem? This wasn't really enough. I still felt hungry after finishing off the meal. The FAs did come back through with a second pass of the snack basket a little while later, which helped. But I really wished for something a little more substantial.
As for service, I often say the best coach service is the one you don't remember. That's because you usually remember service in coach for all the wrong reasons. Service on this flight definitely fell in to the former category. The FAs were pleasant, the meal service efficient, and they did make a couple of snack/water runs throughout. A perfectly reasonable experience in the back of the bus.
Flightseeing
Of course, half the entertainment on a flight to or from Hawai'i is the free stuff you get looking out the window. This flight definitely didn't disappoint. New Year's Day 2020 was a beautiful day in Honolulu, making the departure to the east nearly perfect. Our initial path right along the coast gave us a perfect view of Honolulu, all the way down to Diamond Head.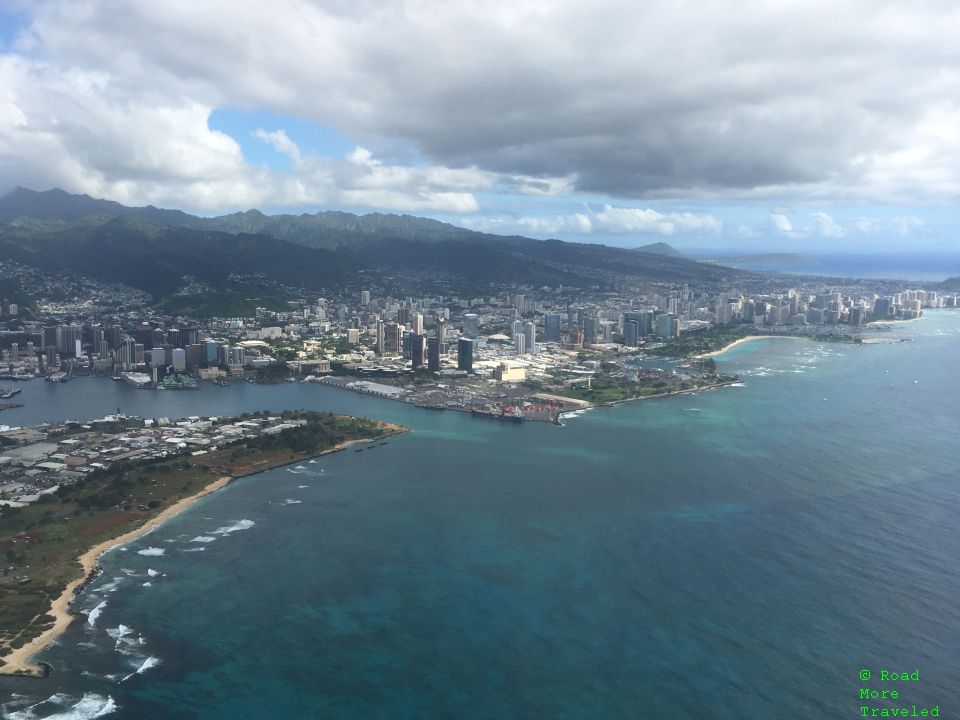 Soon after, we flew parallel to Waikiki Beach, with a spectacular view of the beach and mountains beyond.
Our flight path then took us right past Diamond Head. Close enough, in fact, for a view straight down to the visitor center in the crater. (We'd visited the crater just a few days before.)
I thought this shot was especially cool, showing the city suburbs crawling up into the mountains.
Finally, as we left Hawai'i behind for good, we passed Hanauma Bay and then Makapu'u Point, the easternmost point on Oahu.
In this second photo of Hanauma Bay, from a little farther out, you could easily see the far suburbs of Honolulu going up the hillsides.
Makapu'u Point was the last land we'd see for quite some time.
About 30 minutes later, a fitting end to our Hawai'ian vacation – a rainbow courtesy of some showers over the Pacific.
Then, about 2 hours before arrival, the sun set the building marine layer off the California coast ablaze.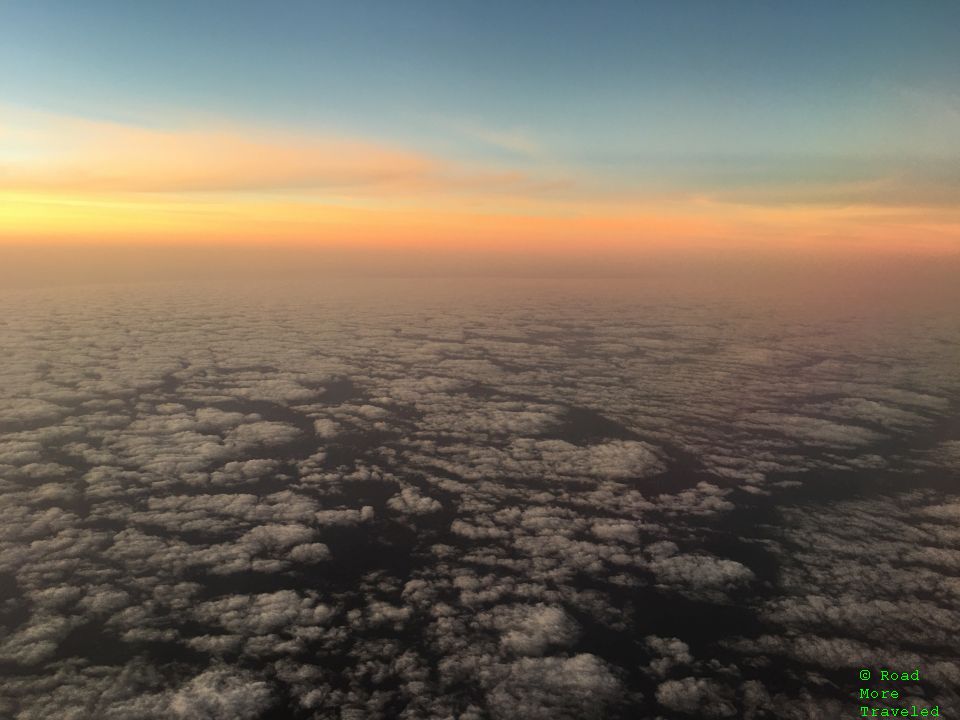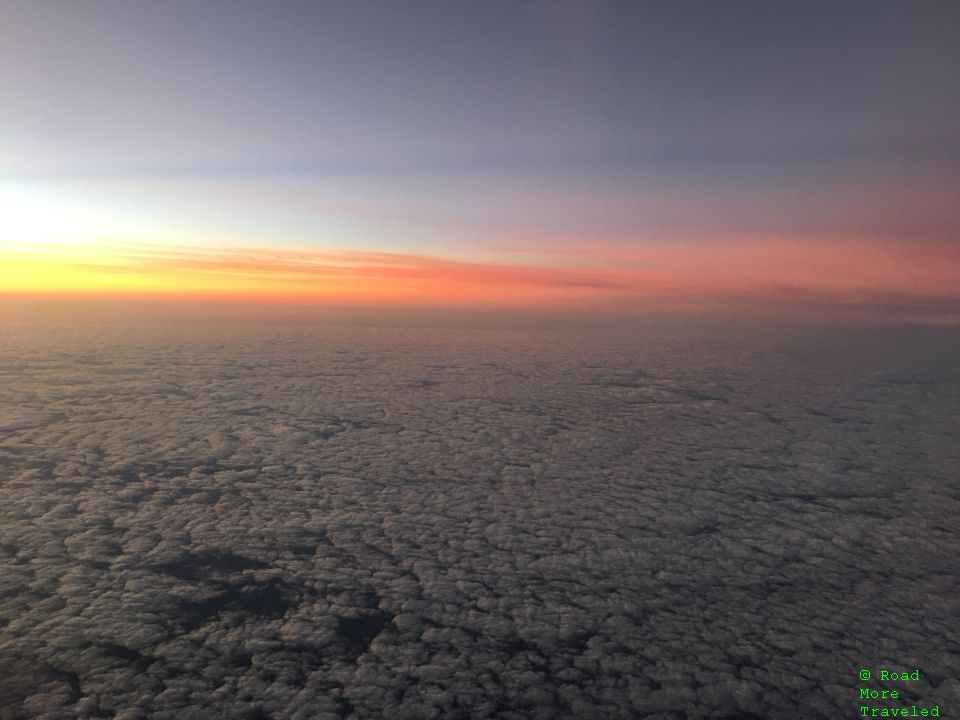 Hawaiian Airlines A321neo Extra Comfort – Final Thoughts
Hawaiian Airlines doesn't provide a lot of extras with Extra Comfort, besides the extra legroom. You get priority boarding and security, but that's about it. Nevertheless, with prices ranging from $55-95 each way, depending on demand, that's actually not a bad price for the extra room on a 5 1/2 hour flight. American, for instance, charges about the same for Main Cabin Extra from Dallas to Los Angeles. The only real difference is free alcohol.