The food in Colombia is incredible, from street food vendors to hearty soups, incredible sweet baked goods, and desserts 'postres'. During my 3 months in Colombia, I ate my way around Bogota, Medellín, and Cartagena, sampling some of the most must-try dishes in Colombia.
If you're wondering what to eat in Colombia, here is a list of my favorite dishes, along with my recommendations as to the best places to eat in Colombia.
15 Foods To Try in Colombia
There's some incredible food to be found in Colombia, and due to its size, a huge variety too. I've picked out some of my favorite traditional dishes in Colombia, as well as some recommendations for where to try these tasty delights.
1. Ajiaco (Most Famous Food to Try in Colombia Overall)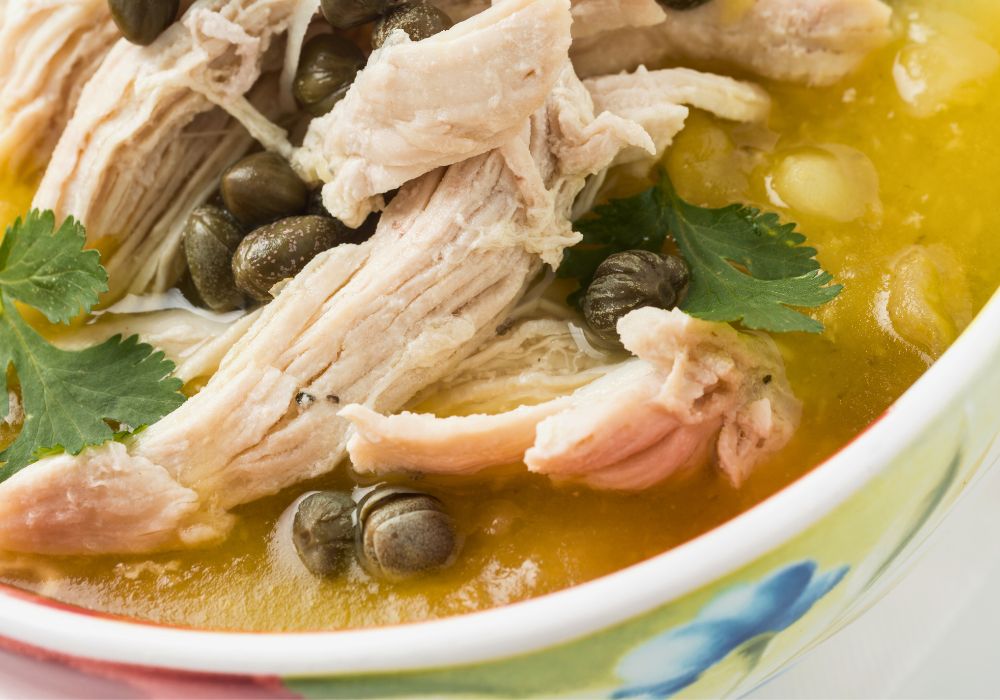 In the highlands and central region, Ajiaco is one of the most popular foods in Colombia. It's best described as a type of chicken and potato soup with capers, cream, and corn. The capers and cream are usually served on the side to add to your taste.
It's given its characteristic flavor by the addition of the Colombian herb, guasca. Ajiaco is typically accompanied by avocado and rice, so it's a full meal in itself. In the cooler parts of Colombia, like Bogota, it's my favorite Colombian food. It's filling, warming, and very reasonably priced.
If you're in Bogota, definitely make sure you stop for a bowl of this incredible soup. I'd highly recommend La Puerta de la Catedral which is close to Simon Bolivar Square, the main square in Bogota. It's wonderfully authentic and serves some great food.
Ajiaco is an excellent example of traditional food in Colombia and is seriously delicious.
La Puerta de la Catedral Information
Address: Cl. 11 #6-26, La Candelaria, Bogotá, Colombia
Phone: +573138002181.
Operating Hours: Open 7 am – 7.30 pm every day except Sunday, when it closes at 6 pm
Average Cost of the Dish: $8
Website: www.lapuertadecatedral.com
2. Sancocho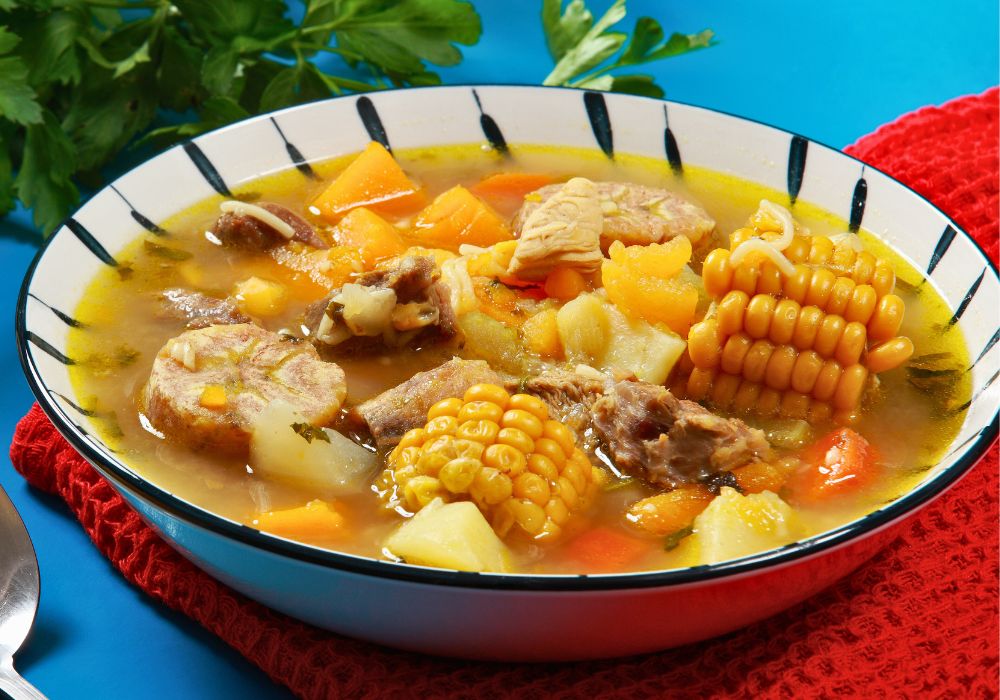 Another hugely popular soup in Colombia is Sancocho. This one is famous throughout Latin America, and you'll see that each country has its own twist on the basic recipe.
In Colombia, Sancocho is similar to a stew and is made with plantain, yucca, and potato, making it a thick and filling broth. To this, various types of meat are added, including chicken or fish. In Cartagena, for example, Sancocho includes delicious white fish and coconut milk in its recipe, which gives it a real Caribbean twist.
It's another delicious, traditional food in Colombia. Even in Cartagena, where the weather is typically hot, I definitely recommend the soup. You won't be disappointed.
Head to Cocina de Pepina in Cartagena to try this famous dish in Colombia.
Cocina de Pepina Information
Address: Cl. 25 #9a-06 local 2, Getsemaní, Cartagena
Phone: +573008565189
Operating Hours: 12 pm – 4 pm every day, and additionally 7 pm to 9.30 pm from Tuesday to Saturday
Average Cost of the Dish: $7-$8
Website: Check out their Facebook page for more information
3. Changua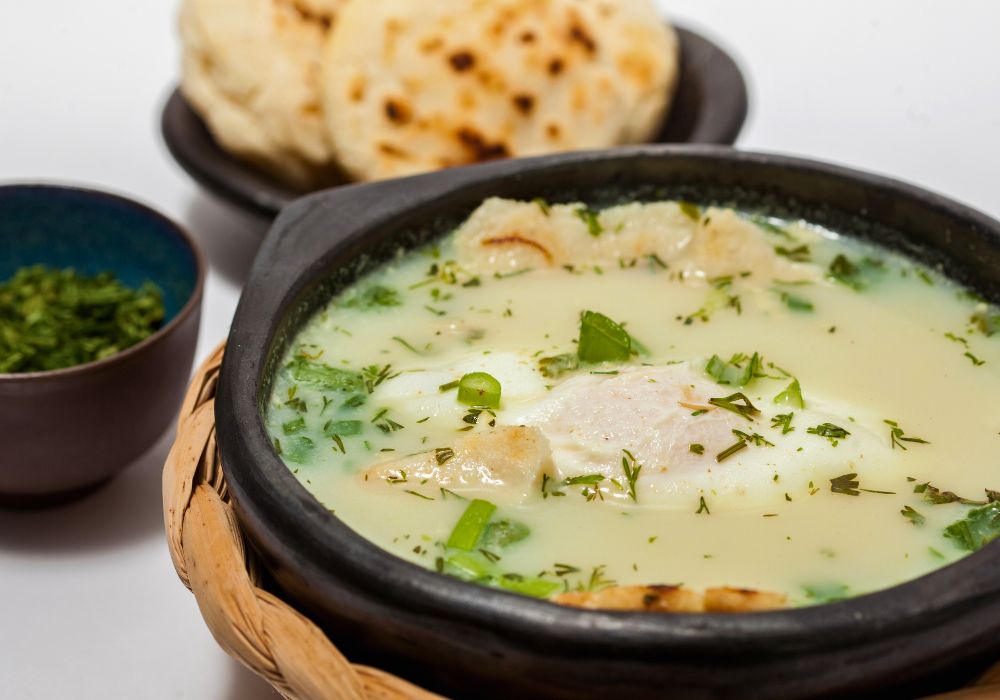 Last, to add to the amazing list of soups in Colombia, I have to include changua. This one is slightly different as it's typically eaten for breakfast in Colombia, or at least in Bogota and the highlands.
Changua is made from milk, water, coriander, parsley, onions, and egg. It's served with bread and is even rumored to cure hangovers – it's got to be worth a try.
This deliciously creamy soup has a rich heritage in the Andes and is thought to date back to the Muisca civilization in 1500 BC. For me, it's a great way to start the day in the cooler parts of Colombia. It's also something different from usual breakfast options and I love to try different traditions whilst traveling.
To try this excellent Colombian food, keep your eyes out around Bogota. I personally liked Mama Lupe which is located close to the cathedral in the center of the city.
Mama Lupe Information
Address: Cl. 11 #6-14, La Candelaria, Bogotá
Phone: +5712818717
Operating Hours: 7 am – 9 pm every day
Average Cost of the Dish: $4
4. Empanadas
One of my absolute favorite things to eat in Colombia is the incredible street food on offer, and close to the top of that list are empanadas.
These little pockets of joy aren't exclusive to Colombia and are found all over Latin America in various guises, but in Colombia, you'll find the majority of them deep-fried, which differentiates them from the rest of the continent.
They are commonly stuffed with beef, chicken, cheese, and ham. Increasingly popular are vegetarian empanadas containing cheese, spinach, and mixed vegetables.
You'll commonly find street vendors in every major Colombian city serving these from pop-up stalls. If you're in Medellin, try Empanadas El Machetico. You can tell the empanadas here are great from the long queues! Be patient, they're worth the wait.
Empanadas El Machetico Information
Address: Cl. 9 #42-38, El Poblado, Medellín
Phone: +576044079925
Operating Hours: 5 am – 10 pm every day, open until 12 am on Friday and Saturday
Average Cost of the Dish: less than $1 per empanada
Website: Check out their Instagram page for more information
5. Arepas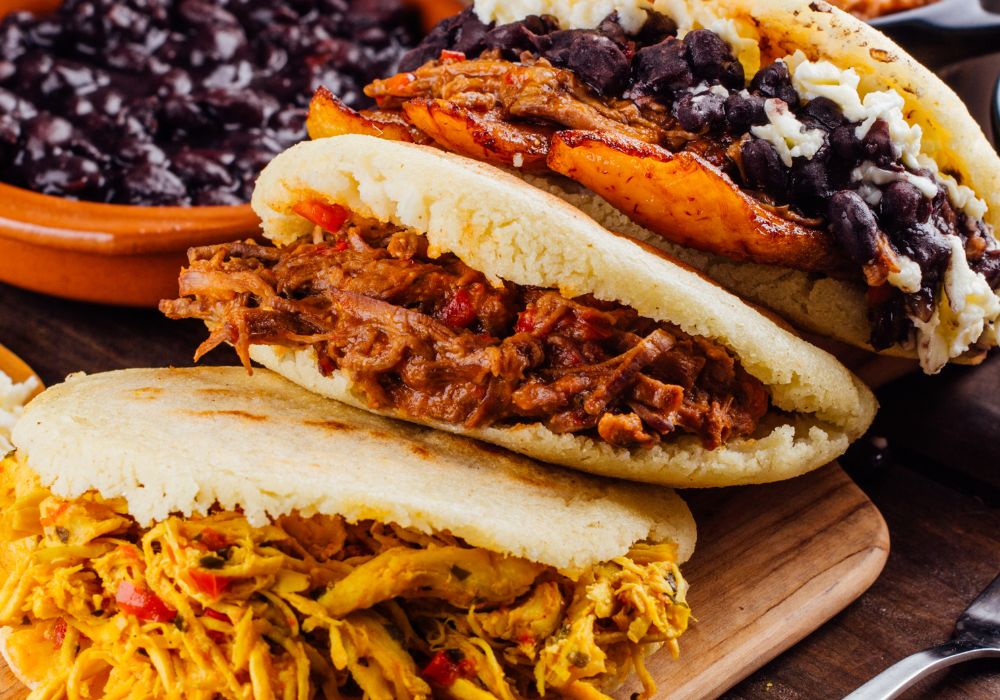 Another superb option for a grab-and-go snack, arepas are a really common bite in Colombia.
There are over 30 different types of arepas in Colombia, but in essence, they're cornflour pockets filled with a variety of fillings. Some of the most popular varieties are arepa de queso which is savory and created with a cheese filling, and arepa de huevo which is (somehow) cooked with an egg inside.
You can also get sweet arepas, which are cooked with a different type of corn, more like sweetcorn. They have a delicious flavor, and they're surprisingly filling.
You'll find that plain arepas are served on the side of meals in restaurants, particularly with breakfast. These can be a little plain and I definitely recommend heading out and finding arepas street food stands which are much better and far tastier.
Alternatively, try La Pepiada in Cartagena for a great variety of stuffed arepas.
La Pepiada Information
Address: Cra. 6 #35-17, Centro, Cartagena de Indias, Provincia de Cartagena
Phone: +573138451682
Operating Hours: Open 24 hours, Thursday to Saturday, 8 am – 10 pm, Sunday to Tuesday, and 8 am – 11 pm on Friday
Average Cost of the Dish: Around $5
6. Patacones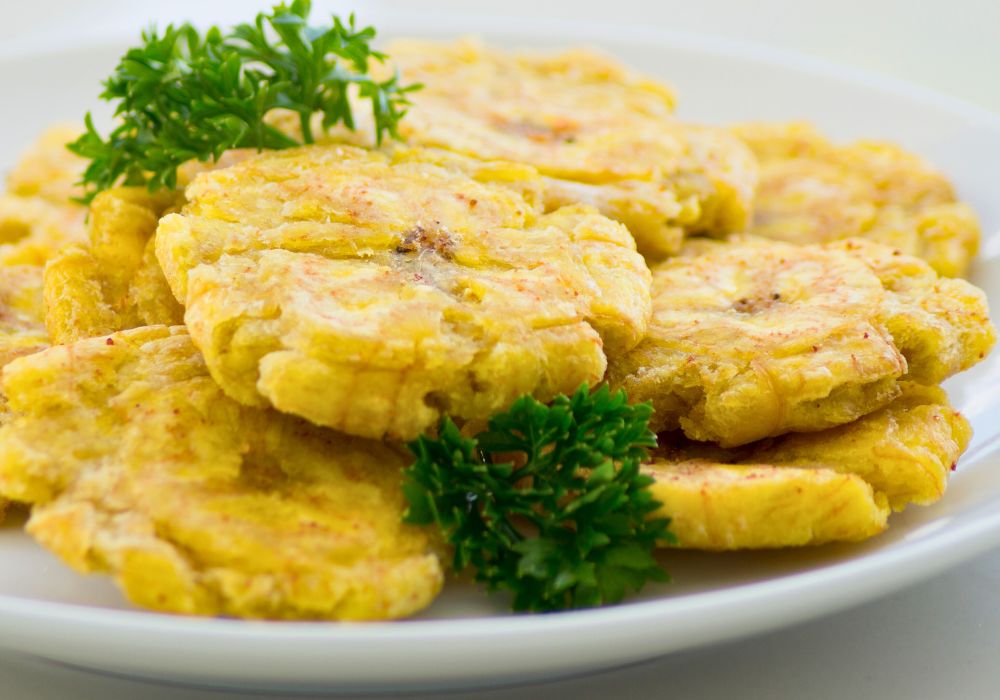 Patacones are a staple food in Colombia and I find them absolutely delicious. They're often served as a side or a starter and are made from plantain, which is smashed and then deep-fried.
They'll be served as 'rounds' and if brought as a starter you'll get a variety of sauces to dip them in, from ketchup and mayo to local, homemade hot sauces.
Patacones are made from unripe plantains, from which the dish gets its name. The riper, sweeter plantains are called platanos and can also be deep-fried to make a much sweeter side.
You'll find this super typical food in Colombia everywhere you go, but if you're in Medellin, try traditional Colombian food, including patacones and more at Mamasita Medallo.
Mamasita Medallo Information
Address: Cra 43D # 10 – 77, El Poblado, Medellín, El Poblado, Medellín
Phone: +573223591901
Operating Hours: 12 pm – 12 am every day. Closes at 2 am on Friday and Saturday
Average Cost of the Dish: $3-5 as a side, or try loaded patacones (pataconda) for $11
Website: https://www.mamasitamedallo.co/inicio
7. Tamales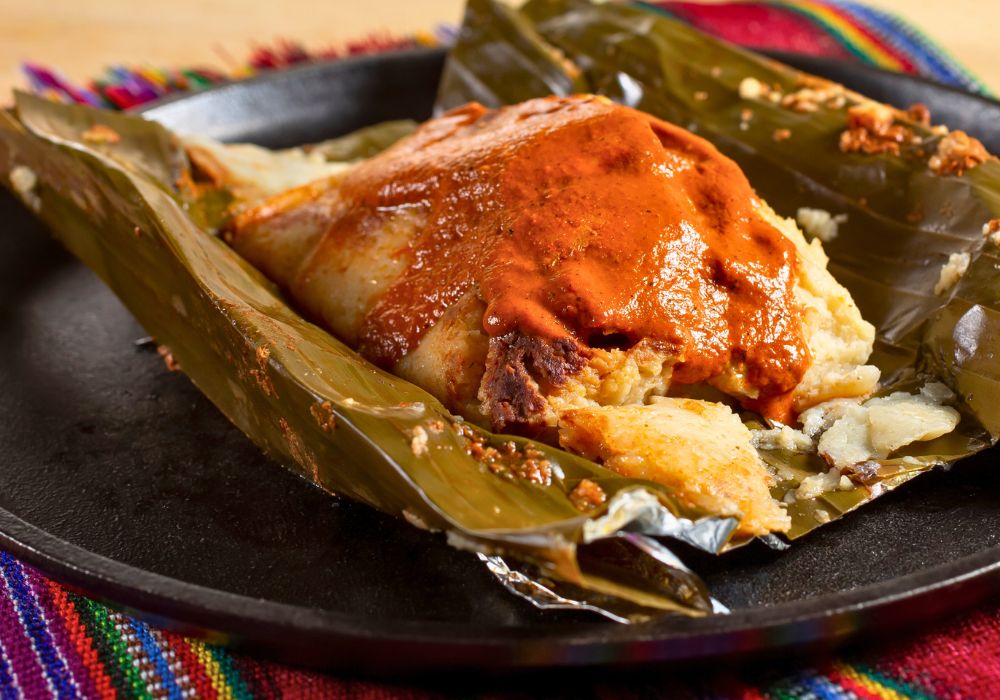 Tamales are typically eaten at breakfast on a Sunday in Colombia, although you'll find them available at any time of day in many different places throughout the country.
These tasty parcels contain a mixture of maize, meat (often chicken, pork, or both), peas, carrots, and other vegetables depending on the region. The filling is then mixed together and wrapped in a plantain leaf.
The leaf and its filling is then placed in boiling water for around 5 hours to let the flavors all mix into each other. It's a hearty, warming, and simple dish.
You can find tamales in many typical restaurants in Bogota, particularly around Simon Bolivar Square. They're particularly delicious in La Puerta Falsa, but you can also buy them from the supermarket or local vendors and cook them yourself at home.
La Puerta Falsa Information
Address: Cl. 11 #6-50, Bogotá, Colombia
Phone: +5712865091
Operating Hours: 7 am – 7.30 pm Monday to Saturday, 7 am – 6 pm on Sundays
Average Cost of the Dish: $2-$5 (depending on where you eat them)
Website: www.restaurantelapuertafalsa.inf.travel
8. Bandeja Paisa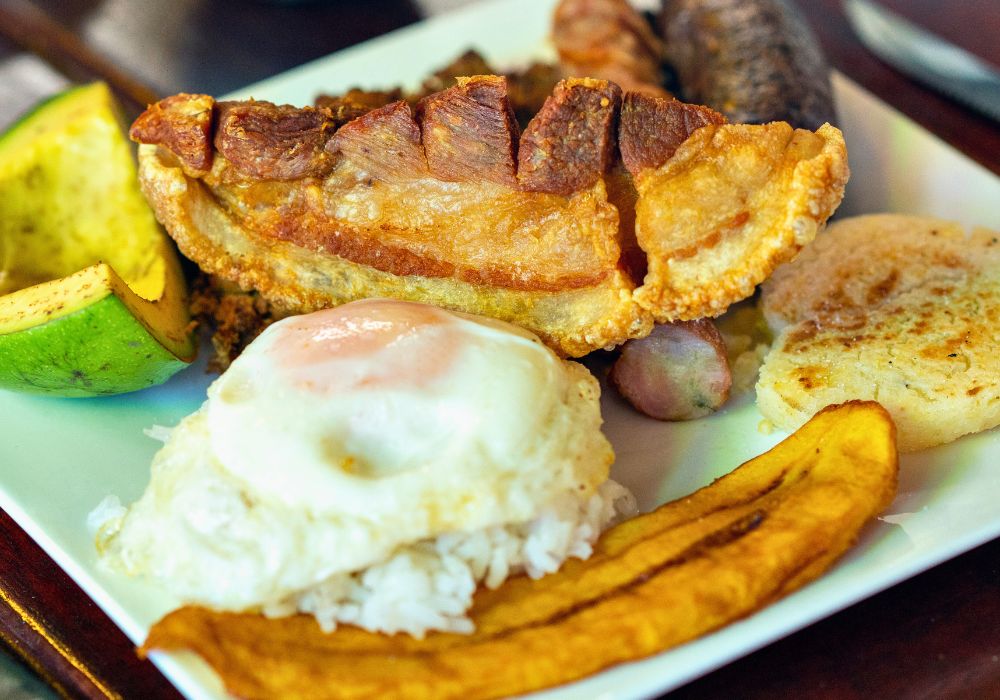 Perhaps one of the best examples of traditional local food in Colombia is bandeja paisa. It's known as the countryman's platter and is very popular in both Bogota and Medellin.
This huge plate of food will definitely fill even the hungriest of travelers. It's a massive serving of ground meat, chorizo, chicharon (fried pork belly), fried eggs, plantain, rice, avocado, and a plain arepa.
It also has an interesting cultural relevance as it incorporates many different influences on Colombia. The arepas come from the indigenous, the beans and plantain from African influences, and the chorizo and ground meat from the Spanish.
If you're in Medellin, head to Restaurante Mondongo's for bandeja paisa, one of the must-try dishes in Colombia.
Restaurante Mondongo's Information
Address: Cl 10 #38-38, El Poblado, Medellín, El Poblado, Medellín
Phone: +576046048116
Operating Hours: Opens at 11.30 am every day, closes at 9.30 pm Monday to Friday, 10 pm on Saturday, and 8 pm on Sunday
Average Cost of the Dish: $8
Website: www.mondongos.com.co/carta-menu/1/#main
9. Cazuela de Mariscos
As you head towards the coast of Colombia, the hearty stews and platters of the highlands are replaced by incredible fish dishes.
One of my absolute favorites is cazuela de mariscos, or seafood stew. This is a much more typical food in Colombia when you reach the Caribbean coast. It's a creamy stew with shrimp, clams, and white fish cooked in a coconut broth.
If you're in a local restaurant, then the precise contents of the cazuela will depend on what's been caught on the day.
As with Sancocho, this is another excellent hot dish to be enjoyed by the coast despite the temperature. It's super fresh and tasty and is definitely one of the best foods to try in Colombia. I'd recommend having it at Buena Vida Marisquería in Cartagena.
Buena Vida Marisquería Information
Address: Centro histórico, Cl. del Porvenir #Esquina, Cartagena
Phone: +573223061025
Operating Hours: 8 am – 11.30 pm every day
Average Cost of the Dish: $10
Website: www.gela.co/menu_buenavida.pdf
10. Ceviche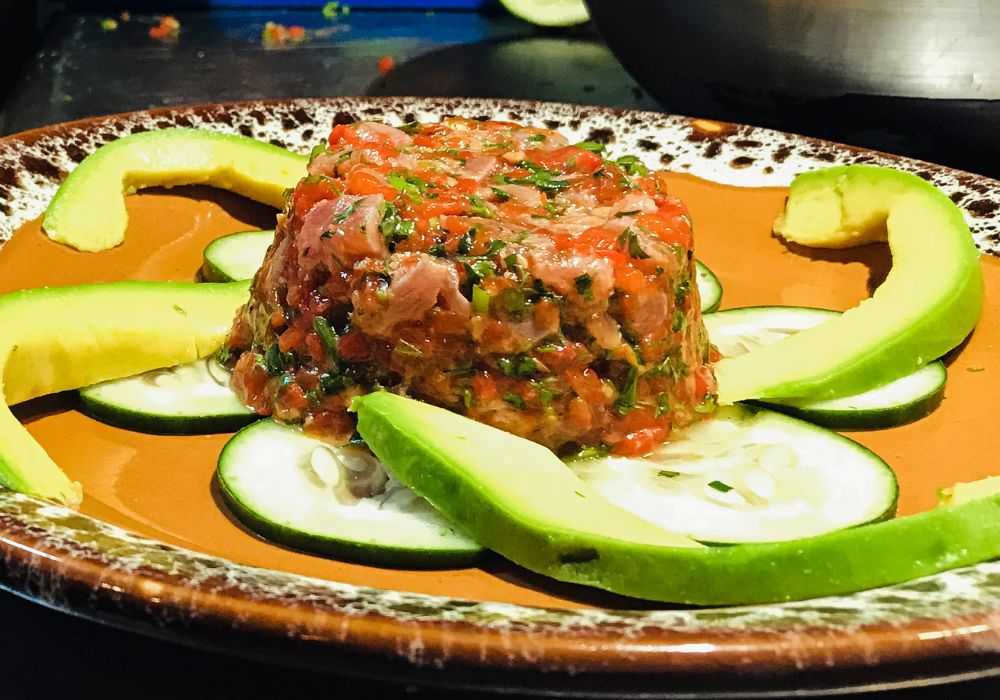 The ceviche in Colombia is truly delicious. Forget what you may know of ceviche from home and be sure to try this delicious Colombian food.
Traditionally, ceviche is made with raw white fish cured in citrus juice and mixed with different flavors. In Colombia, there are two types of delicious ceviche to enjoy.
The first is closer to the traditional Peruvian dish, with different kinds of seafood marinated in tiger's milk. This produces an incredibly fresh-tasting dish which is often topped with patacones.
Alternatively, if you're at the beach, look out for carts selling ceviche or cocteles de camarones, the second type of ceviche. This famous dish of Colombia is more like a tangy prawn cocktail served in a plastic or styrofoam cup. It may not sound much but trust me, it's incredible.
When in Cartagena, head to La Cevicheria in Old Town for incredible ceviche in a beautifully Colonial street setting.
La Cevicheria Information
Address: Calle Stuart por el hotel Santa Clara Calle 39 #7 14, Cartagena
Phone: +5756798743
Operating Hours: 1 pm to 10.30 pm, 7 days a week
Average Cost of the Dish: $10
Website: www.lacevicheriacartagena.com
11. Mango Biche
The fruit in Colombia is unbelievable, with many, super fresh varieties. Some of my favorite fruit-based food in Colombia is mango biche.
These spears of unripe mango are sold by street sellers all over Colombia. You'll get a small plastic cup of mango spears which are sprinkled with lemon juice, salt, pepper, and, if you want it, hot sauce. It may sound like an unlikely combination but try it, it's really good.
These are super cheap snacks that you can pick up all over Colombia. They're perfect to eat on the go and are really refreshing in the hotter parts of Colombia. Or if you're taking a long bus journey, look out for the sellers coming onto the bus and grab yourself a cup for the ride.
12. Cholao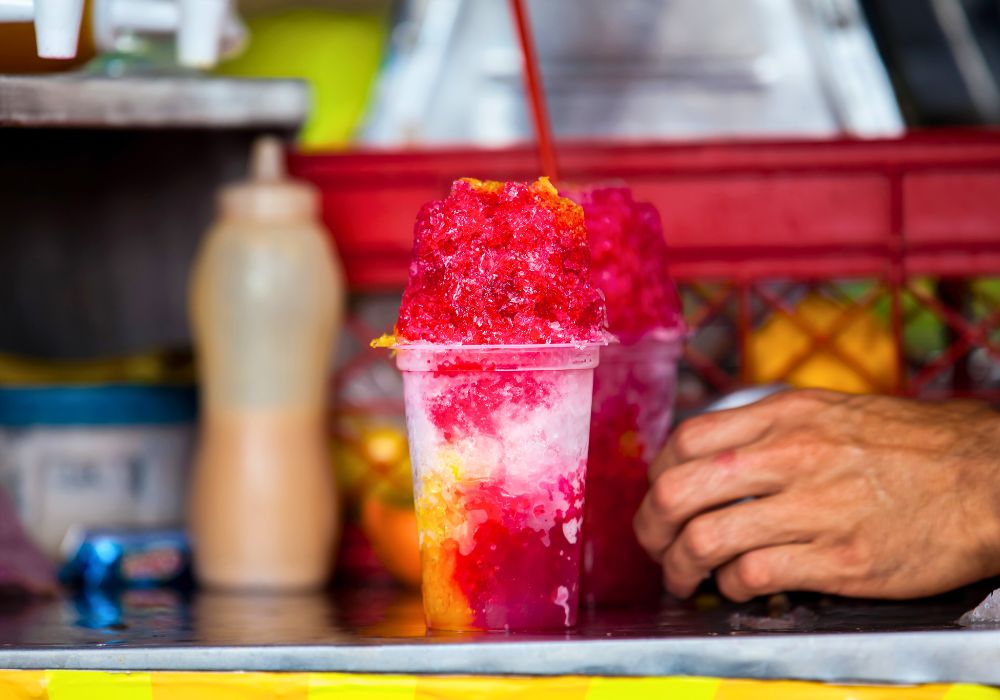 Continuing the fruit theme, cholao (also known as cholado), is a crazy mixture, but a very famous dish in Colombia.
It's a brilliant concoction of fruit and condensed milk that makes a delicious snack or dessert. It's usually served in a large glass with ice in the bottom. To this, layers of fruit are added such as papaya, soursop, and pineapple. It's finished off with fruit syrup and condensed milk, which are added to make the basic cholao.
You may find cholao with added coconut or cherries on top, or occasionally with whipped cream and wafers for a real treat.
For anyone with a sweet tooth, this little gem is delicious and also surprisingly refreshing. It's common all over the country, particularly by the coast. It's originally from Cali, so if you're in the south, check out Cholados Gourmet in Cali for this amazing Colombian food.
Cholados Gourmet Information
Address: Cra. 34 #3-47, El Sindicato, Cali
Phone: +573054272087
Operating Hours: 1 pm to 9 pm every day, opens at 11 am on Saturday and Sunday
Average Cost of the Dish: $2 – $3
13. Chocolate Santaferaño
If you like unique combinations, then you need to look out for chocolate Santaferaño or chocolate con queso. Yes, for those that understand Spanish, that does translate to chocolate with cheese.
Traditionally, eaten or drunk as a meal between lunch and dinner, this combination of hot chocolate and cheese has been a common food in Colombia for centuries. It comprises a cup of hot chocolate with cheese, and sometimes bread, on the side.
The cheese is cut or ripped into small pieces and dropped into the chocolate to melt. Give it a stir and enjoy this taste sensation. It may seem like a crazy combination to many of us, but in Colombia, it's perfectly normal.
It's often enjoyed on weekends, with hot chocolate being a popular drink to be served with breakfast (with or without cheese!). If you're staying in El Poblado in Medellin, head to The Chocolate House to enjoy this strange but scrumptious favorite.
The Chocolate House Information
Address: Cl. 8 #34-33, El Poblado, Medellín, El Poblado, Medellín
Phone: +5743222214
Operating Hours: 1 pm – 8.30 pm every day, open until 9.30 pm on Fridays and Saturdays
Average Cost of the Dish: $1 – $2
Website: www.thechocolatehouse.com.co
14. Pandebono
For a quick snack to be eaten with a hot drink, pandebono is a great option. This small, round, bread-like bite is filled with a subtle sweet cheese.
You'll see pandebono sold by street sellers and available in most coffee shops in Colombia. It's traditionally eaten with hot chocolate, but can it can also be eaten alongside coffee or on its own.
It's a great grab-and-go option if you're on the move or if you want a quick snack. If you're staying in the popular Chapinero in Bogota, head to Árbol de Pan for incredible pastries and brunches, including pandebono.
Árbol de Pan Information
Address: Cl. 66 Bis #4-63, Localidad de Chapinero, Bogotá
Phone: +573127039828
Operating Hours: 8 am – 7.30 pm Tuesday to Friday, 8 am – 6 pm Saturday, 8.30 am – 4 pm Sunday, closed Monday
Average Cost of the Dish: Less than $1 for pandebono
15. Obleas
Finally, if you have a sweet tooth, make sure you try obleas when you're in Colombia.
Commonly sold by street vendors with carts in Bogota, an obleas consists of two thin, round wafer discs with sweet fillings added between. You can choose from chocolate sauce, blackberry jam, shredded coconut, arequipe, or caramel. The two wafers are then stuck together and voila, you have yourself a delicious, sweet treat.
If you're wandering through the center of Bogota, you'll find obleas carts with pictures of Mick Jagger on them. Apparently, in 2016, Mick Jagger was photographed eating an obleas bought from one such cart (nearly all of them claim to be the one cart that sold that obleas to the international star).
Obleas de Doña Berta seems to have a good claim to be the actual street stall that sold to Mick. If not, its worth knowing that she still serves mighty fine obleas.
Obleas de Doña Berta Information
Address: Cl. 11 #6-42, Bogotá
Operating Hours: 10 am – 6 pm every day
Average Cost of the Dish: Less than $1
Food Tours in Colombia
To try some of the best food in Colombia, I highly recommend joining a food tour. These are excellent ways to not only try great typical food in Colombia but to also learn the history and cultural elements behind these famous dishes.
Here are some of my favorite tours for trying Colombian food: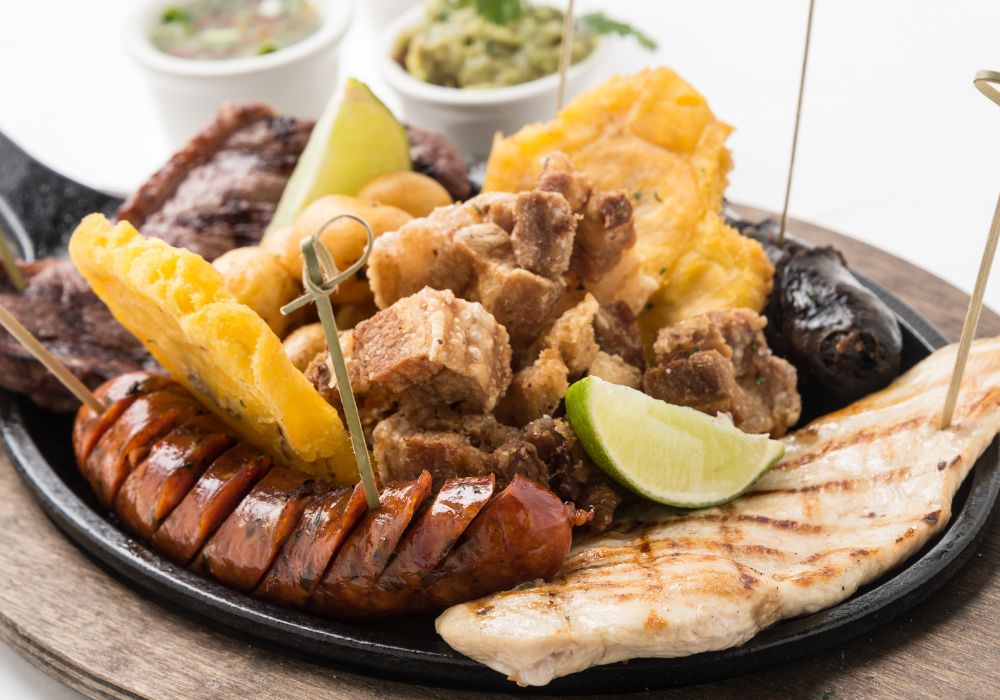 Medellin Street Food and Rooftops Tour
Discover the vibrant neighborhood of El Poblado on this brilliant food tour while sampling some of the best Colombian street food like arepas (corn cakes) or palitos de queso (cheese sticks).
As a bonus, you'll head up to a couple of the best rooftops in the area, with amazing views and great atmospheres. Click here to book a spot.
Santa Marta Walking Food Experience
Sample some typical food in Colombia on this fantastic foodie tour in Santa Marta. You'll get to try the famous Arepa de huevo (corn cake with egg) which is made on the coast.
In addition, you'll also meet some super-talented baristas and learn all about Colombian culture and history through the delicious foods. Click here to book now.
Bogota Food Discovery Tour
As the capital of Colombia, Bogota is home to some incredible restaurants. I recommend joining this 3-hour food tour at the begining of your trip to Bogota.
The tour helps you learn about and taste some regional and traditional dishes, as well as receive the guide's expert recommendations of the best places to eat in the city. Click here to book the tour.
Cartagena: Best Street Food with Local Chef
Discover Cartagena's authentic street food in the company of a knowledgeable, local chef. Not only will he teach you all about the cuisine, and the different cultures which have influenced it, but you'll get to learn a little about the city too.
You'll visit 10 must-see places and sample original recipes made by traditional chefs in between. Book here for a delicious day out.
Flavors of Cali
Take a break from salsa dancing, and taste and learn all about the different flavors in Cali. This food tour focuses on tropical fruits, which is one of my favorite things about Colombia and South America overall.
It's a different twist to a traditional food tour, and you'll learn about the practices of the different cultures which give life to the delicious fresh food in the region. Click here to book.
Best Colombia Food FAQs
Here are some answers to frequently asked questions about the food of Colombia:
What are the most traditional foods in Colombia?
Soups are very popular in Colombia, with the most traditional dishes being Ajiaco and Sancocho. Arepas are also a typical meal in Colombia and come plain or with different toppings in restaurants.
What time is dinner in Colombia?
To escape the heat, dinner is eaten late in Colombia, usually between 8 pm and 10 pm. You'll notice that restaurants get busier from around 9 pm with locals still arriving.
What time is lunch in Colombia?
Lunch is the largest meal of the day and is often eaten at mid-afternoon, between 1 and 3 pm. This is likely because dinner is eaten later in Colombia.
What time is breakfast in Colombia?
Like in North America, breakfast is eaten between 7 and 9 am. It's usually eaten earlier, with a snack (like a pandebono) eaten at mid-morning with a coffee or hot chocolate.
Do you tip in Colombia?
Yes. Most restaurants will include a voluntary tip on the bill (propina voluntaria) which is usually around 10%. Double-check whether this is included on the bill. If not, 10-15% is a good amount to go with, depending on the type of restaurant.
What is the National food of Colombia?
Bandeja Paisa is officially Colombia's national dish, and definitely the most filling. It comes on a huge plate and consists of beans, pork, rice, chicharron, avocado, arepa, chorizo, and eggs. It's a monster dish, so make sure you're especially hungry before ordering it.
What's the most popular food in Colombia?
Arepas are probably one of the most popular as they make great side dishes or can be eaten as a snack. You'll also find them everywhere; in restaurants, street vendors, and in the supermarkets too.
In Conclusion
The food in Colombia is very varied. From delicious ceviche on the coast to variations of arepas depending on which region you visit, from sweet to savory, fried to fresh. One thing is for sure, you certainly go hungry in Colombia.
There are so many excellent dishes beyond this list, but these are without a doubt my favorites. Now, enjoy sampling the best food in Colombia!
Like This Article? Pin it!