Being such a huge country, it's difficult to narrow down this list to 15 of the best places to visit in Colombia. It's a diverse country with an amazing coastline, incredible countryside, delicious food, and cosmopolitan cities. When it comes to things to see in Colombia, you're completely spoiled for choice.
I spent three months exploring Colombia as a digital nomad and loved every minute of it. From the fascinating history to the friendly people and vibrant, welcoming culture, to the beautiful beaches and scenery, I definitely recommend adding Columbia to your list of must-see destinations.
I've prepared this guide to help you plan where to go in Colombia and give you a head start on creating an epic itinerary.
15 Best Places to Visit in Colombia
There are some brilliant places to visit in Colombia. I've put together this list of my favorites, to make sure you don't miss any.
So, if you're planning to travel to Colombia, check out my highlights below and have the most amazing time in this incredible country.
1. Cartagena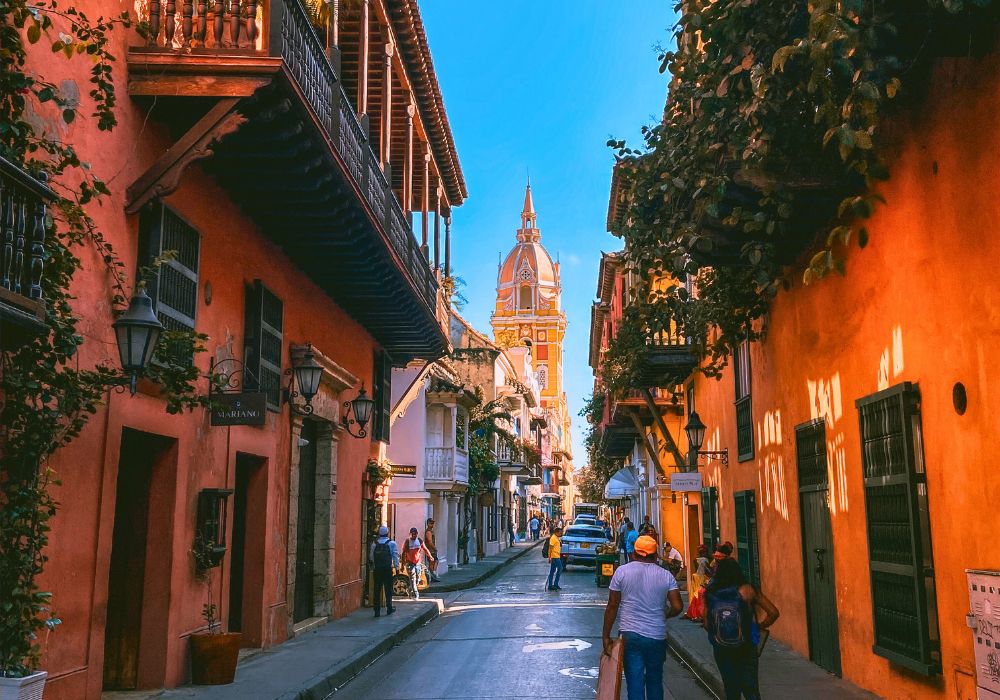 Cartagena is one of the most popular tourist attractions in Columbia, and it's easy to see why with its Caribbean coast location providing beautiful, sunny weather.
In Cartagena, you'll find the magical old town, which is a walled part of the city with cobbled streets and super Colonial architecture.
Just outside of the walled town, the hip and trendy neighborhood of Getsemani is full of hostels, hotels, street art, and cool bars and restaurants to explore.
For those looking for modern apartments, pools, and stunning views of the ocean, you also have Bocogrande as a location to consider.
While the beaches aren't the best Colombia has to offer, its unique location on the coast makes it the perfect place for exploring the stunning islands of Colombia, (which also feature on this list). It's easy to see why nearly all visitors stop in Cartagena when visiting Colombia.
Location: Cartagena is located on the northern coast of Colombia, on the Caribbean Sea.
Getting There: Cartagena has its own airport, so take an internal flight if you're landing in the capital, Bogota.
Things To Do: One of my favorite things to do in Cartagena is a walking tour. Visit the Convento de la Popa, a monastery on the top of a hill with stunning views over the city, and head to Old Town to explore the gorgeous boutique shops.
Where to Stay: For a luxury stay in the heart of Old Town, check out Hotel Casona del Porvenir.
2. The Rosario Islands
The Rosario Islands are located off the coast of Cartagena and comprise 30 different islands. This national park is home to some of the most pristine beaches and incredible waters that Colombia has to offer.
The largest island, Isla Grande, is home to resorts and hotels for you to fully experience island life. The waters around the islands are unbelievably blue and coral reefs and colorful fish are plentiful. It's a diver's paradise.
The Rosario Islands is one of the most beautiful places in Colombia. It's accessible via many different tours from Cartagena and I highly recommend you take a day trip or book a night or two here in absolute paradise.
Location: The Rosario Islands are off the Caribbean coast of Colombia, close to Cartagena.
Getting There: You can catch a boat or join a tour from Cartagena. Try this full-day tour from Cartagena.
Things To Do: Hire a snorkel to explore beneath the waters and head to the stunning Bendita Beach.
Where to Stay: For hammocks overlooking the sea on Isla Grande, head to the beautiful El Hamaquero Hostal EcoNativo.
Entrance Fee: $4.25 entry fee to the park applies, and is often charged in addition to any ferry or tour prices.
3. La Ciudad Perdida
La Ciudad Perdida, or the Lost City, is an incredible hike and is one of the best, hidden gems in Colombia. The Lost City is an archaeological site built around 800AD by the Tayrona and predates Machu Picchu.
La Ciudad Perdida is located near the city of Santa Marta in northern Colombia. It consists of 169 terraces carved into the mountainside, together with a series of plazas and a network of roads linking it together. It was discovered in 1972 by treasure looters.
Thanks to archaeologists, and with the permission of local indigenous tribes, a part of it is now open to the public. That said, it's only accessible on foot via a 4-day hike.
As a result, it's one of the best things to do off the beaten track in Colombia. You'll need permits and a guide to make the trip, so book a tour and a guide. If you love exploring, this is one of the best places to visit in Colombia for sure.
Location: La Ciudad Perdida is located in the north of Colombia and is accessible from the nearby city of Santa Marta.
Getting There: It can only be accessed on foot, so grab a place on this amazing 4-day hike, which works with the indigenous community.
Things To Do: You'll find plenty of flora and fauna along the route, as well as waterfalls, rivers, and natural pools to cool off in.
Where to Stay: Accommodation is provided on the tours within local, indigenous communities.
Entrance Fee: None, although permits and certified guides are required to access the area.
4. Cali
If you love salsa, and the infectious rhythm that comes with it, then Cali is one of the best places to visit in Colombia. And if you're not a fan already, you will be after a few days in the southern city of Cali.
The colorful city is packed full of salsa dance schools, where even those with no rhythm at all are welcomed by friendly and enthusiastic locals. Head to the many bars and clubs in the evening to watch the pros in action. Zaperoco is one of my favorite spots in the city, whether you want to dance or simply soak in the atmosphere.
The charming city also has plenty of churches, museums, squares, and a vibrant cafe culture. It's a beautiful place to explore and one of the best cities to explore in Colombia.
Location: Cali is located in the south of Colombia, around 500 kilometers from Bogota.
Getting There: Buses run from Bogota (9–11 hours) and Medellin (8 hours). Cali also has its own airport.
Things To Do: Take a walking tour to explore this magical place by day or take a salsa tour. Head to Zaperoco in the evening for a real taste of Cali's salsa scene.
Where to Stay: El Peñon is an upscale and safe area of town and Hotel Peñon is highly recommended.
5. San Gil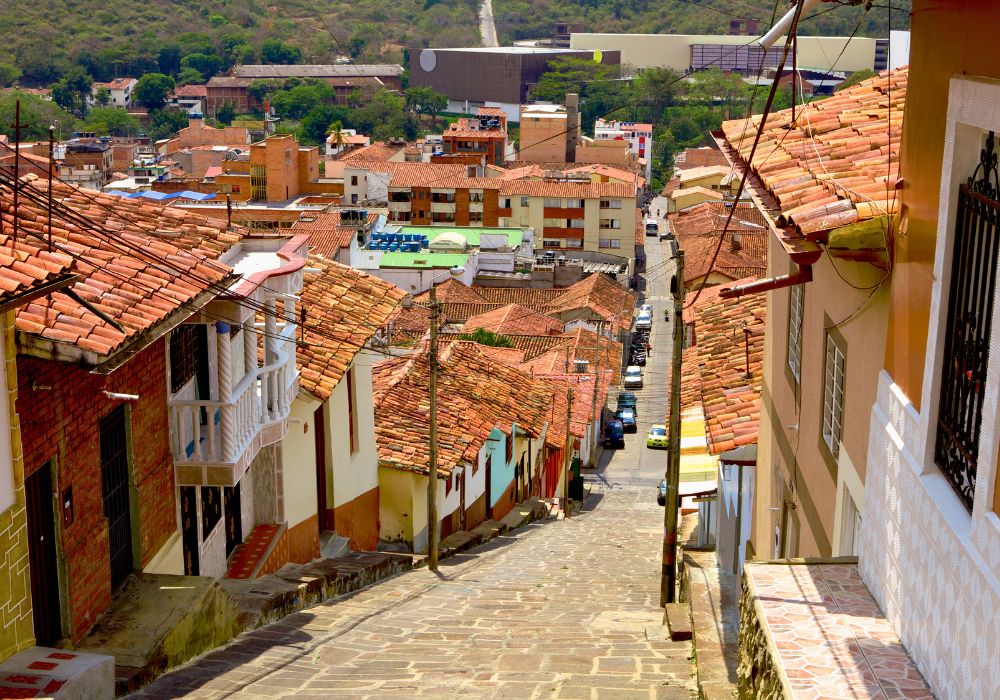 If you love adventure then San Gil, a charming town of red-roofed buildings, is one of the best places to go in Colombia. It's famously referred to as the adventure capital of Colombia.
It's only a small town, but it packs a punch when it comes to adrenaline hits. The beautiful nature found here is some of the best in Colombia. It's home to white water rafting, paragliding, waterfall rappelling, mountain biking, rock climbing, and much more.
Although full of potential activities, if you want to slow it down a touch, Parque el Gallineral, has over 10 acres of walking trails. The nearby National Park of Chicamocha is also home to one of the longest cable cars in the world at 3.6 miles. So, if you're a lover of the outdoors, San Gil is one of the top places to visit in Colombia.
Location: San Gil is a small town located 300 kilometers north of Bogota in the Colombian department of Santander.
Getting There: There are regular buses from Bogota (8 hours), Medellin (11 hours), and Cartagena (17 hours). The nearest airport, Bucaramanga (Palonegro) is 2 hours away.
Things To Do: Paragliding in Chichamocha National Park and Canyoneering are two of the best adrenaline experiences in San Gil. For a more relaxed time, follow the beautiful trails in Parque el Gallineral.
Where to Stay: Traveler Hostel, located in the center, offers a pool, a roof terrace, and a great vibe.
Entrance Fee: There's an entrance fee of around $5 to enter Chichamocha National Park, and $10 to include the cable car.
6. Jardin
Colombia is world-famous for its coffee, so a trip to its coffee-growing region is one of my highlights of the country; located in the heart of the coffee region is the stunningly beautiful town of Jardin.
This little town is a picture-perfect version of a colonial town in Colombia. The houses are brightly painted and adorned with flowers. Nature surrounds this town and in a short walk, you can be amongst wildlife and waterfalls just outside of the town.
In the town itself, there are lots of boutique shops and, of course, coffee shops that range from local offerings to super-trendy cafes that roast locally grown beans in-house.
This little town is a great jumping-off point for some of the best coffee tours, but Jardin alone is one of the most beautiful towns in Colombia and you may struggle to leave.
Location: Jardin is located in the coffee-growing region, in north-west Colombia.
Getting There: The easiest way to get to Jardin is from Medellin. From here, it's a 3-hour drive.
Things To Do: Of course, you have to take a coffee tour. This private tour is excellent. Take a hike to La Escalera waterfall and stop in one of the trendy coffee shops in town on the way back.
Where to Stay: The beautiful Casa Passiflora Hotel Boutique in the heart of Jardin is a super tranquil place to stay and is great for couples.
7. Bogota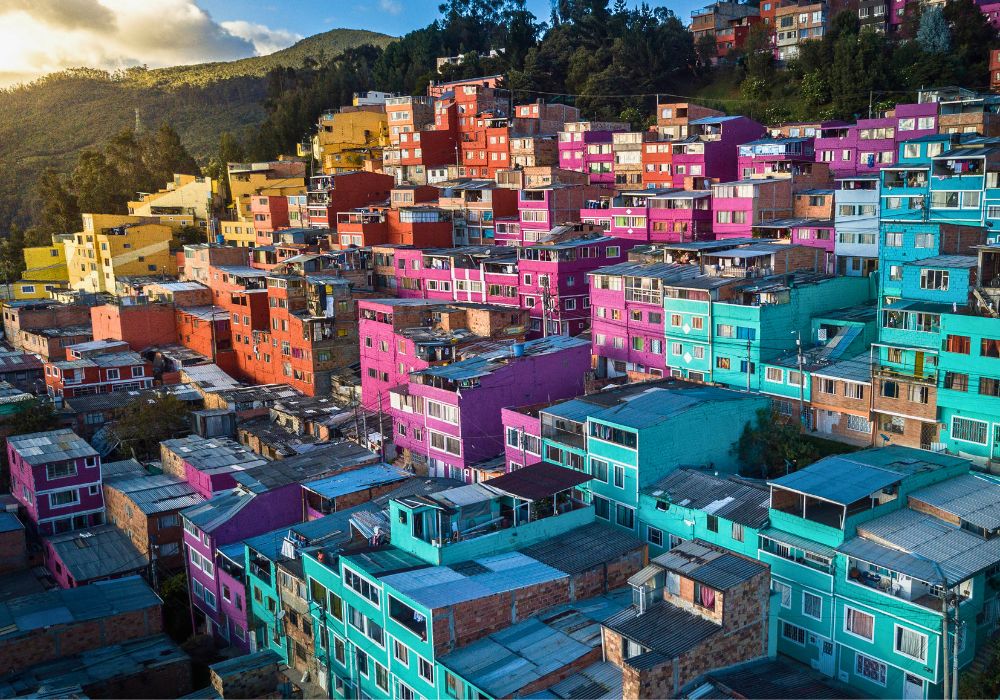 Colombia's capital city is usually a setting-off point for the other amazing places to see in Colombia. But I absolutely loved Bogota and highly recommend spending a few days here before heading elsewhere.
Bogota is perched in the Andean Mountains at an altitude of over 2,600 meters. It's a sprawling city, home to over 11 million people. Its lofty elevation means it can be cold and sometimes rainy, but on sunny days, it's an incredible place to explore.
You have the trendy neighborhoods of Zona T (or Rosa) and Chapinero which mix local eateries with hipster coffee shops and stylish brunch stops. Then you have the historical center around Plaza de Bolivar home to cobbled streets, stunning architecture, and some great museums.
Bogota is huge but has plenty of bike lanes as well as a public network of bikes for hire. So, jump on a bike and explore. For me, Bogota is one of the coolest cities to visit in Colombia. I'd highly recommend stopping for a few days.
Location: Bogota is fairly centrally located and makes a perfect starting point for your Colombian adventures.
Getting There: Chances are you'll fly into Bogota. If not, buses run daily from Cartagena (20 hours), and Medellin (9 hours) amongst others.
Things To Do: Take the cable car to Montserrat for the best views over the city. Explore Old Town around Plaza de Bolivar and soak up the trendy vibes in Zona T.
Where to Stay: I'd recommend staying in the northern part of Chapinero. This super stylish apartment is perfectly located between Chapinero and Zona T.
8. Tayrona National Park
The stunning Tayrona National Park, complete with secluded and palm tree-lined beaches, is hands down one of the most beautiful places Colombia has to offer its visitors.
This national park is located on the northern, Caribbean coast near the city of Santa Marta. It's where the jungle meets the ocean with the Sierra Nevada de Santa Marta mountains behind you, virgin beaches in front, and wilderness in between.
You can stay overnight in one of the many eco-lodges, or if you're on a budget, rent a hammock and enjoy the full jungle experience. It's one of my most must-see places in Colombia, especially if you're heading to the Caribbean coast.
Location: Tayrona National Park is located on Colombia's Caribbean coast, 20 kilometers from Santa Marta.
Getting There: You can take a 30-minute taxi or bus from Santa Marta, or board a yacht in Santa Marta for a truly unique experience.
Things To Do: Snorkel and sunbathe on an amazing yacht tour of the Park. Alternatively, explore on foot on one of the many marked trails in the jungle, and spend the night in an eco-lodge for an unforgettable jungle experience.
Where to Stay: Yay Sustainable is a beautiful eco-lodge focusing on sustainability. It has an outdoor pool and is nestled in the jungle. It's the ultimate accommodation for peace and tranquility.
Entrance Fee: Around $15 for entry to the national park.
9. San Andres Island
San Andres is without a doubt one of the best places to visit in Colombia, even though it's almost 450 miles from the mainland and in fact closer to Nicaragua.
Considered a National Park and located right in the middle of the Caribbean Sea, you can expect incredible marine life, palm tree-lined and white sand beaches beside bright blue water.
It's a great way to experience Caribbean life, on a Colombian budget. Albeit it's a little more expensive than the mainland, it's far cheaper than the Caribbean islands.
San Andres is one of the best diving spots in the world, with some of the best coral and marine life below the waves. It's also a very affordable place to dive, whether that be to get certified or join some incredible dives.
Location: San Andres is still a part of Columbia but is located over 700 kilometers away; around 210 off the Nicaraguan Coast. It's well worth a visit.
Getting There: You can only access San Andres by plane. You can fly from most main airports on the Colombian mainland to Gustavo Rojas Pinilla International Airport and tickets are reasonable.
Things To Do: Diving is essential in San Andres. I recommend this fun diving experience which is fantastic for beginners. Explore the many beaches, and visit the neighboring islands. My favorite is Johnny Cay.
Where to Stay: To be close to the best beaches, shops, and nightlife, I recommend staying in St Andrew's Bay. Hotel Boutique Casa Hendaus is a beautiful adults-only hotel just 400 meters from the beach.
Entrance Fee: There's an entry fee of around $30 which is charged on departure from the mainland at the airport to access San Andres.
10. Medellin
Medellin is a huge and incredible city. I spent a month here and based myself in El Poblado, a particularly cosmopolitan district in the City. There are so many great things to do in Medellin, and places to explore just outside of it, which makes it one of the best places to visit in Colombia.
Dubbed the 'Murder City' and being rated the most dangerous city in the world in the 90s thanks to the notorious cartels, Medellin has thankfully reinvented itself over the last 30 years. It's fascinating to learn about the past, and how communities have helped transform the City.
My favorite thing to do in Medellin is to take tours of the various neighborhoods. The best one is this tour of Moravia where you'll learn the story of the community built on a garbage dump. It's amazing and I wholeheartedly recommend it.
Location: Medellin is known as the capital of the mountainous Antioquia province, which is in the northwest of the country.
Getting There: You can fly into Medellin Airport from both Bogota and Cartagena, and it's also connected by bus.
Things To Do: Take a tour of Comuna 13, once the most dangerous neighborhood in Medellin, taste some of the best coffee on a coffee tour, and see the beautiful scenery of the Colombian Andes by paragliding.
Where to Stay: I recommend staying in El Poblado, a very safe neighborhood with lots of fantastic restaurants, bars, and shopping malls. Sui Posada Boutique is a fantastic option to be close enough to the action in the center, but far away enough for a peaceful stay.
11. The Amazon Jungle
The Amazon makes up almost a third of the entire country, and it's definitely one of the best places to visit in Colombia. There are some beautiful towns to visit nestled within the jungle, and it's a must-see while traveling to this part of the world.
Leticia is probably the most popular town in the Amazon region of Colombia and is the cutest, little laid-back town I stumbled across during my stay. It's a great place to explore the river, where you'll find Puerto Narino's eco-village and meet some incredible indigenous people.
Close to Puerto Narino is Lake Tarapoto where you can have the chance to spot pink dolphins, go piranha fishing, and visit the Amacayacu national park which is fantastic for wildlife lovers.
Location: Located in the South of Colombia, the Amazonas Region borders, Peru and Brazil.
Getting There: It's best to travel to Leticia as this little town is seen as the gateway to the Amazon. You can only get here by plane, and there are direct flights from Bogota daily.
Things To Do: Visit the Amacayacu National Park, take a boat trip along the Amazon River, and hike through the jungle to discover wildlife and plants. Alternatively, take this wonderful 5-day tour to see everything the Colombian Amazon has to offer.
Where to Stay: Leticia is a great place to stay in Colombia's Amazonas Region. For a real jungle experience, I recommend staying in a treetop cabana in Reserva Natural Tanimboca.
12. Providencia
I couldn't leave out Providencia from this Colombian tourist guide. Like San Andres, it's actually closer to Nicaragua than it is to Colombia, but nevertheless, it's a scenic and remote Caribbean Colombian island.
It's without a doubt one of the prettiest places to visit in Colombia, with postcard-standard sandy beaches and an incredible underwater world to be discovered. It's particularly attractive to divers, who can explore the crystal clear waters and expect to see reef sharks, stingrays, and turtles.
Providencia is much more relaxed and is smaller than San Andres, with more quaint island vibes, and the most beautiful beaches. It's extremely picturesque, but the facilities aren't as developed as San Andres.
Location: Located 700 kilometers from the Colombian Mainland, Providencia is a beautiful Caribbean Island closer to Nicaragua (but still part of Colombia).
Getting There: You must fly from mainland Colombia (Bogota or Cartagena) to San Andres. From San Andres, you can either take a flight that takes around 20 minutes or take the 90-kilometer ferry which takes around 3.5 hours and can be quite choppy. You can book ferry tickets here.
Things To Do: Go diving, spot wildlife and explore the barrier reef, and visit Santa Catalina Island.
Where to Stay: Freshwater Bay is where you'll find the most amenities, and even that is just a few hotels, restaurants, and a few dive shops. I recommend this gorgeous cabana, right on the beach.
Entrance Fee: You'll have to pay the $30 charged on departure from mainland Colombia at the airport to access San Andres.
13. Jerico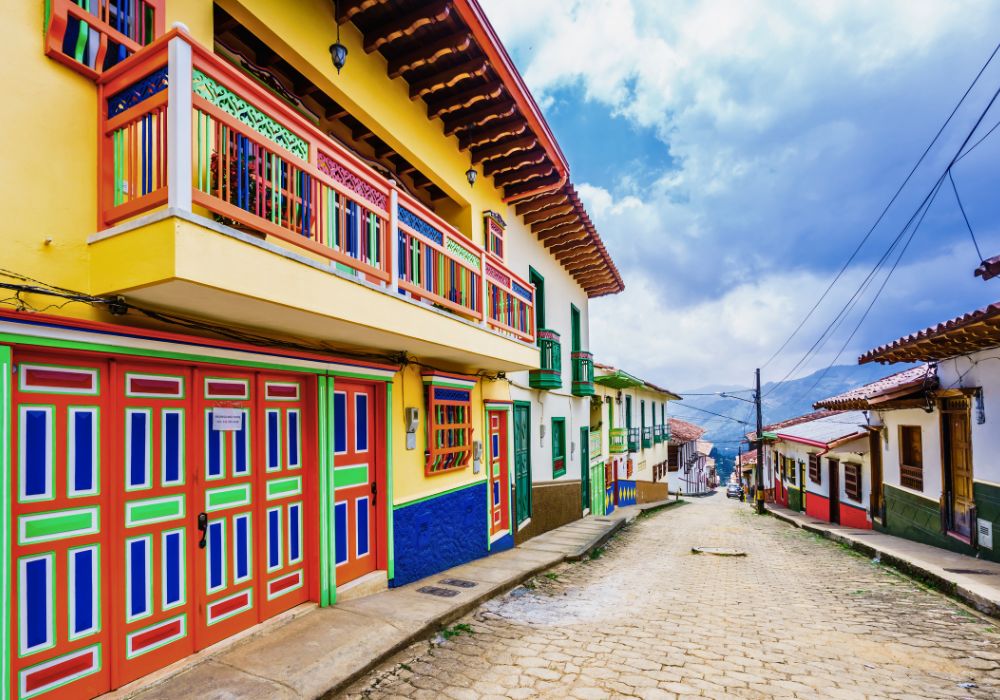 Jerico is definitely one of the prettiest towns in Colombia, and despite its popularity, it still feels a little off the beaten track. It's a very traditional and religious town and is home to around 17 churches. You definitely feel like you're experiencing authentic Colombia when stopping here.
If you're into the arts, you're going to be in heaven in Jerico. It's super vibrant and creative, and there's always something to get involved in and plenty of opportunities to try something new. There are often art and pottery workshops held for free.
One place you must visit in Jerico is the Isabel Art and Steakhouse. I was told the meat is the best in the country, and I can assure you, you won't be disappointed. It's slow-cooked and absolutely mouthwatering.
Location: Jerico is a town in the Antioquia region, around 100 kilometers southwest of Medellin.
Getting There: From Medellin, you can get the bus from Terminal del Sur and take the Trans Jerico service. It takes around 3 hours and will cost around $10.
Things To Do: Visit Parque Cerro Las Nubes, hike to the top of Morro El Salvador for panoramic views over Jerico, and visit the waterfalls of Chorros de Quebradona.
Where to Stay: Jerico is a small town and this lovely apartment is only a short walk from the town center and features an outdoor pool and the most stunning surroundings.
14. Guatape
Guatape is one of the best towns to visit in Colombia. It's actually famous for its brightly decorated buildings and is so colorful and vibrant, that you're sure to come away with 1,000 photos on your camera roll of this pretty town.
I took a weekend away for a friend's birthday to Guatape from Medellin. It was absolutely perfect, and I didn't want to leave. The water is beautiful and when compared to Medellin, it's so relaxed and makes for the perfect getaway from city life.
The highlights for me were kayaking on the lake and climbing El Penol (or the Rock of Guatape) for the most incredible views over the lake – although the climb is no mean feat!
Location: Guatape is in the northwest of Colombia around a 2-hour drive east of Medellin.
Getting There: It's really easy to get to Guatape from Medellin. You can either take a taxi, which costs around $50 each way, or you can get the bus from Terminal del Norte in Medellin which will cost around $5.
Things To Do: Climb the 745 steps of The Rock of Guatape, take a tour of the colorful town of Guatape, and explore the lake by boat. Or, check out this epic day trip to Guatape from Medellin.
Where to Stay: I stayed outside Guatape in Serendipity Boutique Hotel, which I definitely recommend for really making the most of the lake. The grounds are gorgeous and there are kayaks free for guests to use.
15. Santa Marta
Santa Marta is probably the best place in Colombia to base yourself if you want to spend some time in the Tayrona National Park while being by the sea.
It's one of the oldest cities in the Americas, founded by the Spanish in 1525, and it has some beautiful colonial architecture. The city itself wasn't my favorite, but the history, food, and the fact that it's a city on the beach with some excellent excursions in the vicinity make this one of the best places to visit in Colombia.
Try some local food in the Santa Marta Public Market (try the coconut rice 'Arroz de coco' and delicious fried fish), take a stroll along the promenade (Paseo El Camellon) at sunset for beautiful views over the water and visit my favorite beach, Playa Blanca, for beautiful, soft sand and water.
Location: Santa Marta is a city on the Caribbean Sea in the north of Colombia.
Getting There: It's super easy to get to Santa Marta, with relatively cheap internal flights available from the main cities in Colombia including Medellin, Bogota, and Cali. It's around 5 hours by bus to and from Cartagena.
Things To Do: Visit Tayrona National Park, trek through the jungle to The Lost City, and head to Minca for a coffee and cocoa tour.
Where to Stay: Stay in the beautiful historic center, in this vibrant hotel which is not only close to the beach but also has a pool to cool off in.
Getting Around Colombia
To explore the best places to visit in Colombia, you're going to cover some miles; Colombia is a huge country.
There are two main ways of getting between the main highlights in Colombia, depending on your budget. Internal flights are the quickest and can be relatively inexpensive.
There are multiple flights per day between Bogota, Cartagena, Cali, and Medellin. As well as being the best cities in Colombia, they're also excellent bases for visiting the other top attractions.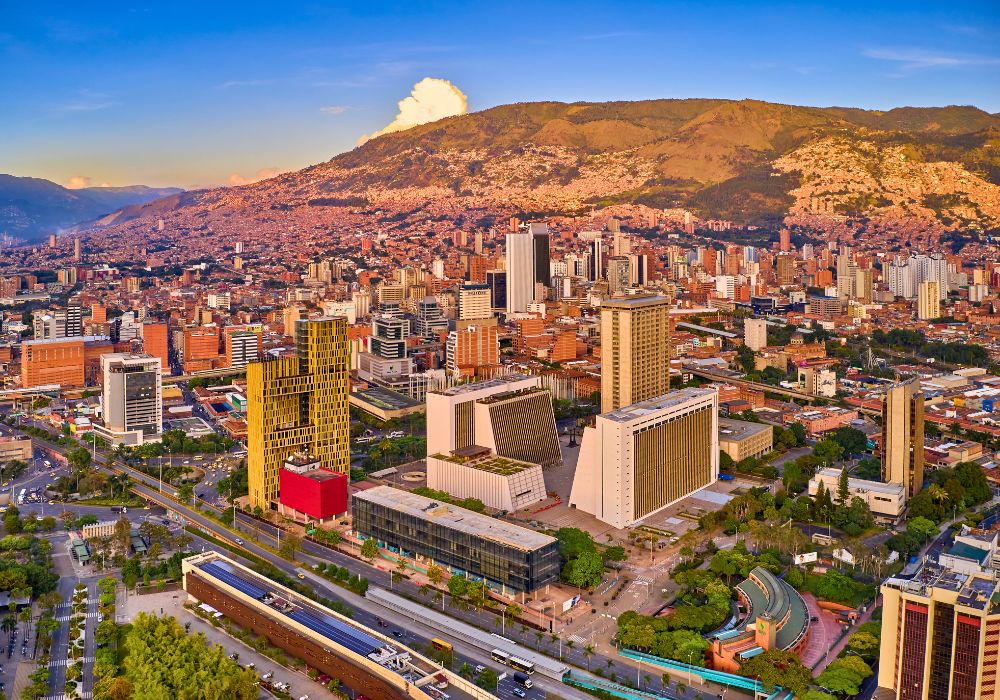 Alternatively, as Colombia is a popular backpacker destination, the bus network is very well established. Daily buses run between the main cities mentioned above and are simple to navigate.
The bus journeys are cheap, and the buses are generally comfortable. They're long, though. Bogota to Medellin is 9 hours, Bogota to Cartagena is close to 20 hours, and Cartagena to Medellin takes around 13 hours.
Quick Itineraries for Colombia
Here are a few simple itineraries to follow when visiting Colombia:
3 Days in Colombia
If you only have a few days in Colombia, then you'll only scratch the surface. If you arrive in the capital, then spend a night in Bogota. Head to Plaza de Bolivar and take the cable car up to Montserrat for breathtaking views during the day. In the evening, head to Zona T (Rosa) for great food and nightlife.
Take an internal flight to Cartagena for some sun and the Caribbean Sea. Spend a day exploring the Old Town with its cobbled streets and boutique shops. Eat in the trendy neighborhood of Getsemani.
If you have time, take a boat trip to the stunning Rosario Islands from the port in Cartagena. Soak up the sun on white beaches and clear blue waters before you leave.
One Week in Colombia
One week in Colombia will let you build on the short itinerary above (a little). Take an extra day in Bogota to explore the museums and cycle around the city.
After a couple of days in Cartagena, take an internal flight to Medellin to explore this hip city. Join either the Comuna 13 Graffiti and Food Tour or take a coffee tour. Enjoy food and drinks in El Poblado in the evening and enjoy the cool vibe in this trendy neighborhood.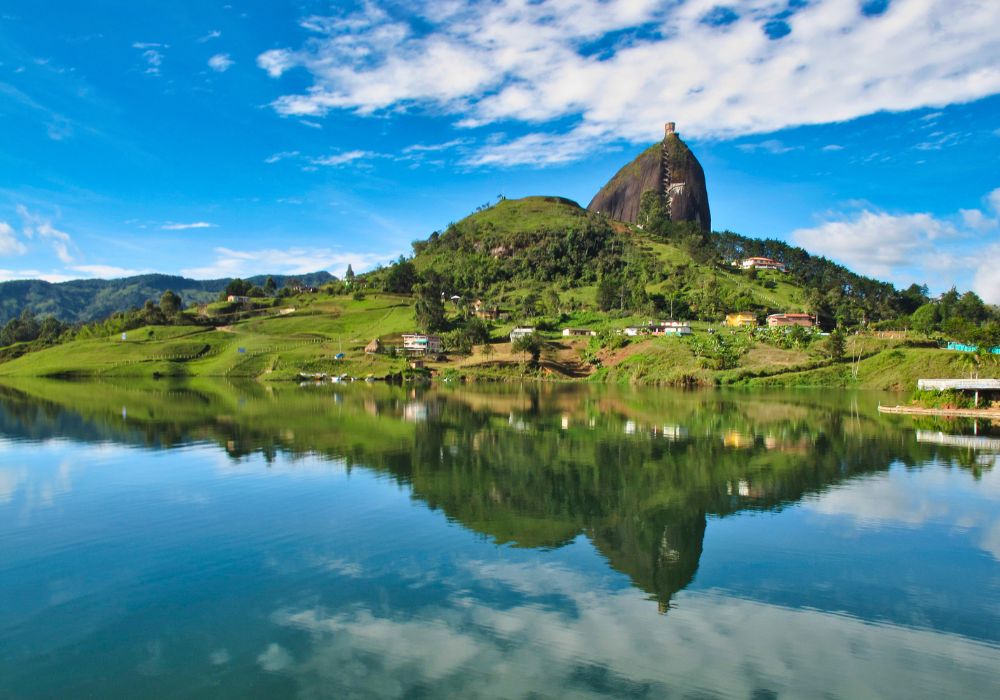 On the second day, either take whichever tour you missed the day before or head out to Guatape and climb El Peñol. It's a full-day trip from Medellin but is one of the best places to visit in Colombia.
10+ Days in Colombia
If you have more time to fill, you'll be able to hit more of the best places in Colombia. Again, follow the itinerary above from Bogota to Cartagena. From Cartagena, I'd suggest going along the coast to Santa Marta. Enjoy the nearby beaches and use Santa Marta to explore Tayrona National Park.
Next, fly from Santa Marta to Medellin and pick up the itinerary above for Medellin. If you want to explore the coffee region, head from Medellin to the incredible town of Jardin. Here, spend a couple of days chasing waterfalls and sampling locally-grown coffee.
If you prefer something a little more lively, take a flight from Medellin to Cali and turn your hand (or your feet) to Salsa. Take a lesson or watch the pros in one of the main dance bars in the capital of Salsa. From Cali, you can fly back to Bogota or onward to your next destination.
Best Beaches in Colombia
Some of the best places in Colombia are its stunning beaches and islands. The combination of cities, mountains, jungle, and beaches is one of the things that make the Colombia sightseeing list so long and varied.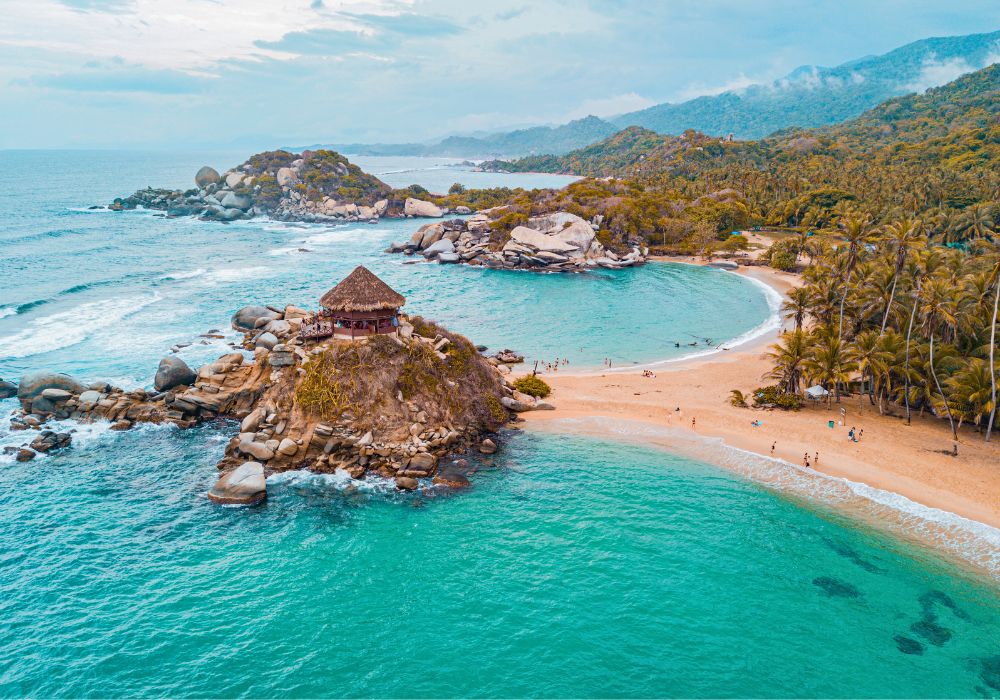 Here are some of my favorite beaches in Colombia, although there are many, many more.
Playa Blanca, near Cartagena
Cartagena itself isn't exactly blessed with beautiful beaches, but they're within easy reach. Playa Blanca, 30 kilometers from Cartagena, is a hugely popular, white sand beach. It has crystal clear waters, soft sand, and is a picture-perfect Caribbean beach.
As it's accessible from Cartagena, it can become crowded, so head there early in the day to grab your spot. You can rent loungers and tents on the beach, and there are small shops selling refreshments. Drive to Playa Blanca or join a boat tour from Cartagena.
Playa Cristal, Tayrona National Park
Playa Cristal is nestled in a cove within Tayrona National Park. It's a pristine, horseshoe-shaped beach with calm, blue waters. It's perfect for cooling off after trekking through the national park.
It's one of many beautiful beaches in Tayrona, but due to the protection from the cove, the waters here are much calmer. Elsewhere, you can find strong currents, so head to Playa Cristal for a safe and relaxing dip.
Bora Bora Beach, Rosario Islands
If you're in Cartagena, and you're looking for party vibes, then jump on a tour boat and head out to Bora Bora Beach Club where the stunning, white sand beaches and turquoise waters of the Rosario Islands meet the cool beach club vibes of Bora Bora Club.
The beach is beautiful and visiting makes for a great day trip from Cartagena. The tour includes return speedboat trips as well as lunch and a complimentary drink. The beach is breathtaking, and it truly feels like you're partying in paradise.
Must-Try Foods in Colombia
The food in Colombia is exceptional and one of the biggest appeals of this amazing country. Here are some of my favorites for you to look out for during your travels: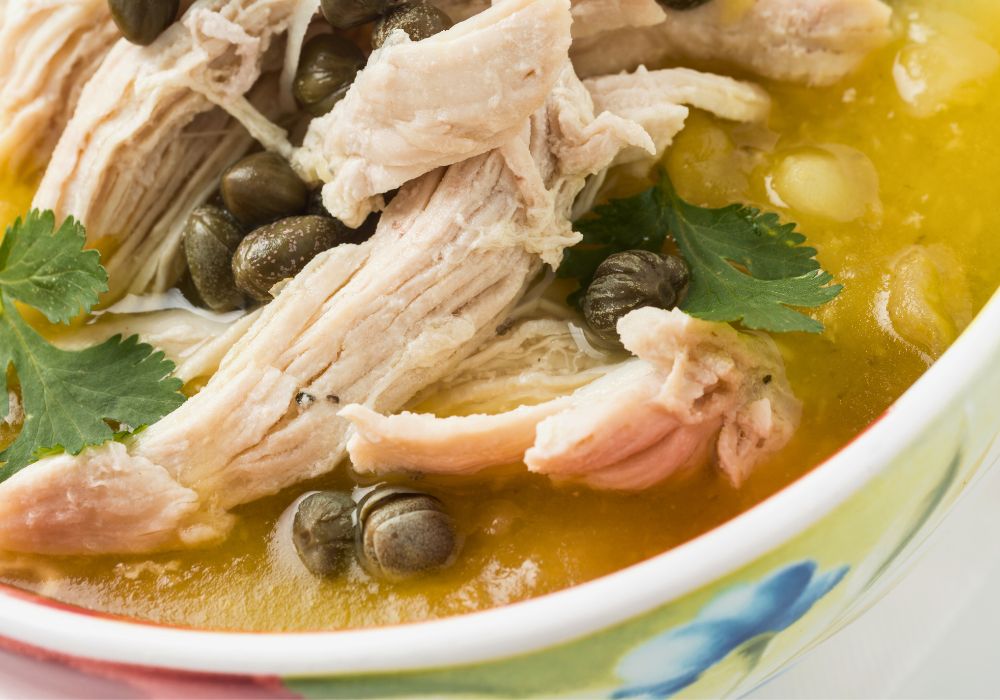 Ajiaco
This chicken and potato soup is popular in the Andean Mountains, where the weather is cooler. It's a really filling dish that includes capers, cream, and corn and is seasoned with the Colombian herb, guasca and served with rice and avocado. Try it in Bogota at La Puerta de la Catedral.
Arepas
There are over 30 different types of arepas, and they're sold on street corners all over the country. They can be filled with cheese, meat, veggies, or even an egg. There are also sweeter versions made with something similar to sweetcorn.
Try arepas from any street vendor or, if you prefer, head to La Pepiada in Cartagena.
Bandeja Paisa
If you're particularly hungry after a day of exploring, try the epic countryman's platter. It's a packed dish containing chicharon (fried pork belly), fried eggs, ground meat, chorizo, plantain, rice, avocado, and a plain arepa.
It's an interesting fusion of Colombia's history with references to the indigenous people (arepas), African influences (beans and plantain), and Spanish influences (chorizo and ground meat).
In Medellin, try this dish at Restaurante Mondongo's.
Ceviche
While originally Peruvian, Colombia has taken this seafood delicacy and given it its own twist. Traditionally, ceviche comprises white seafood that's been cured in citrus juice and then mixed with other ingredients.
In Colombia, you'll find two types. One with fish marinated in tiger's milk, which creates a creamy and deliciously rich broth that's similar to the traditional version. However, on the beaches, you'll find cocteles de camarones which is more like a tangy prawn cocktail served in a styrofoam cup.
In Cartagena, head to La Cevicheria in Old Town for delicious seafood and ceviche.
Chocolate Santaferaño
Chocolate Santaferaño is hot chocolate with cheese. Yes, you read that right! Traditionally this is drunk between lunch and dinner with a lump of cheese grated or broken down into smaller pieces dropped into the hot chocolate.
It may sound different but give it a try, and you may just be converted. I certainly was. In Medellin, head to The Chocolate House to give it a try.
Best Places to See in Colombia: FAQs
Here are some answers to commonly asked questions about visiting beautiful places in Colombia:
Where is Colombia?
Colombia is the most northern country in South America and is bordered by Panama, the Pacific and Caribbean Sea, Venezuela, Brazil, Ecuador, and Peru which make it a great starting point for a South American adventure.
Is Colombia worth visiting?
Colombia is definitely worth visiting. It's such a diverse country, home to happy and friendly people to welcome you and so many incredible experiences to be had.
What is the most popular place to visit in Colombia?
Medellin and Cartagena are very popular places to visit in Colombia. Cartagena for the Caribbean Coast and Medellin to experience the transformation from the most dangerous city in the world to a safe, cosmopolitan city.
When is the best time to visit Colombia?
The best times to visit Colombia are from December to March or June to September when you'll see a lot of sunshine across the country. September to November are typically quite wet, but each region has different weather year around.
What is the prettiest part of Colombia?
I love Guatape. The lakes are absolutely stunning. The Rosario Islands have the most beautiful beaches, and Cartagena Old Town has the prettiest walled city and colonial buildings.
Where should I base myself in Colombia?
Medellin is a great base thanks to its shopping malls, excellent bars and restaurants, and coworking spaces (for those working remotely). It also has a big airport which makes it easy to visit other cities, and you can take some great trips to the Andes and towns like Guatape to enjoy the countryside too.
What is Colombia famous for?
Colombia is infamous for its tumultuous history with civil conflict and violent cartels. However, it's a country that really wants to move past this and is becoming known as a digital nomad hub, and as an upcoming and exciting country with endless opportunities to experience diverse landscapes.
Is Colombia safe to visit?
There's still a stigma in Colombia that it's unsafe. But today, some Colombian cities, including Bogota, have a lower violent crime rate than some US cities. Of course, some places are safer than others, and you should always use common sense whenever you're traveling. The places featured on this list are safe to visit.
In Conclusion
So there you have it. My 15 best places to visit in Colombia, and the top areas I was fortunate enough to get to know during my three months in Colombia. It's a huge country, filled with pretty towns, glorious beaches, and wildlife havens ready to be discovered.
I hope this helps you plan your trip to Colombia and that you have the best time in this incredible country.
Like This Article? Pin it!