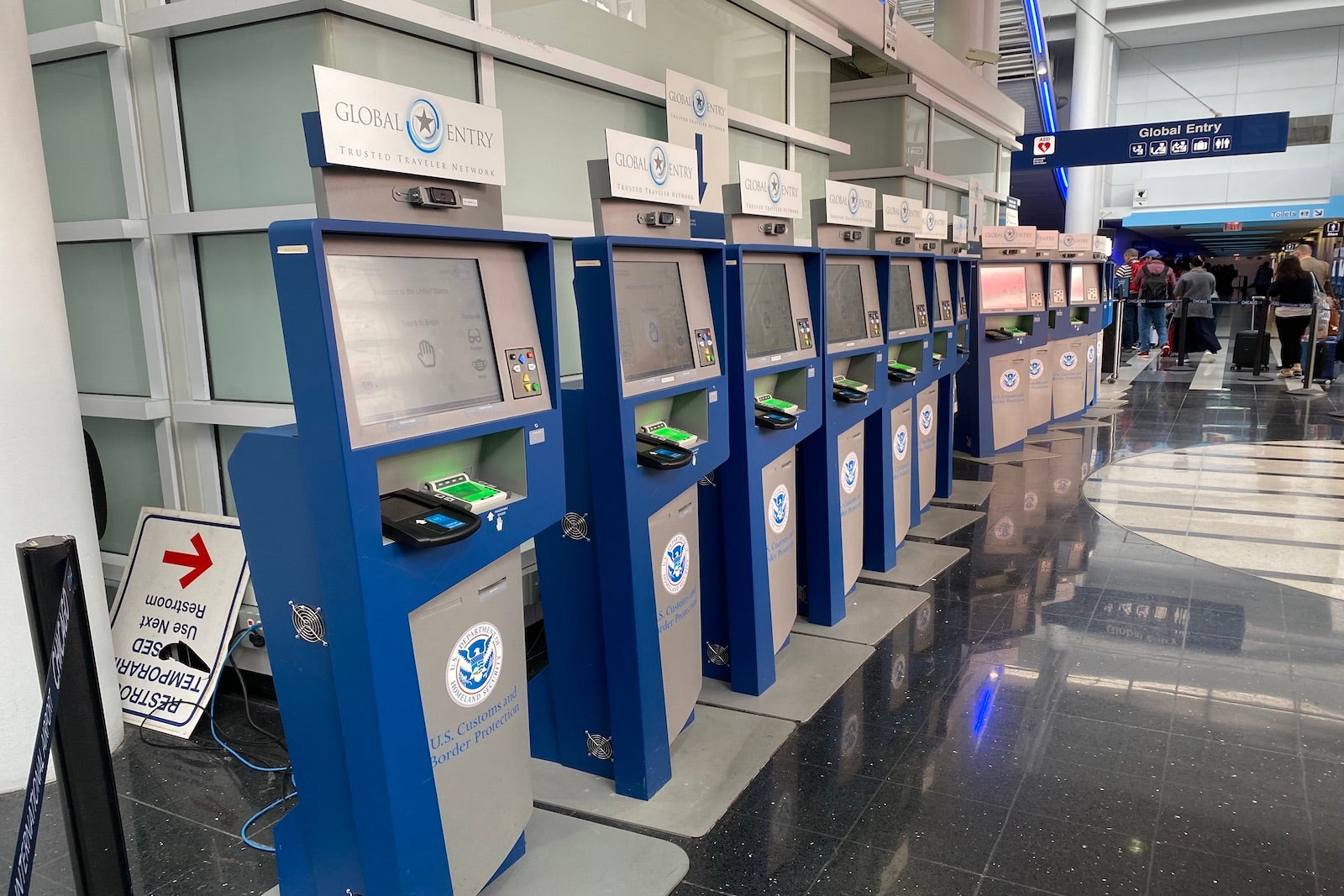 Editor's note: This is a recurring post, regularly updated with new information and offers.
If you've visited a Global Entry kiosk in the past two years, you may have gone through U.S. Customs and Border Protection's new facial recognition process. It allows you to pass through Global Entry without scanning your passport or fingerprints.
CBP has been rolling out this technology since 2021 to facilitate an even quicker experience for Global Entry users when passing through U.S. customs. Unlike the original kiosks, these use a facial scan to confirm your identity when you arrive at a customs hall kiosk; they also eliminate paper receipts that travelers previously used to show agents.
A trusted traveler program run by the U.S. government, Global Entry allows preapproved, low-risk travelers expedited clearance upon arrival to the U.S. from abroad through automated kiosks at nearly 80 airports.
How do these new facial recognition machines work?
"The new paperless biometric kiosks use facial comparison and leverages mobile officer technology by confirming traveler identity and making an admissibility decision without producing a receipt," a CBP spokesperson said. "This process will continue to enable increasingly contactless processing and a reduced environmental footprint through the elimination of paper receipts."
With this new screening capability, you approach the Global Entry kiosks as normal and pose for a photo that verifies your identity. In theory, this whole process should take less than 30 seconds.
Like other technology implemented recently — including the Transportation Security Administration's new computed tomography X-ray systems — facial recognition kiosks are designed to be more efficient. They also remove physical contact points between agents and travelers while minimizing environmental impact.
The updated Global Entry technology is part of a broader CBP and TSA effort to implement more facial recognition software. The hope is that it will expedite the identity verification process, including upon arrival in the U.S. and when passing through TSA security.
These efforts align TSA with Clear, the private sector's equivalent of TSA PreCheck.
Sign up for our daily newsletter
In addition to time saved, this is also good news for parents of children who have Global Entry, as fingerprints on kids — especially babies — aren't necessarily fully developed. Prior to this new process, families with children who weren't fingerprinted had to see an officer before entry, significantly slowing down the process.
This technology potentially eliminates these issues and allows those globe-trotting children (and their parents) to enter the U.S. without a fuss, as TPG's director of content, Summer Hull, recently experienced in coming home from Canada with her kids. She said:
"When we went through preclearance in Vancouver, we encountered the new Global Entry facial recognition machines. Typically, with younger kids, it's been next to impossible to actually get their photo and fingerprints to register correctly and therefore, you usually have to see the agent. Though the new machines were confusing at first, it quickly became a fantastic upgrade as all you need to do is tilt the camera down a bit to see the kids, and there's no additional scanning. It was fantastically simple and made having Global Entry for the whole family feel more valuable than ever since we actually all got to really use it."
Where they are now?
As of June 2023, 15 U.S. airports have facial recognition Global Entry kiosks, including Dallas-Fort Worth International Airport (DFW), Miami International Airport (MIA), John F. Kennedy International Airport (JFK) and Seattle-Tacoma International Airport (SEA).
Global Entry is available at a total of 77 airports in the U.S. and abroad, including all major airports and all Preclearance airports.
Ways to save money on Global Entry
For $100, travelers can reap the benefits of both a Global Entry and TSA PreCheck membership for five years.
Fortunately, many cobranded airline and hotel credit cards offer up to $100 in statement credit reimbursement for the application fees associated with Global Entry or TSA PreCheck. This credit is typically available every four to five years.
Some of the credit cards offering this benefit are:
See here for a complete list of credit cards that offer a discount for TSA PreCheck.
Bottom line
With summer travel in full swing, expedited entry following an international trip is welcome news for travelers. Global Entry kiosks speed up the process by using facial scanners to verify identities.
Related reading: