This guide is for all you party animals out there, as we're going to dive into the awesome Puerto Vallarta nightlife!
Located in Banderas Bay on the Pacific Coast, Puerto Vallarta has long been a popular tourist destination. With picturesque beaches, a vibrant culture, and fun nightlife, this is definitely one of the best places to visit in Mexico.
While many people may think of Puerto Vallarta as a spring break hotspot, there's a lot more to the nightlife here than youngsters downing tequila shots at Señor Frogs. In fact, there are plenty of fun bars in Puerto Vallarta that aren't overpriced tourist traps.
Puerto Vallarta Nightlife: Best Bars and Clubs
On a night out in PV, you can take your pick between chilled-out beach bars, hidden cocktail joints, local craft breweries, LGBT-friendly bars, and pulsating nightclubs. There are so many choices here that you can bar hop on every night of your trip and barely scratch the surface. 
Having called Puerto Vallarta my home away from home of-and-on for over six years now, I can assure you I did plenty of "research" for this guide.
I did the backbreaking work of sipping margaritas on the beach and rocking out with local bands at night just for you. Let's get this show on the road and check out the best options for Puerto Vallarta nightlife.
Best Beach Bars in Puerto Vallarta
The thing about Puerto Vallarta nightlife is that it actually kind of starts during the day. After all, this is a beach town. There are several beach bars in PV, most of them located on the popular Los Muertos Beach. 
Some beach bars require a minimum consumption in order to use their umbrellas and sun loungers. I'm not going to send you to those places in this guide. Instead, I chose some of my favorite beachfront joints that have reasonable prices and no minimum spend. 
1. Swell Beach Bar
Located just south of the pier on Los Muertos, Swell Beach Bar is one of the top Puerto Vallarta bars on the beach. They have tons of umbrellas and loungers here so it's never that hard to get a comfortable spot. 
Swell is a great place to go in the afternoon for a casual lunch and some drinks. Go ahead and order up a margarita and some ceviche — you're in Mexico after all.
Feet in the sand, cold drink in hand, and as if it couldn't get any better, you can even get a massage right here on the beach.
If you're like me and get bored sitting around, you can easily take part in some watersports like parasailing or SUPing. This bar closes around sunset, so go wash the salt and sand off and get ready for the evening. Or promptly pass out from too much sun and tequila. Your call!
2. Cuates y Cuetes
If you're looking for a place to grab dinner and drinks on the beach, Cuates y Cuetes is a solid choice. They have a few tables in the sand here with a fantastic view of the pier and sunset. 
Thanks to its location and views, Cuates y Cuetes is usually busy around dinnertime. It's a good idea to make a reservation or get there early if you want to get a table on the beach.
This isn't a guide about PV's restaurants, though. This is a guide to Puerto Vallarta nightlife. They've got live music here at 8 PM every night of the week, so it's the perfect choice to pre-game before a night out on the town.
3. El Solar
In my humble opinion, El Solar is the best option for beachside Puerto Vallarta nightlife. I may be a bit biased as it's also my local bar, but this place truly is awesome.
As with the other beach bars, El Solar is busy both day and night. Unlike the others on this list, though, the party goes late here on the weekend.
They usually have live music on Friday and Saturday night as well as on Sunday afternoon. Sometimes it's a DJ playing tunes and they also have some really talented bands come through. Order up their unique jalapeño mezcalita and get ready to rock.
Looking for more articles to help plan your trip to Puerto Vallarta?
Best Gay Bars in Puerto Vallarta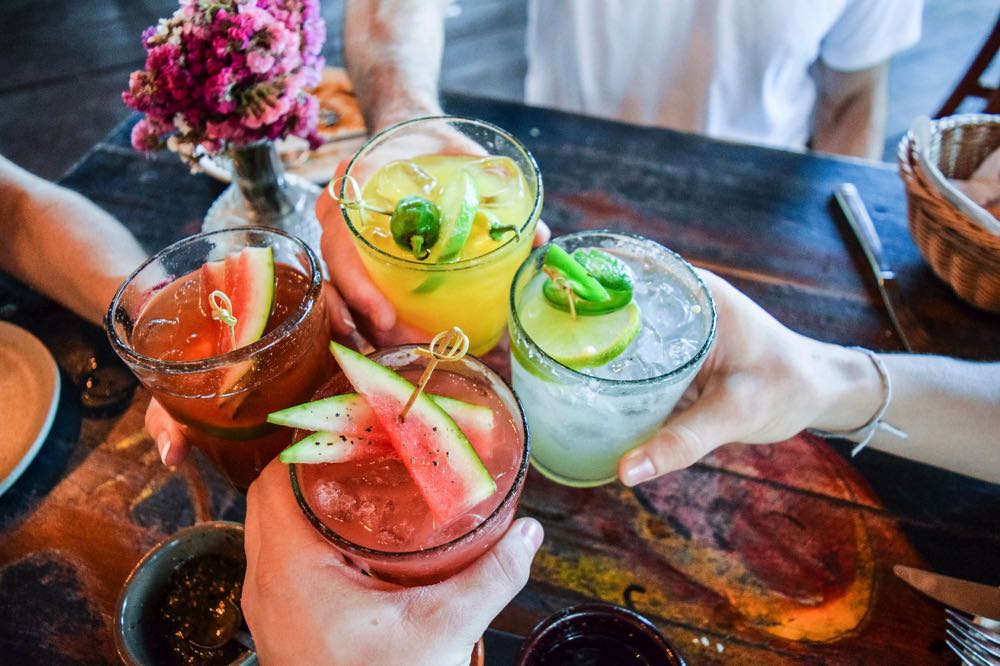 Puerto Vallarta is a very LGBT-friendly travel destination. Here you'll find lots of hotels and bars that cater to LGBT travelers. The city also hosts a massive pride week every May that draws in thousands of visitors.
Most of the LGBT-friendly bars are located in the Romantic Zone, which is known as PV's "gay-borhood." Here are a few of the best options for Puerto Vallarta nightlife when it comes to gay bars and clubs.
1. Blue Chairs Rooftop Bar
The Blue Chairs Rooftop Bar is really easy to find. Just walk to the end of Los Muertos beach and look for the – you guessed it – blue chairs. It's definitely one of the most famous gay bars in Puerto Vallarta, but all are welcome here.
You don't have to be a guest at the hotel to enjoy the restaurant, bar, and pool. They have a great view here and are known for their excellent service. 
This isn't just a daytime spot, though. They host fun events every night, from karaoke to "drag queen bingo." 
2. Mr. Flamingo
Mr. Flamingo is hands down one of the most fun gay bars in Puerto Vallarta to party. Every single time I walk by late at night, it's absolutely packed. The dance floor is always bumping and the drinks are always flowing at Mr. Flamingo.
One of the best things about partying at Mr. Flamingo is that you get such a nice mix of people here. Locals and tourists, gay and straight, old and young — everyone can appreciate a fun night out at this classic Puerto Vallarta bar.
3. La Noche
Just a few doors down from Mr. Flamingo is another one of the best gay bars in Puerto Vallarta, La Noche. It's only fitting that a place named "The Night" makes the list of best options for Puerto Vallarta nightlife.
Advertising "3 floors of fun," La Noche has a large main floor with pulsating house music and go-go dancers. Upstairs is a 2-level rooftop garden with some fantastic views of the town. Be sure to add this unique spot to your list of Puerto Vallarta bars to check out.
☞ SEE ALSO: 15 Best Things to Do in Mexico City at Night
Best Puerto Vallarta Bars for Craft Beer
Craft beers are all the rage these days, and lucky for you, there are two great brewpubs here in Puerto Vallarta.
1. Monzon
When it comes to local craft beer in Puerto Vallarta, Monzon is the undisputed champion. These guys have been brewing up creative beers in paradise for a few years, from coconut stouts to a jalapeño margarita. I consider myself a "beer enthusiast" and haven't had a brew I didn't like here yet.
Monzon hosts trivia in English every Wednesday night and in Spanish on Fridays. It's a great way to meet people and have some fun over a few beers. They also recently opened their upstairs Mosaic Room with several TVs if there's a game you want to watch.
2. Los Muertos Brewing
If your idea of a fun night out consists of pizza, beer, and sports, then I've got the place for you. Los Muertos Brewing is one of the best Puerto Vallarta bars for a slice, a pint, and whatever sports game is on.
I know that 4-6 PM doesn't exactly fall into the "nightlife" category, but it's worth mentioning that pints are only 35 pesos ($1.75) during this Happy Hour. Score!
Best Cocktail Bars in Puerto Vallarta
If you're looking to enjoy a mixed drink, rather than the typical margarita or beer, here are some cool cocktail bars you won't want to miss.
1. El Colibri
The fantastic El Colibri is a recent addition to the Puerto Vallarta nightlife scene. This hidden gem may not seem like much from the street, but inside you'll find a chilled-out courtyard and some of the best cocktails in town.
Upon entering, you'll pass a sign that says "Welcome to the jungle, amigos" and you'll quickly see why. Their outdoor garden seating area with a fountain definitely has a bit of a jungle vibe to it.
In a town full of bars pouring the same old cocktails, this place is a breath of fresh air. They come up with new ideas every week, such as the "Chama" (pineapple, mint, chocolate bitters, spiced rum).
Sounds delicious, right? They often have DJs spinning tunes here starting at 8:00pm on the weekends, so it's a great spot for some drinks and dancing.
2. Twisted Palms
Famous for having the best martinis in town, Twisted Palms has been a staple in the Puerto Vallarta nightlife scene for 11 years now. It's located on a rooftop in the heart of the Romantic Zone and is one of the best tucked-away bars in Puerto Vallarta.
They're best known for Martini Madness Mondays, where their signature cocktails only cost 65 pesos ($3.25) and they show a classic James Bond flick. They do take the "low season" off though, so you're out of luck if visiting during the summer months.
3. Bar La Playa
Not only is Bar La Playa one of my personal favorite bars in Puerto Vallarta, but it's home to some of the friendliest bartenders around whipping up some tasty cocktails.
Despite the name, Bar La Playa isn't actually located on "la playa." It's close enough, though, as it's right next to Lazaro Cardenas Park and just a block from the ocean. 
There aren't too many stools here, so it's the kind of place that encourages you to make friends with your drinking neighbours. After a few of their famous cocktails, that shouldn't be too hard. BLP is one of the best places to start a night out in Puerto Vallarta.
Best Sports Bars in Puerto Vallarta
If you're looking for a side of sports with your drinks, these are the best sports bars in the city. Football, UFC, soccer, you name it and it'll be showing.
1. El Torito Sports Bar & BBQ House
El Torito has been one of the best bars in Puerto Vallarta for sports and BBQ since 1982. 
Whether it's an NFL game, a UFC fight, or the World Cup, they're showing it here at El Torito. On big fight nights and for special events like the Super Bowl, the place is packed and you'll need to make a reservation.
In addition to being a classic sports bar, El Torito is famous for its mouthwatering BBQ ribs. Be sure to come here hungry as they serve the plates loaded with fries and coleslaw.
2. Players
Located just one block up from Los Muertos, Players is the perfect place to come after a day on the beach, especially when there's a game on. It's a great spot to transition from day drinking on the beach to enjoying Puerto Vallarta nightlife.
Players has very reasonably priced drinks, delicious burgers, and a few TVs so they can accommodate different sports fans. They have live music at night from time to time as well, so stick around and rock out.
3. El Soñador
Of the countless bars in Puerto Vallarta, there's a special place in my heart (or liver) for El Soñador. It's basically my "Cheers" — you know, the place where everyone knows your name. 
While this gets my vote for my overall favorite bar in town, I'm including it under sports bars because their rooftop terrace is the best place to watch the fight or the big game.
I don't even like UFC but I end up going there every time there's a big fight just because it's fun.
Whether you're watching sports or not, El Soñador is an awesome bar to check out. In addition to the terrace full of TVs, they have a pool table downstairs.
Best Bars for Live Music in Puerto Vallarta
While DJ music is great, there's nothing better than the real deal. In Puerto Vallarta, unfortunately, due to noise regulations there aren't a lot of bars that offer live music, but here are a couple of them.  
1. Incanto
If you're looking to get away from the noise and crowds, Incanto is a great choice. It's a beautiful location overlooking the Cuale River and feels worlds apart from the more raucous nightlife just down the street.
This is definitely one of the best bars in Puerto Vallarta for music lovers. It's a piano bar, but they also host open mic nights, salsa lessons, musicals, and much more. Be sure to check their calendar of events to see what's playing while you're in town.
2. Roxy Rock House
While I enjoy Puerto Vallarta nightlife, I must say that my biggest complaint is a lack of options for live music. Local noise ordinances have forced several places to stop hosting bands, causing some spots to close entirely.
Thankfully, one place that's still rocking hard is Roxy Rock House. Located in the heart of Puerto Vallarta's party district, this place always cranks it up on a nightly basis.
If you get worn out by all the EDM and reggaeton coming out of all the other bars, this is the spot to come grab a cold beer and throw up the rock hands.
3. Kooky Karaoke
I know that karaoke isn't technically "live music," but I just have to include Kooky Karaoke. After all, some of my best nights out in Puerto Vallarta have ended right here with some hilarious drunken sing-a-longs, and I highly recommend you do the same.
Kooky isn't just any old karaoke bar. First of all, you can request any song and they will find it for you. They also have props like bright neon wigs and air guitars that help turn your performance up to 11. 
If you've already visited a few other Puerto Vallarta bars and the liquid confidence has you feeling like a rockstar, be sure to drop by Kooky and sing a song or two. 
Top Nightclubs in Puerto Vallarta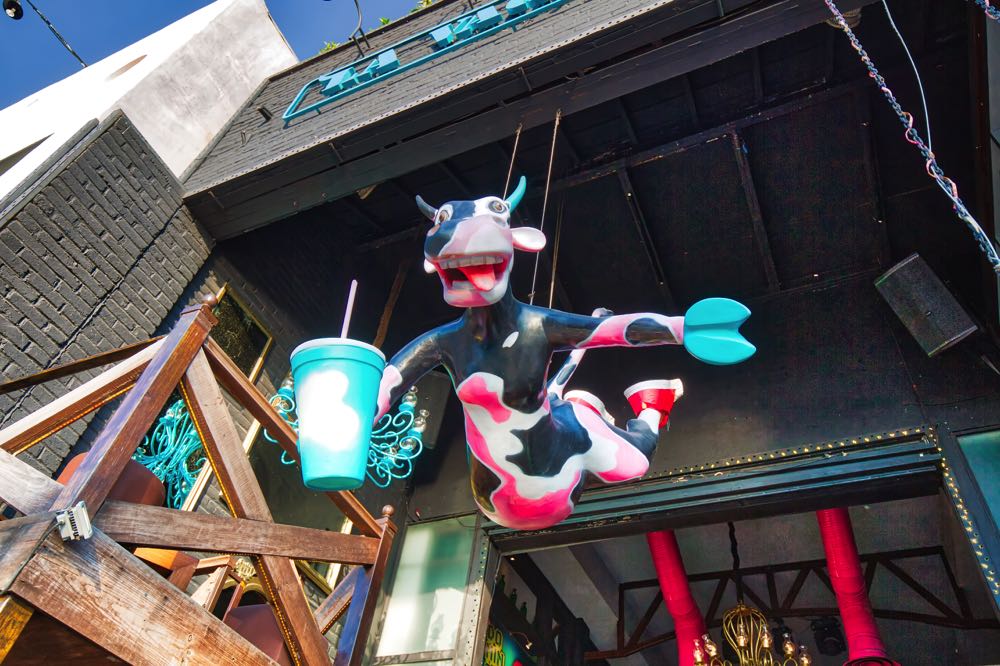 Put your shorts and flip-flops away for a night, dress up and hit the clubs! Here are some of the best places to dance the night away in PV.
1. Co-De
A newcomer to the Puerto Vallarta nightlife scene, Co-De made an immediate splash. I remember the first time I walked by it on a Friday night and was instantly mesmerized by the scene coming out of there.
First of all, there's a seriously impressive light show going on in Co-De. Second, the high ceilings allow them to bring in aerialists and acrobats. How cool is that?!
The way to go here is getting a group together to get a table and bottle service. You should probably call ahead and make a reservation if that's what you decide to do.
2. Strana
While a lot of places in the Romantic Zone may refer to themselves as a "nightclub," most of them are really just bars with strobe lights. If you want a full-on clubbing experience, you'll need to travel up to the Hotel Zone to check out Strana.
This place starts late and goes late and is only open from Thursday to Sunday. You'll need to dress to impress here, which is probably why I haven't been there yet. I tend to spend most of my time in PV in tank tops and flip flops. This club definitely looks like fun, though.
3. Malecon Clubs (Mandala, La Vaquita, Zoo)
Last but not least, we have the stretch of nightclubs along Puerto Vallarta's famous Malecon. This oceanfront promenade is full of beautiful sculptures as well as some pretty rowdy nightlife. 
There are three massive nightclubs located next to each other here — Mandala, La Vaquita, and Zoo. They all get going around midnight and party hard until the wee hours of the morning. Each club has its own special events like foam parties or Ladies' Night from time to time. 
Yes, these places are touristy and a bit cheesy, but who cares? You're on vacation. Plus, where else in the world are you going to take shots with a guy dressed in a gorilla suit before getting on a giant swing overlooking the ocean?
Places to Stay in Puerto Vallarta Close to the Nightlife
Here are several hotels close to the action. Any of them will put you in a great spot to enjoy the awesome Puerto Vallarta nightlife.
FAQs About Puerto Vallarta Nightlife
Have a quick question about partying in Puerto Vallarta? Check out these answers to some frequently asked questions.
Does Puerto Vallarta have good nightlife?
Absolutely, yes. From big nightclubs to classy cocktail bars, Puerto Vallarta nightlife has something for everyone.
Is Puerto Vallarta lively?
Day and night, there's always something going on in Puerto Vallarta. The beach is beautiful, the Malecon (walkway along the beach) is busy, and the restaurant, bar, and nightclub scene is one of the best in Mexico.
What is Puerto Vallarta popular for?
Puerto Vallarta is known as a pretty, friendly Spanish-colonial town between the beach and the Sierra Madre mountains. It has many good restaurants, and Puerto Vallarta nightlife is a lot of fun.
Is Cancun better than Puerto Vallarta?
Cancun is more developed and Puerto Vallarta is more authentically Mexican. Cancun has long white-sand beaches and crystal-clear Caribbean water, and Puerto Vallarta has the golden sand and steady waves of the Pacific Ocean. Cancun is on the table-flat Yucatan Peninsula, and Puerto Vallarta is surrounded by mountains.
Is Puerto Vallarta touristy?
Puerto Vallarta is a tourist town, but it receives tourists from all over the world, including many domestic tourists from Mexico. You can find plenty that's genuinely Mexican in Puerto Vallarta.
Where should I go out in Puerto Vallarta?
It depends what you're looking for. Puerto Vallarta has many options for nightclubs, cocktail bars, sports bars, craft breweries, late-night restaurants, and much more.
Ready for Puerto Vallarta Nightlife?
As you can see, your options are basically endless when it comes to Puerto Vallarta nightlife. It's the kind of place where you can be out at 4 AM taking tequila shots and dancing on tables. It's also possible to have a relaxed night out with craft cocktails and some live music. The choice is yours, amigos.
In order to fully enjoy all that this amazing place has to offer, I highly recommend spending at least one week in Puerto Vallarta. This gives you the ability to partake in the wild nightlife a few times, have recovery days on the beach, and still squeeze in a few tours.
After living here of-and-on for over six years, I've compiled a guide to the perfect Puerto Vallarta vacation. For more on the country, have a look at this complete guide to Mexico Travel.  
Have you partied in PV? What were your favorite bars and clubs to go to? Leave a comment below and tell us about it.
Some images in this article are courtesy of Shutterstock.com.
Like This Article? Pin It!