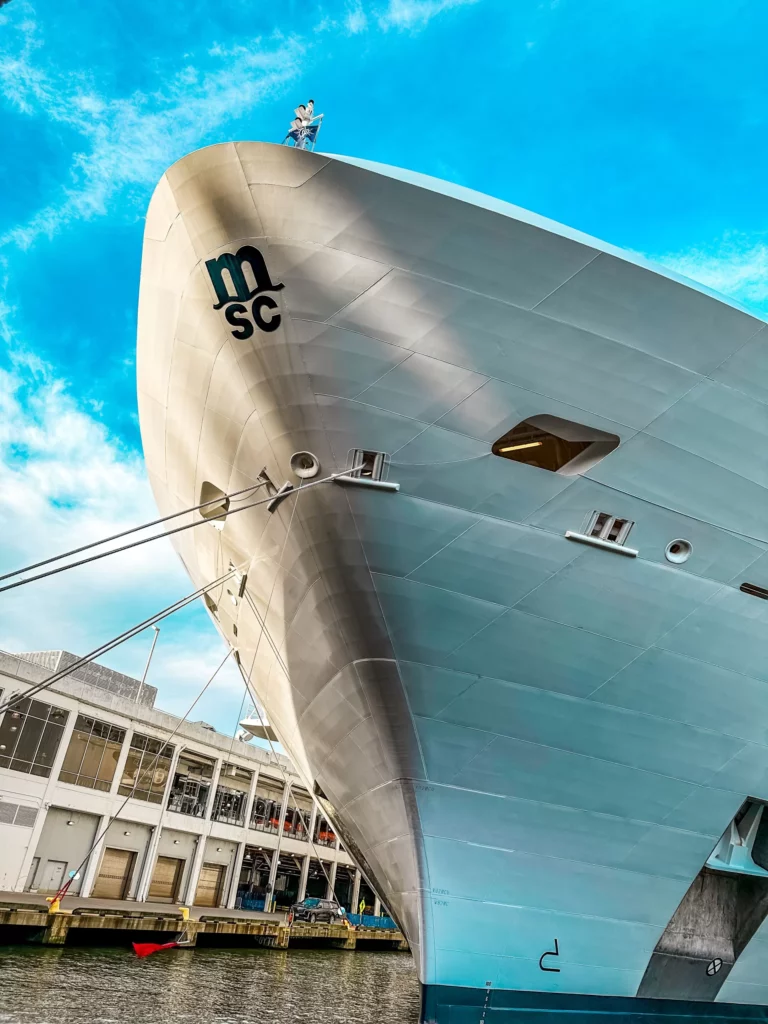 This article is Four Cool Things about MSC Seascape. It is an article about the four things I thought were really awesome on MSC's new ship sailing to the Caribbean.
MSC Seascape is a sister ship to MSC Seashore which I recently wrote about.
Currently MSC Seascape is sailing to the Caribbean from Miami sailing to Eastern and Western Caribbean. MSC offers some really competitive fares and offers a great international experience. Each of the sailings visit Ocean Cay, MSC Cruises private island in the Bahamas!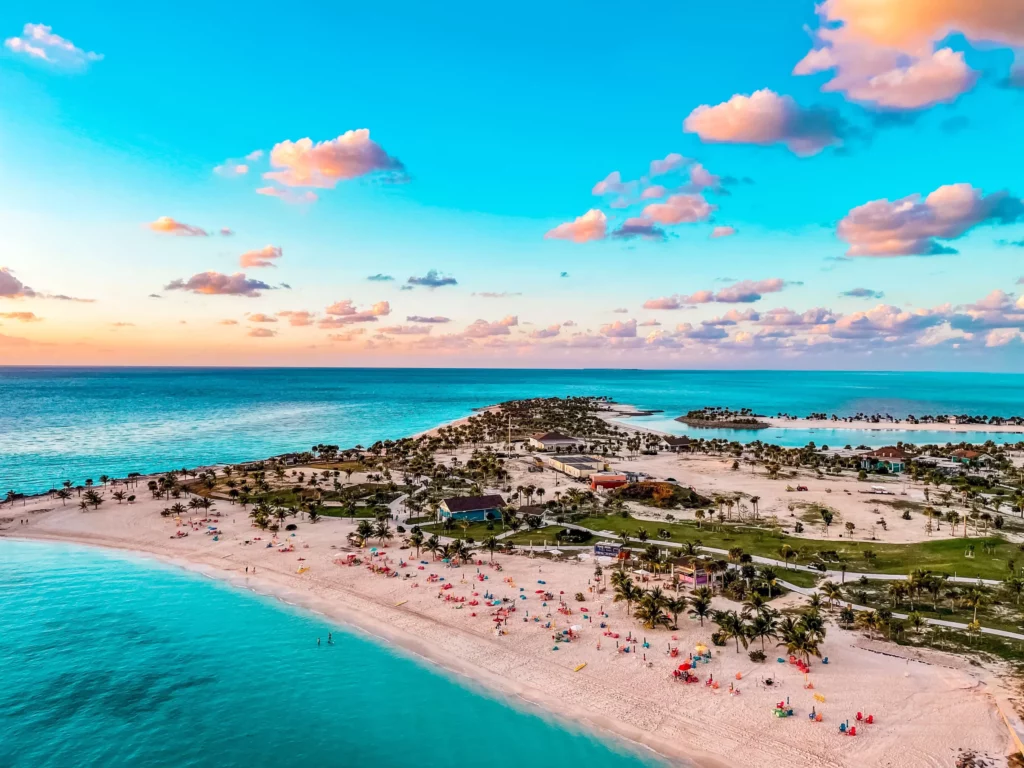 One cool thing about MSC is the Yacht Club, which is a ship-within a ship concept on MSC.
Booking
I was invited to attend the naming ceremony for MSC Seascape in New York City in December 2022. The event was a one-night experience hosted by MSC Cruises USA for media and travel agents. I liked the experience because it offered tours of the various cabin categories on the ship as well as offered a preview of the specialty dining experiences in addition to a great party for the naming ceremony.
I traveled to New York the night before the experience via Delta and used miles and points to pay for my flight. In addition, I stayed near LaGuardia airport using points.
MSC provided transportation from LaGuardia airport to the ship!
Travel Advisor
I recommend booking your cruise vacation via a travel advisor. Travel advisors often have access to group pricing which can offer a savings off of the sailing and or additional onboard amenities. Moreover, the travel agent can help if issues arise as well as they can provide advice on planning the cruise as well as in the ports.
I would love to assist in booking your next cruise vacation! You can email me at john@johnthewanderer.com to get started!
In Memory
This article is dedicated to the memory of Gene Young. Gene was an amazing cruise director who I had the pleasure of meeting on several MSC Sailings over the past three years.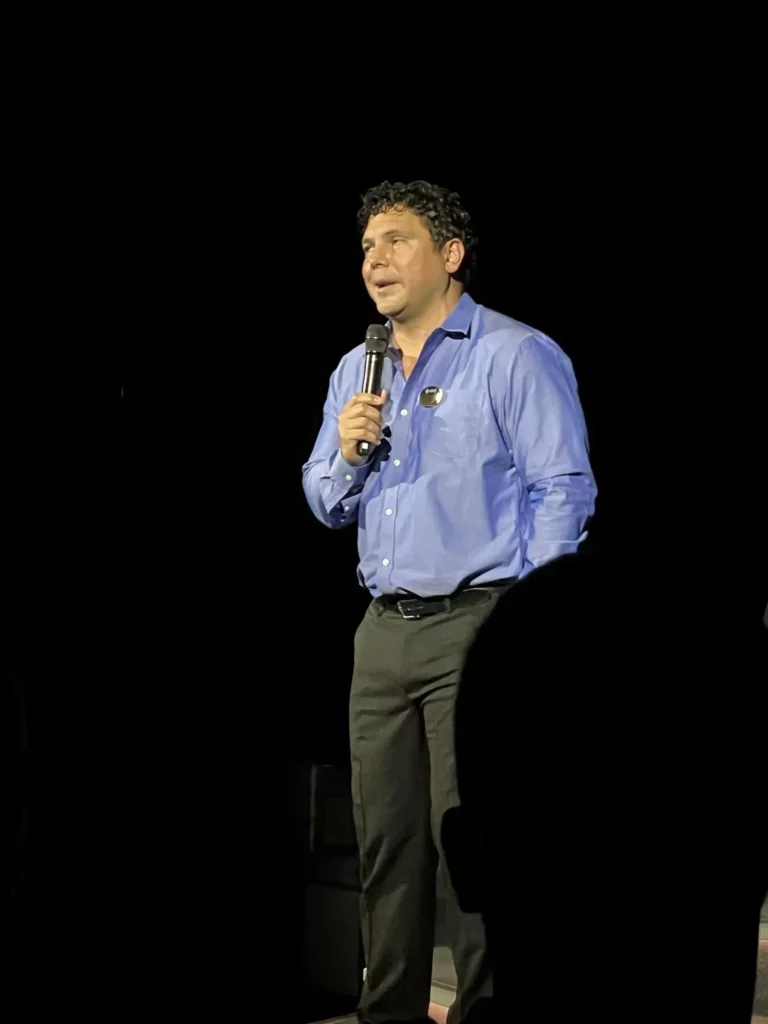 Gene recently passed away tragically.
It was such a loss to the industry.
If you are suffering from depression or anxiety you are not alone. You are loved by God and help is available. Please talk with your friends, family, or a counselor/psychologist. If you live in the United States you can call the Suicide Prevention Hotline by dialing 988 on a phone or visiting 988lifeline.org
Gene was an amazing cruise directory and he will be missed.
Four Cool Things About MSC Seascape
I enjoyed my experience on the previous of MSC Seascape. Four cool things stood out to me about the experience.
Robotron Rollercoaster and Fun Public Spaces on MSC Seascape
MSC Seascape offers an icon feature called Robotron!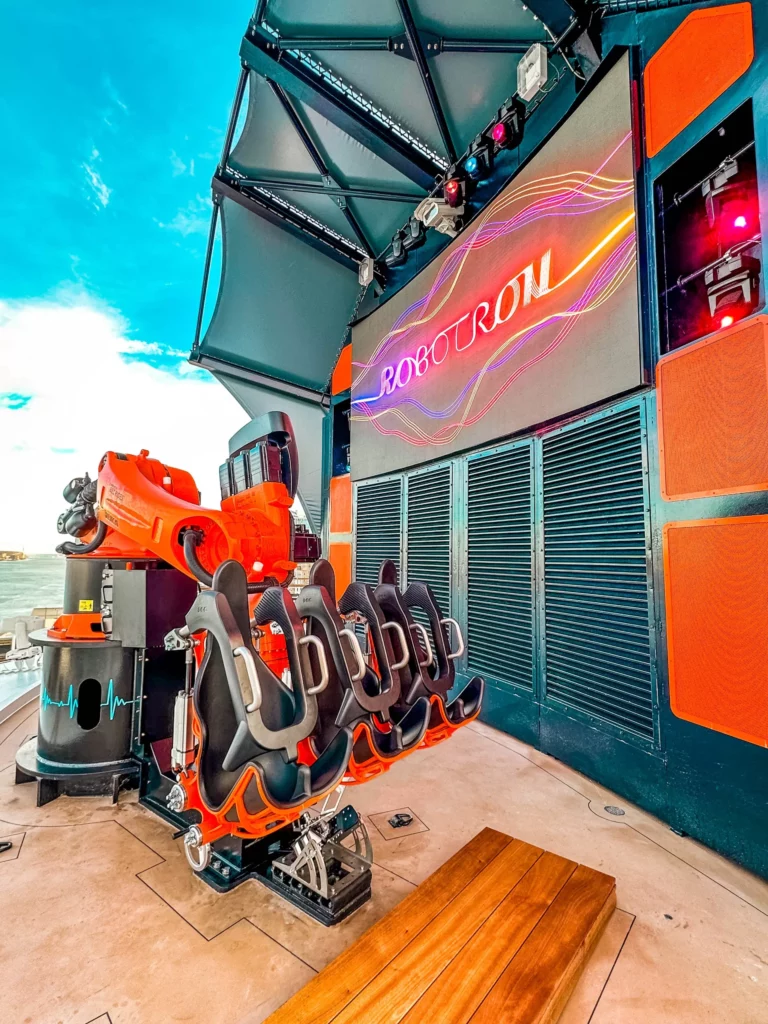 This rollercoaster ride will shake you around and move you over off the top deck of the ship.
You can join some friends and go on this thrilling experience.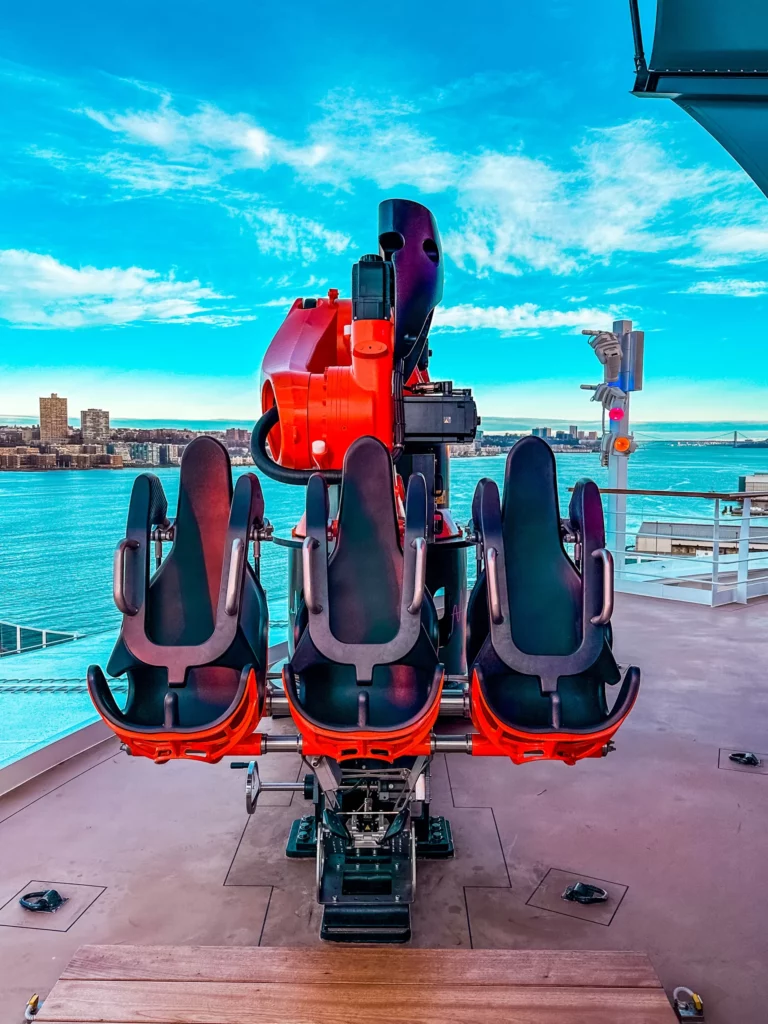 Something to Note: While this is a cool feature, MSC Seascape will charge a per-ride fee of about $10 per-person for the experience.
Due to the weather on the day of the preview I didn't get to ride the Robotron but I have talked with several people since that event who really loved the experience!
You can find other amazing public areas including the sparkling staircases in the atrium made from thousands of dollars of crystals!
I enjoyed the infinity pool at the aft of the ship.
When you are on that infinity pool deck there is another cool thing that allows you to take a glass elevator that goes up to the main pool and activities deck at the top of the ship!
It was fun riding in the elevator up and taking in the views outside.
In addition on the top deck you can go on a glass walkway looking down to the ocean!
It is a fun experience walking over it and night as the area gets lit up with different colors.
Great Room Options with Balcony or Inside
MSC Cruises offers a lot of different room types. Most of the outside rooms on the ship have Balconies and they are setup nicely for guests to enjoy.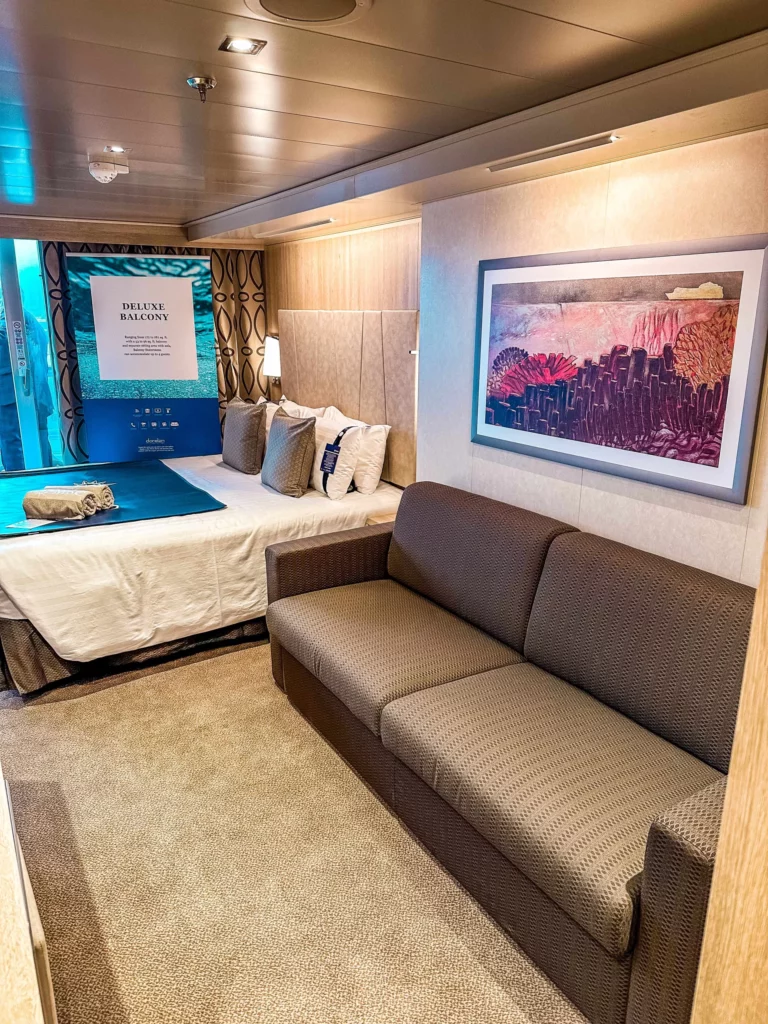 I stayed in an inside room for the preview and found it to be of good size and it featured a comfortable bed, sitting area and bathroom. There was a decent amount of storage.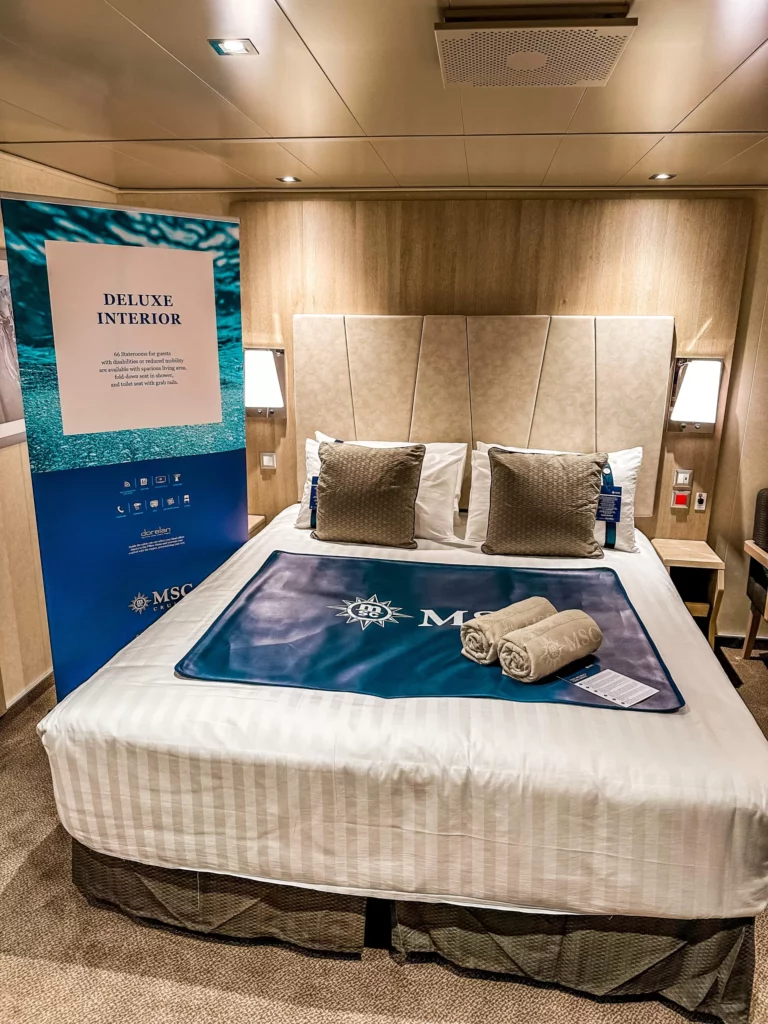 Here is a quick video walk through of the inside room.
The room offered power outlets at the vanity as well as USB power ports by the bed. You can bring a Europe power adapter/converter (affiliate link) to make use of one additional power port at the vanity.
Also I recommend a power strip similar to this one available on Amazon (affiliate link).
Amazing Coffee and Barista made coffee drinks
MSC is an Italian cruise line at heart so you know that the coffee will be good!
At most of the bars throughout the ship you can get barista made coffee and specialty drinks.
I ordered a drink from many of the bars and each time they decorated the coffee with cool hearts and other latte art. It always brought smiles to me.
In addition, they had a fun holiday based coffee drink for the winter!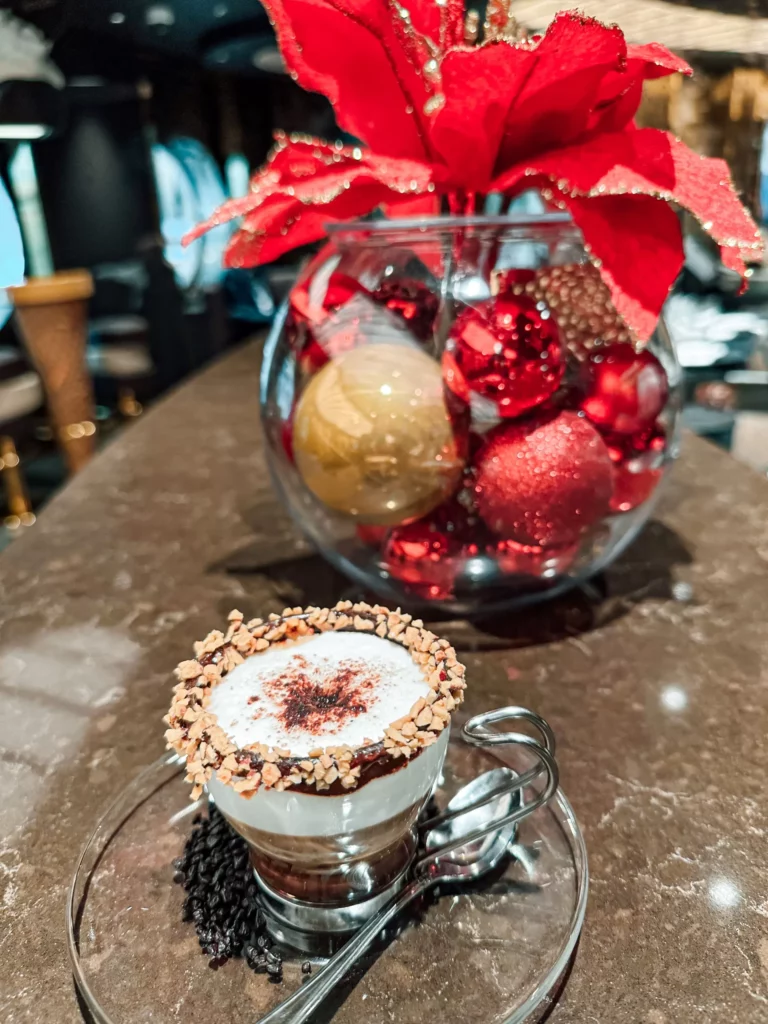 The drink package allows for ordering cappuccinos and specialty drinks at all the bars on the ship. The holiday drink; however, was at the ship's unique coffee shop and it normally has an upcharge of about $6 on top of the beverage package.
Awesome Specialty Dining Experiences on MSC Seascape
MSC Seascape offers several specialty dining options including a lower cost Taco place to a gourmet steakhouse and seafood restaurant.
You can get a good deal booking beforehand with a travel agent to add specialty dining packages on sailings. The food really is of better quality and the experience is more private in the Specialty Dining.
For my experience I received a tasting of food from the specialty restaurants. Everything I tried was very good.
At the Steakhouse we were given samples of the filet, oyster and a burger slider. I went back for seconds as this was amazing!
At Ocean Cay there were four different seafood dishes. Each one had a great taste!
The Japanese restaurant had food cooked by a chef right at the table!
For the naming ceremony, MSC had a luxury specialty dining type dinner for everyone including lobster tail dinner!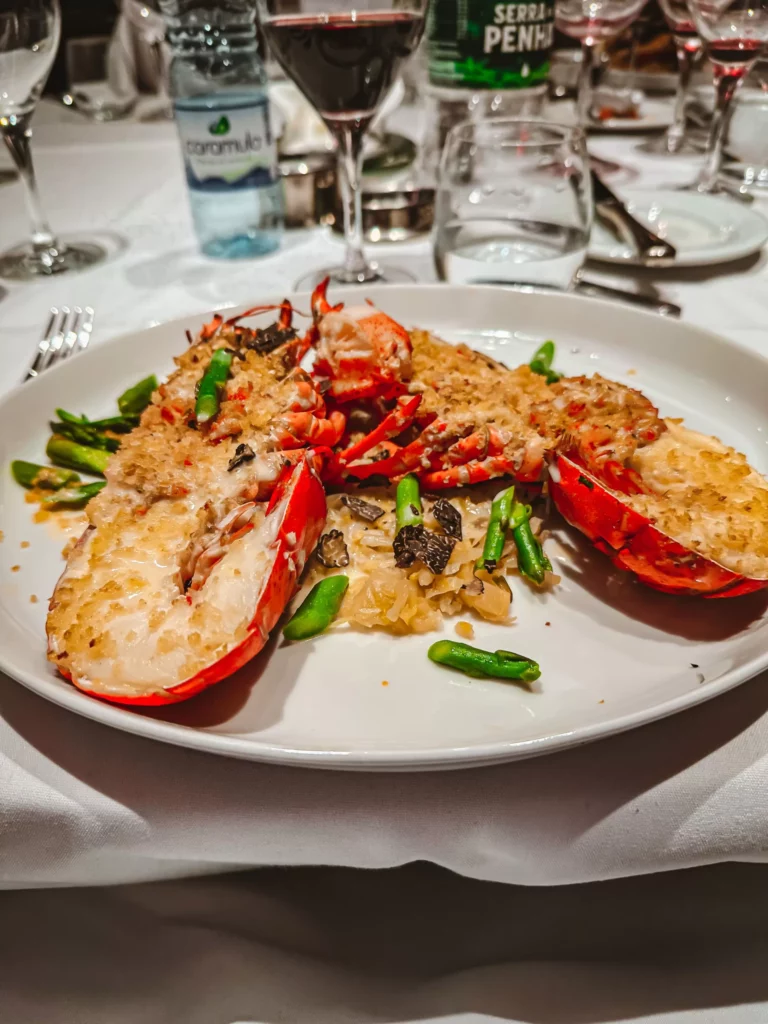 The Specialty Dining Experience on MSC Seascape is awesome.
If you have the drink package, drinks are generally not included at the specialty restaurants so it is better to get your drinks prior to dinner at one of the bars and walk them into your dinner. If you order the drink at the specialty restautant you will have to pay for it.
Some guests have noted that some of the specialty restaurants are allowing wine as included from the drink package which is a positive. I asked the server if things were included before assuming the item was included.
I love ice cream and gelato. you can also get for purchase gelato at several locations on MSC Seascape including near the pool, in the lobby at the coffee shop. The gelato was fresh and excellent!
Who doesn't love a good gelato! You can get one for about $5 for a small dish or cone on MSC Seascape.
MSC Seascape
The experience on MSC Seascape was enjoyable and there are a lot of cool experiences from the Robotron to great specialty dinning and comfortable rooms.
Have you sailed on MSC Seascape or one of the other MSC ships?