I'm getting caught up on some flight reviews over the next few weeks, before filling in the full trip reports. First up – Air Canada B787-9 Business Class from Toronto to Zurich. The final destination wasn't Zurich, though; this represented the second leg of a trip to Vienna. While Air Canada provides a comfortable Business Class seat, I found service noticeably lacking on this flight. I redeemed 68,300 Aeroplan points for this trip.  This included legs from Dallas on Air Canada Jazz, and onwards to Vienna on SWISS, also in business. That's a great price, with decent timings to boot.
I previously reviewed Air Canada's regional business class on this route, so I won't review it again.
Air Canada (AC) Flight 880
Thursday, May 5, 2022
Depart: Toronto – Lester B. Pearson International Airport (YYZ), Terminal 1, Gate E72, 18:23, 3m late
Arrive: Zurich International Airport (ZRH), Concourse E, Gate E34, 08:02 (+1), 2m late
Duration: 7 hours 39 minutes
Seat: 2A
Equipment: Boeing 787-9
Check-In and Boarding
The check-in semi-adventure actually started in Dallas earlier that morning. With COVID restrictions still in place, the check-in agent needed to verify my travel eligibility. At the time, US citizens only needed to provide proof of vaccination, with no need to complete a travel authorization beforehand. The agent insisted I needed to complete one, though. Even after I showed her the official guidance on the Austrian government website confirming this. So…I left the line, and completed an authorization up to the point that it wouldn't let me proceed further. (The online form produced an error message when you entered a status of fully vaccinated.) That finally satisfied the agent. Luckily I arrived plenty early anticipating problems.
Anyway, upon arrival in Toronto, things proceeded easily enough. The crew asked passengers going to Canada to remain onboard an additional 30 minutes due to long lines at immigration. Transit passengers, though, could head to the transit area immediately. It took a few minutes to find the way, but then I sailed right through. After spending some time in the (crowded) Maple Leaf Lounge, I headed to the gate about 20 minutes before boarding. That gave me time to snap a photo of our beautiful Dreamliner in Air Canada's white livery.
Boarding began about 15 minutes late, but I soon settled in to Seat 2A on the port side. Despite the delayed boarding, it proceeded quite efficiently, and we pushed back more or less on time.
Air Canada B787-9 Business Class – Seating and Interior
Air Canada's B787-9 Business Class features 15 seats in a 1-2-1 configuration, measuring 21″ wide with 80 inches of pitch. The cabin feels spacious and airy, and looks especially nice with the Dreamliner's mood lighting. Like many reverse herringbone configurations, the window seats especially provide excellent privacy. Unfortunately, for those traveling together, there aren't many great options if you want to talk to your seatmate. While the seats angle towards each other, your face remains a good distance away from your neighbor, separated by both storage areas.
Waiting at each seat was a water bottle and hygiene pack (face mask and hand sanitizer).
Also provided was an amenity kit by WANT Les Essentiels, a Montreal-based design house. The bag felt fairly sturdy, and featured AC's Maple Leaf logo on each side.
The kit contains pretty standard items, including Vitruvi Voyage skin care products. Vitruvi is a Vancouver-based company best knows for their home scenting products (i.e. diffusers), but they also make essential oil-based face creams and lotions.
Among the more unique items – a pick-style flosser.
I wasn't particularly enamored with the look of the seats, though honestly I'm not sure why. Maybe it's because the color scheme felt unimaginative. Or maybe a little too much like American's B789 seats sans the headrest. Or maybe I was just cranky and tired. Anyway, the lack of a tapered headrest (unlike American's seats) make the seats look wider, at least.
As you can see, Air Canada provides a substantial pillow and duvet, which makes for comfortable sleeping (more on that later).
The space itself feels almost suite-like in the window seats. As mentioned, privacy is very good in these seats, especially with the seat angling towards the window. I'm generally not a fan of doors on business class seats, but I think the look might work on these.
The oversized TV screen certainly makes itself the centerpiece of the seat.
Storage is adequate in these seats. In the window seats, there's a decent-sized shelf along the wall, plenty large for a laptop.
Another lid flips up above the seat controller, revealing both the IFE controller and some additional storage.
Even with the lid flipped up, there's still plenty of space on the shelf to keep books or a computer.
Meanwhile, the footwell does taper, but isn't nearly as narrow as some business class seats. There's also adequate space underneath for a small item like a backpack or laptop bag.
Finally, there's yet another small storage area at the bottom of the seat. Not really much you can fit in there, though.
Seat controls are on the side of the seat. There are two "express" buttons to fold the seat into bed mode or back to landing position. Or you can click the "control" and "comfort" buttons to adjust all settings to your liking. Air Canada does provide one unique feature, the "ambiance" setting to adjust the brightness of the overhead light.
Meanwhile, the seat reclines fully flat in bed mode. The aforementioned pillow and blanket make for a really comfortable setting. The short eastbound flight limited sleep time, but I still slept soundly for about 4 hours. Matthew's review of this same cabin noted that the tray table is positioned such that his knee hits it in bed mode. I didn't notice this, but I'm also quite a bit shorter than him. It's possible this is an issue for taller passengers.
Overall, I found this a solid business class seat. It's comfortable in both upright and bed mode, and the design spacious and inviting.
Air Canada B787-9 Business Class – In-Flight Entertainment
Air Canada provides noise canceling headphones to each business class passenger. These headphones actually weren't bad. Previous reviews indicated the flight attendants collected headphones about an hour before landing. I don't recall that being the case on this flight, so perhaps things have changed.
Each seat includes both a USB port and 110v power port in the compartment containing the IFE controller.
I previously mentioned the oversized TV screen, which provides excellent resolution. The system features a good selection of movies, TVs, games, and music, as well as a reproduction of the food/beverage menu. If you're into independent films, there's a pretty extensive selection, more than on most airlines.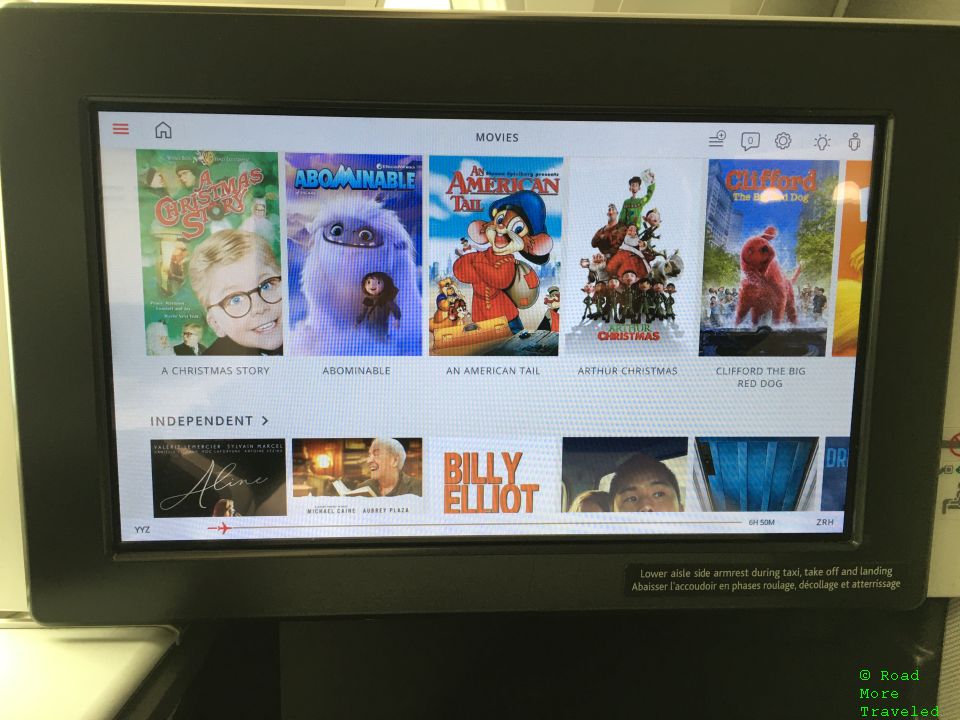 There is a moving map, of course. One unique feature of the map is a "kid friendly" display option. One such option – "animals around the world", which displays animals native to various destinations on the map. (Interesting choice to go with the Burmese tiger instead of the Bengal…)
Air Canada does offer WiFi on its 787-9 fleet. Unfortunately, I forgot to take a picture of the pricing. Best as I've been able to tell, current pricing is CAD 6.50 for one hour, or CAD 21 for a flight pass. In addition, Air Canada began offering free messaging on all flights starting May 15th. I didn't connect to WiFi on this flight, so I can't comment on speeds.
Air Canada B787-9 Business Class – Food, Beverage, and Service
So far, Air Canada's Business Class receives pretty high marks for the seat and the IFE. Unfortunately, the same can't be said for the on-board service, which I found quite lacking. You can usually tell how service will transpire pretty early on. And in this case, I knew it wouldn't be great. Upon settling in, the FA taking care of our side of the didn't offer a greeting of any kind. A few minutes later, I was finally "greeted" with a gruff "do you know what you want for dinner". And no pre-departure beverage, either, though I'll excuse that since they made up time after the boarding delay.
Anyway, the food & beverage menu for this night flight was as follows. The liquor selection did seem a little barren, but the wine list was interesting. Laurent-Perrier is decent champagne, and all five wines, while lesser known, get pretty good reviews at modest price points.
Meal service did at least get started quickly. About 15 minutes after take-off, the FA brought packaged almonds, and took drink orders. I ordered a Johnnie Walker to get the party started.
About 20 minutes later, the FA served the appetizer and salad.
This was a pretty good start to the meal. The salad was fresh and had a nice variety of greens, the crab meat sweet and moist. I give it two demerits, though. One, there's way too much fennel for the size of the dish. Second, I found the pairing of grapefruit and crab meat odd. I guess they're going for a sweet-bitter contrast, but to me, it didn't really work.
For the main course, I selected the mushroom ravioli, along with a glass of chardonnay (not pictured).
The pasta was OK. I liked the mushroom filling, but the edges of the ravioli were crispy in spots. The ravioli itself also seemed a bit overcooked. The arrabbiata sauce, meanwhile, had some nice flavors, though I wished for a little more heat.
Finally, to finish, I ordered the fruit and cheese plate with a glass of port.
Not much I can really say about the fruit and cheese, but it paired well with the port. The port is sweet, as you'd expect, but the sweetness isn't overpowering. There's a good hint of freshness that goes especially well with the fruit. (Matthew will hold me in abject contempt no doubt, but no cappuccino for me, as I can't handle coffee after 3 pm or so.)
Overall, I rate the meal average. I've experienced better, but I've also experienced worse, with some good aspects along with some that need improvement. Matthew's review noted the glacial pace of meal service on his flight. On this flight, it took about 90 minutes from start to finish. That's slower than ideal for a short eastbound flight; I prefer something in the 60-75 minute range. But it's better than what others reported in the past at least.
I woke up a little over an hour before landing. I've ragged on the service provided by the FA so far, but I'll give props here. Despite oversleeping the start of breakfast by a good 20 minutes, he came right over and asked if I wanted some. Too many times, if you oversleep breakfast, you're offered nothing, not even a coffee. So I appreciated the gesture. Only thing is, I completely forgot Air Canada offered cappuccino, so I asked for a regular coffee.  Oops.
This is a lot of food, especially since muesli is pretty filling. I found everything on the plate tasty, but I give one item a big black mark. That's the packaged croissant. C'mon, guys – at least take the thing out of the plastic bag.
Flightseeing
With a departure around 6:30 eastern time, I had some time for flightseeing during our departure. As we taxied, we passed a few nice Air Canada aircraft along the way. First up, an Airbus A220-300. I had no idea Air Canada had these in their fleet.
Next up, a somewhat rare B777-200LR (Air Canada has just 6 in its fleet).
And finally, another Dreamliner, this one also a 787-9, though in the ice blue livery. Personally, I really like this one compared to the white livery.
Our flight path initially headed northwest before turning around, taking us over the 407 freeway and the northwest suburbs of Toronto.
After turning around, we saw Lake Simcoe off to the north in the distance. A few minutes later, we dipped over the north end of Lake Ontario, with the smaller lake behind.
Later, we passed over the St. Lawrence valley of Quebec, though scattered clouds largely blocked the view below.
Finally, we enjoyed a gorgeous sunset over the Gulf of St. Lawrence, before commencing our crossing of the Atlantic.
I woke up just as we reached the coast of France. The clouds blocked the view below, but made for a pretty morning scene.
I hoped to view the foothills of the Alps as we descended into Zurich. However, widespread rain significantly restricted visibility. Nevertheless, I enjoyed seeing the Swiss countryside on a spring morning.
We ended up arriving pretty much exactly on time. Transiting in Zurich is pretty easy, so I had plenty of time to enjoy the outdoor deck and the SWISS lounge before my connection to Vienna.
Final Thoughts
Air Canada has a great deal of potential, thanks to an excellent business class seat. The seat itself is comfortable for both sitting and sleeping, and privacy is excellent if traveling alone. (There are better options if you want to socialize with your companion, though.) The food on this flight wasn't terrific, though certainly not bad. What marred this experience, though, was the downright substandard onboard service. The flight attendant serving our side of the cabin just wasn't very welcoming. In fairness, other reviews of Air Canada business class describe much better service, so maybe my experience isn't the norm. Nevertheless, I left feeling disappointed with the experience.