The sheer variety and quality of Portuguese foods is astounding. In this article, I'll focus on traditional Portuguese foods to give you an idea about the new taste sensations you can expect when traveling in Portugal.
I'm Portuguese heritage and have been living in Portugal since 2019. Before I moved to Portugal, I thought I knew a lot about Portuguese foods, but I've learned so much during my time living and eating here. Here in this article about food in Portugal, I'll tell you the best of what I've found.
12 Best Portuguese Foods to Try in Portugal
Trying new foods is all part and parcel of the experience of traveling. Exploring new culinary styles, sampling seasonal produce, and visiting local restaurants helps you immerse yourself in the culture of the place you're visiting.
As fun and interesting as trying new foods might be, some travellers understandably become a bit overwhelmed with the possibilities, not to mention those times when you're not sure what that particular thing on the menu actually is!
More often than not, language barriers make it difficult to ask for clarification on ingredients or preparation.
Whenever I'm travelling to a new destination, I love meeting locals who can take me to their favorite restaurants and help me order; this way, I can try out the food at a non-touristy location and still know what I'm eating.
However, it's not always possible to have a local guide, in which case, some prior research can help you feel more confident in your culinary choices and excited for the new foods you'll get to discover.
Portugal is one of the best countries for food. Learn why in this article.
Here's my guide to trying the tasty foods in Portugal.
What Are Portuguese Foods?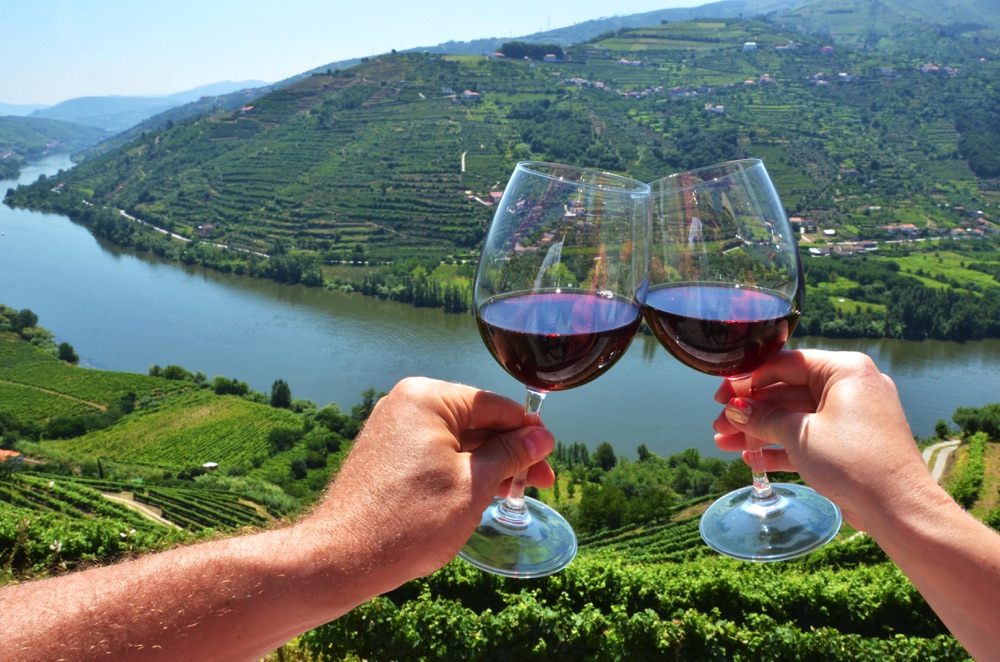 Portuguese cuisine has a similar style to Mediterranean fare and uses seafood in many of the signature dishes. Combine the salty flavors of the Atlantic Ocean with olive oil and fragrant spices and herbs, and you're set for a delicious Portuguese meal.
Traditional Portuguese food is very seafood and meat forward — if you love shellfish, fish, octopus, beef, and pork, you'll be spoiled for choice.
In addition to seafood and meat, vegetables and legumes are used in the various soups, salads, sandwiches, and famous sausages found in Portuguese cuisine.
You can wash down your meal with a variety of beverage options, including the most famous — Port wine.
The Portuguese are big into wine varieties, so there are plenty of flavors to try, often with fruity tones. Start off with the zesty, fresh flavours of Vinho Verde (green wine), and you'll no doubt thank me later.
To round off your meal (or start your day, no one will judge), Portuguese desserts offer some of the most delectable choices imaginable.
Think flaky, buttery crusts, creamy puddings, and fresh sweet rolls. In short, always save room for dessert when you're travelling to Portugal!
The Best Food in Portugal 
Although this list probably doesn't even cover half of the great dishes found in Portugal, it does give you the highlights of the "must try" list.
Whether you're passing through and staying in Lisbon on a short stopover, or as part of a longer road trip adventure through incredible Portugal, these are some of the best Portuguese foods to sample.
What is the best food to try when visiting Portugal? Here's my list of 12 tasty Portuguese dishes:
1. Traditional Bacalhau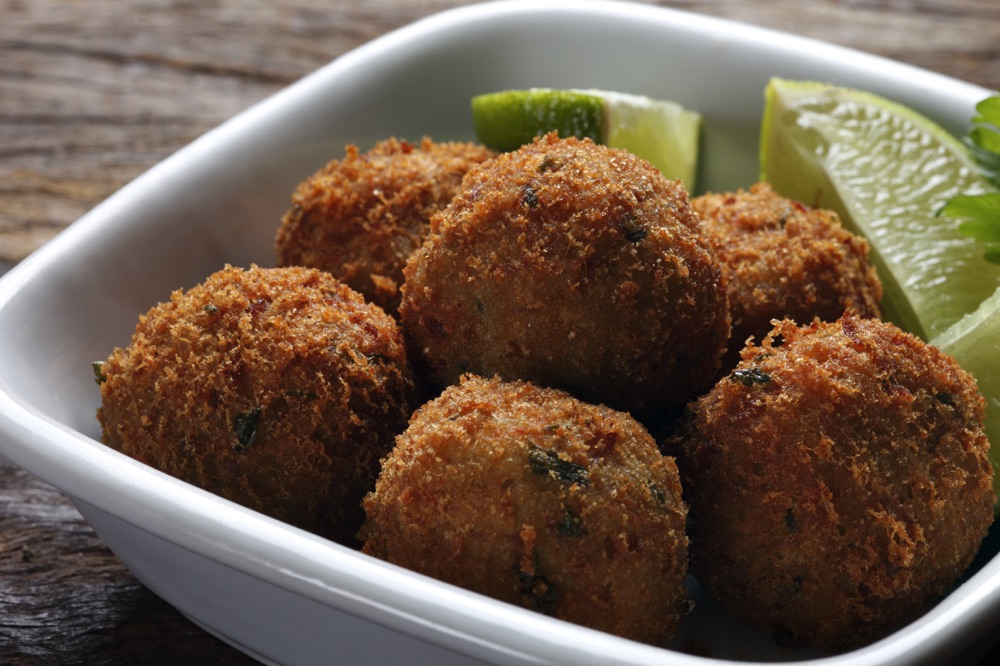 Bolinhos de Bacalhau are tasty fried cod cakes. Salted and dried cod is one of the foods you're bound to come across no matter where you travel in Portugal.
This staple of Portuguese gastronomy can be enjoyed at any time of day and considered by many to be the national dish of Portugal.
It has so many different forms of preparation that its nickname in Portuguese means "the faithful friend!"
It's not unusual to see the whole smoked cod hanging in markets or stacked in sky-high piles in your local supermarket. Whilst many Portuguese prepare this dish in the comfort of their own home, you can also enjoy the delicious, salty flavours at restaurants throughout Portugal.
Fried cod cakes (Bolinhos de Bacalhau) are very popular, but my personal favourite is the Bacalhau à Brás, which consists of shredded cod, thin potato fries and onions all bound up by scrambled egg and usually topped off with black olives and a garnish of parsley. Simply divine!
2. Caldo Verde soup (one of the healthier Portuguese foods to try)
Caldo Verde means "green broth." It gets its name from the thinly sliced pieces of green kale, one of the main ingredients. Mixed in with the kale are mashed potato and garlicky chorizo sausage for a healthy and hearty meal.
Although there is some variation in spices and preparation methods throughout the country, the basics of the soup remain the same.
It's a great Portuguese food to try, especially if you're visiting Portugal during winter and looking for something to warm you up on a colder, windy day.
3. Sardinhas Assadas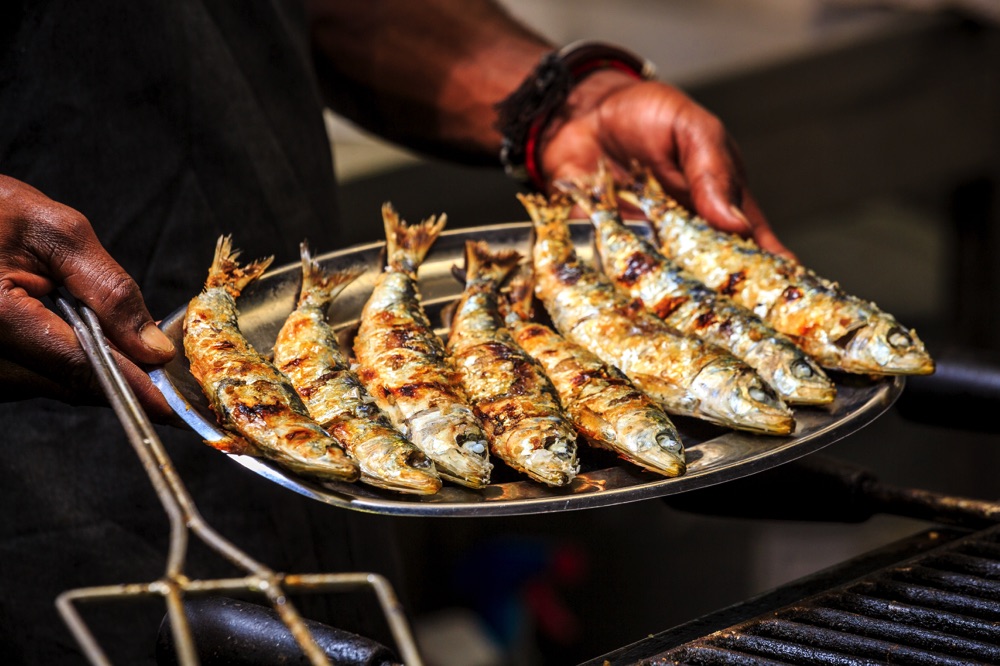 Sardinhas assadas are ubiquitous in Portugal, and no trip to Portugal would be complete without sampling this grilled sardine! This ultimate Portuguese snack and comfort food can be found throughout the country, particularly along the coast, where the sardines are freshly caught.
Roasted whole over an open fire, the sardines take on a smoky, crisp flavor on the outside and offer succulent white meat on the inside. Locals eat the sardines whole by holding on to the head and tail and biting into the side to avoid the bones.
Every year, the Feast of St. Anthony (the patron saint of Lisbon) celebration takes place in June. This holiday is also called "the Sardine Festival" due to the plethora of roasted sardines available from street vendors on every corner in the city.
Head to the historic Alfama district and you'll be greeted with festive music, dancing, lots of beer and not to mention the grills lining the streets as festival-goers devour grilled sardines by the bucket!
4. Peixinhos da Horta
Peixinhos da horta translates to "little garden fish," but don't let the name fool you into thinking these are real fish. Simple but mouth-wateringly delicious, peixinhos da horta are small pieces of garden veggies chopped up, breaded, and fried.
Although many Portuguese foods rely heavily on seafood and meat, this is one vegetarian-friendly option you won't want to miss.
The name only comes from the fact that once cooked, the veggie bits somewhat resemble small fish.
Green beans are the most traditional vegetable to use, but the method is used on a variety of other garden goodies, like peppers, squash, or carrots. It's a great appetizer to try at a restaurant and is a great Portuguese street food snack. 
5. Francesinha
The Francesinha is a quintessential food icon of Porto and makes for one hearty meal! Two thick, fresh slices of bread are piled high with different varieties of meat, usually some combination of ham, sausage, and steak.
It's slathered in melted cheese and flavorful spicy tomato sauce. Most often topped off with a fried egg, for a delicious gooey topping.
There's no doubt that this is one of the best things to try in Porto. Be warned though, you might want to attempt it with a friend, especially since this monster sandwich is usually accompanied by a heaping pile of potato fries and dipping sauce on the side.
6. Bolo Rei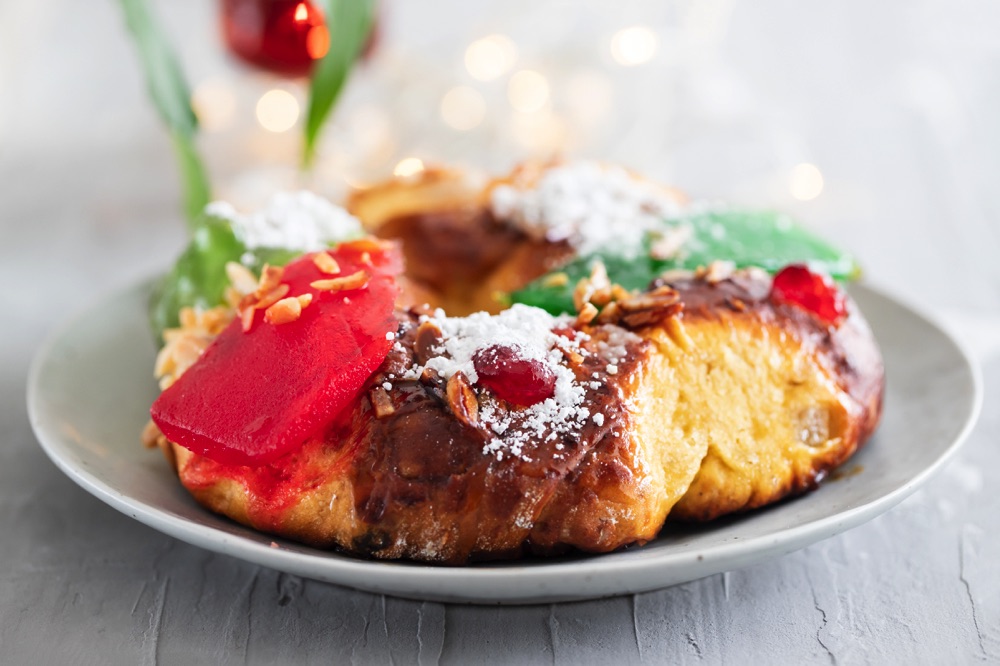 Bolo Rei means "King's Cake" and is the much-loved, traditional Portuguese Christmas food. Although it's most common around the holidays, it's possible to find it at other times of the year too.
Bolo Rei is a sweet bread made with eggs and filled with dried and candied fruits, nuts, and raisins, then formed into a donut shape and given a generous dusting of powdered sugar.
The most authentic versions are made with fava beans inside as well, but this isn't as common in commercial varieties of this famous Portuguese dish.
7. Pastéis de Nata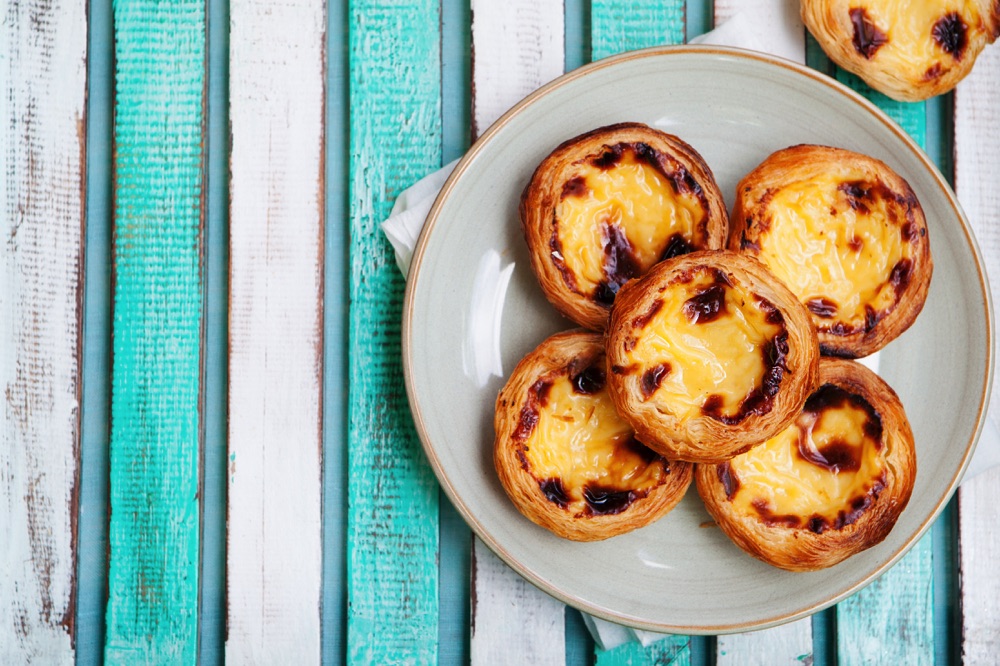 Pastéis de Nata, delectable egg yolk custard pastries, are a staple Portuguese dessert (or snack, or breakfast…). They're likely the best-known Portuguese sweet delicacy too.
The pastéis (or pastel in the singular) are made with puff pastry shells stuffed with yellow egg yolk custard. The custard is flavored with a bit of lemon and sugary goodness. It's usually topped off with a dusting of powdered sugar or cinnamon.
One of the top places in Portugal to try the pastéis is in the Pastéis de Belém bakery in Lisbon. This historic venue has been open since 1837 and arguably makes the best pastries in the country. Alternatively, head to the Manteigaria chain of stores whose Pastel de Nata, in my opinion, are equally as good!
8. Port Wine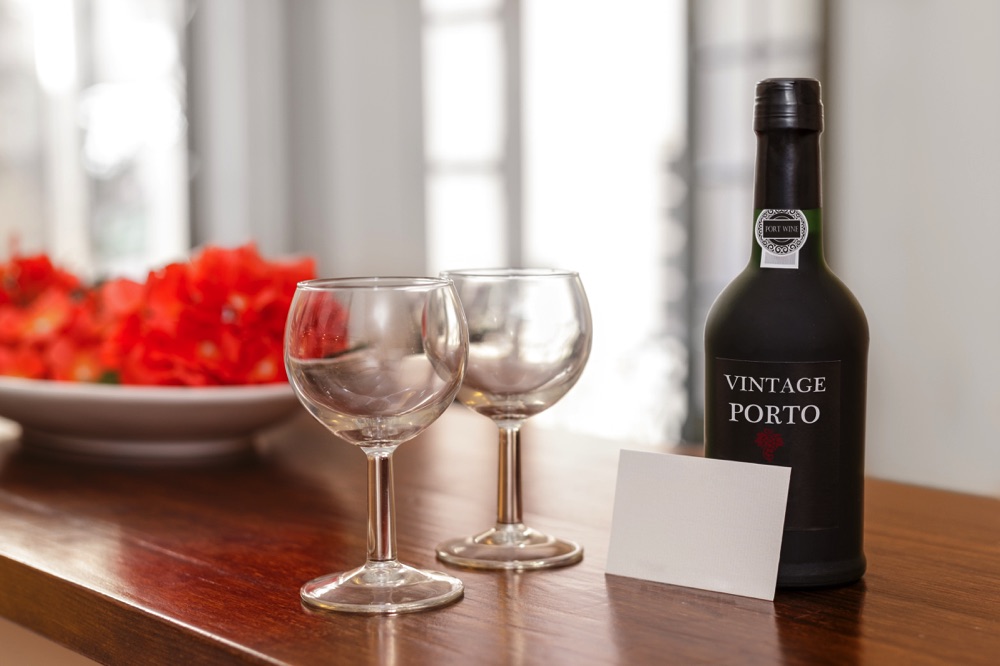 Port wine is the quintessential drink of Portugal. It's sold worldwide, but there's nothing quite like trying it in the country of its origin.
If you're a true wine lover, make sure you schedule a wine tasting tour in the Douro Valley, the exclusive growing site for the grapes used in the wine.
Port wine is sweeter, richer, and has a higher alcohol content than other wine varieties. Most people love it, some people hate it, but make sure it's at least on your list of drinks in Portugal to try!
If you don't take to the bold flavours immediately, then be sure to try out a white Port tonic, a refreshing and delicious way to enjoy Port wine on a hot sunny day in Portugal.
9. Alheira de Mirandela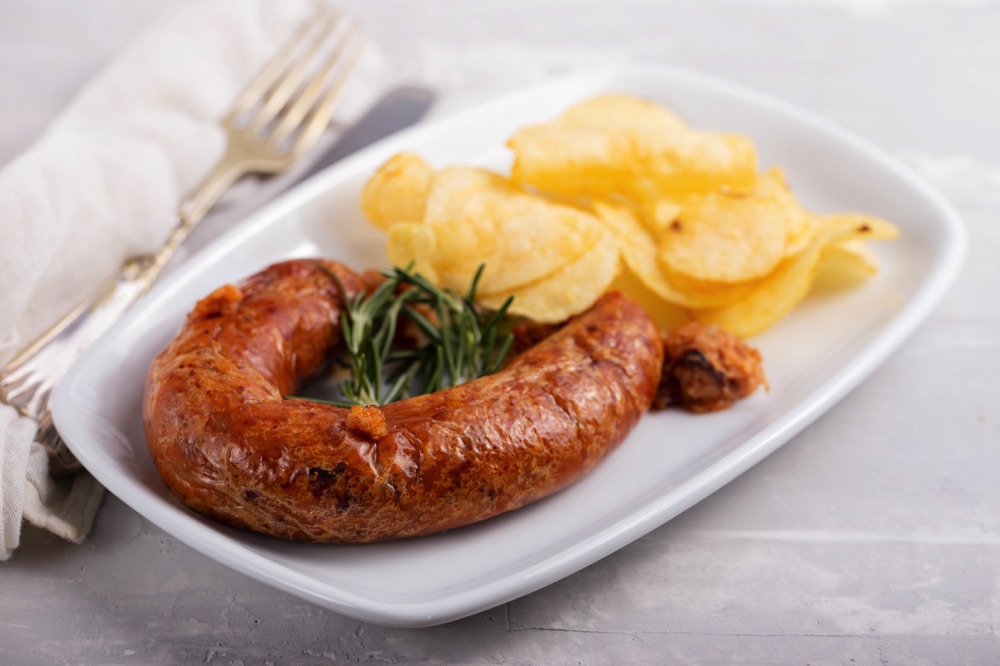 Alheira de Mirandela is a Portuguese food with a bit of fascinating history. Alheira is a sausage type, but the authentic variety doesn't contain any pork, which isn't typical of a sausage.
Alheira were created by the Jewish community who chose to remain in Portugal after the 15th century when their religion was banned. Although they converted to Christianity, they strove to preserve their culture and beliefs in what ways they could, such as by not eating pork.
To create the sausage, bread was mixed with meat, such as cow and wild game, to create a product that appeared and tasted like pork so it could be sold without question in markets.
Today, alheira is still a popular sausage variety around the country. They are often grilled to smoky perfection and served with a large pile of potato fries and gooey fried eggs.
10. Porco Preto
Porco Preto translates to "black pig," and this classic meat from Portugal comes from the black Iberian pig. These free-range, domestic pigs are typically fed a diet composed mainly of acorns, and the meat possesses a unique flavor, particularly when traditionally smoked and cured.
Keep your eyes open for delicacies like pata negra ham (also called jamon iberico or cerdo Iberico), ultra-thinly sliced smoked ham typically served with wine and cheese.
Another common delicacy made from the black Iberian pigs is plumas de porco preto. These tender pork cutlets are common to find in Portuguese restaurants, often served with a heaping pile of fries or a vegetable dish of some kind.
But, my absolute favourite has to be the tender bochechas de porco Preto (black pork cheeks), a traditional dish from the Alentejo region and best enjoyed with a great Alentejo red wine.
11. Piri Piri Chicken (Frango Assado)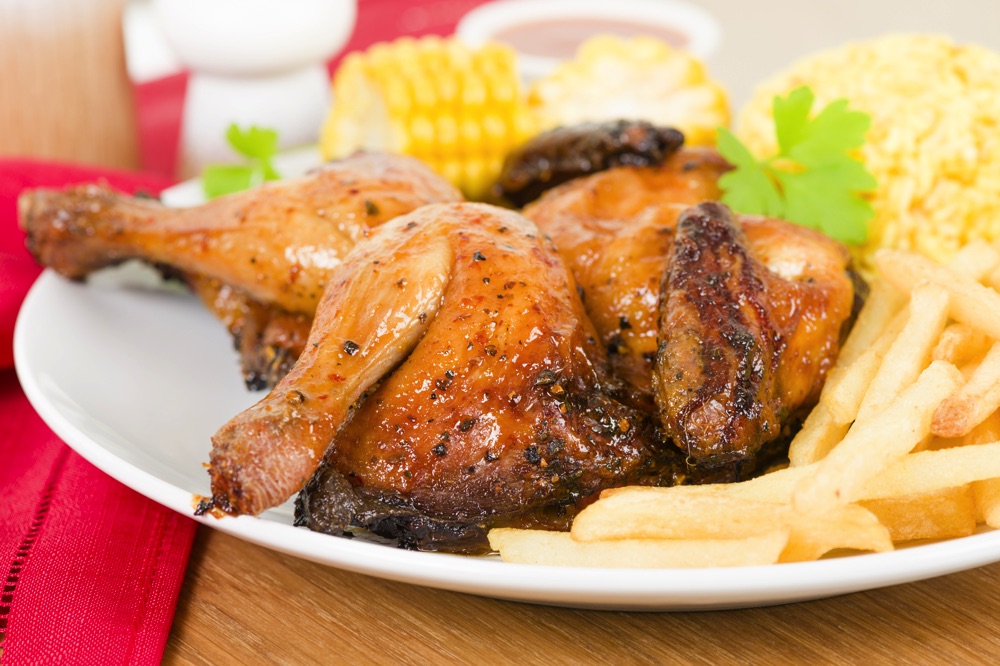 Flame-grilled Piri Piri chicken is often the first thing that people think of at the mention of Portuguese cuisine.
Interestingly though, as much as barbecued chicken is a very popular fast-food choice in Portugal, and a quintessential part of the local fare, it's actually not typically Portuguese. In fact, the Portuguese are generally speaking not big fans of spicy foods.
So, where exactly did Frango Assado (or Frango Churrasco as it's known in some parts of the country) originate?
You may be surprised to learn that the famous fast-food chain, Nandos, which has largely popularised Piri Piri chicken around the world, was actually founded by a South African based Portuguese back in the '80s in South Africa.
There's no doubt that the spicy sauces and spices from countries such as Mozambique and Angola as well as further afield in South America have all influenced the evolution of this tasty dish. It's believed that through these former Portuguese colonies that Piri Piri chicken eventually made its way to Portugal too.
Regardless of whether you like it spicy hot or as many Portuguese prefer, a slightly milder version, there's no doubt that Frango Assado should be one of the first things you taste when landing in Portugal!
12. Sopa da Pedra
Sopa da pedra is one of the most traditional Portuguese foods and part of the typical Mediterranean diet. Once considered the soup of the poor, sopa da pedra (literally means stone soup) can now be found in every Portuguese home and restaurant, from north to south.
The soup's main ingredients are red kidney beans, cured meat and potatoes. Although meat is usually used to give flavor to the soup, it can be found in a vegetarian version as well. This filling soup can be a full meal, with cornbread dipped in olive oil. During wintertime, it will keep you warm all day.
Portugal Foodie Experiences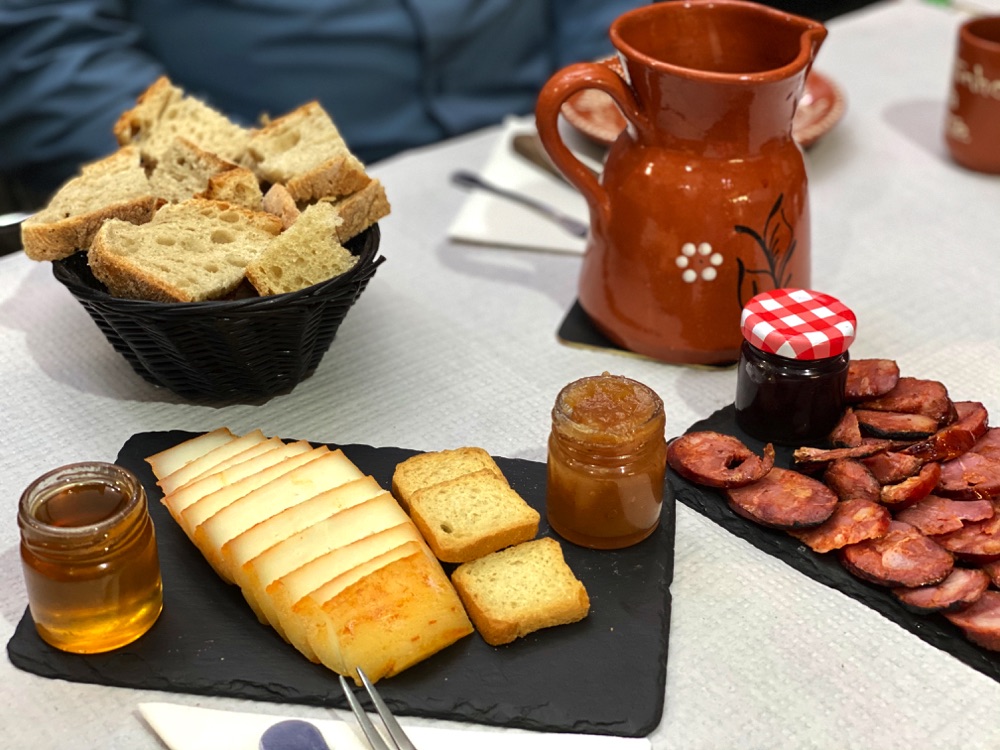 Take your Portugal Food & Drink experience to a whole new level by booking one of these awesome Portuguese food tours:
Learn to make Pastel de Nata
Learn to make these scrumptious delights on this 2-hour Pastel de Nata Baking Class. This immersive class is hosted by a local baker who will share all his insider tips and tricks on how you can replicate these pastries in the comfort of your own home.
Savour the bold flavours of Port Wine
It's my opinion, when visiting Porto, that you have to explore the Port houses of Vila Nova de Gaia, just across the river from downtown Porto.
Try this 3-hour walking and Port wine tasting tour where you'll not only learn about Port wine production but also get to sample 10 different tastings at 3 of the areas most reputable Port Houses.
Have more time on your hands? Enhance your Port Wine experience by taking in the natural beauty of the gorgeous Douro Valley on this 9 hour Douro Valley Cruise & Wine Tasting tour. Perfect as a day trip!
Sample local flavours
Last but not least, indulge in a 3-hour Food and Wine walking tour of Lisbon, and taste some of Portugal's most traditional delicacies and flavours.
Learn firsthand, insider knowledge from a local guide and enjoy tastings that include famous Portuguese treats such as Bacalhau cakes (codfish), Ginjinha, Vinho Verde (green wine) and Petiscos (Portuguese tapas) to round out your foodie exploration of Portugal!
Tips for Eating in Portugal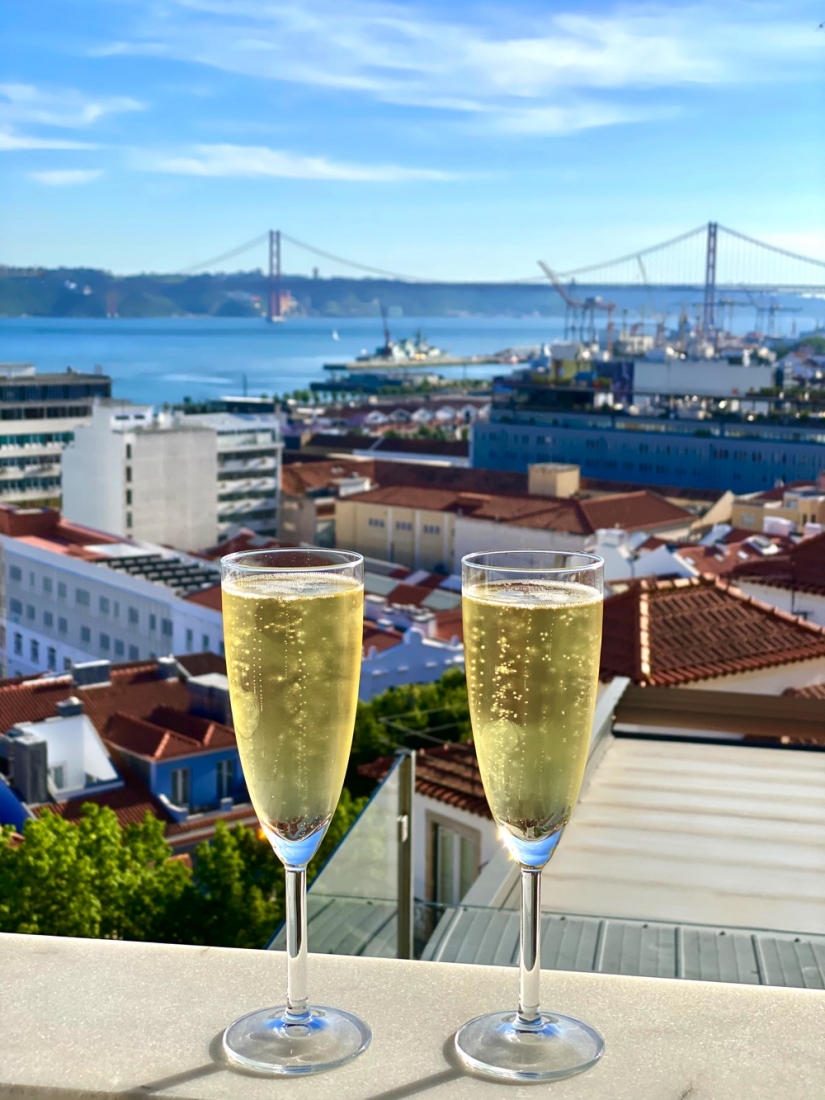 A couple of handy tips to make the most of enjoying Portuguese cuisine.
Eat When the Locals Eat
When dining out, it's a lot more enjoyable to have a "buzz" in the restaurant rather than showing up and you're the only one seated. 
To avoid this, eat when the Portuguese eat! 
For the most part, Portuguese eat lunch between 12-2 pm, and for dinner, 8-10 pm, although on the weekends, most go out at 10 pm and later. Snacks are common and are had between breakfast and lunch, and between lunch and dinner.
Eat Where the Locals Eat
When visiting Portugal, don't be afraid to pop into one of the many local Tascas you will stumble past on just about every street corner.
Not only are these local eateries the best places to taste the real traditional flavors of Portugal, but they are also usually very cheap!
Ask for the Prato do Dia (dish of the day) or the Menu do Dia (menu of the day). Here it's not uncommon to have a soup as a starter, a main meal and a drink for under €10.
Enjoy a Fine Dining Experience
Whilst authentic Portuguese flavors are steeped in traditional ways of cooking and recipes passed down for generations, Portuguese gastronomy has also seen a big transformation in recent years.
This is in large part thanks to top Portuguese chefs who have modernized the tastes of Portugal while still retaining unique Portuguese produce and flavors.
Want to experience a true Portuguese fine dining experience? Try out one of the numerous Michelin starred restaurants across the country like Belcanto, Loco, or Eleven in Lisbon or The Yeatman Hotel restaurant in Porto, to name but a few.
Portuguese Foods FAQs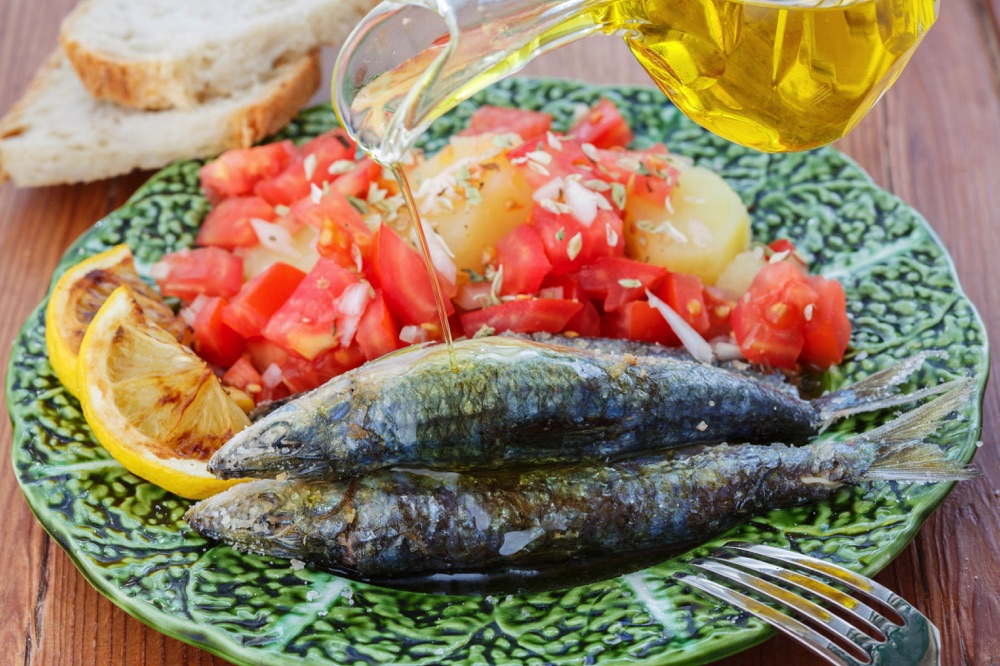 Here's a quick look at some of the commonly asked questions about Portuguese cuisine.
Is Portuguese food Mediterranean? 
Yes, Portugal follows the Mediterranean diet and is part of the identity of Portuguese gastronomy. 
Which ingredients are used in Portuguese food?
At the base of Portuguese cuisine is vegetables, fruit, high-quality (mostly unprocessed) bread and cereals, legumes (including beans, chickpeas, broad beans), and nuts (almonds, chestnuts, walnuts, raisins). Olive oil and fish are the main sources of fat.  
What are some Portuguese eating habits?
Portuguese eat locally and seasonally, preferring to shop at markets and local stores rather than in larger supermarkets. They consume dairy moderately, use herbs when cooking, are moderate drinkers (enjoying wine with meals), and most importantly, enjoy sharing meals with friends and family around the table.
Is Portuguese food spicy?
No, it's not. And actually, most Portuguese people do not like spicy foods, opting for the milder option when available.
Is Portuguese food healthy?
Yes and no. Many of the ingredients used in Portuguese dishes are healthy foods (fish, vegetables, fruits, herbs, grains), but many of those healthy ingredients end up being fried rather than roasted or baked. Plus, the Portuguese love a dousing of olive oil! Also, desserts are popular in Portugal, along with cheese, sausage, and bread.
Now You Know What to Eat in Portugal
There you have it! Whether you're passing through Portugal for a weekend retreat or spending a whole summer there on vacation, you won't want to miss out on the best foods of Portugal.
Savor the salty seafood, delight in the sugary desserts, sip on some of Portugal's incredible wine varieties and enjoy the best of Portuguese cuisine while traveling through this stunning country.
Looking for other European foods? Have a look at the best Albanian food to sample and these top dishes of Copenhagen. Thanks to Shutterstock.com for providing most of the images in this article. 
Like This Article? Pin It!