This article is Norwegian Jade Highs and Lows. It is a review of my experiencing sailing on a seven night Norwegian Cruise Line to Cyprus, Greece, Israel and Turkey.
Norwegian Jade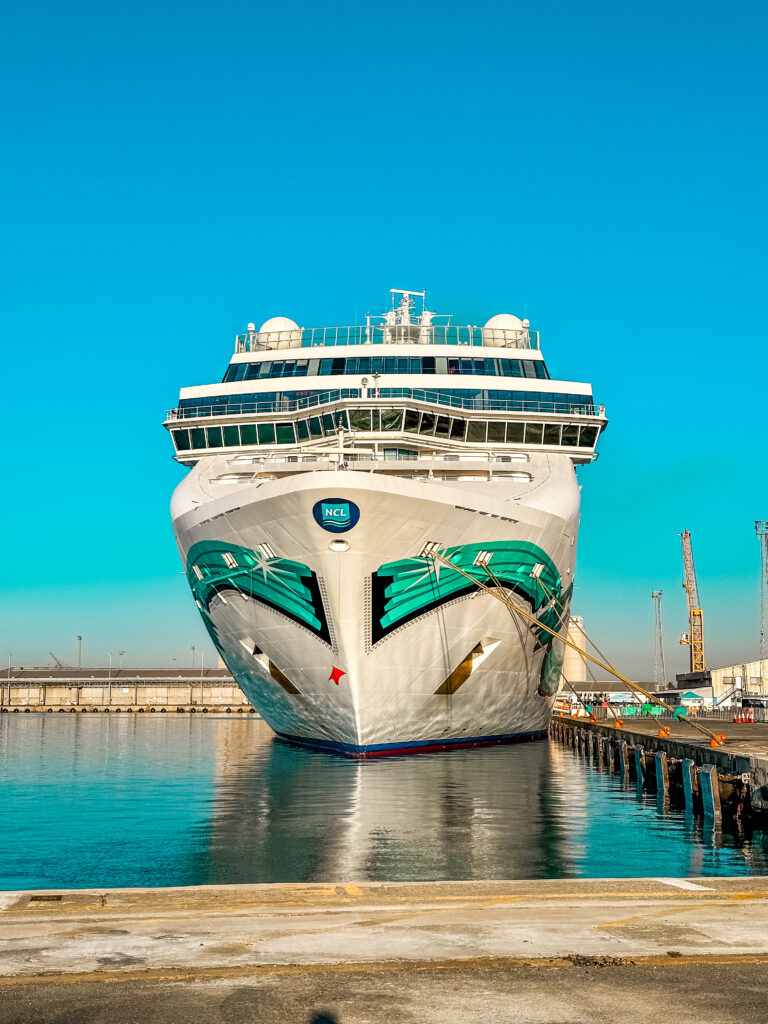 I embarked on a seven-night sailing on Norwegian Jade from Athens to the Greek Islands, Israel, Cyrus and Turkey. I joined my friend Matt for the sailing and had an amazing experience in Europe and the Middle East!
Booking
Norwegian Cruise Line offered no single supplement on inside rooms on the ship about a month prior to the sailing which offered an exceptional value in order to go on this sailing.
Inside rooms were available for approximately $1,000 including free at sea taxes and fees.
Free at sea on Norwegian includes the drink package, a shore excursion credit, one specialty dinner and a real basic internet package onboard. While they describe the package as "Free at sea" you actually have to pay about $200 in taxes and gratuities for those amenities.
Without reservation, for this sailing I upgraded the package to Free at Sea Plus because it included two additional specialty dinner credits, unlimited internet as well as bottled water and coffee at Starbucks onboard. This package had an additional cost of $260 including the taxes and gratuities. I think the package is worth it to get the bottled water and Starbucks as well as the two specialty dinner credits.
Summing up, I booked two shore excursions and in the end spent a approximately $2,000 in total on the cruise.
Room
While I booked an inside room, I ended up being upgraded to a Balcony Room for the sailing.
The room was updated in decor and technology and offered three US outlets, Two Euro outlet and four USB outlets. The regular outlets were across from the bed so I was happy that I brought along a powerstrip like this one from Amazon.
The cabin had two beds made together into a king size bed and was comfortable and I enjoyed the fun colors of blue and green in the room.
The room had a decent amount of storage near the entrance to the room as well as a small seating area that could be pulled out to be an additional bed.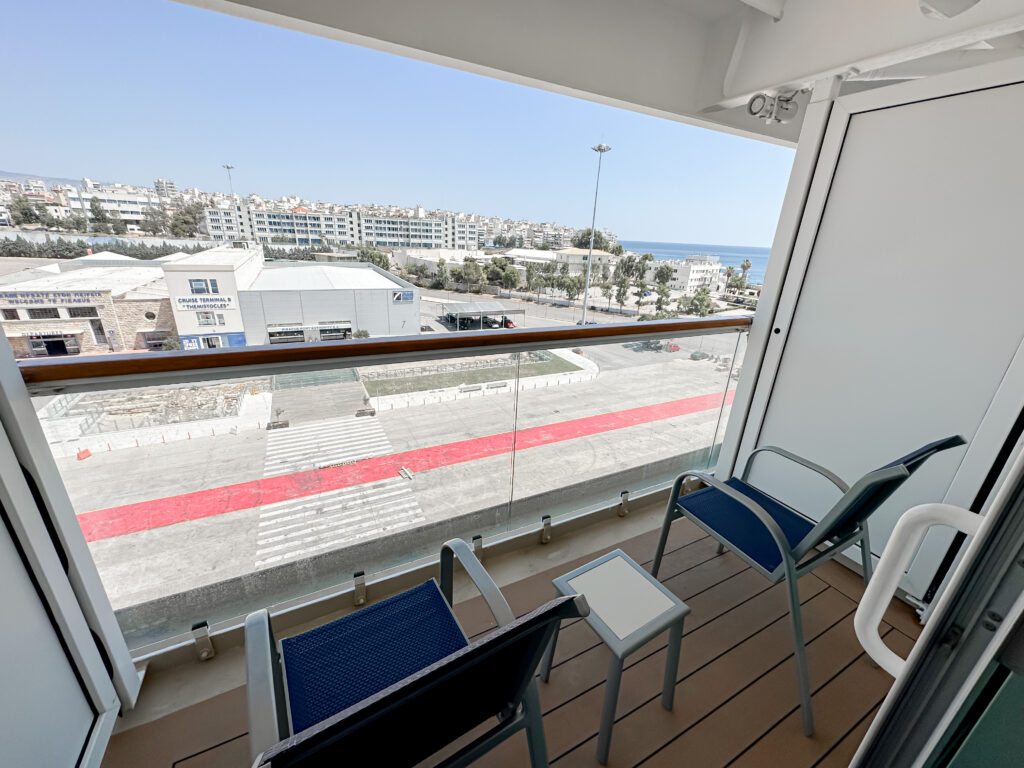 The balcony featured two chairs and a small table.
To summarize, the room was clean, comfortable and enjoyable and it was a nice surprise to have the balcony to take in some amazing views throughout the cruise.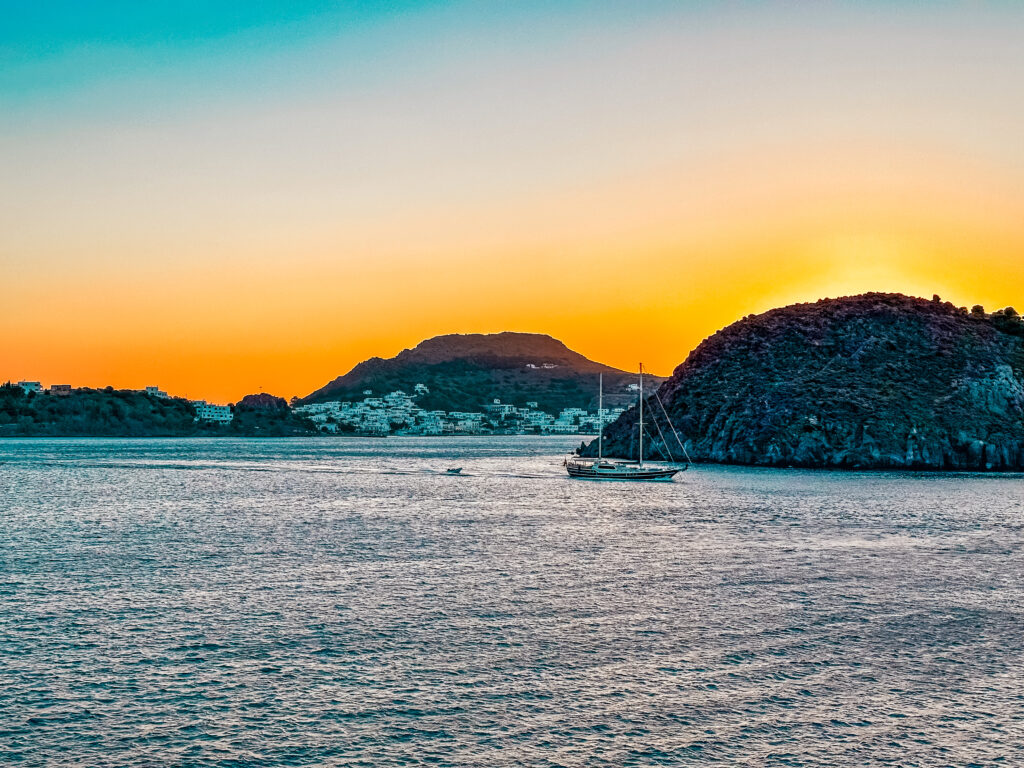 High's and Low's
I enjoyed my cruise on Norwegian Jade and wanted to point out some things that I loved as well as a few things that could have been improved.
High: Unique Itinerary visiting Israel, Cyprus, Greek Islands and Turkey
Two Ports in One Day! Turkey and Patmos, Greece
This sailing on Norwegian Jade was port intensive and it event visited two ports on the first day with a stop in Turkey in the morning and then Patmos, Greece in the evening.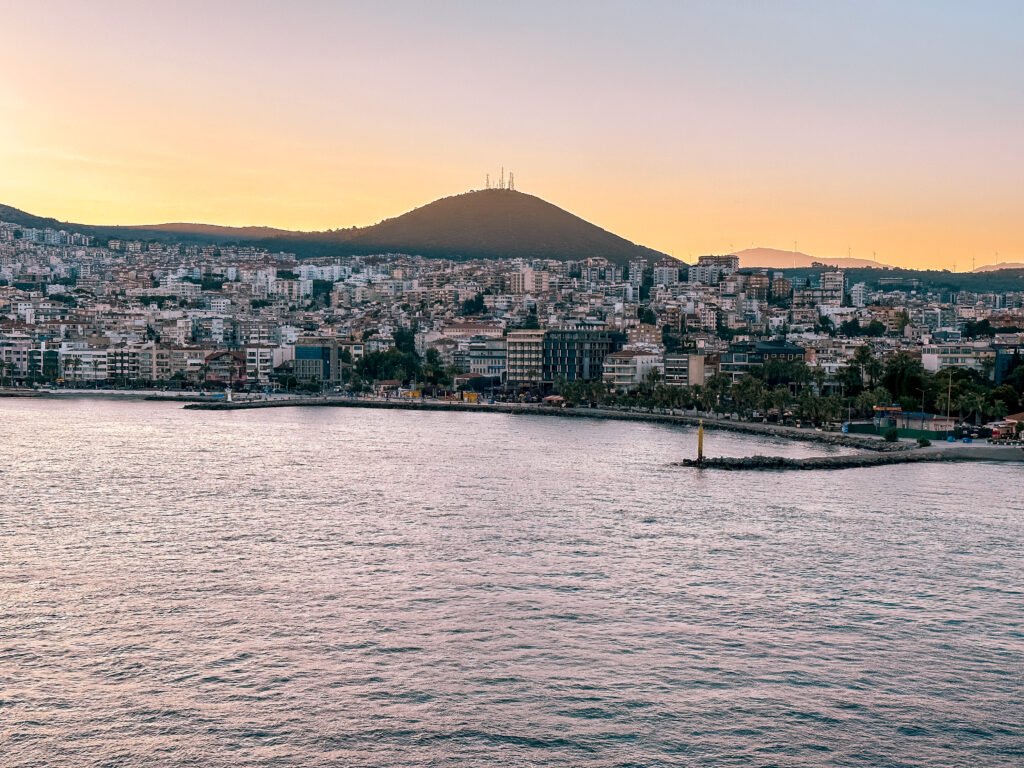 From visiting a Grand Bazaar Market in Turkey and then spending the evening in a beautiful seaside town was definitely a key highlight!
Plus having a tender ride at dusk was epic.
Two Days in Israel – One day in Jerusalem and one day in Tel Aviv
After that bonus two port same day visit day, I got to spend two days exploring Israel and seeing some of the historical sights from the Bible in Jerusalem and modern Tel Aviv.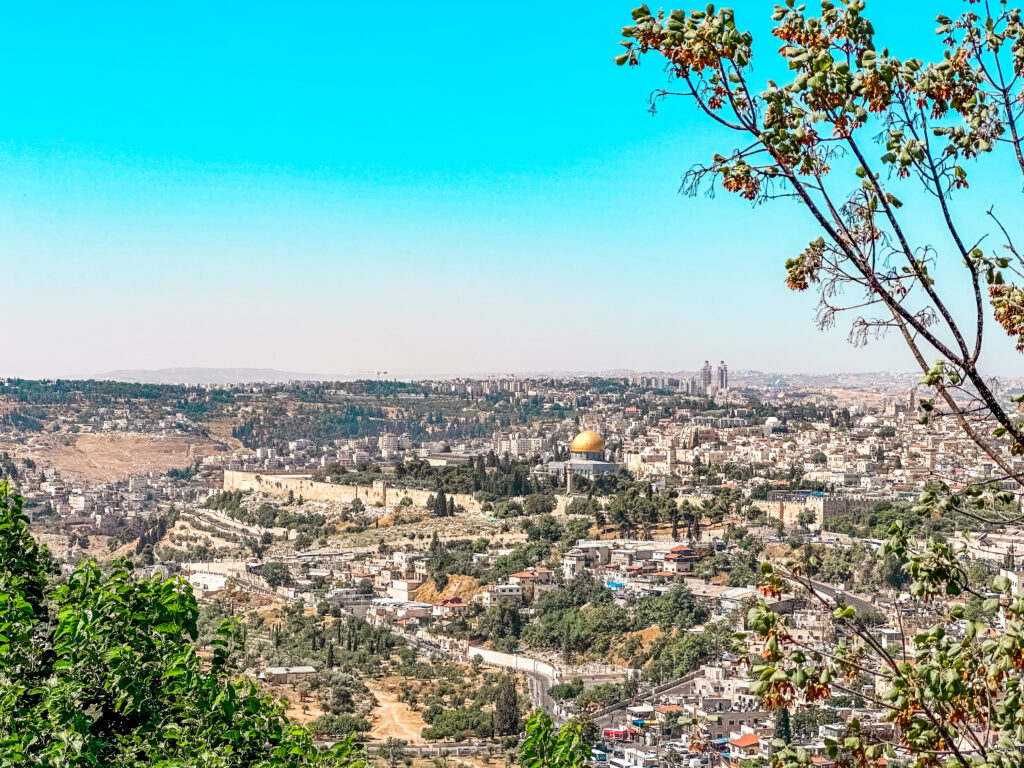 A highlight was visiting the spot where it was thought that Jesus prayed on a rock shortly before he was crucified.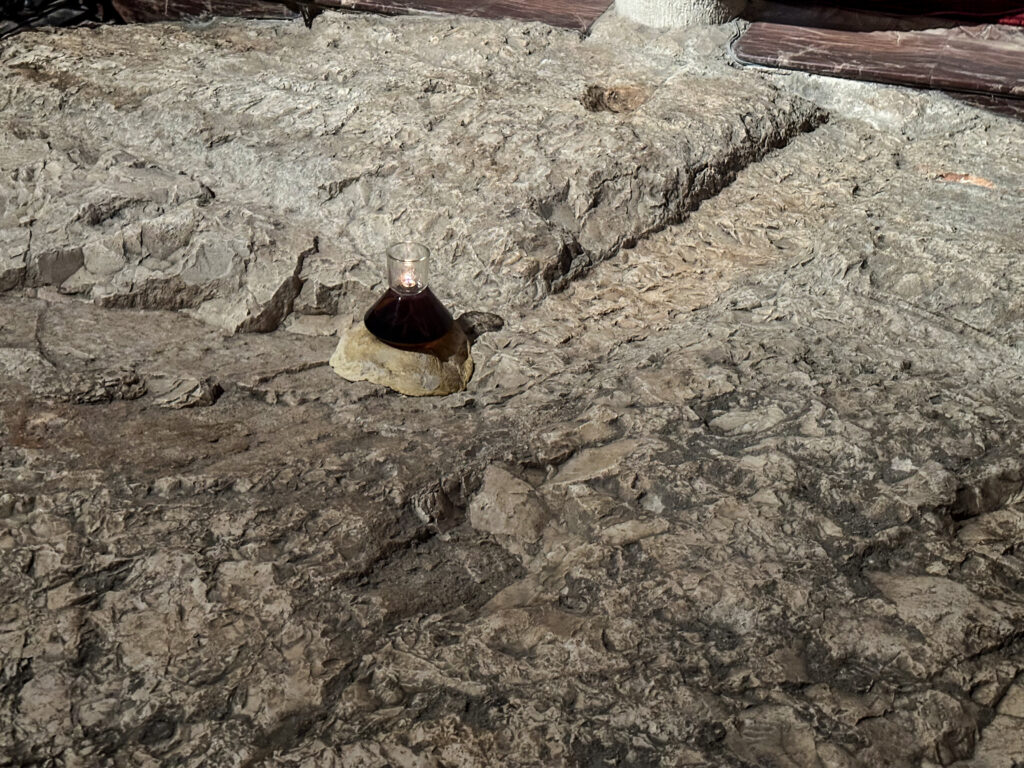 In addition, the Israel tours allowed for a visit to the Western Wall.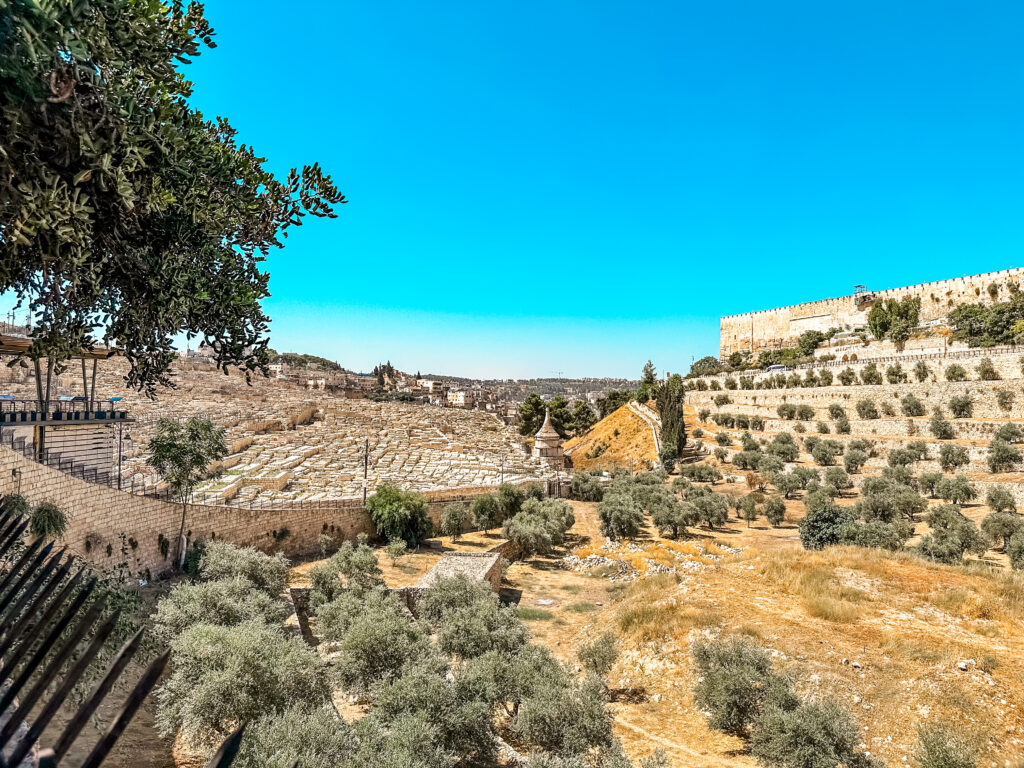 In Tel Aviv there was a stark contract between modern and old as well.
Amazing Santorini
Santorini was the last port of call on the last day and it really allowed the cruise to end with a bang!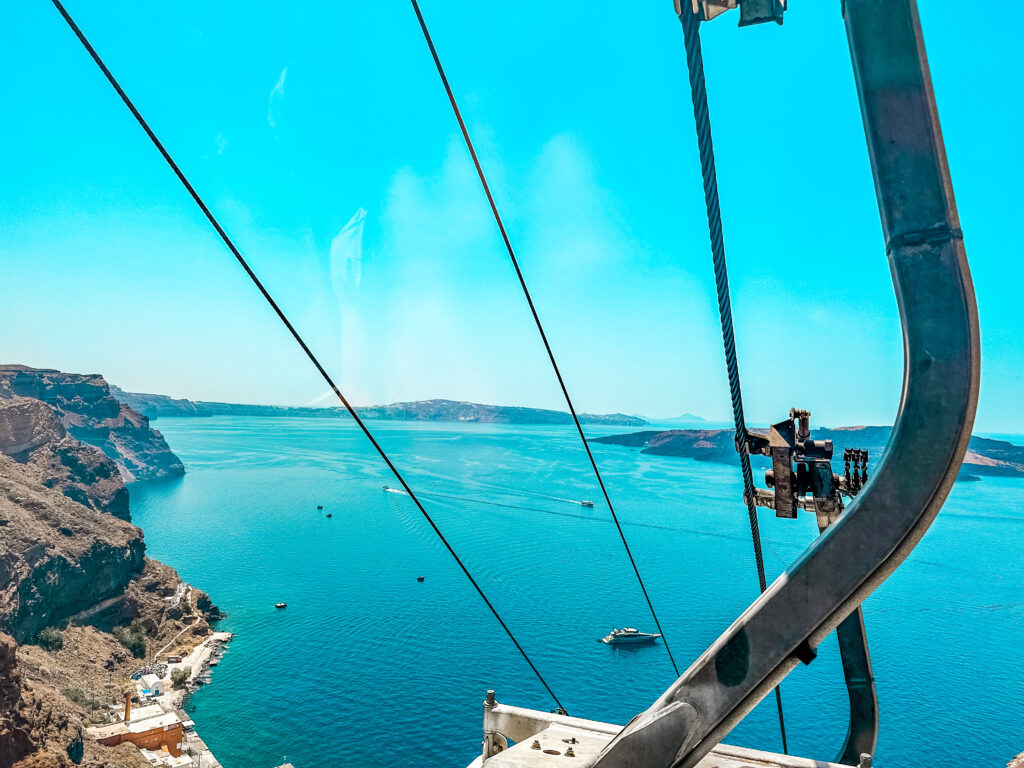 From an epic view going up the cable car to the top of the mountain it set the tone for a good day!
Santorni offers epic views everywhere including this one with Norwegian Jade in view!
Probably the highlight for Santorini was having an incredible Greek lunch with a view!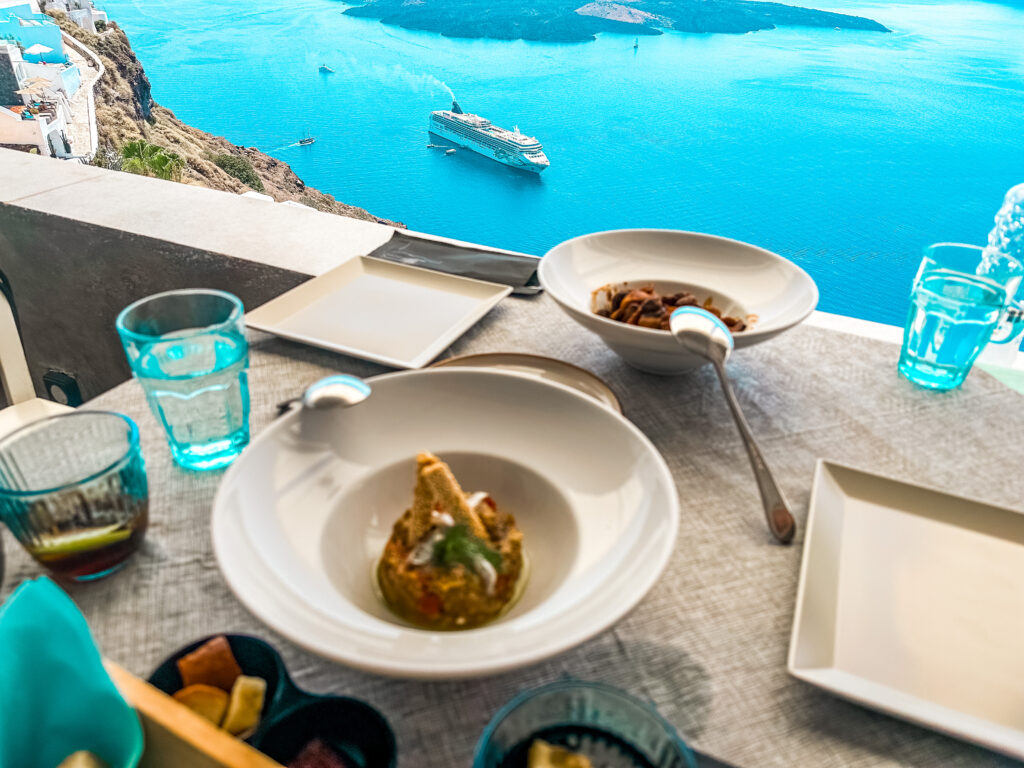 It was an excellent way to celebrate an enjoyable week exploring some beautiful places.
With a departure after sunset as well, that allowed for some pretty views of the island from the water.
High: Specialty Dinning on Norwegian Jade
Norwegian Cruise Line has an emphasis on specialty dining so it was nice I had three dining credits as part of my booking.
Throughout the week, I dined at the Italian Restaurant, Steakhouse, Japanese and French.
Each of the dinning experiences in specialty dining were excellent.
Italian
For the Italian dinner I had an awesome risotto as well as three incredible cannoli!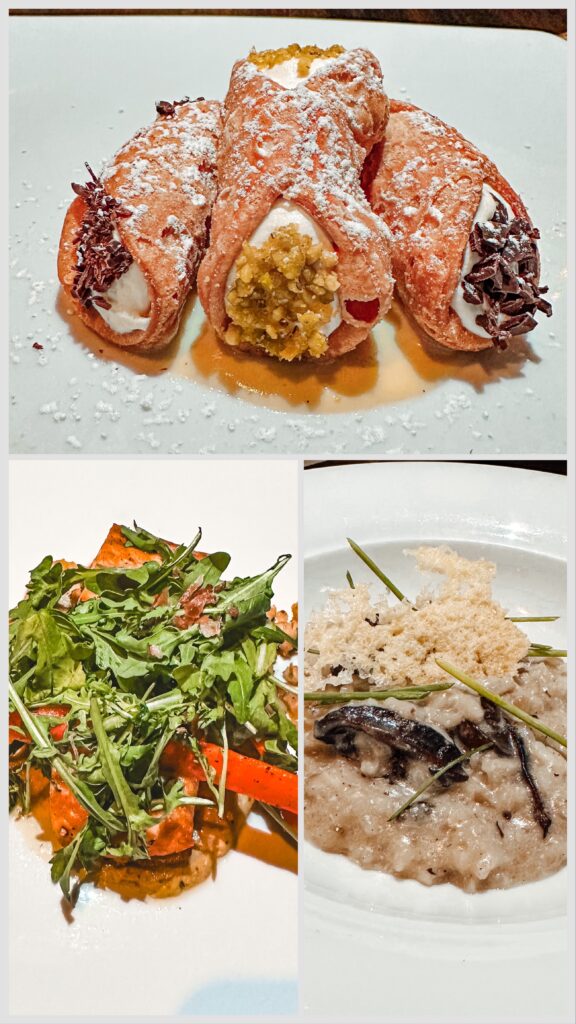 The risotto was mushroom based and it was cooked perfectly.
Steakhouse
The steakhouse dinner was classic and everything was prepared perfectly.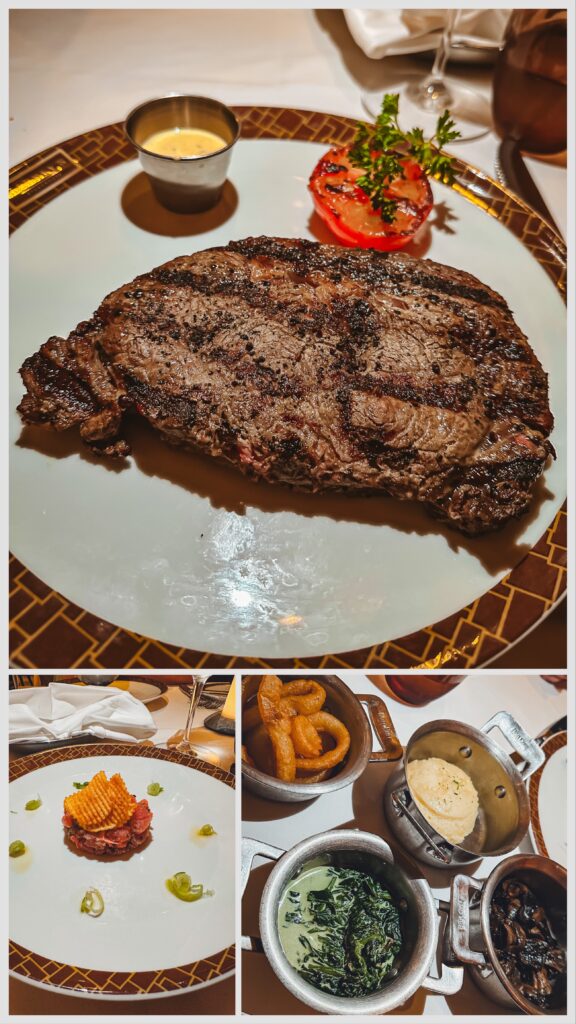 From beef tartar as a starter to a prefectly cooked ribeye it was an excellent dinner.
Japanese
For the Japanese restaurant, we were entertained while the food was being prepared on the teppanyaki grill.
Those chefs always make the dinners so much fun!
French
The French Restaurant was my favorite meal from the cruise.
The experience was excellent from the start with a very good glass of Bubbly to a perfectly cooked three course meal.
The entrée was Dover Sole and it was presented nicely with a lemon and potato.
The pear dessert left me wanting to go back for another taste!
High: Epic Sunrises and Sunsets
There is something about sunrises and sunsets near Greece that makes the sky really glow up.
It was such an incredible experience getting to wake up early and take in the beautiful sunrises!
What a blessing it was having the balcony to take in a view like that!
The sky was so beautiful every evening.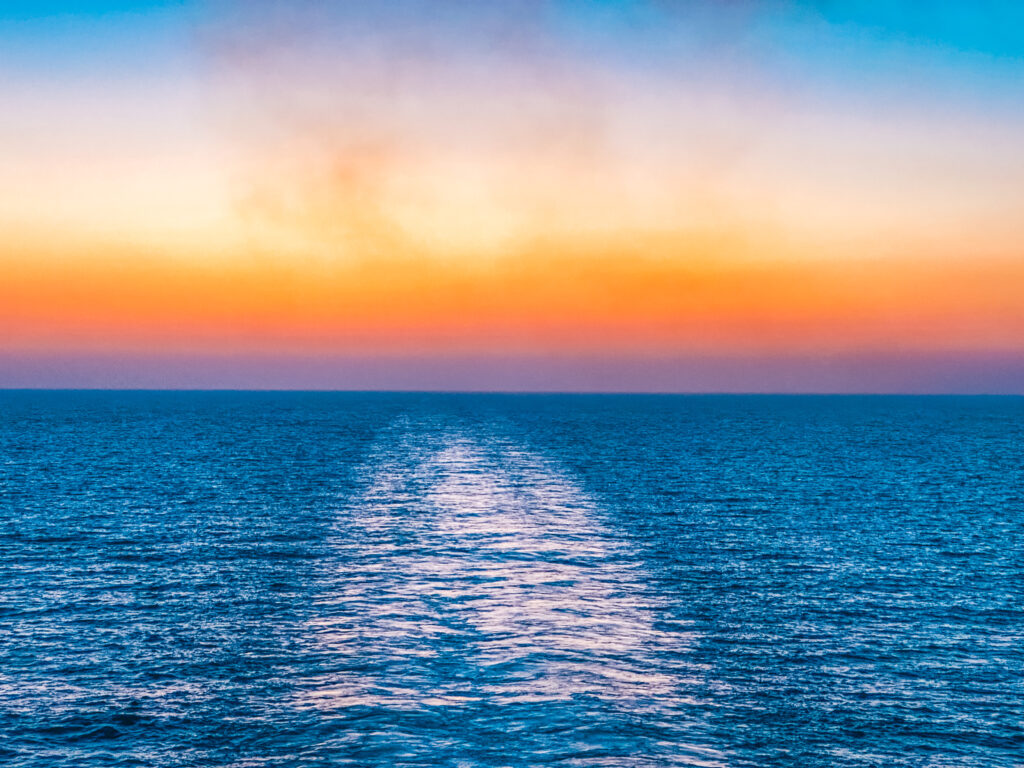 Santorini views also added to the great sunsets.
Getting to watch these beautiful scenes each day really made for epic memories from the trip!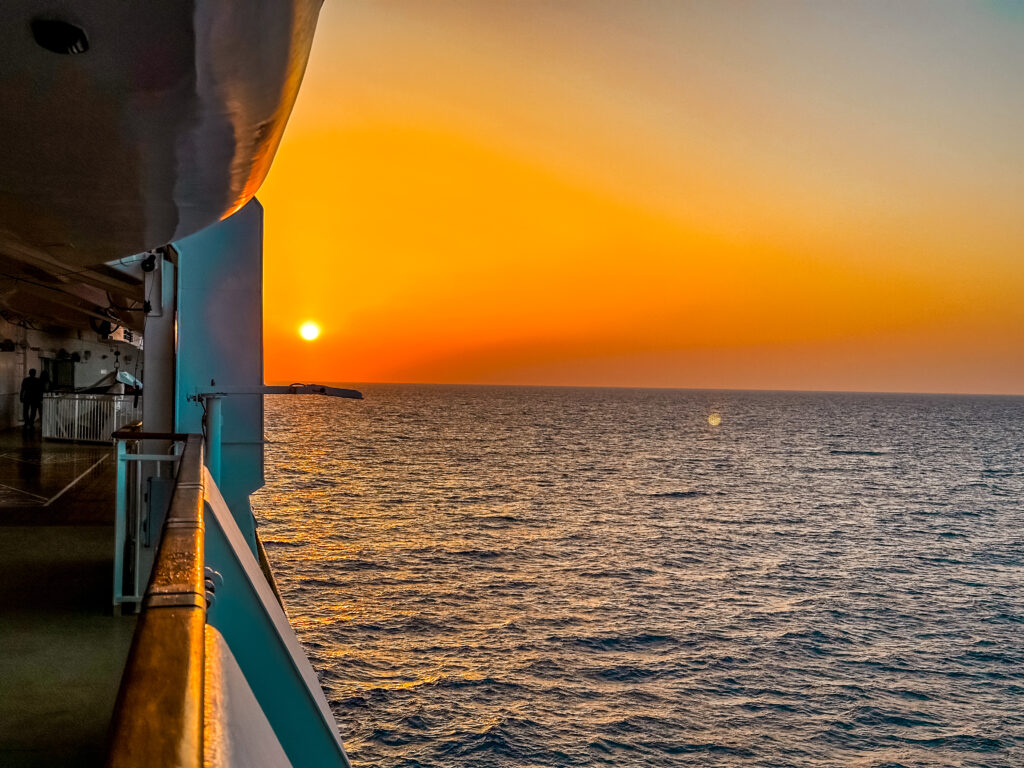 Low: Main Dining
While I had some pretty amazing dinners in the specialty restaurants, main dining on the other hand was a bit of a let down.
While the staff in the restaurants were friendly and provided good service, the taste and presentation of the food was a disappointment on this sailing.
One evening, I had dinner at the Chinese restaurant which is included in main dining on Norwegian Jade.
While the food was served hot, it lacked a good taste.
I had a similar experience at breakfast in the Main Dining room as well as a couple times at the 24 Hour Sports Bar. While the team members were friendly and welcoming, the food quality left a lot to be desired.
Low: No Grab and Go Snacks
In the morning at the Starbucks you could get some muffins, croissants and other items for a few hours, but the rest of the day only paid items such as chocolates or other treats were available on the ship.
It is nice to be able to gave a light bite at the coffee shop during the day or after a long day ashore.
While the buffet and pool area offered foods at limited times, there wasn't an easy place to go on the off hours where you didn't have to sit down and order from a menu.
I get it that this is a little silly to complain about since there is always food available on the ship, but it was one area that could offer improvement. On Celebrity you can get treats all day long at Cafe al Bacio and on Princess, the coffee shop offered quick food 24 hours a day.
Norwegian for food at off hours, you can go to the Sports Bar and order burgers, wings and a few other items. While that is nice to have the option, the lack of a quick spot to get food to take to your room or around the ship was limited.
While those two things took away from the experience there was one more positive thing about the cruise!
High: Team Members Making Guests Feel Welcome
It was a fun cruise on Norwegian. The staff really made guests feel welcome!
One such event was the the Glow Up Party where guests were asked to wear white and use glowsticks to light up the dance floor!
From those fun parties to the cruise director and entertainment staff leading dances and activities by the pool, there were so many fun opportunities to enjoy the cruise.
At sail away the cruise staff led guests in a line dance party with conga line that was a great way to set the tone for fun!
Norwegian Jade
I had a great cruise on Norwegian Jade. From the amazing port experiences, to epic sunrises and amazing food in specialty dinning it was a cruise to remember.
With all the fun, it is no wonder why European cruises have been in such demand this summer! I can't wait for a chance to return on another sailing!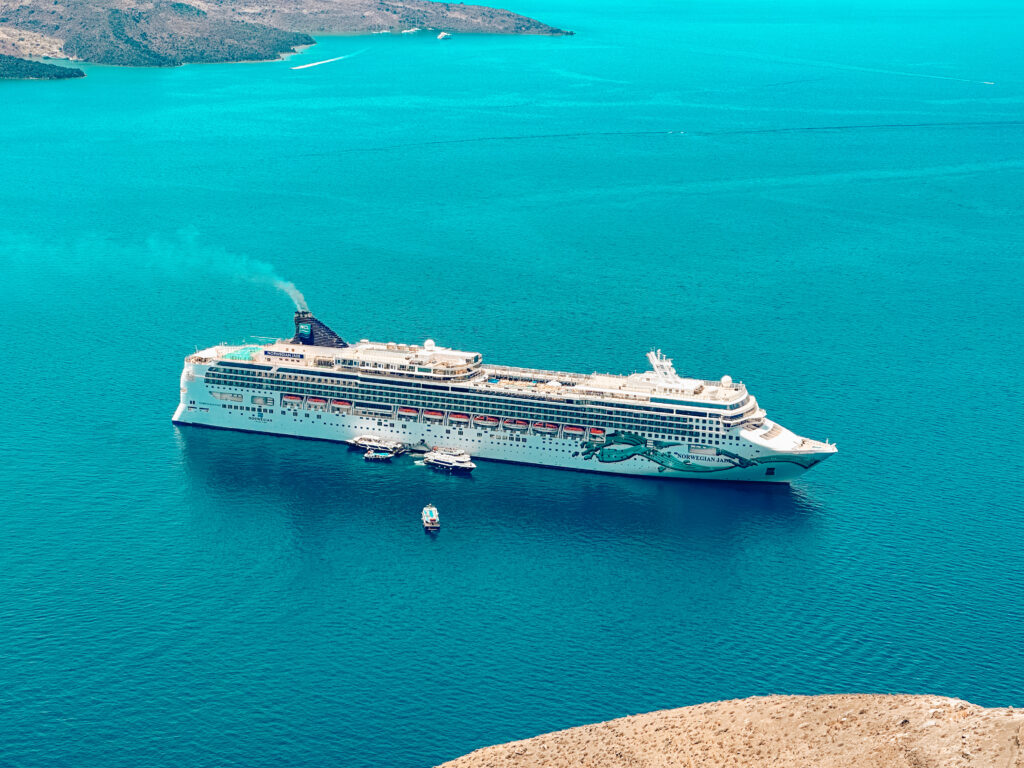 Have you sailed on Norwegian Jade or visited any of these ports? How did your experience compare to mine?