As foodies, finding the best countries for food has been our mission for the past 12 years. Ever since we landed in Bangkok and had our first spicy Thai curry and pad Thai on the street, we were hooked. Since then, we've spent our time travelling searching for the countries with the best food.
We've eaten at Michelin-starred restaurants and from the back of food trucks. We've met chefs and street food vendors. We've taken food tours in pretty much every country we've visited and we've formed an obsession with food.
While we're on the road, we're always waiting for our next meal. Sometimes, when we're travelling in a country with one of the best cuisines in the world, we hope that we'll never get full so we can keep sampling the incredible dishes!
The 10 Best Countries for Food
Food has long been one of the best ways to understand culture. The dinner table is where customs are born. Where friends, families and lovers meet to create memories. Many religions revolve around food, with the gods appreciating food offerings.
Food is the best way to truly glimpse a nation's soul, and having the opportunity to eat with local people and share their cuisine is a very personal and honourable experience.
If you're like us and you love to travel and eat, then you'll love this post. I've put together our top 10 countries for food, as well as our favourite dishes from each, so that you can plan your foodie travels this year.
Here it goes, the 10 best countries for food!
1. India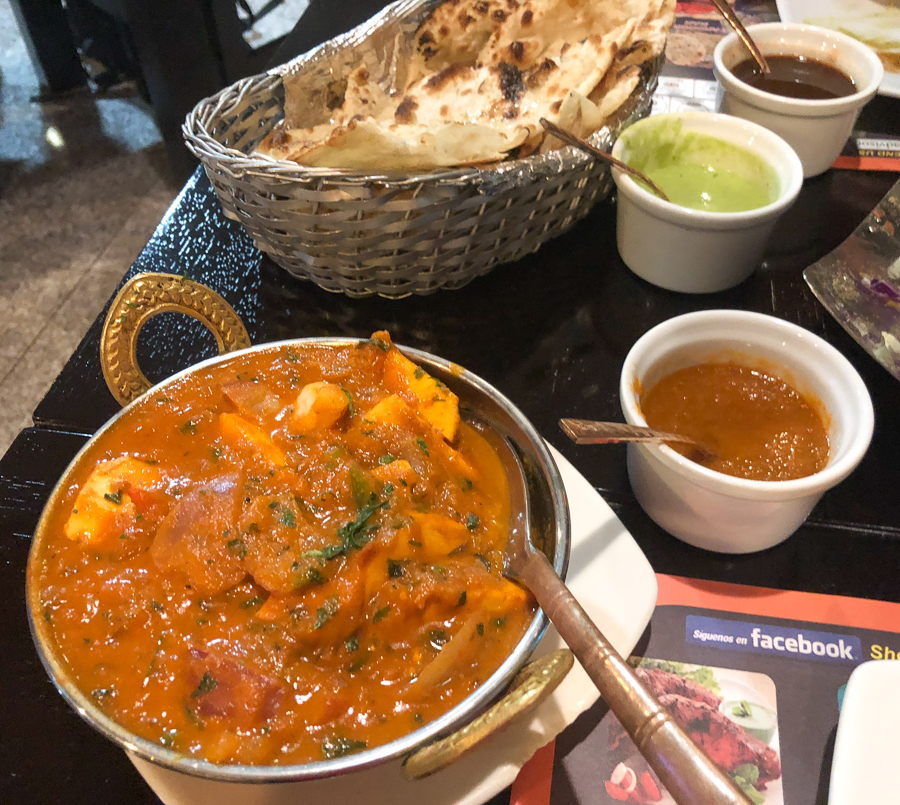 India easily makes this list of the countries with the best food because it's easily one of the most internationally eaten and best cuisines in the world.
Just thinking about the aromas of a spicy Indian curry gets my mouth watering. Pair that with the incredible variety of bread and ancient cooking methods and you have some of the best food in the world.
Whenever we're planning a trip to India, we also plan to be vegetarian for the entire time we're there. There are so many incredible vegetarian and vegan meals in India that you really don't have to eat meat.
Few other ethnic foods have infiltrated the prized spot of a national dish in another country, but chicken tikka masala (although not strictly Indian) has found that honour in England. But there's much more to Indian cuisine than tandoori chicken and tomato-based curries.
Flaky paratha bread, fluffy pav baji buns with curry, fragrant biryanis, spicy rogan josh, crispy panipuri and a seemingly infinite array of sweets, Indian cuisine is a neverending journey into the history, culture, traditions and religion of one the most fascinating countries for travellers.
One of the best parts of Indian food is the price.
If you've had it in your home country, you'd be forgiven for questioning this statement. In the west, Indian food can be as pricy as a steak meal, but in India, it's not. In India, you can entire meals on the street for under 50 cents.
You can sit down for an all-you-can-eat thali for less than $1.50. You can enjoy delicious fresh-squeezed lime juice and belly soothing lassis (yoghurt milkshakes) for as little as 25 cents. India is also one of the cheapest countries you can travel to.
When you're travelling in India, an excellent way to learn about all the delicious food there is to take a food tour. In Mumbai, this street food tour goes from the beach to several distinct neighborhoods, where you can get a broad sample of many types of Indian food.
Or, you can ride a rickshaw on a street food tour of Old Delhi, which includes a stop at the the largest spice market in Asia. These tours are a fun and informative way to try some of the best food in the world.
Our Favourite Indian Dishes
I've already listed a few tasty and popular Indian dishes, but many of those have been of the meat variety. I myself love a good meat dish, but in India, Dariece and I both go fully vegetarian (there are numerous vegan options as well). As a bona fide omnivore, I think this speaks volumes about the quality of vegetarian Indian cuisine.
This is after all the country with the largest vegetarian population on earth and not just because they have over 1 billion people. 40% of Indians are vegetarian and if you see the vast pages of recipes on the menus at vegetarian restaurants in India, you'll see why.
Apart from the numerous types of curries you can sample, here are some must-try dishes in India.
Masala Dosa: A crispy, flakey and addicting rice and chickpea crepe stuffed with a potato and onion curry, served with a spicy sambar and a coconut chutney, the masala dosa is our favourite South Indian dish by far.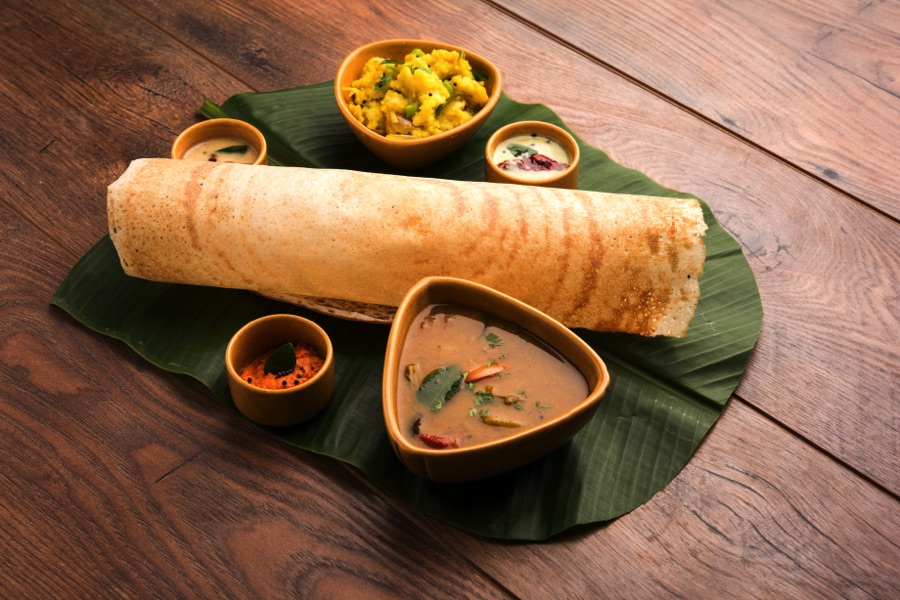 Generally served on a large metal plate, you can usually pick one of these up for under $1 and they are filling enough to constitute a meal. They're also fun to watch being made as the skilled cooks evenly spread the mixture over a hot circular plate.
Idli and Vada: These are actually two separate snacks typically served around breakfast time. One is a crispy chickpea doughnut (vada) while the other is an impossibly fluffy, soft steamed fermented rice cake (idli).
Both are typically served with sambal and chutney which varies regionally. Sometimes the countries with the best food also have the best breakfast food.
Malai Kofta: India's answer to meatballs in sauce, malai kofta is a delicious and decadent dish made of potato & paneer balls that are drenched in a smooth, rich & creamy onion and tomato gravy.
Malai means cream and kofta means balls, so the name isn't actually that original, but the flavour is amazing. This is a common dish that you'll find on many menus while travelling in India.
2. Mexico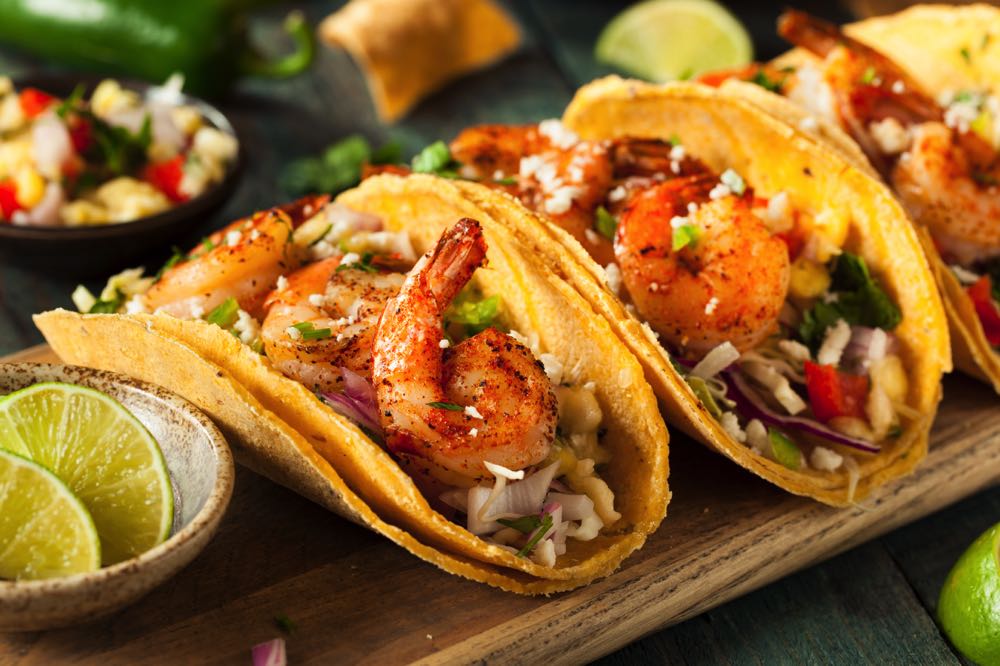 Mexico has the only cuisine in the world named an Intangible Cultural Heritage by UNESCO. Mexican food is as diverse as it is spicy, and Mexico easily has one of the best cuisines in the world. There are so many things to do in Mexico, but our favourite is always eating.
Much more than tacos and quesadillas, the food here varies from region to region, but it's always delicious. Dating back over 9,000 years, this is also one of the oldest food cultures in the world.
Much of the cuisine is influenced by a melding of indigenous cultures and Spanish colonization, but also from their northerly neighbour, the United States.
In fact, food like burritos, chimichangas, taco salad, fajitas and even the famous "Mexican" cocktail, the margarita, were all invented in the US. But Mexico doesn't need those dishes to retain its title as one of the best countries for food.
It has rich, luxurious moles from Puebla, buttery tamales from the Yucatan, historic "tacos al pastor" with roots in Lebanon, fresh oysters in Puerto Vallarta, and mouthwatering breakfast specialities like chilaquiles, huevos divorciados and molletes. Travelling in Mexico is a food-lover's dream.
All of these regional cuisines are concentrated in one place: Mexico City, where you can find some of the best food in the world. On this Authentic Downtown Food Tour, you'll sample a wide range of Mexican food in markets, cantinas, and more.
From Michelin-starred chefs to world-renowned street cooks and even the old grandma at the hole-in-the-wall restaurant that nobody knows about, Mexicans are passionate about their food and they know how to rock your tastebuds with their cuisine.
Our Favourite Mexican Dishes
I've already listed most of our favourites, but there are thousands of great dishes in Mexico. We've spent over 5 months travelling the country so far and we're still finding new food to try every time we return. Eating is one of the best things to do in Mexico!
Ceviche: With over 9,300 kilometres of coastline, it's no surprise that Mexican cuisine features a lot of fresh seafood. There are plenty of amazing dishes to get on the coast, but the ceviche in Mexico is phenomenal.
Small chunks of fish mixed with diced chillies and onions and sprinkled with salt and a tart blast of lime, Mexican ceviche is one of the best in the world.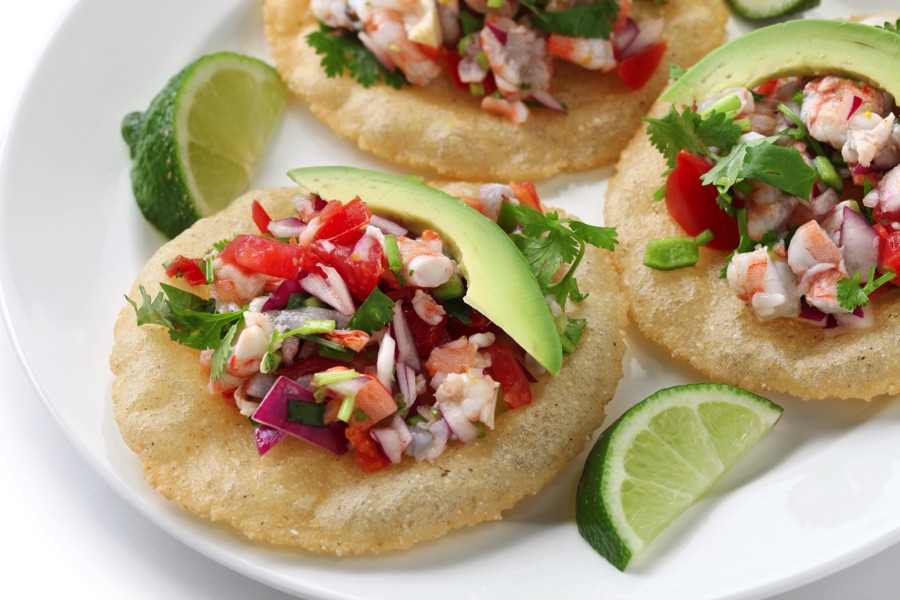 Tacos al Pastor: When immigrants came to Mexico from Lebanon and Syria in the 1920s, they ended up bringing with them what is now one of Mexico's most iconic dishes. Tacos al pastor takes a page from the famous shwarma of the Middle East.
A giant vertical pork rotisserie crisps on the outside before being shaved into thin strips and placed on a corn tortilla with a variety of toppings. You can find tacos al pastor all over the country, but one of the best places is in Puerto Vallarta.
Cochinita Pibil: A Yucatan speciality consisting of pulled pork shoulder braised and marinated in an achiote paste, orange juice, and lime mixture and then traditionally cooked underground wrapped in banana leaves inside of a "pib".
The pit-roasted final product is moist, juicy and packs all of the flavours of the other ingredients that were buried with the pork under the earth. The meat is then typically placed on… you guessed it, a corn tortilla. If you have the chance to take part in a pib cookout as we did in the Yucatan, don't miss it.
3. Italy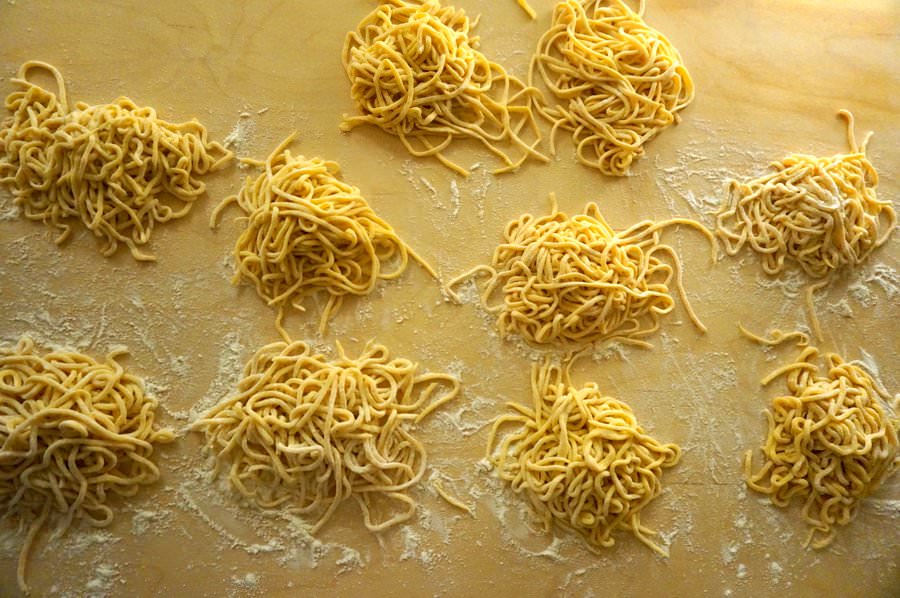 Italian food is so much more than pasta and pizza, although both are done better here than anywhere else in the world.
I'm actually writing this post from our temporary home in Rome, so it's quite easy to bang out a few hundred words about the incredibly naughty and indulgent cuisine that is Italian.
After spending nearly 2 months in total travelling around this country and having done 6 different cooking classes and food experiences, we have a pretty good idea about the food here, but we still have so much to learn.
Italian cuisine is all about simplicity and the quality of the ingredients.
While a North American spaghetti recipe might have 20 ingredients (and erroneously added meatballs which Italians don't do), the Italian equivalent likely has less than 5. This level of simplicity is what makes Italy one of the top countries for food.
What makes Italian food so fascinating is the passion that the people have for it. Italians are perhaps the most skilled at loving life and this enormous gratitude for the world around them is reflected in their food.
Simple, fresh and bursting with flavour, Italian food is one of the main reasons that people choose to travel to this country. As far as countries with the best food are concerned, Italy could battle most and win with a glass of wine in one hand.
Our Favourite Italian Dishes
Abbacchio Alla Romana: Roman-style roast lamb is one of the best examples of Italian food that's outside of the pasta and pizza realm.
Incredibly juicy lamb braised and roasted to give it a crispy skin and a fall off the bone interior, served on a bed of potatoes and rocket that has soaked up the juices of the meat, this is probably the best Italian dish I've ever eaten.
Bucatini all' Amatriciana: We first had this during a cooking class in Rome and ever since we've been hooked.
Bucatini is the pasta and it's a hollow, spaghetti-like noodle made from durum wheat flour, while the amatriciana is the sauce, which takes its spiciness from black pepper and dried chiles and its depth of flavour from guanciale (Italian salt-cured pork jowl). It's rich, luscious and oh so delicious.
Pizza: It would be a sad trip to Italy without at least trying a pizza. It's very different from a Chicago deep dish or a New York-style pizza, but similar to other Italian dishes when it comes to simplicity and freshness of the ingredients.
Italian pizza is on a whole other level, particularly those found in the pizza capital of the world, Naples. And of course, it's not only fun to eat, but also fun to learn how to cook too.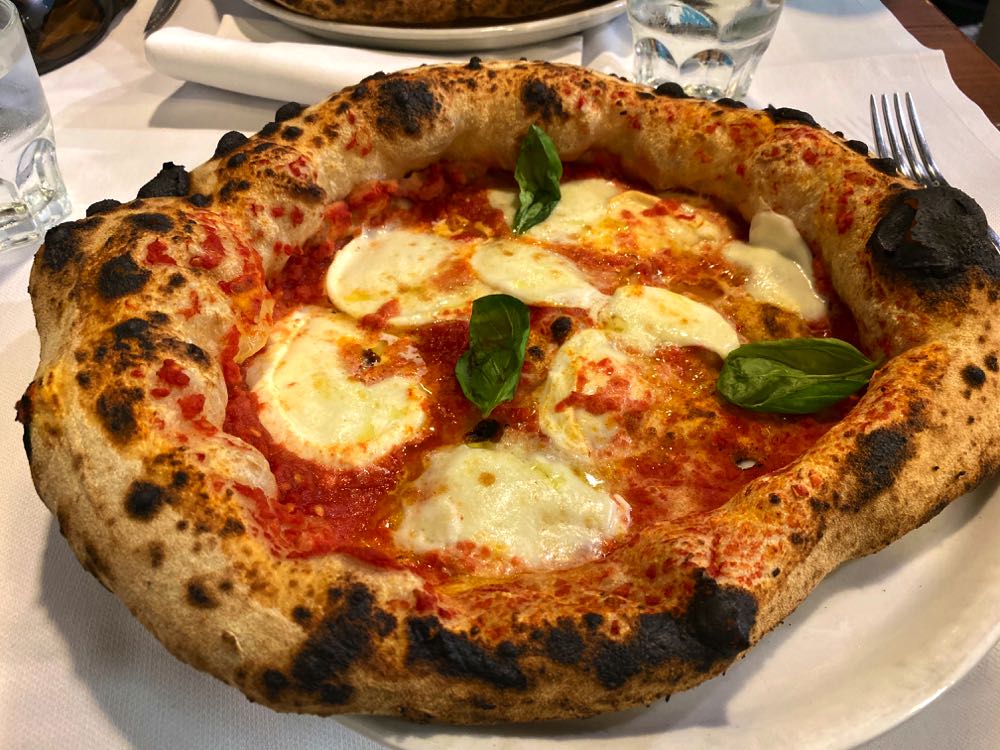 Bistecca Alla Fiorentina: You'll have to go to Florence to get the Florentine steak done right, but don't expect the chef to ask how you want it done. There's only one way to cook a steak in this part of Italy — rare. The food in Florence is to die for, but the steak tops the list.
The steak is typically a high cut of either veal or heifer that has been aged in a cool room for at least 2 weeks before it is cooked directly on the embers or on a grill.
This succulent dish has long been the most popular meal in Florence and it's one that even Italians will travel to the city to try. In my opinion, it's best served with a carafe of red wine (even if you're having it for lunch).
4. China
The food in China is one of the best cuisines in the world. If you've ever experienced the diversity and regionality of the country's authentic dishes (Cantonese, Shandong, Jiangsu and Sichuan, to name a few), you'll realize how far the real deal is from its North American Chinese takeaway counterpart. It's almost unrecognizable.
China is unique in that it's one of the best countries for food with incredible fruit and produce and yet, people who haven't been there hardly know what Chinese cuisine really is.
Anyone who has been to China will quickly notice that there's a complete lack of chow mein, General Tso's chicken, and fortune cookies. These were all adaptations made by Chinese chefs in foreign countries to make their dishes more palatable for Western tastes.
While this was a genius business decision, it was detrimental to the West's understanding of how amazing Chinese food can be. Don't get me wrong, I still enjoy General Tso's chicken, but real, authentic Chinese food is just so much better.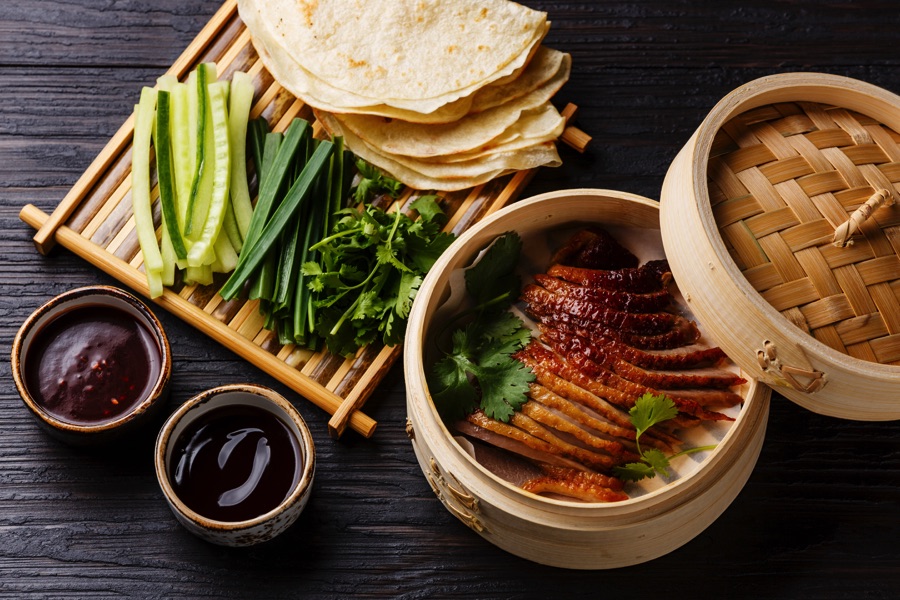 While not all Chinese food will be to your taste (even the most adventurous travellers might still steer clear of the street foods like giant centipedes on a stick or century eggs), there are plenty of amazing dishes to try in this incredibly fascinating country.
There's good food everywhere in China, particularly Shanghai, a top destination with some of the best food in the world. One this 3-Hour Local Food Tasting Tour, you'll try Shanghai's famous dumplings in the French Concession along with other local dishes in three different restaurants and a dessert shop.
Our Favourite Chinese Dishes
Guo Bao Rou: I realize there's irony in me saying that the Western-version of Chinese food is unauthentic and then listing Dong Bei's regional "sweet and sour pork" as my first dish in China, but it's so much different than its American counterpart, believe me!
This is a much more delicate and sophisticated version of the dish. It has a light, crispy batter coating a soft yet toothsome twice-cooked pork modestly drizzled with a sweet honey and ginger sauce and served with a sprinkling of green onion on top. In the year we spent living in China, I probably had this dish more than 50 times.
Sichuan Hot Pot: More a cooking method rather than an actual dish, having hot pot in the Sichuan province of China is an experience in itself. The piping hot broth is kept simmering in the center of the table while raw ingredients like thinly sliced meat, leaf vegetables, mushrooms, vermicelli, potatoes, egg dumplings, tofu and seafood are dunked into the soup to be cooked.
The cooked items of the hot pot are then typically dipped in an additional spicy sauce for added flavour.
Soup Dumplings: These are without a doubt our favourite Chinese finger food and when we go to a soup dumpling restaurant, whether in China or in a foreign country, we always eat them until we're so full that we can barely stand up.
That's just how delicious they are! Called xiaolongbao, these dumplings are from the Jiangsu province of China (where we lived) and are usually filled with pork.
A cube of gelatinized fat and broth is added inside the rolled dumpling so that when it is steamed the gelatin melts and turns into soup with the pork inside. I don't think I need to say more. Delicious!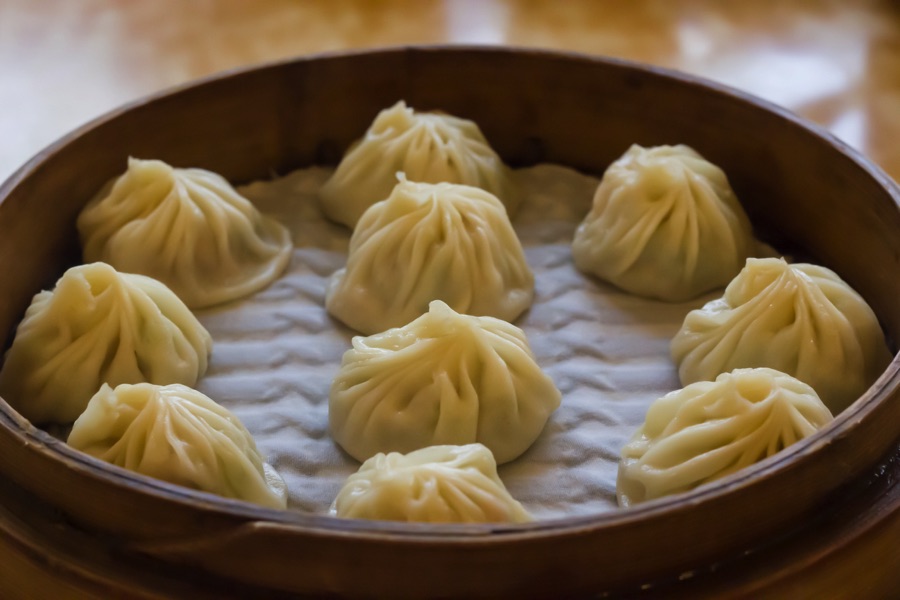 Liangpi Noodle: This cold noodle dish hails from the Shaanxi Province, but is found all over western and northwestern China. We enjoyed this dish many times in Yangzhou, where we lived when we were teaching English for a year.
You'll usually find it as a street food meal and it's excellent for hot days. Liangpi literally means "cold skin" and is doused in delicious chilli and sesame oil sauce and topped with thinly sliced cucumbers, sesame seeds, coriander and fresh chilli.
5. Thailand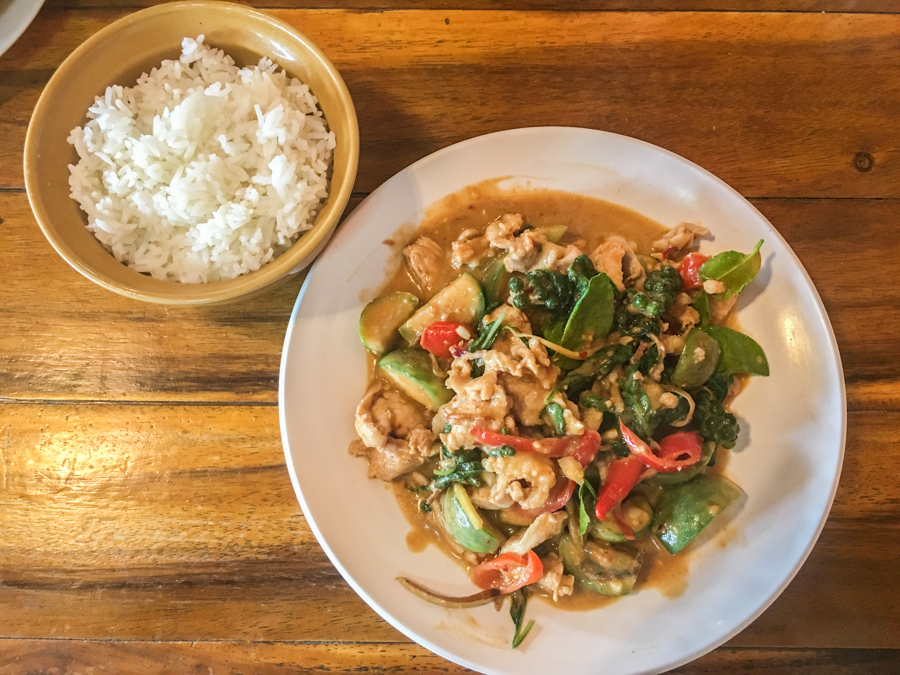 We've been hooked on Thai food since our first backpacking trip in 2008. It's light, healthy, spicy, salty, sweet and incredibly delicious.
Unfortunately, when travelling around Thailand, much of the food has been diluted by an influx of tourism and Western tastes. On the islands, in particular, it's hard to find a real authentic Thai meal. They remove the spice and with it goes the soul of the dish.
In Bangkok, however, it's easy to find amazing Thai food. Head to restaurants like Northeast in Baan Nual or in local markets like Khlong Toei or Wang Lang and see what authentic cheap Thai food tastes like.
Some of the best eating in Bangkok takes places after dark. You can take this Midnight Food Tour by Tuk-Tuk to explore the best food neighborhoods in the city, checking out places only the locals know.
Or step the budget up a bit and see what the evolution of modern Thai cuisine has created at one of the 176+ Michelin-starred restaurants in the city.
Thai food, when done right, is easily one of the most satisfying cuisines on this list and Thailand itself is definitely one of the best countries for food in my opinion.
Our Favourite Thai Dishes
Thai food has quickly become one of the most popular international cuisines. You can find a Thai restaurant in pretty much every country, so it's not surprising that some of our favourite dishes are the best known. When visiting Thailand, eating is one of the top things to do…enjoy!
Pad Thai: Okay, I couldn't help it. Pad Thai exemplifies the true core of what makes Thai cuisine so amazing. Salty, sweet, spicy and sour, it has all the tastes covered. With bean sprouts, peanuts, chives and lime squeezed on top, it's easy to see why this is Thailand's most famous dish.
You can get it with tofu on the street for under $1, or you can have it with prawns and chicken in a fancy restaurant for upwards of $10. No matter what, if this dish is prepared properly and ticks all of the flavour boxes, it will knock your socks off.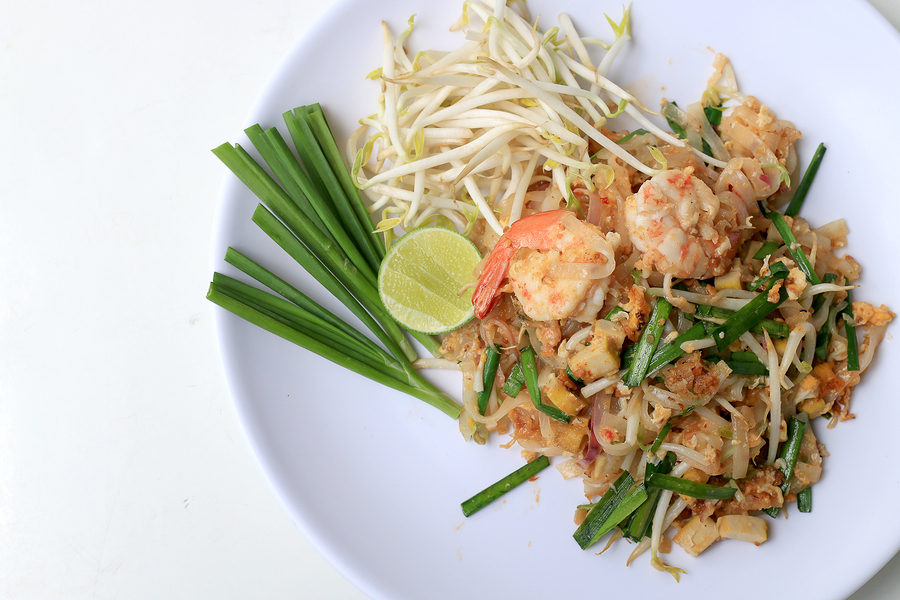 Massaman Curry: This rich but surprisingly mild south Thai curry actually finds its roots in Thailand's Muslim community. Today you can find the dish all over the country and it's definitely one of the most filling meals you can have in Thailand.
Typically made with chicken and potato, it's as much a hearty stew as it is a curry. The subtle flavours of cardamom, cinnamon, cloves, star anise, cumin, bay leaves, nutmeg and mace give the dish a unique, distinctively un-Thai flavour that's refreshing when you're travelling around the country eating nothing but Thai food for weeks on end.
Tom Yum Goong: This spicy Thai soup with shrimp is another classic. Pretty much everyone knows about Tom Yum soup, but to have a properly prepared bowl of it in Thailand is a spiritual experience in itself.
I'm not much of a soup guy normally, but give me a steaming bowl of Tom Yum with shrimp set in a spicy broth of tomatoes, lemongrass, galangal, chillies, kaffir lime leaves and onions and I'm set.
This is one of Thailand's best dishes and again takes advantage of combining spicy, sweet, salty and sour flavours to create something magical.
6. Greece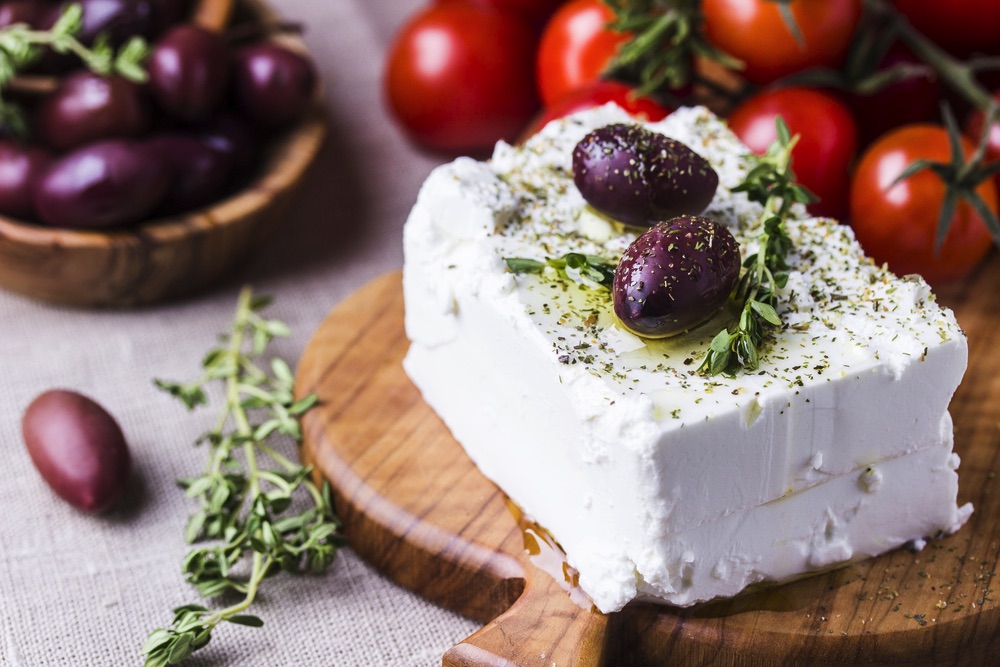 Greek food is a culinary culmination of its neighbours, and by mixing and melding the cultures, cuisines and ingredients, Greece has somehow come out on top.
Mediterranean food in general is easily one of the best cuisines in the world, but the Greeks do it best I think. From the amazing array of seafood meals to the Middle Eastern-inspired dishes like gyros, you can find some of the best food in the world in Greece.
Bright citruses, world-class olives and olive oils, fresh fish, fantastic bread and a seemingly endless list of herbs has given Greece a historical leg up on many other cuisines around the world. Considering the food has a history of over 4,000 years, it's no surprise that they've completely perfected many of their dishes.
If you've ever travelled in Greece, you'll know that you won't go hungry. Even if you're there on a budget, it seems that Greek chefs won't let you leave a restaurant after only finishing the main course.
If you don't order an appetizer and dessert, they'll probably give you one for free. They're as passionate about their food as the Italians and are feeders, so get ready to eat.
Greek people are also amongst the most hospitable that we've met in our travels and their social life seems to revolve around food. If you have a chance to join a family lunch or dinner with a group of Greek friends, don't miss it.
Free pouring wine, heaping portions of food, laughter and good chats are what travelling in Greece is all about.
Our Favourite Greek Dishes
After travelling in Greece for nearly 2 months in total, we've completely fallen in love with the country, for its people, its cuisine, its culture, its history and its architecture. There are so many amazing places to visit and dishes to try.
We've had the opportunity to have a few meals with friends and families in Greece and they've remained some of our most memorable foodie experiences. We also did a street food tour in Athens, which I definitely recommend. It was an interesting way to sample some of the best food in the world.
Appetizers: I know this is the first time I've listed a course as a favourite dish in this post, but the starters in Greece are just so varied and delicious that I couldn't possibly list them all as separate meals.
Just make sure you don't miss dolmades (stuffed grape leaves), tzatziki, feta cheese, bread and olive oil, greek yoghurt, Greek salad, olives, spanakopita, strapatsada, and keftedakia (Greek meatballs).
Souvlaki: I'm keeping it pretty standard here, but souvlaki is definitely one of the best dishes to try, particularly if you're on a budget. Delicious skewers of spiced chicken, beef, pork or lamb are placed on thick, fluffy pita bread and served with a side of french fries, some tzatziki sauce and a slice of lemon.
You can find these on every menu, from off-track Paros to the more popular islands like Corfu and Rhodes.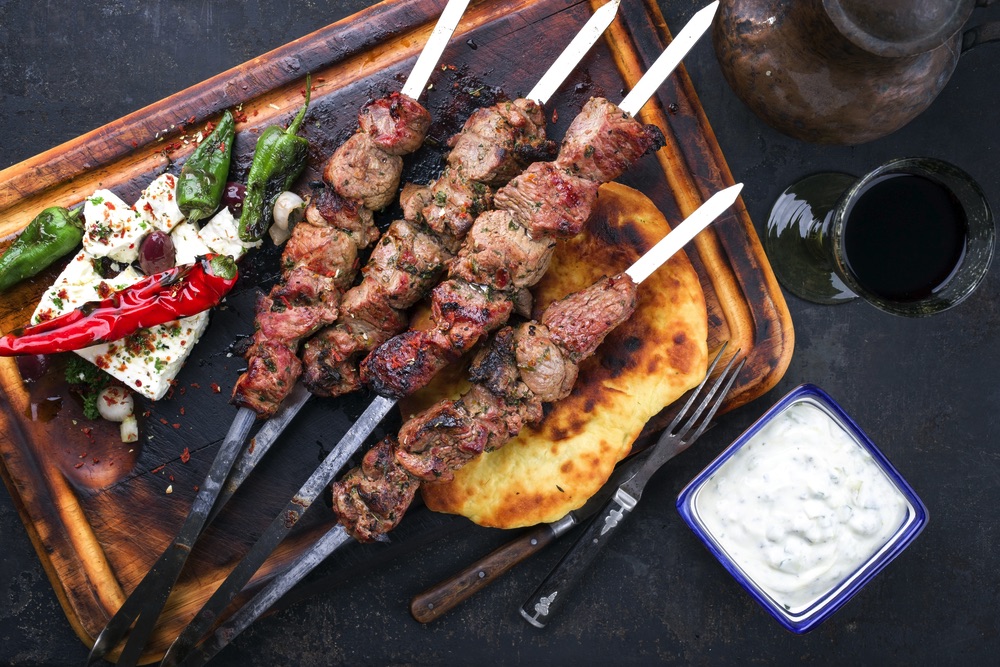 Gyros: I had to include another Greek classic that's easy on the budget. Gyros, like tacos al pastor in Mexico, have roots in the Middle East and are the typical rotating shaved meat (usually pork or chicken in Greece, unlike lamb in the US).
In Greece, they're placed on thick pita bread and filled with tomato, onion, tzatziki sauce and oftentimes french fries.
7. France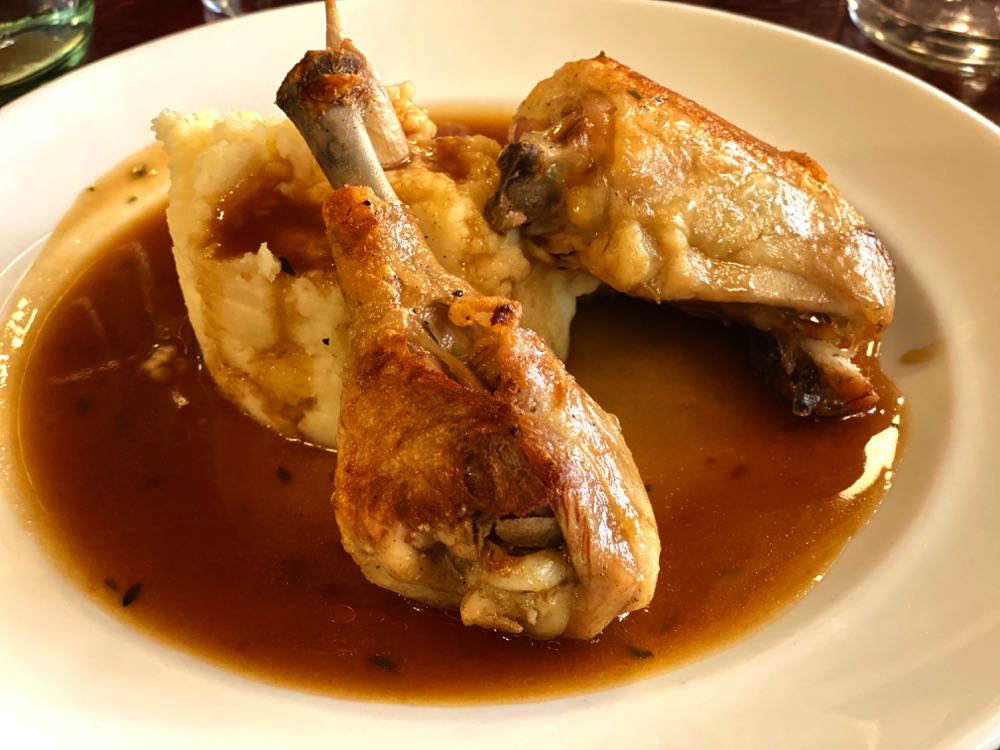 Yes, we finally visited France and can now comment on French cuisine! We stayed in an Airbnb in Paris, one of the best places to visit in France, and we absolutely loved it.
The holy grail of cooking techniques and what all modern chefs seem to be trained in, French cuisine has been influenced over the years by Spain, Switzerland, Germany, Belgium and Italy, but at the core, it is undeniably French.
Centuries of perfecting specific preparation methods have made this one of the most influential cuisines in the world.
It's this iconic historical reverence that has solidified France's position on pretty much every list of the best countries for food in the world. Travelling to culinary capitals like Paris is a foodie's dream.
Although French food has a reputation for being pretentious, when you're travelling in France and even in Paris you'll find that there are many casual French bistros that offer incredible food with generous portion sizes at affordable prices.
While the sauces, meats and vegetable preparations are enough to get anyone's mouth watering, don't forget the incredible variety of cheese, bread and wine found in France!
If you're travelling in the country, get ready to go on a foodie adventure through some of the most regional and diverse dishes found anywhere.
Our Favourite French Dishes
A few of these dishes may sound expensive to foreigners, but we actually found them quite affordable when we were travelling in Paris.
Duck Confit: Tasting this dish in Paris actually converted Dariece to a lover of duck. In a true, traditional duck confit, every part of the duck must be used to complete the dish.
The method of cooking a proper confit is a centuries-old technique of preserving the meat through a salt curing process and then cooking it in its own fat. Unsurprisingly, the end product is a crispy on the outside, tender on the inside, with a fall-off-the-bone delicacy that makes one of the country's finest dishes.
Beef Bourguignon: This hearty, delicious beef stew made with red wine, pearl onions, mushrooms and bacon is a total crowd-pleaser. It's a great meal to have on a cold evening in Paris, which is exactly when Dariece had it.
She offered me a bite and I found myself returning to her side of the table with my fork to get more and more of the delicious meal. The beef almost falls apart on the fork as you pick it up. It's so tender and the sauce is bold but layered with incredible precision.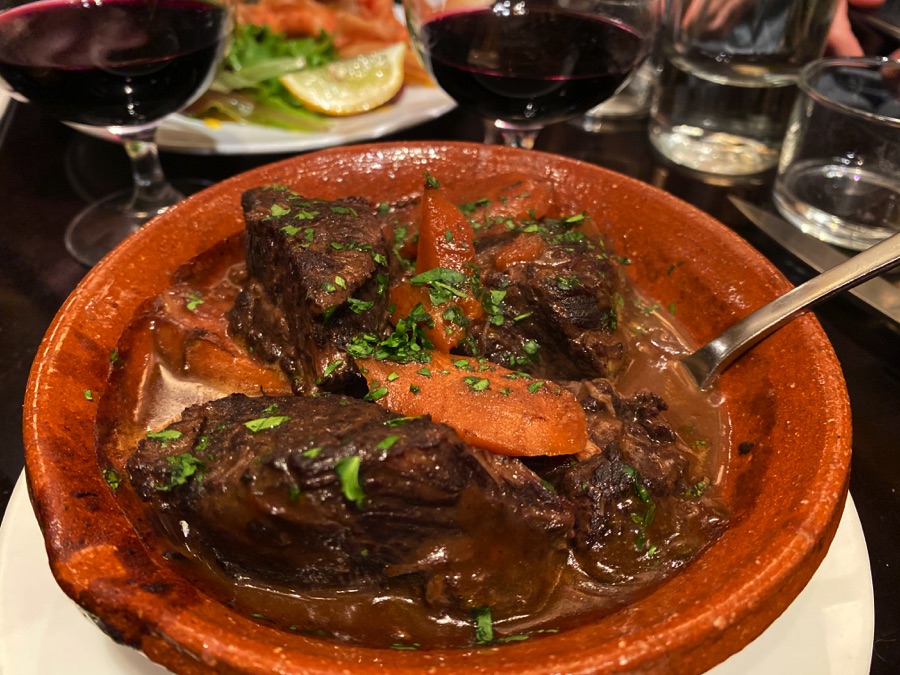 Escargot: This is one that I haven't been able to get Dariece to love, although she tried it in Paris and didn't spit it out. The thought of eating snails completely turns most people off, but ever since I first had the delectable snails in pepper broth on the streets of Tangier in Morocco, I've been hooked.
I don't think the French version with garlic, parsley, butter and shallot dethroned the Moroccan version, but it was definitely tasty.
8. Turkey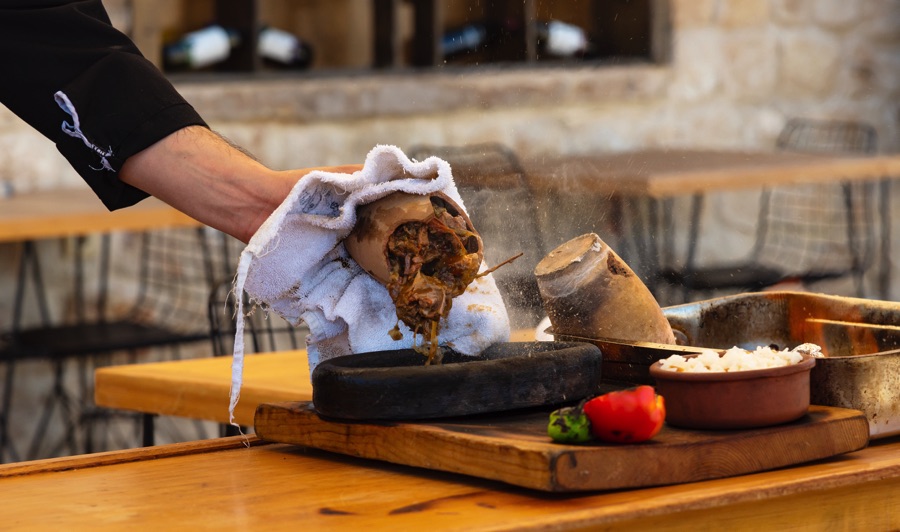 Turkish cuisine finds its roots largely in its Ottoman history. It's a successful fusion of Central Asian, Middle Eastern, Balkan and Eastern European cuisines.
Compared to the countries that we've visited in the Middle East and Central Asia, I think that Turkey has a more diverse cuisine. We've tried countless dishes prepared in different ways and we still have many to taste.
Whether you're backpacking Turkey or you're there on a quick holiday, there are so many reasons to travel in this incredible country and food is really just one of them.
Ingredients of lamb, beef, rice, fish, eggplants, green peppers, onions, garlic, lentils, beans, zucchinis and tomatoes as well as nuts like pistachios, chestnuts, almonds, hazelnuts, and walnuts are common in the cuisine. Mixing these with a dizzying array of spices give Turkish food its distinct flavour.
Breads, cheeses, olive oils and chillis are also a common element of dishes in Turkey, making it in some ways similar, but also so very different from its Greek neighbour.
You can discover these differences on a guided food tour of street food and markets in Istanbul. The tour takes you to the European and Asian sides of the city, giving you a complete experience of one of the countries with the best food in the world.
Our Favourite Turkish Dishes
Turkish dishes are so regional that some meals are only found in specific cities throughout the country. This regionality of the cuisine makes it exciting to travel to different parts of Turkey to taste different food.
Cappadocian Pottery Kebab: This is still one of the most delicious and interesting dishes I've ever eaten while travelling. Cappadocia itself has been a mecca for pottery-making since the Hittite period starting in around 1400 BC, so it's no surprise that the region's most famous dish is actually cooked in a sealed clay jar.
Called testi kebab in Turkish, which literally translates to "jar" kebab, the Anatolian speciality is usually made with lamb, beef or chicken with potatoes, garlic, onions, celery and carrots all set to stew in a jar and sealed with a thick layer of bread dough.
The dish is then left to simmer in its own juices for hours before being cracked open by the lucky customer who ordered it. The resulting stew is an unbelievably satisfying, meaty, hearty meal.
Iskander Kebab: There are many different versions of kebab in Turkey, but this one is the most popular and likely my favourite. A play on the traditional Döner kebab, the Iskander Kebab hails from the northeast of the country and consists of thinly sliced lamb smothered in hot tomato sauce over pieces of thick, soft traditional Turkish bread. On top, there is usually a generous heap of yoghurt and butter.
Pide: This affordable Turkish style flatbread is a popular snack or lunchtime meal. There are numerous types, but one of the tastiest is topped with ground meat (typically lamb), onions, peppers, and parsley — cooked to perfection in a brick or stone oven.
Shish Kebab: The more famous style of kebab, the shish kebab is the skewered meat that many travellers associate with the word "kebab" before travelling to Turkey. This is a classic dish loved by Turkish people and travellers alike.
Most often found with chicken, you can also get shish kebabs with beef or lamb. Any variety will be grilled and served on a metal skewer with sides of rice, salad and french fries. You really can't travel to Turkey without trying it. This budget-friendly ($6+) dish is on pretty much every menu in the country.
9. Japan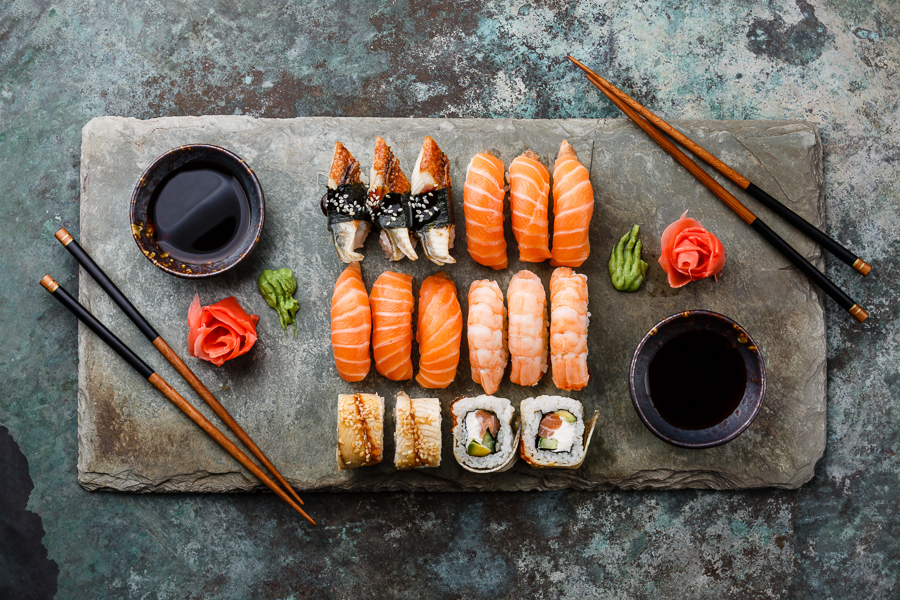 Japan is the only country on this list where Dariece and I disagree a bit. While she agrees that Japanese food is probably the most beautifully presented, she isn't as in love with the flavours of Japan as I am.
I could personally live in Japan despite the cost of living there, and I could eat sushi every day and be quite happy.
Regardless, there are many dishes here she loves, and there's no doubt that Japanese food is one of the best cuisines in the world.
After much deliberation, we agreed that Japan simply had to be on this list. It is, after all, one of the most beloved food cultures in the world with a history of over 2,000 years of cooking and preparation techniques.
Japanese flavour is subtle, simple, fresh and clean. Japanese culture brings food to a new level. Over meals is where business is done, where friends socialize, where teams cooperate and where bonds are built.
Japanese people thank their gods in food-related rituals and the tradition of Japanese culinary practices has transcended generations.
You'll learn all about these traditions on this Tsukiji Outer Market Food and Drink Walking Tour in Tokyo. The Tsukiji fish market is one of the best places to try Japanese seafood in what's undoubtably one of the best countries for food.
Must-Try Japanese Dishes
While Japanese food is much more than sushi, sushi is basically a cuisine in itself. There are so many different varieties of rolls, nigiri and sashimi that you could eat it for months while travelling in Japan and still have much to discover.
On top of that, Japanese cuisine boasts rich ramen soups, savoury meat dishes and countless fish meals.
Sushi: I'm listing this as one must-try meal in Japan, but you should really try many different kinds of nigiri, in particular, "toro" and "o-toro" (fatty and fattier) salmon and tuna, tako (octopus), Ika (squid), uni (sea urchin) and hotate (scallops).
You won't find Philadelphia cream cheese in rolls in Japan (which is a good thing!), so look out for kappa maki (small cucumber roll), tekkamaki (small tuna roll), as well as varieties of gunkanmaki (nigiri wrapped in seaweed), temaki (seaweed-wrapped rice cones), futomaki (giant rolls with seaweed on the outside), and of course sashimi.
Ramen: You can't go to Tokyo without eating some delicious ramen noodle soup. Going to a ramen restaurant is an experience in itself. They range from the busiest places in train stations with lines snaking around the corner to tiny hole-in-the-wall restaurants with one or two ramen cooks at the counter.
The most famous and most exciting place to get ramen is at Ramen Street in the Tokyo train station. When you arrive in Japan by plane, if you take the train into the city you'll likely stop here anyway, so it's definitely worth taking an hour or so to wait in line and try the award-winning ramen restaurants that line the lower level of this chaotic train station.
If you're truly crazy about ramen, you can even take a ramen tour in Tokyo. This Ramen Tasting Tour not only provides six mini bowls of ramen, but also knowledge about ramen origins, types, preparation, and trends.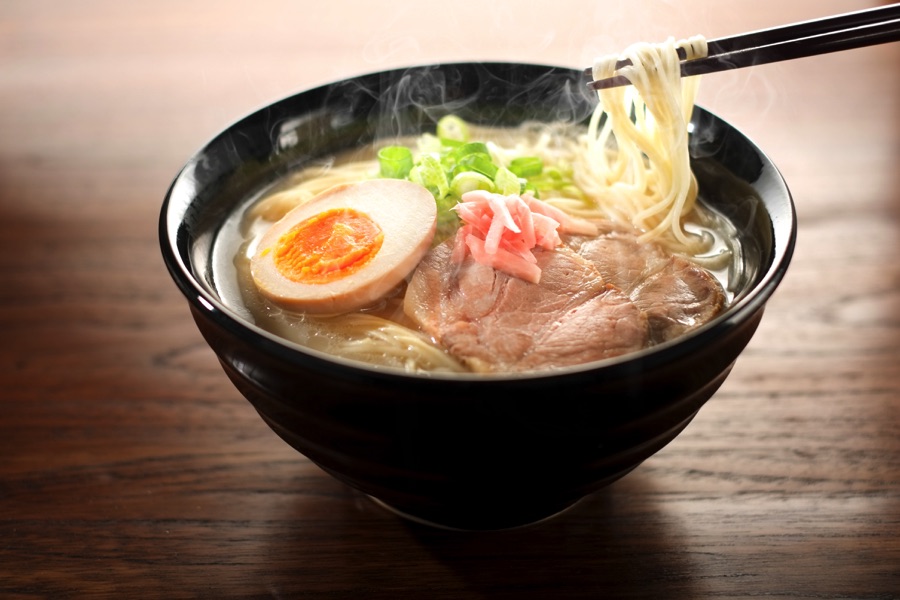 Okonomiyaki: I could've included more famous Japanese foods like tempura, yakatori, katsudon or udon to this list, but okonomiyaki is such a delicious food and the okonomiyaki restaurants are such a great experience that I just had to add it here.
Literally translating to "grilled how you like it", this is Japan's answer to a savoury pancake made with flour, yam and egg. Okonomiyaki chefs grill up the pancake and its toppings right in front of you over a massive flat griddle. The ingredients typically include squid, shrimp, beef, green onion, mochi and cheese.
10. Spain
Spanish cuisine is exciting, varied and as much a social experience as it is a culinary one. The cost of living in Spain is relatively affordable, so most can afford to eat out quite often.
Tapas, pinchos, paellas, sliced meats, delicious cheeses and some of the world's best wine (in our opinion) make up what's undeniably some of the best food in the world.
Bar hopping from restaurant to restaurant to try different finger foods (tapas and pinchos) and digging into tasty Spanish plates is a large part of what makes travelling to Spain so exciting.
The cuisine itself has been influenced over the years, but in general, the cooking methods in Spain have been shaped over centuries of societies that have inhabited the Iberian Peninsula and its territories.
The geography and climate of the region have similarly defined the ingredients that make up the dishes. Together, the ingredients and cooking methods present a complex gastronomical history that has been evolving with the invasions, conquests and international trade throughout Spain's history.
Today, the cuisine is a culmination of years of influence and change, and the country seems to have perfected the art of offering a variety of food while customers enjoy a variety of wines.
In short, Spain is one of the culinary giants of Europe. Travelling here is as much a culinary adventure as it is one through history and culture. Whether you're coming to Spain for 6 days, or you want to pack up and move here, you'll want to try these dishes.
Must-Try Spanish Dishes
Pinchos: Many people already know that the word "tapas" refers to small Spanish plates, but even smaller finger-foods are the Spanish pincho, which originated in northern Spain. The word "pincho" literally means "spear or stick" which refers to the toothpick that's poked through the dish to hold it all together.
Pinchos typically range from €1-2.50 and there are entire restaurants and bars dedicated to them. At a pincho bar, you order a drink, grab your own small plate and then walk up to the counter where there are often dozens of "pinchos" with different coloured toothpicks (the colours represent different prices).
You simply take what you think looks good and then when you're ready to pay, the waiter will count the toothpicks and charge you accordingly.
Paella: This dish is originally from Valencia and some people say it comes from the Spanish words "para ella", which literally means "for her". This is because paella is a Spanish dish typically cooked by the men on Sundays for their women.
Similar to a gender-reversed English "Sunday roast," paella is a meal meant to be shared over chats and laughter. While most non-Spanish people only know the seafood version, the true traditional Valencia paella is actually made with rabbit, chicken and sometimes duck (no seafood).
Whatever variation you have, make sure you have it in Catalonia, the province where it was born, or better yet in the city of Valencia itself.
Tapas: Slightly larger and more famous than pinchos but equally delicious are the Spanish tapas. These small plates are perfect for holding you over before dinner. Spanish people eat very late, no earlier than 10 pm, so for tourists, tapas are a great way to eat some snacks while waiting for dinner restaurants to open.
Tapas range from around €4-15 so a night of tapas isn't always that cheap. If you're on a budget, I recommend starting with the more filling "patatas bravas," which are fried potatoes with a barbecue sauce on top.
Top 5 Runners Up
Of course, this is just a small list of countries with tasty food. And in my opinion, based on our travels around the world, there are a few countries that deserve a special shout-out:
FAQs About the Best Countries for Food
If you're looking for a quick answer to your question about the countries with the best food, take a look at these FAQs.
Which country has the best food in the world?
Obviously this is subjective, and many people would say their own country has the best food in the world. I chose India for this list, and trust me, it was a tough call. Many other people would say Thailand, Italy, France, or Mexico.
What are the top 10 countries for food?
In my opinion, the top 10 countries for food are India, Mexico, Italy, China, Thailand, Greece, France, Turkey, Japan, and Spain. Some would say the US because of its many immigrants, meaning you can try food from around the world.
Which country has the best food in Asia?
I say India has the best food in Asia, followed closely by China, Thailand and Japan. Other Asian countries with the best food are South Korea, Iran and Turkey (which is also partly in Europe, of course).
What is the food capital of Asia?
It's hard to say because there are so many great cities for food in Asia. Because of their immigrant populations, who provide a mix of many kinds of the best food in Asia, either Singapore or Hong Kong are often considered the food capital of Asia.
Which country has the best food in Europe?
For the best food in Europe, it's a tough contest between Italy and France. Greece and Spain are definitely in the running too.
What is the food capital of Europe?
The food capital of Europe has to be Paris. Yes, I love Italian, Greek, and Spanish food, along with many other European cuisines, but nothing compares to Paris for the sheer quality of restaurants.
What is the food capital of the world?
Tokyo has the most Michelin-starred restaurants in the world. I personally wouldn't choose Tokyo, but I can't decide among my favorites: Paris, Bangkok, New York City, and Mexico City.
Enjoy Your Travels to These Countries with the Best Food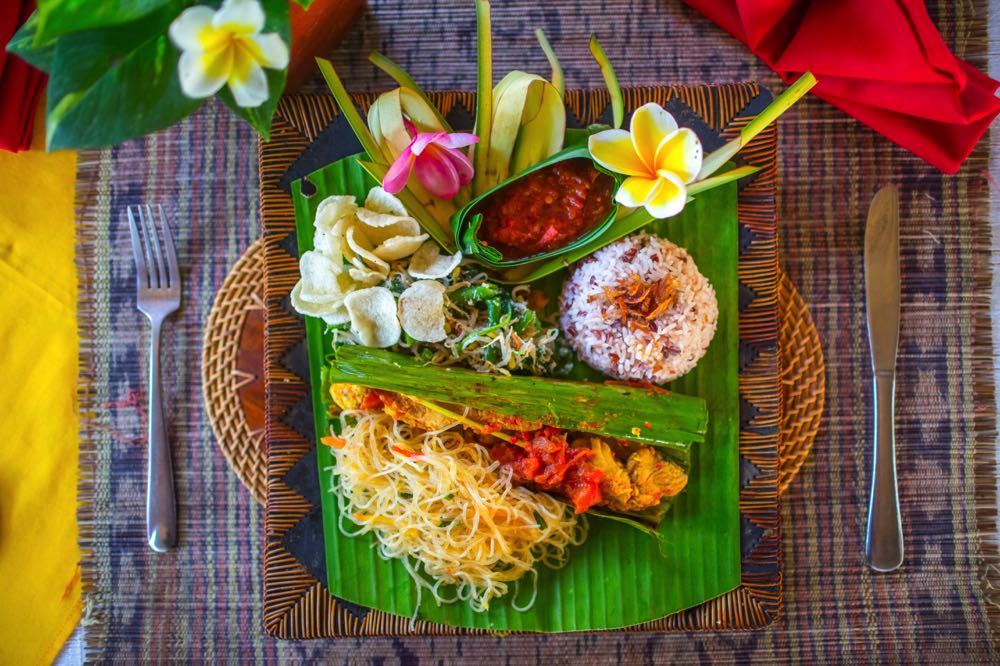 Food, culture, family and tradition are often so intrinsically linked in today's society that travelling as a foodie is one of the best ways to get a little bit deeper into a country's true soul.
I highly recommend joining food tours, cooking classes, tastings and wine pairings in the countries you visit to have the opportunity to learn more about the country's cuisine and how it has shaped modern-day life.
Food tours are a great way to join food experiences with local people. You can find my suggestions throughout this post.
We did a cooking class in Paris and cooked paella and took a tapas tour in Barcelona, and we highly recommend them all. Check reviews and make sure those hosting are local wherever possible.
As a foodie, there are so many ways to have gastronomical experiences while travelling these days, and we're fortunate to have access to a world of cuisine in most of our home towns. Being open-minded and trying new things is what food culture is all about.
I listed many of the "must-try" dishes in the countries above, but these aren't always the best. Be adventurous and try new things while you're travelling. Don't be afraid to taste those dishes that seem "strange" to your Western palate.
Who knows, maybe you'll be like us and find out that you love duck heart, cassava root, fried ants and cow cheek. Open your mind while travelling. Your tastebuds and your future self will thank you for it.
Which countries with the best food did we miss? Leave a comment below.
Like This Article? Pin It!