There are so many awesome New Orleans bars that you could go out every night for a year and not have a single repeat. New Orleans is one of the best cities in the US for nightlife for sure.
I've been to NOLA a few times now, and I spent a vast majority of my trips there bar-hopping with friends.
In one weekend, I managed to hit a swanky hotel rooftop bar, a heavy metal joint, and one of those New Orleans Bourbon Street bars where cocktails come in giant plastic tubes. While the memories may be a tad bit fuzzy, rest assured I did proper research for this one!
10 Best Cocktail Bars in New Orleans
There's perhaps no city in the US that knows how to party quite like New Orleans. Now I know New York can throw it down, and I realize they call Las Vegas Sin City for a reason, but you just can't beat the Big Easy when it comes to nightlife.
Think I'm joking?
As of the last count, New Orleans has the highest amount of bars per capita in the country!
In the French Quarter – and especially on Bourbon Street – it seems as if every other establishment is a bar. With so many choices, how do you choose where to wet their whistle?!
If you're planning a trip to the Big Easy and are wondering where to grab a drink, read on for a look at some of the best cocktail bars in New Orleans.
I've also included some variety in this article to appease beer and wine drinkers as well — so there should be something for everyone in this guide.
Here's my list of the best 10 cocktail bars in New Orleans (+ a couple of wine and beer spots).
Introduction to New Orleans Bars
Bars in New Orleans run the gamut from grungy dive bars to classy cocktail lounges. The city has secret speakeasies, craft breweries, fancy wine bars, and everything in between.
Whether you're looking for a casual night out or you want to end up dancing on tables, there's a bar for you here.
One interesting thing about New Orleans bars is that they can stay open 24/7. The phrase "last call" might as well be in a foreign language here! Oh yeah, and did I mention that you can take your drinks to go here as well?
New Orleans is one of very few places in the US that has no open container laws. Just make sure you're not drinking out of glass on the street and you're good to go!
Another really cool thing about the bars in New Orleans is that you can try several cocktails in the very bar where they were invented.
It's pretty amazing to pull up a stool at a bar that's hundreds of years old and try a famous cocktail in its birthplace. Be sure to check out this post on New Orleans cocktails so you can familiarize yourself with the city's most popular adult beverages.
It's always a good idea to put some food in your belly before a big night out, and there's plenty to eat in this foodie haven. Speaking of food, be sure to bookmark this post on the best New Orleans food to try when you're in town.
Alright, let's get this party started. There are so many awesome cocktail bars in New Orleans bars that it's near impossible compiling a definitive "best of list," but I sure tried.
1. Sazerac Bar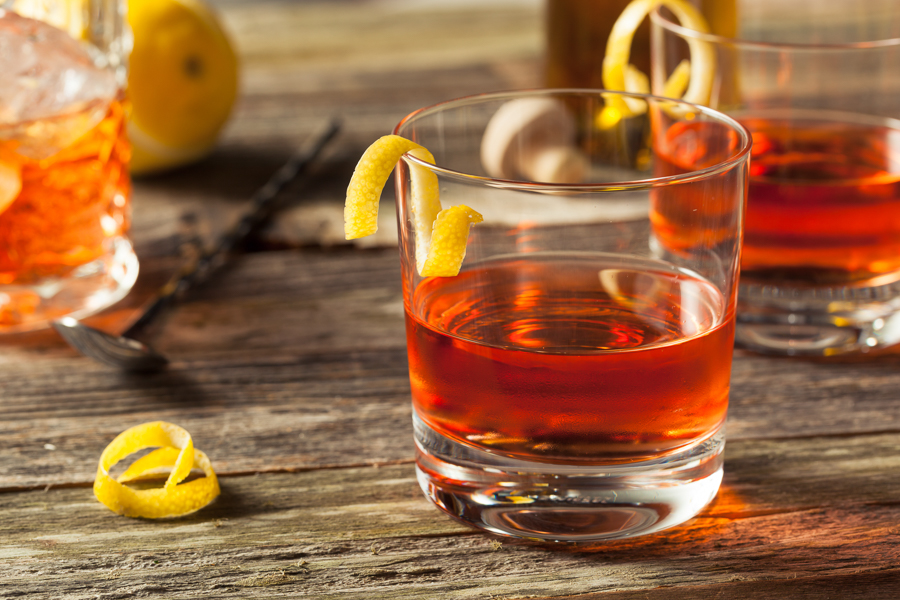 Sazerac begins our tour of the best cocktail bars in New Orleans.
There's a lot of history at this place, as it's named after what some consider to be the first real cocktail. The classic Sazerac dates back to the 1830s, and it's been a go-to cocktail for New Orleanians ever since.
Legendary former governor of Louisiana Huey Long used to hang out here, Ramos Gin Fizz in hand, chatting it up with his constituents. These days, you'll find a mix of locals and tourists, who flock here to enjoy their creative cocktails.
The Sazerac is definitely one of the classiest of the many New Orleans cocktail bars.
Recent renovations here uncovered some 1930s murals by painter Paul Ninas, which you can admire while sitting on one of their elegant bar stools. It's especially lovely here in December when the hotel lobby transforms into a veritable winter wonderland.
2. The Carousel Bar & Lounge
The Carousel is definitely one of the most quintessential New Orleans bars.
In case you're wondering, that's not just a clever name — the bar is an actual, fully functional carousel. Thankfully they replaced the animals with proper bar stools, so you don't need to straddle a horse to get a drink.
While the thought of drinking while spinning around in circles may seem nauseating, rest assured that it's a pleasant experience. But be careful. If you sit there too long, like I did one time, it takes a while for the spinning sensation to stop once you get up!
The carousel takes about 15 minutes to make a rotation, so you'll barely even notice it. You'll be too busy chatting it up with the expert mixologists here and trying their classic cocktails.
Fun fact, the famous Vieux Carre cocktail was actually invented here!
Sip on one of these as you enjoy the sounds of some live jazz, as they usually have live music from Wednesday to Saturday. It's often crowded, but it's worth the wait to have this classic New Orleans drinking experience. Find out about their daily events here.
3. Lafitte's Blacksmith Bar & Shop
At Lafitte's Blacksmith, you get to drink in a bar that's 300 years old. It tops the list of oldest bars in New Orleans, and it's actually said to be the oldest building used as a bar in the entire country!
This historic bar is named after Jean Lafitte, a 19th-century French pirate.
It's said that he once hid out here when he needed a safe place to smuggle his pirated goods. Whether or not that's true, he would most likely approve of the cheap, strong drinks that they pour here.
While this bar is in fact located on Bourbon Street, it's pretty far removed from the chaos.
Personally, I'm not a big fan of New Orleans Bourbon Street bars, but this one is a winner. It's candle-lit and one of the very few piano bars in the city, making for a very fun atmosphere.
4. Courtyard Brewery
Courtyard Brewery is one of the best bars in New Orleans to get your hop fix.
When most people think of New Orleans bars, they picture people slamming down sugary Hurricane drinks and mass-produced beers. While there's certainly plenty of that going on, the city is also home to a burgeoning craft beer scene.
They have an impressive selection of draft beer that's made in-house as well as quite a few guest taps. Whether you fancy an IPA, stout, or sour, they've got a brew for you here. I tried most of them, and I can personally recommend the stout.
They don't have a restaurant, but they do host rotating food trucks for when you need something to soak up the booze. Courtyard also hosts an annual craft beer and food festival called Hopfest, so you might want to check that out if you're in town at the same time.
New Orleans is famous for its epic festivals and events. Don't miss this one.
5. Arnaud's French 75 Bar
French 75 in Arnaud's Restaurant was originally a "gentlemen only" place, although these days everyone can enjoy this classy bar. It's the kind of place where the servers wear tuxedos, so you may want to dress up a bit for this one.
Not only is this one of the best cocktail bars in New Orleans, but Esquire Magazine named French 75 one of the top five bars in the country. Based on my many hours of research there, I'd have to agree.
The current incarnation of this legendary NOLA drinking establishment focuses on making classic cocktails with premium spirits. As the name would suggest, the French 75 is their signature drink. There are lots of other excellent options on the menu, though.
Even if you don't plan to have dinner at the restaurant next door, you can still enjoy some of the food. From 6-10 pm, the bar serves a varied snack menu featuring oysters en brochette, cheese puffs stuffed with prosciutto, and much more.
After all this drinking, you might be ready to do something outside of a bar! Don't miss these popular swamp tours in New Orleans.
6. Bacchanal Wine
Bacchanal bills itself as the city's "backyard party," and wine lovers absolutely love it. The city once shut them down due to a lack of permits, but thanks to local support they managed to bring their wine-fueled shindigs back to the city's Bywater district.
At first glance, Bacchanal doesn't look like much. From the outside, it just looks like a regular old storefront.
Head in and purchase a bottle of wine (at retail price!) and then head out into their lovely courtyard where there's live music seven days a week (weather permitting). As it's in the Bywater, you'll find way more locals than boozed-up tourists here.
One reason that Bacchanal is definitely one of the top New Orleans bars is that they do a bi-weekly free wine tasting. These happen on Wednesday from 1-3 PM and Saturday from 3-5. Oh yeah, and it was even featured on the HBO series Treme! How cool is that?
I'm not a huge wine drinker, but even I can admit that Bacchanal is one of the coolest New Orleans bars around.
7. Pat O'Brien's
As the story goes, the owner of Pat O'Brien's once found himself with an excess of rum. At the time, distributors made bar owners buy vast quantities of rum before they would sell them more desirable liquors like bourbon.
In an effort to get rid of this abundance of rum, he mixed it in with passion fruit syrup and lime juice.
He poured the new concoction into a glass that resembled a hurricane lamp, and the rest is history.
Today, the Hurricane is one of the most famous New Orleans cocktails, and you can try one in the very bar where it was created. While most New Orleans bars serve Hurricanes, you've got to try one in the original spot where it was made.
Pat O'Brien's is actually three bars in one.
There's the main bar where you can catch sporting events on TV, the patio centered around their famous "Flaming Fountain," and even a dueling piano lounge. This place is fun any day of the week, but it's especially lively on St. Patrick's Day.
8. Napoleon House
The famous Napoleon House is one of the oldest bars in New Orleans.
This historic building dates back over 200 years. Back in those days, then-mayor Nicholas Girod was living here. He offered the house to none other than Napoleon Bonaparte during his exile.
Actually, Napoleon never made it, but his name did. The bar has been here since 1914, and it feels as if time stood still here. Find out more about the cocktail bar's history here.
With its peeling walls, multiple paintings of Napoleon, and classical music playing, it feels like stepping back in time. You'll often hear Beethoven's Eroica, which was actually composed for Napoleon.
There's no way to top the description of Napoleon House than what they have on their website: "exudes a European charm that is a mecca for civilized drinking and eating."
In the Napoleon House, order up a Pimm's Cup and a classic Muffuletta and settle in for an evening at one of the best bars in New Orleans.
9. 21st Amendment Bar at La Louisiane
21st Amendment at La Louisiane is a tribute to the Prohibition era when underground speakeasies flourished and mobsters ran the alcohol trade.
For those who flunked (or never took) American History, the 21st Amendment officially repealed Prohibition and made the consumption of alcohol legal again.
When he signed it, President Franklin Roosevelt exclaimed, "What America needs now is a drink!" With the stroke of a pen, he did away with one of the least popular amendments in American history.
Look around the bar and you'll spot pictures of many underground speakeasies. As a matter of fact, the place was actually run by mobsters for many years when it was a hotel and restaurant.
These days, 21st Amendment is a popular hangout for both locals and tourists alike. In fact, this was the bar that impressed me the most on my very first trip to NOLA.
They mix up hand-crafted cocktails here and there's live music every day of the week. Be sure to add 21st Amendment Bar to your list of must-visit New Orleans cocktail bars.
10. Espíritu Mezcal Bar
Espíritu is the place to go if you're craving a bit of Mexico in New Orleans. Sustainably sourced mezcal and fantastic Mexican cuisine are on the menu here.
Whether it's National Tequila Day or just "Tasting Thursdays", there's always something fun going on at this cocktail bar in New Orleans. Visit Espíritu and learn about smoky mezcal, while dining on yummy tacos, tortas, ceviche and guacamole.
Mezcal has become a popular drink over the past few years, don't miss the signature cocktails which include Mezcal with cucumbers, peppers, and lime, or Mezcal with lemon, mint, and basil. Salud!
Bonus! Snake & Jake's
Snake & Jake's Christmas Club Lounge is the city's most infamous dive, and no list of New Orleans bars would be complete without it.
It's Christmas year-round at Snake & Jake's, and they're like your neighbors who never take the lights down. It's often called the "diviest of dive bars," and that's a pretty fitting description for this late-night haunt.
From the street, it looks like the kind of place your mom told you never to frequent. Inside, however, you'll find jovial bartenders and a few furry friends roaming about. You'll also find some of the cheapest drinks in town, especially during their nightly Happy Hour from 7-10.
On your bucket-list of booze-fueled things to do in New Orleans, you should definitely add a nightcap at Snake & Jake's. They stay open until 7 am, which always makes for an entertaining scene. I've had some wild nights in there for sure.
Where to Stay Close to the Best Bars in New Orleans
There are plenty of cool places to stay in New Orleans, and in fact I wrote a whole post about them here: 10 Best Hotels on Bourbon Street, New Orleans.
Here are three of my favorite places to stay in New Orleans for easy access to the best bars.
FAQs About the Best New Orleans Bars
Check out these FAQs if you still have a question about where to drink in New Orleans.
What bars to hit in NOLA?
There are so many great bars in New Orleans that it's hard to go wrong. In my opinion, the can't-miss places are Sazerac, the Carousel Bar & Lounge, Lafitte's Blacksmith Bar & Shop, Napoleon House, and Snake & Jake's.
Do you have to be 21 to enter bars in New Orleans?
Currently, according to law, 18-year-olds can enter bars in New Orleans but can't buy drinks. 21 is the legal drinking age in the United States.
Can you walk around New Orleans with alcohol?
Yes, open containers of alcohol are permitted in New Orleans as long as they're not in a glass container.
What is the best party street in New Orleans?
The most famous street in New Orleans is also the best party street: none other than Bourbon Street.
Does Bourbon Street party every night?
It certainly does. While it gets much wilder on weekends and at certain times of the year, especially Mardi Gras, people party on Bourbon Street every night of the week.
Ready to Hit New Orleans Cocktail Bars?
I don't know about you, but I'm ready to party after getting through this post! It really is amazing just how many unique New Orleans cocktail bars (and wine and beer joints) there are.
Once you get past the tourist traps pouring cheap, excessively sugary drinks, there's an abundance of excellent drinking establishments in the Big Easy.
Just think about all the history behind the walls of these bars in New Orleans. Where else in the world can you drink at a place named after Napoleon and another one named after a 19th-century French pirate? Or try famous cocktails right where they were created?
The variety of bars in New Orleans is quite impressive as well.
With a few nights in the city, you can experience a bacchanal backyard party, sample some of the city's finest craft beers, and sip on a historic cocktail while riding a carousel. And that's only just the beginning.
There are so many fantastic New Orleans cocktail bars that couldn't fit into this condensed list.
If you've been out in the Big Easy and have a recommendation for a great bar or two, drop a comment below and let us know about it!
Like This Article? Pin It!