My ride home from Spain took some twists and turns due to schedule changes. I'll detail this below, but I ended up on United 767-400 Polaris Business Class. While a comfortable way across the Atlantic, it's the same old song and dance with Polaris in many ways.
United Airlines (UA) Flight 261
Tuesday, May 23, 2023
Depart: Madrid Barajas – Adolfo Suarez International Airport (MAD), Terminal 1, 11:47, 32m late
Arrive: Washington Dulles International Airport (IAD), Concourse C, Gate C1, 13:53, 2m early
Duration: 8 hours 6 minutes
Seat: 3A
Equipment: Boeing 767-400
How I Ended Up On This Flight
First, a primer – I like scouring the web for redemption deals months in advance. That's gotten me many excellent deals over the year. Initially, I redeemed 63,000 LifeMiles for Brussels Airlines business class from Madrid to Washington via Brussels. The problem is, those annoying (and increasingly common) schedule changes make advance planning risky. And sure enough, I nearly got screwed with this one.
Less than four months before departure, I received notification that Brussels Airlines canceled the Brussels to Washington flight. Initially, it looked like LifeMiles automatically rebooked me on United's flight from Brussels. But turns out that was a mirage, or a glitch of some kind. United, though, offered Madrid to Dallas via Washington for 109,600 MileagePlus miles and $48. That's…not great, but I had some orphaned miles, and plenty of Chase points to transfer. It also gave me the chance to check out United Polaris on a true international flight (as opposed to transcon).
Check-In and Boarding
I arrived at Barajas way too early, a good 3 hours 45 minutes before scheduled departure. Which ended up way earlier when the flight took a 35 minute delay. Check-in took only a few minutes, as did passport control and security. That brought me to the terminal about 10 minutes to 8, and so I spent a bunch of time in the lounge. The "Sala VIP Cibeles" is a nice space, though with a pretty terrible food selection. Anyway, after a quick stop at the duty free, I headed to the gate about 20 minutes before (delayed) boarding.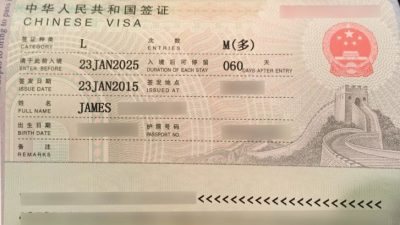 Boarding ended up starting late, just 33 minutes before the new departure time. But United boarded this flight with ruthless efficiency, taking just 17 minutes. We ended up pushing back a little more than 30 minutes behind schedule.
United 767-400 Polaris Business Class – Seating & Interior
The 767-400 cabin represented the last subfleet without the new Polaris seats. Thankfully, that process finally completed over the summer, and this flight featured the retrofitted cabin. Business Class includes 31 seats with 77″ of pitch, and an average width of 21″. Seats are in a staggered 1-1-1 configuration, with odd-numbered rows the "true" window seats. I chose 3A, one of the true window seats towards the front.
Meanwhile, seats in even-numbered rows angle towards the aisle. The trade-off in the windows is more storage along the fuselage, but more exposure to the aisle. (Yes, this is a middle seat, but you get the idea.)
Overall, the Polaris cabin is functionally identical to other aircraft. However, for a reason I can't put my finger on, it just felt shabbier than the 77W Polaris cabin. Maybe it's the lighting, or the narrower footprint of the cabin overall.
Like on other Polaris-equipped aircraft, there is a large Polaris sign at the front of the cabin.
One thing I didn't like about this seats – they felt decidedly tight, even for someone small-framed. For starters, the path to and from the aisle is quite narrow. While it didn't seem quite as bad as Delta's 764s, it still requires some slithering to get in and out.
The footwell also felt really tight, especially in upright mode. What made it feel even tighter was the low position of the ottoman, which left little space to stick your feet underneath.
As you can see, even a small laptop bag barely fit in the space.
It did feel marginally better in bed mode. Though still narrow, since the bed goes flush with the ottoman, it doesn't feel quite as constricted from the top.
Seat controls include the familiar knob, which you turn left to bring the seat upright, and right to recline to bed mode. Helpfully, there's a light that turns green when the seat is fully upright for takeoff and landing. Buttons allow adjusting individual seat components, such as back recline and the legrest, if desired.
I found the seat comfortable in relaxed mode. Back and leg support is particularly good, and I found the seats well padded.
Polaris does still come with Saks Fifth Avenue bedding, including a good duvet, blanket, and two pillows, including a cooling gel pillow. Apparently mattress pads are available on request, though I didn't use one on this flight. (Honestly, it's really not needed, as the seat is comfortable in bed mode even without it.)
The bedding does make for a comfortable setup for sleeping. I took a nap for about 3 hours, and probably could have slept far longer if I wanted to. The gel pillow in particular made the bed setup relaxing and comfortable.
For seat storage, there's an oversized shelf/armrest on the aisle side of the seat.
It's decidedly smaller than the window-side shelf found in even-numbered rows. The difference seems especially magnified, since the fuselage in those rows makes the space seem even larger. The closed-off space in those rows also makes it feel safer to set a laptop here. In the seats with an aisle-side shelf, I always worry about a computer getting knocked over or sliding off.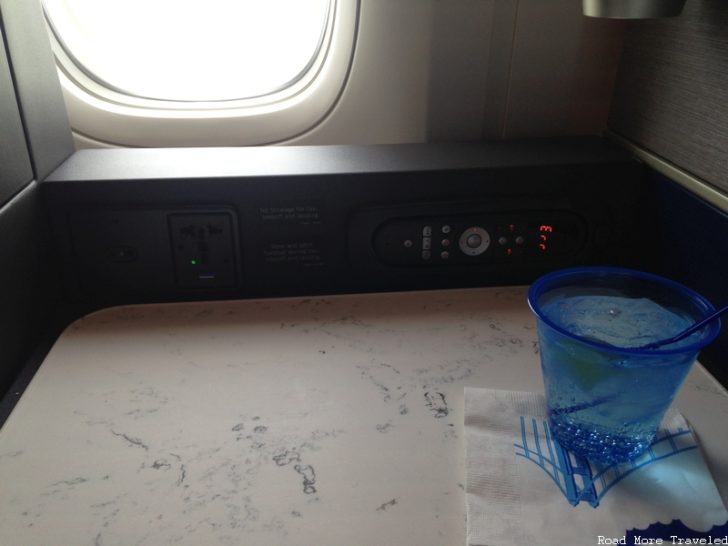 Of course, the flip side to all this is the seat feels really private. With the seat significantly recessed from the aisle, it does feel cocoon-like, further enhancing the setup for sleeping.
Other storage includes a pretty deep, lighted mini-cabinet above the shelf. Removing the headphones reveals a small vanity mirror as well.
The Polaris seats on the 767-400 include ample supplemental lighting. This includes both a desk lamp at the corner of the storage shelf, and a spotlight on the side of the storage cabinet. For the spotlight, there's a small push-button light on the bottom. Or push on the larger tab up top to reveal a larger light.
Finally, there's a small magazine pocket underneath the IFE screen. Right under that is the button to extend the tray table. As an aside, I prefer these trays that slide out from the seatback in front. Inevitably, I end up having trouble getting the trays that pop out of the armrest to fold properly.
All Polaris passengers received an "Away" amenity kit. I found the bag itself sturdy and useful, with a design somewhat similar to the "Tumi" kits Delta used to offer.
The kit is well-equipped, with an eye mask, socks, earplugs, pen, dental kit, and miscellaneous Sunday Riley amenities.
The Sunday Riley amenities included face cream, hand cream, lip balm, and a moist towelette. Note that United recently discontinued its relationship with Sunday Riley, so expect these to change.
Overall, I found the seat itself comfortable for sleeping and sitting. Additionally, the true window seats offer good privacy, even without the gimmick of a door. However, the some may find the narrow footwell bothersome, and storage is a bit limited in the true windows. And somehow, the cabin felt less cutting edge in the 767 compared to the newer 777.
United 767-400 Polaris Business Class – In-Flight Entertainment
Like other Polaris seats, the 767-400 includes high-definition seatback screens. The screens seemed smaller than in the 777, though I suspect it may be an illusion created by the narrower seat.
United's on-demand system offers a fair selection of movies, TV shows, and audio content. However, it isn't quite as robust as competitors, including domestic rival Delta's Delta Studio system. Regardless, on this 8 hour flight, I found plenty to keep myself entertained. The modern screens provided excellent resolution.
The audio selection includes both music playlists and podcasts.
United offered its popular "Channel 9" option in theory. Unfortunately, it didn't work on this flight.
Meanwhile, the moving map is fine, but pretty basic compared to others I've seen. There's a limited number of views available, and the zoom options aren't great.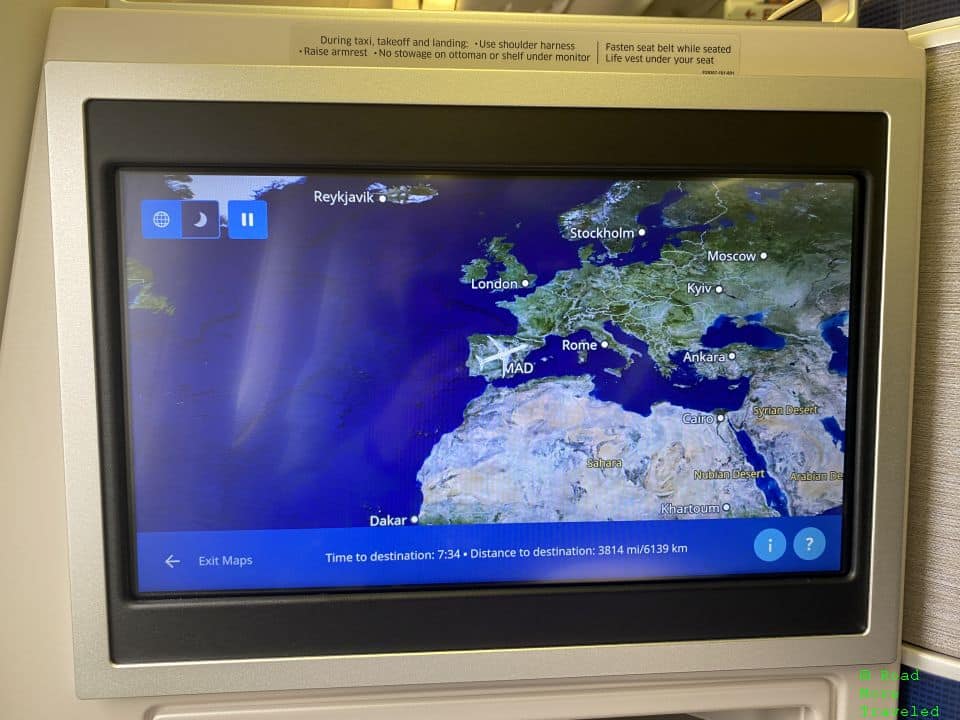 The 110v power port is below the storage cabinet, along with a USB port. This also includes the IFE controller, which I found easy to use. However, unlike may modern systems, the controller doesn't have a dual screen system to play, for example, the moving map on the controller and a TV show on the screen. Helpfully, the position above the shelf helps keep power cords out of the way.
An additional USB port is located underneath the IFE screen. You can easily store a phone or tablet in the magazine pocket while it's charging. That's helpful if you want to charge your device while sleeping.
I previously showed a photo of the noise-canceling headphones provided. While better than nothing if you forget your own, they provide mediocre sound quality.
Theoretically, United offers WiFi at a reasonable price, including free standard WiFi (no streaming) for T-Mobile customers. I say theoretically, because unfortunately, it failed to work the entire flight. First, I tried connecting right after reaching 10,000 feet, to no avail. I then tried about an hour and 15 minutes into the flight, still with no luck.
Then I tried again about half an hour later. No dice. Though it did change the error message at least.
One more try before taking a nap. Now back to the original message.
Later, I tried connecting a few more times, and again, no luck. Even on my later connecting flight from Washington to Dallas, the WiFi still failed to work. In my case, I planned on using the free WiFi, so no big deal, I guess. But with as many people expecting WiFi connectivity these days, United needs to get this figured out.
United 767-400 Polaris Business Class – Food & Beverage
Menu cards were waiting at each seat upon boarding with the food selection and wine list for the flight.
Here's my complaint about the menu. That braised beef short rib is…the exact same short rib I ate 6 years prior, with different sides. Yes, I enjoyed that meal, but still, the same thing on the rotation for 6 years? And it's not like the lack of variety is an unknown issue. Literally everybody complains about the stagnant menu in Polaris. Heck, even the Wellington burger has been a Polaris fixture for a very long time. It really wants to make you channel your inner The Four Tops.
Anyway, You can access the soft drink and liquor menu through the in-flight entertainment system.
Presumably due to the delayed boarding and departure, no pre-departure beverages were offered. Instead, the FAs began service with drinks and warm mixed nuts about half an hour after takeoff. I went with one of my standard choices, a gin & tonic.
And the obligatory G&T selfie, of course.
About 10 minutes later, the FAs brought out the main courses. Note that although the menu talked about an "Express Dining" option, at the time, United served all courses at once for everyone. Recently, United announced a trial restoring service in courses, so this will likely change before long. Rather than try the short rib again, I went with the tortellini. The meal came accompanied by a mixed salad and prawns with wild rice and pickled onions and edamame. From the breadbasket, I chose United's excellent pretzel roll.
Overall, I found the meal pretty good, at least from a taste perspective. The salad was fresh and cold, and had a nice mix of vegetables. The presentation of the pasta felt sloppy, what with the glop of sauce thrown on top. But the pasta itself was cooked nicely, and the pesto in the sauce wasn't overpowering at all. It provided a nice complement to the spinach, nicely sauteed and buttery. The shrimp and rice was the weakest part of the meal. In addition to overcooked, rubbery shrimp, the wild rice was undercooked to the point of being crunchy. But overall, I found this a solid lunch offering.
To drink, I ordered the Greek red, a Xinomavro/syrah blend. United upgraded their wine menu this spring, and I found myself particularly intrigued with this offering.
First, I give credit to United for trying to legitimately improve the wine list. The new selection is certainly respectable for a premium cabin at long last. And I give extra props for some more interesting selections like this Greek red. This wine really isn't for me, though. It's too dry and far too heavy on the sourness, which overpowered a fairly complex blend of fruit flavors. I suspect the temperature was off (too cold for red), which may have affected the flavor profile.
For desert, I went with one of my famous odd couple combos. In this case, an ice cream sundae and a Buffalo Trace.
Probably not a combo I'd ever deliberately choose outside of an airplane, but it worked.
About an hour before landing, the FAs served the pre-landing meal. I went with another Polaris stalwart, the Wellington burger. The burger came with mixed fruits and a packaged cookie.
Is it wrong that I actually kind of enjoyed the burger? It's really just the famous (infamous?) United cheeseburger with a fancy bun. But stick some ketchup and mustard in there, and it becomes one of those guilty pleasures that you know you shouldn't want to eat, but you keep going back for more because…it's actually pretty tasty. In a junk food kind of way. (United should be ashamed for serving a cookie in a plastic bag in business class, though.)
Overall, I have mixed feelings about the meal. Most of what I ate wasn't objectively bad. In fact, most of it actually tasted pretty good. But is it a legitimate premium cabin meal? United veteran Matthew doesn't think so. Indeed, compared to competitors, the offerings don't feel very premium. And come on, United – change the menu up already.
Service also felt…classically United. Which is to say, not objectively bad, but not particularly memorable, either. The FAs were nice enough, but they did their jobs and not much else. Like my transcontinental flight on the 777, and my later flight in Premium Plus, it wasn't proactive. Acceptable, in other words, but not anything that makes you go "wow".
Flightseeing
This flight ranked pretty high up the list of flights with good window seat spotting. Things started with some quality planeporn while taxing around Barajas. First up, an Air Europa 787; I'd like to give this airline a try one day.
Then we passed a Turkish Airlines A330-300 getting ready to head back to Istanbul.
The flagship carrier of Michael O'Leary had one of its 737s parked at a remote stand.
Then came the parade of SkyTeam carriers. These included an AeroMexico 787-9, a Tarom 737-800, and a KLM 737-900 in SkyTeam livery.
Not to be outdone, Star Alliance showed off a couple more of its members, with a Brussels Airlines A319 and an Aegean A321neo.
Then we passed by the main control tower, with a view of old town Barajas shortly after.
As we took off to the north and northwest, we passed the northern exurbs of Madrid, with the city slowly giving way to the Spanish plain.
After a couple of minutes, I thought we overflew central Madrid. But looking at the actual flight path, I guess this is just some suburban office development on the north end of the city.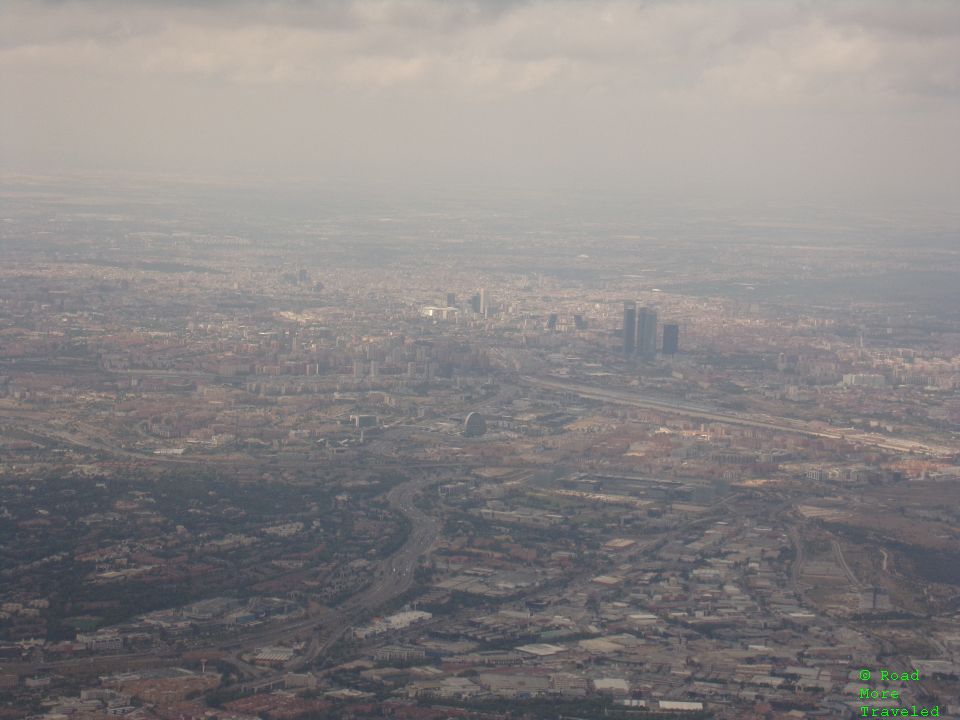 Then, some bubbly clouds produced a bit of turbulence…
…before revealing the high mountains between Madrid and Segovia.
About 40 minutes after departure, we left Europe for good, crossing the coast of northwest Spain not far from Santiago de Compostela. It looked like a really nice beach day, if a little on the cool side.
We finally made it back to North America with a crossing of Nova Scotia. One day, I still intend to do my long-planned road trip up here.
Not long after, we made it back to the USA just outside Portland, Maine.
After that, the haze (courtesy of Canadian wildfires) got too thick for any usable pictures. As we got lower closer to landing, conditions improved a little. We crossed over the farmland of Amish country in southeastern Pennsylvania.
Soon we reached the exurbs of Washington on the Maryland side of the Potomac.
And then over the big river itself.
I hoped to get a shot of DC itself, but the haze made that impossible. We did see one of the city's secondary skylines, though. I think this is looking down the Dulles Access Road towards Tysons Corner.
And last but not least, I had to get a shot of one of Dulles' (in)famous moon buggies. I don't know, I always found them kind of cool, though still calling it a "temporary" midfield concourse got old about 40 years ago.
United 767-400 Polaris Business Class – Final Thoughts
I came away from this flight feeling that Polaris long haul is an acceptable product. The seat is nice, but the soft product felt just OK. Not objectively bad, but nothing that makes me wanting to come running back, either. "It's better than American" really isn't much of a ringing endorsement, after all.
And really, I think that's where United has missed the mark with Polaris. They seriously hyped it up when they rolled out the concept in 2017. And it certainly represented a huge step-up from the old product. But the rollout was painfully slow, and the airline has done little to keep the keep it refreshed since then. Maybe the "Polaris 2.0" relaunch and improved menus end up helping. United just needs to get a little better in a few areas to move from "it's fine" to really good.