I'm gonna cut to the chase and say that this Air France Premium Economy flight was not my favorite. The seat was extremely uncomfortable and the service onboard was rather basic. There was nothing special about this product and I found the in-flight experience to be very lacking compared to other premium economy products. I wanted to like this product as I think premium economy can be a good compromise between economy and business class but unfortunately, I wouldn't recommend wasting your money (or miles) to upgrade from economy to Air France's Premium Economy.
Air France Premium Economy Class Ground Experience
To be fair, Air France does provide their premium economy passengers with plenty of perks on the ground, such as increased luggage allowances (two checked bags, two carry-on bags plus one additional personal item); priority check-in and luggage handling and zone 2 (Sky Priority) boarding. At LAX, premium economy class passengers are allowed to use the Sky Priority business class check-in counters. Check-in was quick and easy and I had my boarding pass in hand within five minutes. I have to give Air France some credit here. These pre-flight benefits are great if you're short on time, have an extra bag or just want a more seamless check-in experience.
However, Air France does not provide their premium economy passengers with lounge access and unfortunately for us, Priority Pass has a terrible footprint at LAX. There are no real lounges for Priority Pass members to use so there's no need to get to the airport early. If you have an American Express Platinum or Centurion Card, then you can use the Centurion Lounge in the Tom Bradley International Terminal (Terminal B) but that's about it. The Centurion Lounge isn't amazing by any means but it's not a bad place to grab a drink and meal before boarding your flight.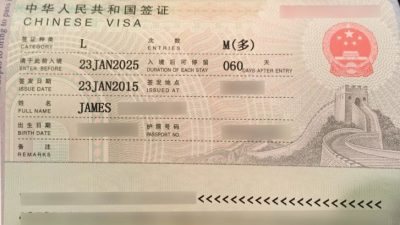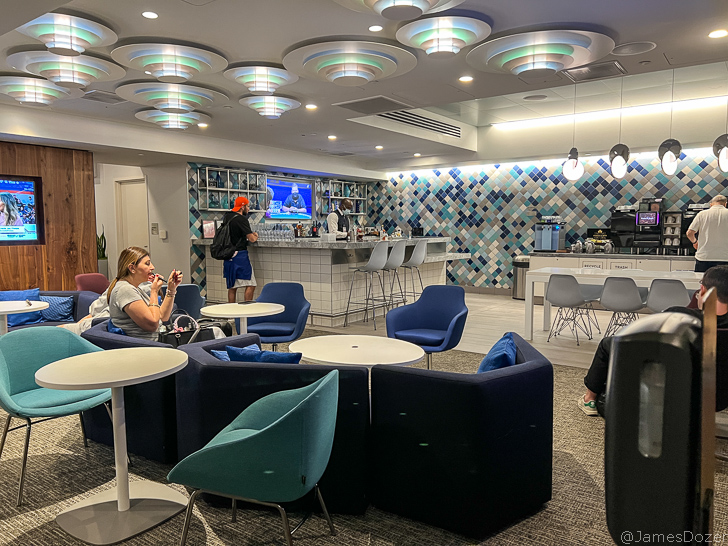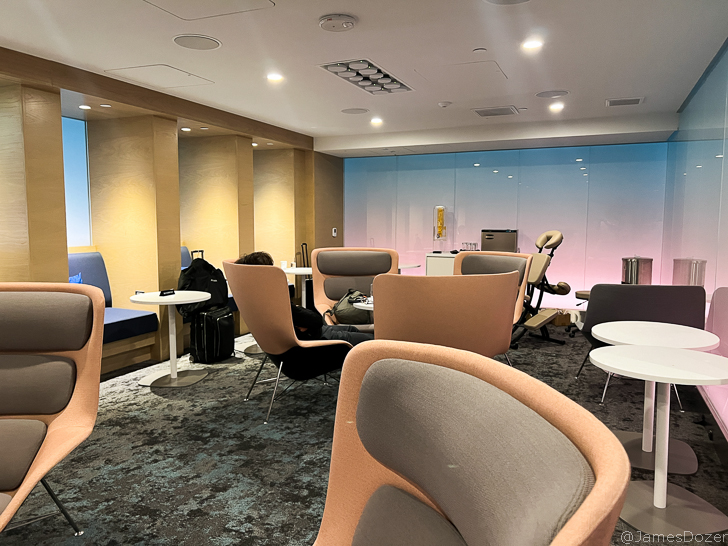 Boarding for my flight was scheduled at 5:25 p.m. from gate 206. If you haven't departed from LAX's "West Gates" (201 – 225) yet, just know that you're in for a hike. The West Gates are still considered part of the international terminal (Terminal B), but it's about a 15-minute walk from the main building. There are carts available for elderly/disabled passengers, and for those with mobility issues, but you should still give yourself plenty of time to make the walk over there. Air France, KLM, Hawaiian Air and several other airlines have made the West Gates their new home and Air France/KLM is also building their own lounge over there as well.
When I got to my gate, queues for the different boarding zones were already set up so I just got in line with the others in zone 2. Boarding was called a few minutes later and all passengers boarded the aircraft through door 2L.
Air France Premium Economy In-Flight Experience
Flight: AF69
Aircraft: Boeing 777-300ER
Los Angeles (LAX) to Paris (CDG)
Depart: 6:20 PM (6:24 PM actual) on Tuesday
Arrive: 2:10 PM (1:53 PM actual) on Wednesday
Duration: 10hrs 29mns
Seat: 23A Premium Economy Class
This flight was operated with a 14-year-old Boeing 777-300ER (registration F-GZND). In premium economy, there is a dedicated cabin with 28 seats arranged in a 2-4-2 layout. I do like that the cabin is separated by walls and not just partitions as it makes the cabin feel more private and exclusive.
These Collins Aerospace Icon seats are configured with 13'' personal entertainment systems, USB and universal electrical outlets, personal reading lamps, leg rests and footrests (except for the emergency exit/bulkhead seats).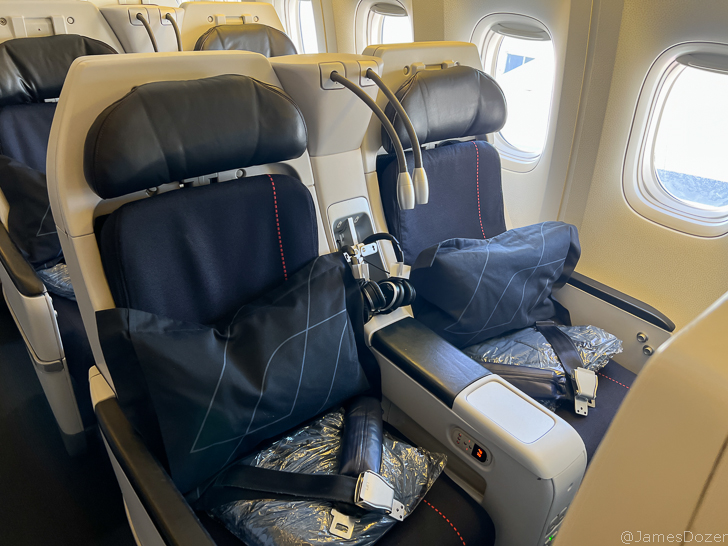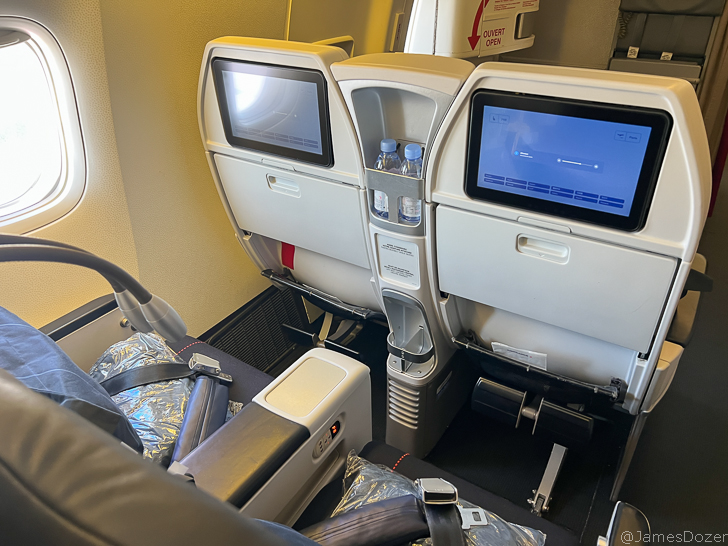 On this flight, I was seated in seat 23A, a "window" seat in the emergency exit row. Waiting at our seats were a pillow, blanket and a bottle of water. Noise-canceling headphones were also provided at the seats but they weren't great; definitely bring your own.
These seats provide 19 inches of width, 38 inches of pitch and a "recline" of 130 degrees. I use the word "recline" very loosely here as the seat doesn't actually recline. It's a fixed-shell design so instead of your seat reclining backwards, your seat pan just moves forward for the illusion of a recline. I'll talk more about this later but it's such a terrible design. This is what the seat looks like with the legrest extended. It's very minimal as you can see.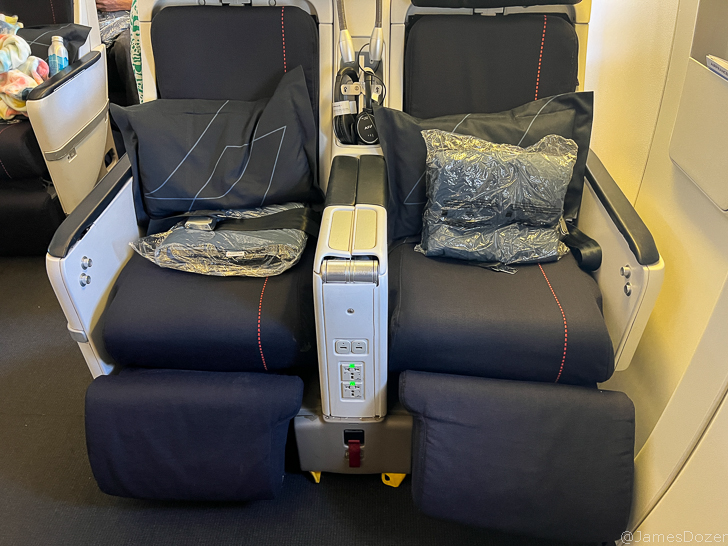 Storage-wise, there is a seat back pocket to secure your personal items and your smaller bags can be stored underneath the seat in front of you. However, storage spaces for the emergency exit row seats are not great. You only get a small pocket on the left side of the seat for both passengers and you're not allowed to store any bags on the floor in front of you during flight. Everything has to be secured in the overhead lockers.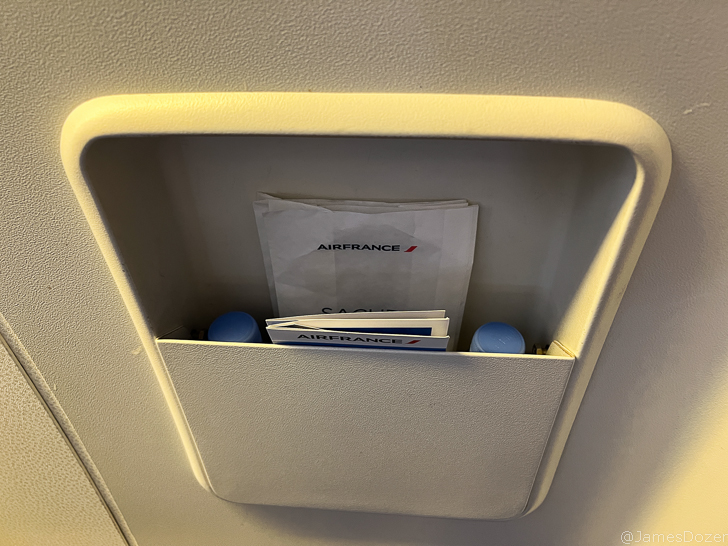 There are pros and cons to the emergency exit and/or bulkhead row seats. First and foremost, the tray tables and personal entertainment monitors are located in the fixed armrests, which further reduce seat width. The tray table is tiny and flimsy, barely fitting the meal tray, and it basically sits on top of your lap when deployed. And the arm for the TV monitor is not very tall so the monitor sits well below your eye level. This causes you to have to look down at an angle to watch the TV screen, which will give you a neckache after a while. I'm really surprised by how poorly this seat was designed.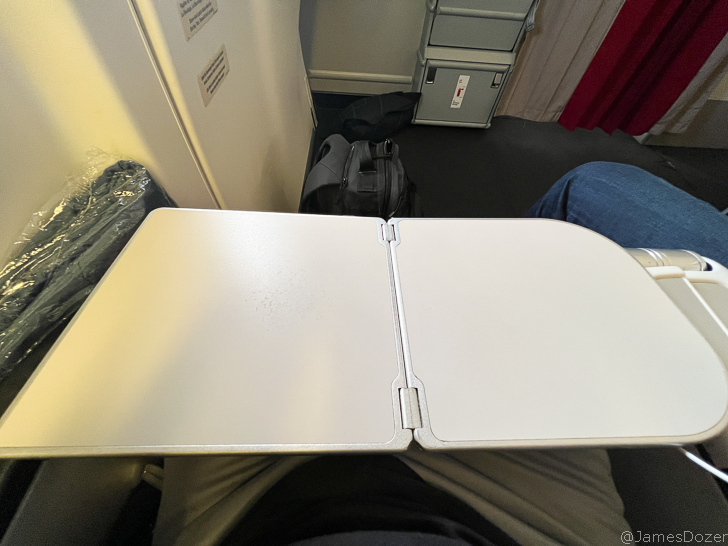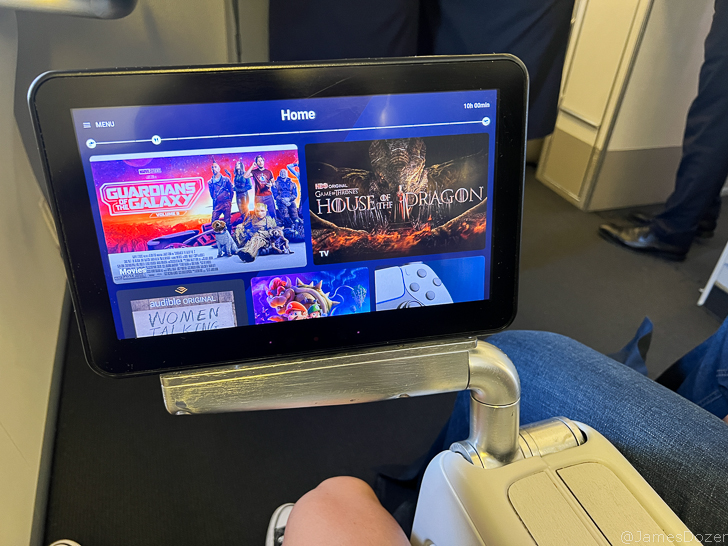 Additionally, there are no windows for the window seat passengers. If you care about having a window seat view, don't select one of the emergency exit row seats. There is a small window in the emergency exit door itself but you have to move forward from your seat to look out of it. And lastly, there are fewer storage spaces to secure your belongings during flight and there are no footrests for emergency exit/bulkhead seats. Some airlines mitigate this by building the footrest into the leg rests, but Air France did not do this.
That being said, these seats do provide unlimited legroom so if you have really long legs or need to get up and out of your seat often, these seats may be good for you. If you don't care about that, then I wouldn't recommend them.
Once all the passengers were boarded, we left the gate and taxied to the runway for our 10.5-hour flight to Paris. No pre-departure beverages, hot towels, or any other amenities were provided before departure. Once we hit our cruising altitude, the flight attendants then came by with a small amenity kit, which included socks, earplugs, an eye mask, and a dental hygiene kit. The amenity kit was very basic, to say the least.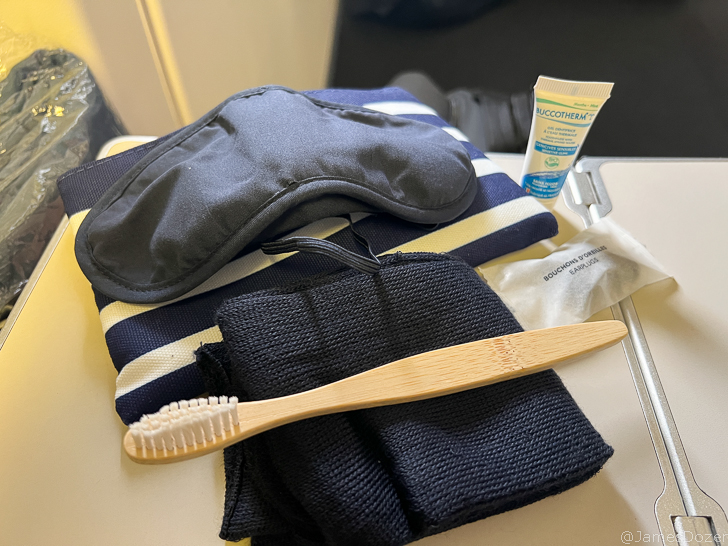 After that, the flight attendants then rolled out a dinner service, which was served all on one tray. Menus were not provided but the menu was listed in the IFE display. For this flight, we had the option of either a veal blanquette with rice and carrots or a pumpkin gratin with seasonal vegetables.
I went with the veal and it wasn't bad. The meal was served with some cheese crackers, a plate of vegetables, warm bread roll, and a mango cheesecake dessert. Drinks, including a small selection of alcoholic beverages, were provided complimentary during the meal service.
Overall, the meal was pretty tasty but this was a standard economy class meal. There was no catering or presentation upgrade for premium economy class passengers. And service-wise, this was exactly the same level of service and attentiveness you would expect from an economy-class product. The flight attendants were friendly and pleasant but there was nothing special or personalized about this service.
After dinner, I reclined my seat back and settled in for a movie. Entertainment-wise, there was a decent selection of new Hollywood movies, TV shows, music and games to keep you entertained. WiFi was provided on this flight and it was decently priced. One hour of internet costs 8 Euros and a full flight pass costs 18 Euros. I didn't connect to it so I can't tell you how fast or reliable it was. In-flight messaging was provided complementary for all passengers and I did connect to that but I found it was very unreliable. I'm hoping the paid internet was better than that. Otherwise, I would have been very disappointed.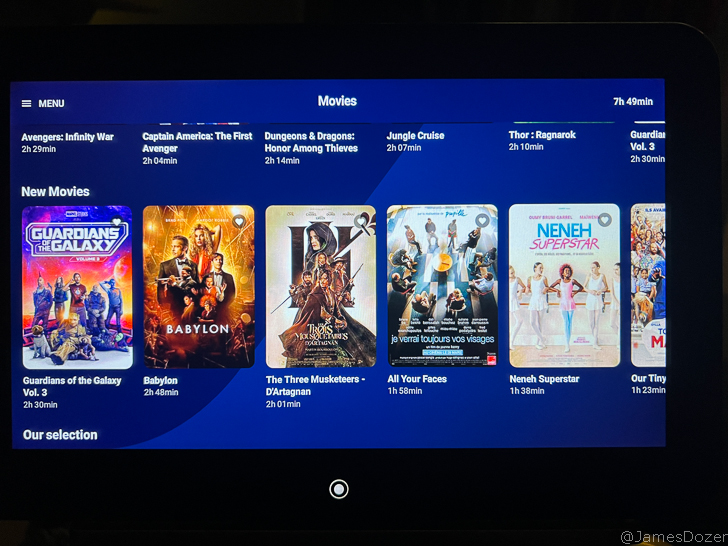 After my movie, I tried to get some sleep but honestly, I couldn't. As I mentioned earlier, this seat was terrible and I felt like I was slouching and sliding down my seat the entire time. I kept having to readjust and move my butt up every so often and it wasn't comfortable at all. It was so uncomfortable with the seat fully reclined that I ended up putting my seat back into the upright position for the remainder of the flight.
Air France has since discontinued this product and has started transitioning to a new premium economy class product but that retrofit will take years to complete. And in the meantime, we are stuck with this subpar product as it can still be found on a majority of their aircraft. Here's what the seat looks like fully reclined with the legrest up.
And to add insult to injury, the emergency exit row seats are situated right next to the two lavatories located in the premium economy cabin. The lights in front of the lavatories were kept on all flight and the noise and smell coming from the lavatories could be heard/smelled all flight. I really can't stress enough how terrible this cabin was designed. With everything going on, I was only able to doze off for a bit and by the time breakfast came around, I was so tired and miserable that I didn't even eat much.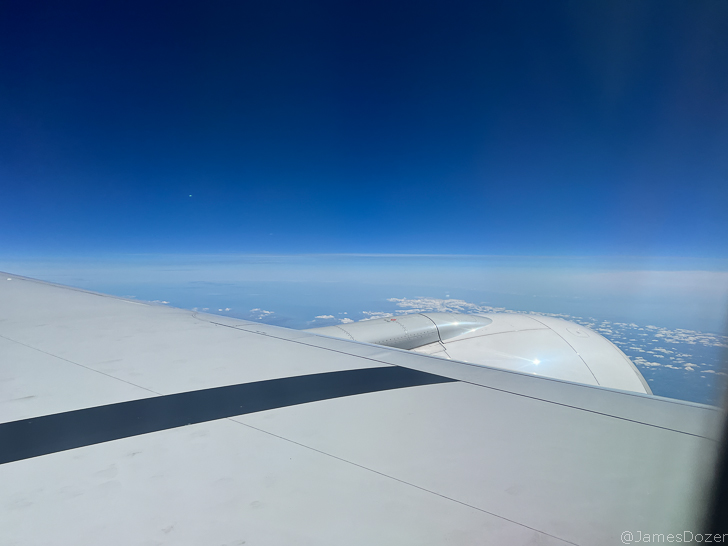 About two hours prior to our arrival, the cabin lights were slowly turned on and a light breakfast box was served. Breakfast consisted of a warm cheese croissant, a packaged fruit cup, and a kefir yogurt drink. It was a good thing I wasn't hungry because honestly, this was one of the saddest looking breakfast boxes I have ever seen on a mainline carrier.
If this were an economy class flight, I would have no complaints about this meal but this was a premium economy class product and it should have been better than what was served in the back. The cheese croissant was fine but this is literally a meal you pack for your kid's lunchbox. Do better, Air France.
Air France Premium Economy Bottom Line
Overall, this was such a disappointing flight and I wouldn't recommend this product to anyone. The ground experience and increased luggage allowance were appreciated but everything else was disappointing and subpar. This seat was terrible and I'm glad to see that Air France is in the process of transitioning them out but in the meantime, these crap seats can still be found in over 90% of their aircraft including the Boeing 777-300, 787 Dreamliner and the Airbus A350.
This product is fine for a daytime flight but on a redeye flight when you're trying to get some sleep, forget about it. And to add insult to injury, the premium economy service and catering were closer to an economy-class product than a true premium product. Don't get me wrong, I don't expect business-class level service and catering but I do expect something more than what is provided in economy class.
Would you guys agree with me? Or do you think I am expecting too much here? Please share your thoughts with us in the comments section below. And as always, thanks for reading. I appreciate you guys.
The other posts in this series include:
Air France Premium Economy, LAX to Paris
NH Hotel Santa Lucia, Venice
KLM Economy Class, Amsterdam to Salt Lake City